Duke Box #50: Our Guide to the Best Films on TV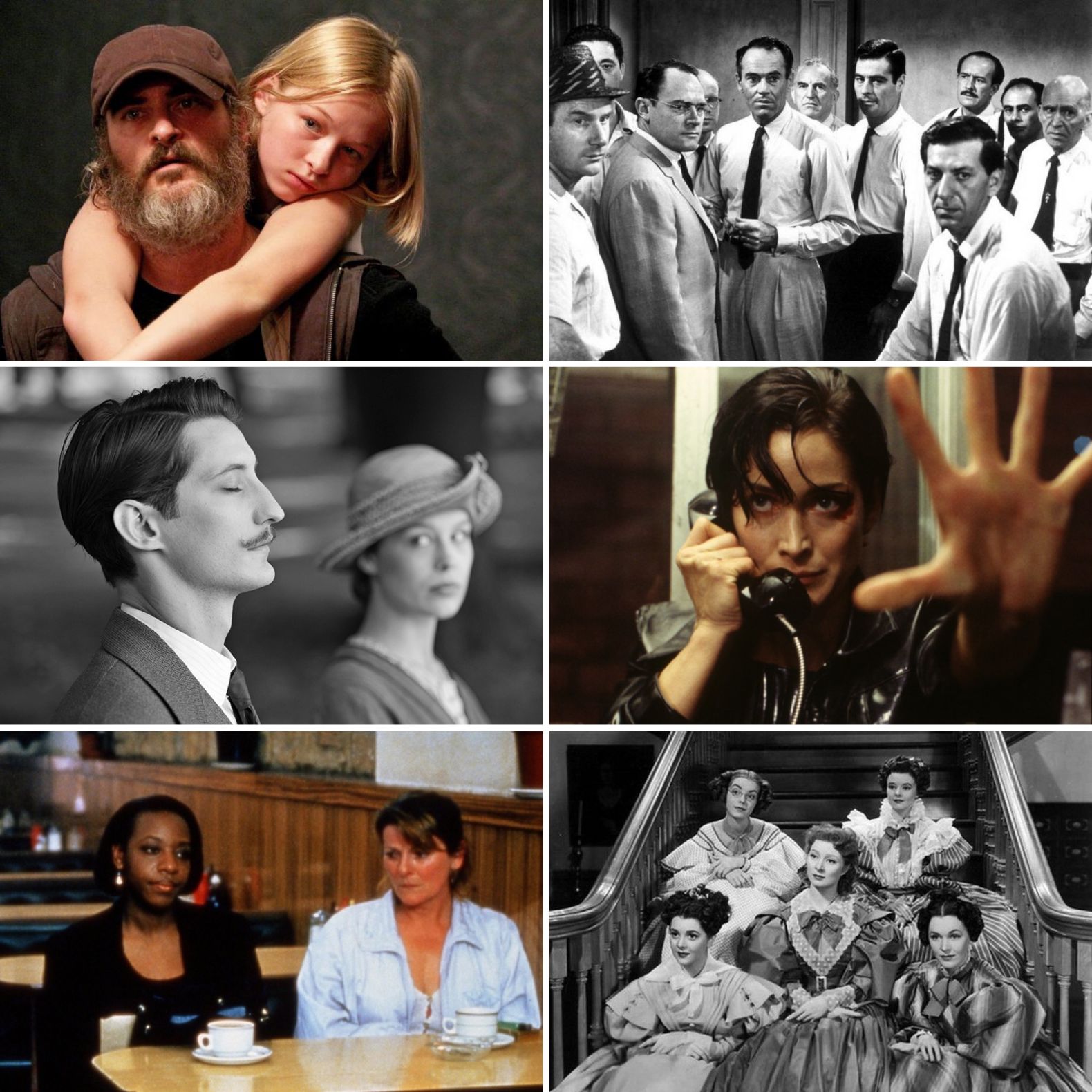 This week's Duke Box might look a little, ahem, shorter this week - but no fear because it will be all fleshed come the end of the weekend. In the meanwhile though, there's a preview of some of the listings on offer this week, including our top picks for Saturday-Monday.

Edit: see, all finished now!
We couldn't narrow down to one stand out pick of the week if we tried though, with Sidney Lumet's classic 12 Angry Men, a dive into the film-making world of Andrea Arnold, Lynne Ramsay's staggering You Were Never Really Here and Michael Powell's Peeping Tom just some of the titles making an appearance.

(Please note that this list isn't exhaustive – these are just some titles that I've selected as ones to try out or revisit, hopefully at the best times. Some films may also change if channels decide to alter their listings.)
Find last week's here: Duke Box 49
Saturday 27
Pride & Prejudice (1940) – BBC2, 11.30am
About Time (2013) – C5, 1.50pm (on again later in the week)
Fort Apache (1948) – Sony Action, 4.45pm
Star Trek Into Darkness (2013) – C4, 6.30pm (on again later in the week)
Star Trek Beyond (2016) – C4, 9pm (on again later in the week)
The Fifth Element (1997) – Paramount, 9pm
Beats (2019) – BBC Scotland, 10pm
Apocalypse Now: The Final Cut (1979) – BBC2, 11pm
Invictus (2009) – BBC1, 11.20pm
Carrie (1976) – Film4, 11.45pm
The Cotton Club (1983) – Talking Pictures TV, 11.50pm
Frantz – BBC2, 1.55am
Another chance to see: Horton Hears a Who (Film4, 11am), Jane Eyre (Sony Classic, 12.05pm), The Deadly Affair (Sony Classic, 6.55pm), The Graduate (Sony Classic, 9pm), Shallow Grave (Film4, 1.50am)
Greer Garson and Laurence Olivier star in a glossy, witty, MGM adaptation of Jane Austen's beloved Pride & Prejudice, a film that makes a fair few changes for aesthetic and Hays Code purposes but still retains the warmth and satire that underpins the iconic romance between Elizabeth Bennett and Mr Darcy. There's an altogether stranger love affair in Richard Curtis' About Time, a charming romantic-comedy-drama about a man who uses his hereditary ability to time travel to change his past to better his future…something that has repercussions on his blossoming romance. There's lovely chemistry between Domhnall Gleeson and Rachel McAdams, while Bill Nighy is quietly miraculous in support. There's more overt sci-fi later in the day, with a double-bill of Star Trek Into Darkness and Star Trek Beyond (Benedict Cumberbatch and Idris Elba take on respective villain duty for those), as well Luc Besson's The Fifth Element, a gleefully OTT fever-dream piece of futuristic pop-sci-fi that sees a taxi driver (Bruce Willis) become entangled in saving the world after a mysterious young woman (Milla Jovovich) falls into his cab. There are other big name directors cropping up throughout the day and evening too, from John Ford's Western Fort Apache, starring John Wayne as a veteran war captain clashing with Henry Fonda's glory-hunting upstart, to Clint Eastwood's Invictus, starring Morgan Freeman as Nelson Mandela and Matt Damon as rugby captain Francois Pienaar in an account of their efforts to unite a South Africa divided by Apartheid. There's a double dose of Francis Ford Coppola with Apocalypse Now: The Final Cut – a finessed version of the theatrical release of his Vietnam War epic starring Martin Sheen and Marlon Brando, inspired by Joseph Conrad's Heart of Darkness – and The Cotton Club, a 1930s set crime and Harlem jazz scene film featuring an ensemble ranging from Richard Gere, Gregory Hines and Diane Lane to Bob Hoskins, Nicolas Cage and Laurence Fishburne. Also on at a similar time is Brian de Palma's excellent adaptation of Stephen King's Carrie, the unsettling, quietly moving story of a misfit teenage girl who discovers she has telekinetic powers. Sissy Spacek is captivating in the lead role, while Piper Laurie is brilliantly unnerving as her aggressive mother. French filmmaker François Ozon's beautiful black-and-white film Frantz sees a young German woman grieving the loss of her fiancé in WWI meet a mysterious French soldier bearing a secret about the man she loved, while there's another black-and-white gem in Beats, a '90s set tale of two teenage lads struggling with life who try to sneak into an illegal rave. That's airing on BBC Scotland so not necessarily available to anyone south of the border, but it could make its way onto iPlayer.
Sunday 28
Build My Gallows High (1947) – Sony Classic, 9.40am
Edward Scissorhands (1990) – Film4, 11am
The Book of Life (2014) – Film4, 1.05pm
King Kong (2005) – ITV2, 5.25pm
Eddie the Eagle (2015) – E4, 6.55pm
Desperado (1995) – Sony Movies, 9pm
Gifted (2017) – Film4, 9pm
Sorry Angel – BBCFour, 10pm
Farewell, My Lovely (1975) – Talking Pictures TV, 10.05pm
About Time – C5, 10.50pm
Secrets & Lies – Film4, 12.55am
Another chance to see: The Man Who Never Was (Sony Action, 12.50pm), The Karate Kid (Sony Movies, 2pm), The Great Waldo Pepper (Sony Action, 3pm), Miss Potter (C5, 3.10pm), Sweet Charity (Sony Classic, 3.50pm), Our Man in Havana (Sony Classic, 6.45pm), The Hound of the Baskervilles (Sony Classic, 9pm), Sunday, Bloody Sunday (Sony Classic, 10.50pm), The Way, Way Back (C4, 12.15am), Seraphim Falls (Sony Movies, 1.35am)
Robert Mitchum makes two appearances in our Sunday picks (though not his last of the week), showing just how well he worked in film noir. Both Build Your Gallows High and Raymond Chandler adaptation Farewell, My Lovely are classics of the genre and see Mitchum star as a private investigator hired to track down a missing lover – and not all is what it seems in either film. The former co-stars Kirk Douglas and Jane Greer, while the latter sees Mitchum take on the legendary role of Philip Marlowe (the only actor to play him twice) alongside Charlotte Rampling – keep an eye out for a young Sylvester Stallone too. If you're in the mood for something more fantastical or light, there's Tim Burton's gothic fairytale Edward Scissorhands, visually stunning family animation The Book of Life and Peter Jackson's glossy, epic remake of King Kong, worth watching for Andy Serkis' fantastic mo-cap performance as titular beast. There's more heart-warming, charming fare too in biopic Eddie the Eagle, directed by Dexter Fletcher and starring Taron Egerton and Hugh Jackman, and Gifted, a lovely drama starring Chris Evans and McKenna Grace about a child prodigy caught in a custody battle between her uncle and grandmother. Antonio Banderas plays a gun-toting mariachi seeking revenge in Robert Rodriguez's action-packed Desperado while 1990s-set French drama Sorry Angel follows the romance between a student and an older writer living with AIDS. Finally, and arguably the highlight of the day, there's a chance to see Mike Leigh's Palme d'Or winning drama Secrets and Lies, starring Marianne Jean-Baptiste and Brenda Blethyn at the top of their game as a young, successful black woman who learns that her birth mother is lonely, working-class white woman.
Monday 1
12 Angry Men (1957) – Film4, 2.50pm
Woodstock – Three Days That Defined a Generation (2019) – PBS, 2.50pm
The Man from Laramie (1955) – Film4, 4.45pm (on again later in the week)
Me and Earl and the Dying Girl (2015) – Film4, 6.55pm
The Matrix (1999) – ITV4, 9pm
Atomic Blonde (2017) – Film4, 9pm
Only God Forgives (2013) – Sony Movies, 11.10pm
Nico, 1988 (2017) – Film4, 1.20am
Peeping Tom (1960) – Talking Pictures TV, 2am
Another chance to see: The Karate Kid (Sony Movies, 6.30pm), The Deadly Affair (Sony Classic, 9pm)
A Monday bookended by Sidney Lumet's courtroom classic (and debut feature!) 12 Angry Men and Michael Powell's psychological horror-thriller Peeping Tom can't be all bad, can it? Henry Fonda leads an exceptional ensemble in a masterpiece of dialogue and rising tension, as one member of a jury casts doubt over the group's guilty verdict. Peeping Tom offers a voyeuristic look at a killer in a film so controversial at the time it effectively ended the great filmmaker's career. Of course, it's since gone on to be lauded as a masterpiece, named a favourite by Martin Scorsese and compared to Hitchcock's Psycho. Music fans might be swayed (sorry) by the documentary Woodstock – Three Days That Defined a Generation or Nico, 1988, a unique, half-imagined look at the last year of the life of the German singer who acted for Fellini and Warhol, sung with The Velvet Underground and performed as a solo artist. There's visual flair, stylish action and artistic violence aplenty in the evening too, including the Wachowskis' ground-breaking, imaginative sci-fi box-office smash The Matrix, starring Keanu Reeves as a hacker who finds himself facing a whole new reality. Speaking of Keanu, John Wick producer David Leitch directs Charlize Theron, James McAvoy and John Goodman in the stylised, Cold War-era action-thriller Atomic Blonde, also on at 9pm, while Nicolas Winding Refn's divisive Only God Forgives makes a later appearance. It's not for everyone, but the sumptuous visual stamps, unrelenting tension and casting twists (Kristin Scott Thomas as a mafia mother) make it a unique experience. Elsewhere in the afternoon, where there's less of a lovely, seamless segue, James Stewart can be seen in Western The Man from Laramie, a Shakespearean-esque, psychological story of a drifter who finds himself at odds with a town's ageing cattle baron and his violent son, while Me, Earl and the Dying Girl follows a teenager whose penchant for escapism through filmmaking is altered by his blossoming friendship with Rachel, a classmate recently diagnosed with cancer.
Tuesday 2
Bridge of Spies (2015) – Film4, 6.15pm
The Spy Who Came in from the Cold (1965) – Talking Pictures TV, 8.15pm
Move Over Darling (1963) – Sony Classic, 9pm
Star Trek Beyond ­(2016) – j 4/7. 9pm
Unsane (2018) – Film4, 9pm
The Passenger (1975) – Talking Pictures TV, 10.30pm
Dark River (2018) – Film4, 11pm
Star Trek Into Darkness (2013) – 4/7, 11.20pm
American Honey (2016) – Film4, 12.45am
Another chance to see: On Dangerous Ground (Sony Classic, 11.25am), The Way to the Stars (Film4, 1.40pm), Suddenly, Last Summer (Sony Classic, 11.15pm)
You won't know who to trust in gripping Cold War thrillers Bridge of Spies and The Spy Who Came in from the Cold. The former, directed by Steven Spielberg, sees Tom Hanks star as an American lawyer recruited to defend a mild-manner, Soviet spy (an Oscar-winning Mark Rylance), while the latter, a John le Carré adaptation, stars Richard Burton going deep undercover on last mission. There's more mystery, thrills and paranoia in Unsane, as a young woman (The Crown's Claire Foy) on the run from a stalker finds herself trapped in a Behavioural Centre with her sanity question. Directed by Steven Soderbergh, the experimental, intense film was shot on an iPhone, adding some claustrophobia and tech flair to the B-movie premise. Earlier in the day there's rom-com Move Over Darling, where Doris Day sings a wonderful title song and stars as a presumed-dead wife who returns just after her husband (James Garner) has remarried, while I've also flagged up a kinder time for the lyrical Michelangelo Antonioni/Jack Nicholson collaboration The Passenger. There's also a showcase for British, female filmmaking talent in the evening too, with The Selfish Giant director Clio Barnard's Dark River, a powerful and poetically bleak story of family trauma starring Ruth Wilson and Sean Bean, followed by Andrea Arnold's BAFTA-nominated American Honey, a beautifully filmed story of an adolescent girl who flees home and embarks on a wild and chaotic coming-of-age odyssey across the American Midwest.
Wednesday 3
They Live By Night (1948) – Sony Classic, 1.05pm
The Matrix (1999) – ITV4, 10pm
Desperado (1995) – Sony Movies, 11.25pm
Wuthering Heights (2011) – Film4, 12.50am
The Friends of Eddie Coyle (1973) – Talking Pictures TV, 1.15am
Another chance to see: Anastasia (Film4, 12.40pm), Our Man in Havana (Sony Classic, 4.50pm), The Hound of the Baskervilles (Sony Classic, 7.10pm), 84 Charing Cross Road (Sony Classic, 9pm), A Most Violent Year (Sony Movies, 9pm)
It's a life of crime that's at the heart of the start and close of today's picks. Nicholas Ray's film noir They Live By Night, starring Farley Granger and Cathy O'Donnell, is considered one of the first 'couple on the run' flicks, following a fugitive who sinks further into crime in his attempts to clear his name, while The Friends of Eddie Coyle sees Robert Mitchum's low-level Boston gangster snitch on his friends to keep himself out of jail. Meanwhile, there's more Andrea Arnold in the evening with her bold and gritty reimagining of Emily Bronte's Wuthering Heights, a film that combines an unconventional approach with a fidelity to the novel's intense emotional spirit and influential moors.
Thursday 4
Ride Lonesome (1959) – Film4, 12.50pm
A United Kingdom (2016) – BBC4, 9pm
Fury (2014) – Sony Movies, 9pm
Battle of the Sexes (2017) – Film4, 10.45pm
Ship of Fools (1965) – Sony Classic, 11.10pm
Another chance to see: 84 Charing Cross Road (Sony Classic, 3pm), The Man Who Would Be King (Film4, 4.05pm)
It's quite the eclectic mix on freeview today, beginning with western Ride Lonesome, starring Randolph Scott as a bounty hunter with a hidden agenda who escorts a killer to his trial. Brad Pitt stars as the leader of a band of tank soldiers travelling through Nazi Germany at the end of the war in the visceral Fury, while David Oyelewo and very recent Golden Globe winner Rosamund Pike star in the biographical A United Kingdom, an account of the controversial, boundary-defying 1940s romance between Seretse Kharma, heir to the Bechuanaland (later Botswana) throne, and Ruth Williams, a British clerk. Another 'based on a true story' takes centre court in the evening, as Emma Stone and Steve Carell play tennis superstars Billie Jean King and Bobby Riggs in the story of the showcase grudge match between the two that was prompted by Riggs' sexist comments. Finally, Stanley Kramer's Ship of Fools sees Vivian Leigh, Simone Signoret, Jose Ferrer, Lee Marvin and more unite as passengers on board a ship to pre-war Germany, creating a glimpse of early 1930s society.
Friday 5
The Man From Laramie (1955) – Film4, 11am
Run Silent Run Deep (1958) – Film4, 5pm
The Green Mile (1999) – 5Star, 9pm
Arrival (2016) – Film4, 9pm
You Were Never Really Here (2017) – Film4, 11.20pm
Source Code (2011) – BBC1, 11.55pm
Another chance to see: Cover Girl (Sony Classic, 4.50pm), The Graduate (Sony Classic, 9pm), Seraphim Falls (Sony Movies, 11.25pm)
It's very much a Film4 sort of day here. There's another chance to see Western The Man from Laramie in the morning, while teatime welcomes Run Silent, Run Deep, a WWII film with more than a hint of Moby Dick about it, as Clark Gable's sub commander clashes with his firs officer (Burt Lancaster) over his obsessive quest for revenge against a Japanese vessel. The evening brings variations of sci-fi, with Denis Villeneuve's cerebral, tender Arrival, which sees a linguist (Amy Adams) attempt communication with mysteriously appearing alien lifeforms, and Duncan Jones' actioner Source Code, starring Jake Gyllenhaal as a solider who relives the same eight minutes in order to find the bomber of a commuter train. Those sit either side of a real stand out for the week: You Were Never Really Here, directed by Lynne Ramsay (We Need To Talk About Kevin). Joaquin Phoenix gives arguably his best performance as a traumatised veteran and contract killer who hired to track down a kidnapped teen, leading him into the middle of a conspiracy. It's violent, yes, but beautifully, hauntingly shot and features a wonderful score from Jonny Greenwood. It's not all about Film4 though – there's also Frank Darabont's 1930s set drama The Green Mile (starring Tom Hanks and the late Michael Clarke Duncan), an adaptation of Stephen King's serialised story about Death Row guards whose lives are mysteriously affected by the arrival of a new inmate.