Duke Box #40: Our Guide to the Best Films on TV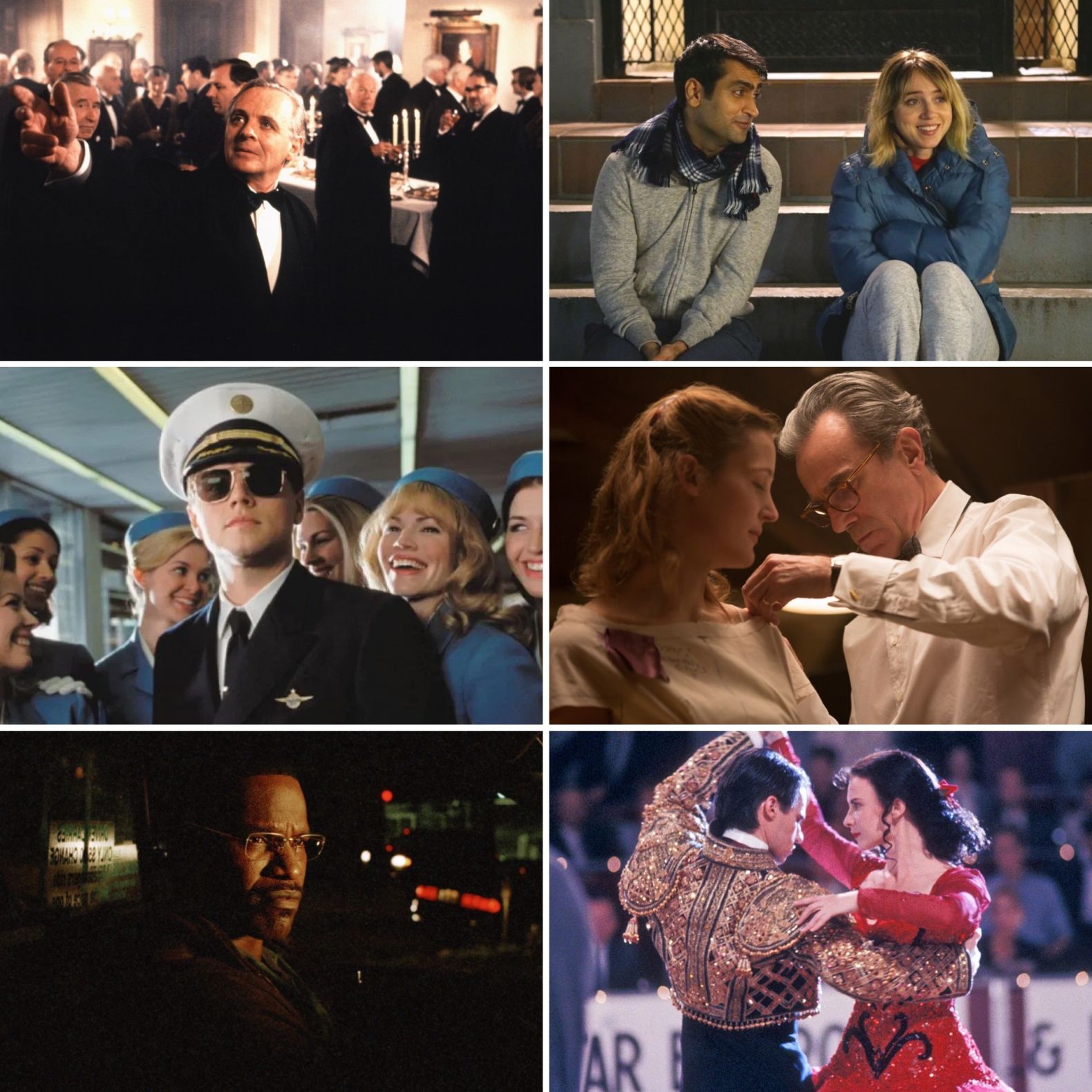 Hi everyone,
You'll notice that this week's Duke Box is a little shorter and that's because a bumper one is heading your way next Wednesday ahead of the Christmas & New Year period. There are TONS of films happening the next two weeks and Christmas of course falls on our little Duke Box day, so I've been having to think strategically...which at this moment in time, I'll be honest, is hard work. Anyway, there's still plenty to be going on with this week too, whether you're in the mood for something festive or not – from classics like Alastair Sim's performance as Scrooge, to the sharp satire of Armando Iannucci's The Death of Stalin, to Paul Thomas Anderson's masterful Phantom Thread. My own personal Pick of the Week though has to go to Baz Luhrmann's glorious Strictly Ballroom – a sparkling early showpiece for the director's flair, bursting with humour, dance, sequins and warmth. A great, uplifting watch – but you might need the record button.
(A reminder to have a look at what's cropping up in the 'Another Chance to See' bit as well. If you can't quite remember what I said about the film on previous recommendations, you can find it by searching on our website for the title or by having a quick peek at IMDB.com. Also to note that this list isn't exhaustive – these are just some titles that I've selected as ones to try out or revisit, hopefully at the best times. Some films may also change if channels decide to alter their listings.)
Saturday 19 December
Lord of the Flies – Talking Pictures TV, 3.45pm
Scrooge – C5, 4.20pm
Forrest Gump – C4, 9.20pm
Notes on a Scandal – BBC1, 12.25am
Best of the repeats: The Eagle Has Landed (BBC2, 6.10pm), Carrie (C4, 12.10am)
Another chance to see: Ice Age (Film4, 11am), To Hell and Back (Paramount, 1.50pm), Arachnophobia (Sony Movies, 2.45pm), Wreck-It Ralph (BBC1, 2.55pm), Peter Pan (ITV2, 3.45pm), The Simpsons Movie (Film4, 4.40pm), Bill & Ted's Excellent Adventure (Sony Movies, 4.55pm), Kong: Skull Island (ITV2, 6pm), The Terminal (Film4, 6.25pm), Panic Room (Sony Movies, 9pm), The Devil Wears Prada (5Star, 9pm), Educating Rita (BBC2, 10.40pm), The Hobbit: Battle of the Five Armies (ITV, 10.40pm), The Evil Dead (The Horror Channel, 11.10pm), Popstar: Never Stop Never Stopping (Film4, 12.45am), Grandma (Film4, 2.25am)
Classic Dickens, a high school curriculum staple and a Man Booker Prize nominee all get the big screen treatment in today's picks, although it's fair to say that only one of those will leave you with anything close to resembling a warm, fuzzy, Christmassy feeling. Adapted from William Golding's blistering novel, The Lord of the Flies puts civilisation under the microscope as it follows a group of English schoolboys marooned on an island without supervision, their childlike innocence slowly stripped away. Scrooge, meanwhile, delights in Alastair Sim's performance as the titular miser, with the actor giving one of the greatest interpretations of the much-player character and the film balancing the bleakness and sombre moments of Charles Dickens' story with a punch of Christmas cheer and joy (it's also showing on Talking Pictures TV on Christmas Day). There are also pretty remarkable performances from Judi Dench and Cate Blanchett in the adaptation of Zoë Heller's Notes on a Scandal, which follows a lonely, bitter schoolteacher who discovers that a new co-worker and friend is having an affair with a student and uses it to her advantage. It's a sharp thriller, with a really sublime, unnerving Dench at the heart of it. If it's pure sweetness you're after though, there is Forrest Gump, the tale of one simple, good-hearted man who lives through extraordinary times and finds himself at the heart of remarkable things, but only ever really wants to be with his childhood love. Directed by Back to the Future's Robert Zemeckis, it's a pretty saccharine film, but if you can't have a sweet tooth at Christmas, when can you? Tom Hanks won an Oscar for playing Forrest, while Robin Wright, Sally Field and Gary Sinise all shine in support – and the soundtrack is killer.
Sunday 20
Shadowlands (1993) – BBC2, 2.45pm
The Man Who Invented Christmas (2017) – C4, 4.55pm (repeated on Christmas Eve)
Catch Me If You Can (2002) – BBC2, 5.50pm Braveheart – Sony Movies, 9pm
The Death of Stalin (2017) – BBC2, 9.30pm
A Christmas Carol (2018) – BBCFour, 12am
The Big Sick (2017) – BBC1, 12.10am
Strictly Ballroom (1992) – C5, 3am
Best of the Repeats: Kind Hearts & Coronets (Talking Pictures TV, 1.15pm),
Another chance to see: The Two Faces of January (Film4, 11am), Snoopy & Charlie Brown: The Peanuts Movie (Film4, 12.55pm), Seabiscuit (Sony Movies, 1pm), The Comancheros (Paramount, 1.05pm), The Karate Kid (C5, 2.15pm), Shrek 2 (ITV, 2.30pm), Maleficent (BBC1, 2.45pm), The Theory of Everything (Sony Movies, 3.45pm), Diamonds are Forever (ITV, 4.40pm), The Grinch (ITV2, 5.20pm), Master & Commander: the Far Side of the World (Sony Movies, 6.15pm), Genevieve (Talking Pictures TV, 7.10pm), The Woman in Black (The Horror Channel, 9pm), The Bodyguard (5Star, 9pm), Warrior (Film4, 11.20pm), Seraphim Falls (Sony Movies, 12.35am), Drag Me to Hell (Film4, 2.05am)
There's a really charming mixture of films on today and taking the family films, horrors, westerns and bruising dramas being shown again, I think there's just about something for everyone. If it's festive you're after, well, you're covered. Alongside another appearance of The Grinch in the repeats, there's double the Dickens with a couple more twists on his festive fable. Dan Stevens stars as the author himself in The Man Who Invented Christmas, a playful, imaginative look at how a struggling Dickens, caught in a financial and creative slump, came to write his yuletide classic, while Simon Callow plays Scrooge in a filmed adaptation of his acclaimed one-man theatre show. Anthony Hopkins also takes on the role of a famous writer in Richard Attenborough's beautiful weepie Shadowlands, playing a reserved and isolated C.S. Lewis whose life sparks to life when he meets American poet Joy Gresham (Debra Winger). Stories inspired by real people and events set the tone for the bulk of the rest of the day. Leonardo DiCaprio is unbelievably charming as 1960s conman Frank Abagnale, Jr, pursued across the country by Tom Hanks' determined FBI agent in Steven Spielberg's glossy comedy-drama Catch Me If You Can. Dukes favourite Armando Iannucci lines up a staggeringly good ensemble for the skewering political satire The Death of Stalin, with Steve Buscemi, Paddy Considine, Andrea Riseborough, Michael Palin and a scene-stealing Simon Russell Beale all reveling in the riotous, scathing and witty dialogue. The Big Sick might not have the most appealing title, but ignore it – the film is a funny, tender and smart take on romance, made all the more powerful by being based on the real story of star leading man/writer Nunjani and writer Emily V. Gordon. When Pakistani comic Kumail and US grad student Emily (Zoe Kazan) fall for each other, it seems like culture clashes might be the only sticking point, but when Emily ends up in a coma following a mysterious coma, Kumail finds himself navigating her family (an excellent Holly Hunter and Ray Romano), his traditional parents and his developing feelings. It's a really lovely indie and well worth a watch. Finally, Baz Luhrmann's career launched like a rocket with his debut feature Strictly Ballroom, a must for fans of dancing, romance and a cheeky bit of dry Aussie humour. Amongst the sequins, spectacle and passion, it's the quite simple story of a maverick professional, desperate to break free from ballroom conventions with his daring moves, who teams up with the shy, unglamorous beginner to try and take the Pan-Pacific dance championships by storm. It's such good fun
Monday 21
The Muppets (2011) – BBC1, 10.25am
Stage on Screen: National Theatre – Twelfth Night – Sky Arts, 9pm
Mission: Impossible (1996) – BBC1, 10.45pm
Best of the Repeats: Doctor Zhivago (BBC2, 1.10pm), Dances With Wolves (C5, 1.45pm), My Darling Clementine (Paramount, 2.55pm)
Another chance to see: Moomins on the Riviera (C4, 6.35am), Over the Hedge (Film4, 1.05pm), Kung Fu Panda 2 (Film4, 2.45pm), The Hunger Games: Catching Fire (Film4, 6.15pm), The World's End (ITV4, 9pm), Christine (The Horror Channel, 9pm), The Revenant (BBC1, 10.35pm), Unbroken (Film4, 11.40pm), Hellraiser (The Horror Channel, 12.45am)
Have I mentioned The Muppets before in this blog? Yes, but here's the thing – the joy of this film is made for families at this time of year. New muppet Walter, along with his human friends (a delightful Jason Segal and Amy Adams), looks to reunite the muppets to save the Muppet Theatre from Chris Cooper's slimy oil mogul in an all-singing, all-dancing extravaganza that can't help but make you smile. There's another mad ensemble in the evening with the first instalment of the Mission: Impossible franchise, directed by Brian de Palma. There's already some wild technology and gadgetry on show in this entry, while Tom Cruise is joined by Emmanuelle Béart, Kristin Scott Thomas, Jean Reno, Jon Voight, Ving Rhames and a great Vanessa Redgrave, as spy Ethan Hunt finds himself on the run. There's also stage on a small screen to delight in with National Theatre's popular production of Twelfth Night, William Shakespeare's comedy of mistaken identities, fools and love, here starring Tamsin Grieg as Malvolia. If music be the food of love, play on. Well worth keeping an eye on the repeats too, particularly if you enjoy sweeping romance (Doctor Zhivago and Dances With Wolves) and westerns (well, Dances With Wolves again and My Darling Clementine).
Tuesday 22
Muppets Most Wanted (2014) – BBC1, 10am
Clash of the Titans (1981) – BBC1, 1.45pm
Miss Congeniality (2000) – ITV2, 6.50pm
Spider-Man: Homecoming (2017) – BBC1, 7.55pm
Collateral (2004) – BBC1, 10.40pm
Krampus (2015) – C5, 3am
Best of the Repeats: High Society (BBC2, 10.30am), The Searchers (BBC2, 1.45pm), Carol (Film4, 1.25am)
Another chance to see: The Book of Life (Film4, 11am), Arthur Christmas (ITV, 11.35am), The Gunfighter (Paramount, 1.30pm), Matilda (C5, 1.35pm), Puss in Boots (Film4, 3pm), The Taking of Pelham 123 (Sony Action, 9pm), Bridesmaids (ITV2, 9pm), Anchorman 2: The Legend Continues (E4, 9pm), The Wolf of Wall Street (ITV4, 10pm)
Muppet Most Wanted doesn't have quite the same charm as The Muppets but it does handle its 1960s/70s style heist and caper homages with good Muppet fun and cheeky cameos, as a dastardly criminal lookalike hijacks Kermit's place, sends the good frog off to a Siberian prison and sets about using the Muppets as a front to steal some jewels. The films continue on BBC1 throughout the day with classic Greek mythology and wonderful Ray Harryhausen effects in Clash of the Titans, which sees Harry Hamlin's Perseus do battle with Medusa and the Kraken, while Laurence Olivier and Maggie Smith Zeus and Thetis. Marvel superhero film Spider-Man: Homecoming swings into a prime evening slot, with high school kid-turned-webslinger Peter Parker (a great Tom Holland) coming up against the villainous Vulture, played so very well by the wonderful Michael Keaton, who clearly relishes both the Batman and Birdman connections. Later in the night Jamie Foxx's unassuming taxi driver finds himself taken hostage by a clinical hitman (Tom Cruise) who forces him to drive him from kill to kill. From Heat filmmaker Michael Mann, it has the simplistic air of a 1970s thriller with a neo-noir style to it – very cool. Other channels are available of course, and elsewhere there's gloriously OTT fun with the Sandra Bullock vehicle Miss Congeniality, about a tomboyish FBI agent forced to go undercover at a beauty pageant. Bullock is excellent fun, especially when partnered with Michael Caine's sharp-tongued beauty pageant coach. For alternative festive fare, stay up the late until the early hours for Krampus, a horror-comedy inspired by European folklore and starring Adam Scott and Toni Collette as the parents of a family who find themselves un attack from a demonic beast. It's got definite B-movie vibes and doesn't take itself too seriously, although the slightly gory bits and jump scares might be too much for kids. Elsewhere, I've flagged up three gems that are also making an appearance – sumptuous musical High Society, classic western The Searchers and divine romantic drama Carol.
Wednesday 23
The NeverEnding Story (1984) – BBC1, 1.45pm
Phantom Thread (2017) – BBC2, 10pm
Calendar Girls (2003) – C5, 10pm
Scanners (1981) – The Horror Channel, 10.50pm
Best of the Repeats: Scrooge (C5, 11.30am), Casablanca (BBC2, 2.15pm), To the Holly & the Ivy (Talking Pictures TV, 6.35pm), Midnight Run (Film4, 11.15pm), The Florida Project (Film4, 1.45am)
Another chance to see: Jane Eyre (BBC2, 10.30am), Snoopy and Charlie Brown: The Peanuts Movie (Film4, 11am), Flushed Away (Film4, 12.45pm), Finding Dory (BBC1, 3.40pm), Akeelah and the Bee (Film4, 5pm), Mamma Mia (ITVBe, 8pm), Finding Your Feet (Film4, 9pm), The Last of the Mohicans (Paramount, 11pm)
I'll start with the spotlighted repeats first because boy is there a great chance to catch up with some fabulous films that you might have missed first time round. Scrooge makes a reappearance here if Saturday wasn't so convenient, while To the Holly & the Ivy is a poignant Christmas drama starring Brief Encounter's Celia Johnson and Ralph Richardson. Casablanca needs know introduction, except to say that it's perfect cosy afternoon viewing from under a blanket. Film4 meanwhile has a great, late double bill of the buddy-road-trip-action-comedy Midnight Run, with Charles Grodin and Robert de Niro, and Sean Baker's beautiful, knockout indie The Florida Project. New picks for the day include the star of the show, Paul Thomas Anderson's divine Phantom Thread, with the director reteaming up with There Will Be Blood actor Daniel Day Lewis (in reportedly his final film role) for this beautifully crafted, curious and wryly humorous drama-come-romance about an orderly, world-renowned dressmaker who finds his life disrupted by his new muse and lover, Alma. Day-Lewis is great as the fastidious and fabulously named Reynolds Woodcock, but Vicky Krieps and Lesley Manville are an absolute joy as the strong-willed Alma and repressed, sniping sister Cyril respectively. Elsewhere, there's beloved family adventure The Neverending Story, which follows a young boy's quest to save a dying fantasy land. It's sweet, magical, actually quite heart-breaking in places and perhaps surprisingly directed by Wolfgang Petersen (Das Boot, In the Line of Fire). Don't expect the theme song by Limahl to leave your head any time soon though. Julie Walters, Helen Mirren, Celia Imrie and more unite for Calendar Girls, the very charming, sweetly funny and emotionally resonant true story of a group of women in a Yorkshire WI who decide to raise money for their recently widowed friend by posing for a calendar – in the buff. In a complete pivot in tone and taste, the final pick is David Cronenberg's cult hit Scanners, a sci-fi thriller with lashings of body horror as a group of people with powerful psychic ability form an underground movement and begin to control other people's bodies. If you like this one, head to our Watch Online page to check out Possessor (18), written and directed by David's son, Brandon Cronenberg.