Duke Box #39: Our Guide to the Best Films on TV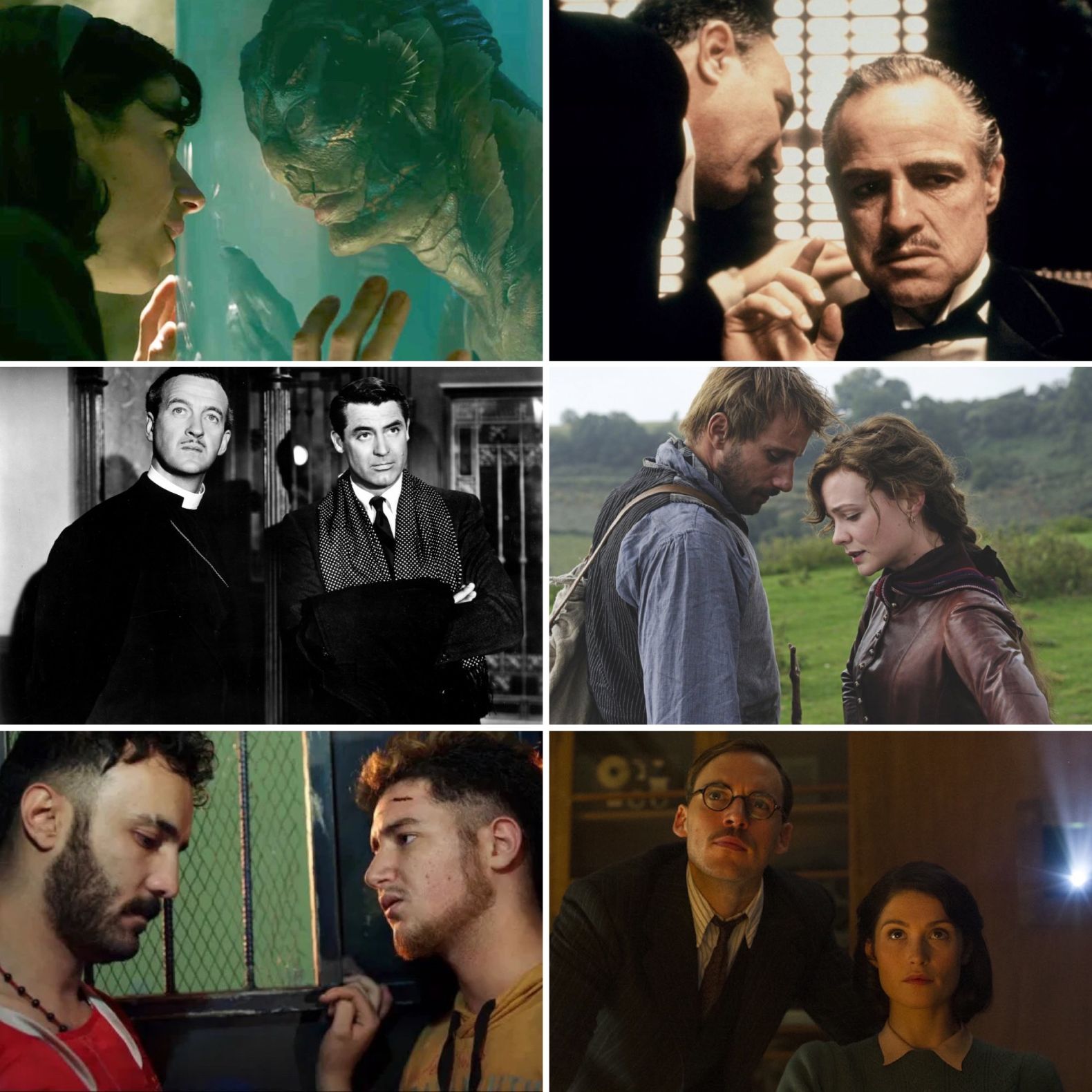 Hi everyone,
What an opportunity to indulge in the work of art that is The Godfather. It's one of my personal favourites (joining echoing thousands upon thousands upon thousands), so it's no surprise that it's my Pick of the Week - but predictability and cliche aside, it's so gloriously made, who can blame me? Aside from that, there are other wonders to lose yourself in, whether it's silver screen festive fare, beautiful visuals, delightful performances, warm fuzzy feelings or ratcheted up tension. Hope you enjoy.
(A reminder to have a look at what's cropping up in the 'Another Chance to See' bit as well. If you can't quite remember what I said about the film on previous recommendations, you can find it by searching on our website for the title or by having a quick peek at IMDB.com. Also to note that this list isn't exhaustive – these are just some titles that I've selected as ones to try out or revisit, hopefully at the best times. Some films may also change if channels decide to alter their listings.)
Saturday 12
It's a Wonderful Life (1946) – Film4, 3.25pm
The Man Who Never Was (1956) – Sony Action, 8pm
The Shape of Water (2017) – C4, 9.30pm
The Hill (1965) – BBC2, 10.55pm
The Unknown Girl (2016) – BBC2, 12.55am
Another chance to see: Kubo & the Two Strings (Film4, 11am), Local Hero (Film4, 1.10pm), Five Card Stud (Paramount, 2.05pm), The BFG (BBC1, 2.45pm), Back to the Future Part III (C4, 2.45pm), Field of Dreams (Sony Movies, 4pm), The Cowboys (ITV4, 4pm), Arthur Christmas (ITV2, 4.40pm), The Enforcer (Talking Pictures TV, 6pm), The Remains of the Day (Sony Movies, 6.15pm), The Magnificent Seven (ITV4, 6.40pm), The Untouchables (BBC2, 9pm), Cape Fear (C5, 10.40pm), A Most Violent Year (Sony Movies, 11.50pm), Blue Velvet (Film4, 1.40am)
We're still hopeful to be able to do our traditional screenings of It's a Wonderful Life just before Christmas Day, but for those who want an early taste of the Christmas favourite, here you go. Frank Capra's story of a despairing man who's shown what life would have been like had he not lived is so beautiful, with James Stewart and Donna Reed perfect in the lead roles. Gloria Grahame also makes a notable appearance in the film, before cropping up in BAFTA-winning wartime drama The Man Who Never Was, full of undercover operations, fictional identities and the true story of a British attempt to deceive the Nazis into believing a false location for an attack. Sally Hawkins is sublime in Guillermo Del Toro's magical Oscar-winning fantasy-romance The Shape of Water, playing a lonely mute cleaner in a secret military research facility who develops a bond with a strange imprisoned amphibious creature. Like most Del Toro films, it's bold and beautiful, with the filmmaker's distinct style making for striking visuals. Just like Doug Jones' creatures, Sean Connery finds himself confined, albeit in a much different setting, in Sidney Lumet's The Hill. Connery's one of five prisoners sent to a military detention camp in the Libyan Desert, faced with a gruelling punishment under the scorching sun and the sadistic power-play of a vicious Staff Sergeant. There's more big name talent behind the camera in the early hours too, with Two Days, One Night directors the Dardenne brothers' drama The Unknown Girl. The mystery sees Adèle Haenel (Portrait of a Lady on Fire) give another wonderful performance as a young doctor who sets out to discover the name of a girl who she turned away from her practice late at night, only for her to turn up dead the next day.
Sunday 13
They Made Me a Fugitive (1947) – 5Select, 10am
The Family Man (2000) – C5, 3.10pm
The Young Victoria (2009) – BBC2, 3.50pm
The Grinch (2018) – ITV, 5.20pm
The Godfather (1972) – BBC2, 10.10pm
My Week with Marilyn (2011) – BBCFour, 2am
Another chance to see: The Secret Life of Pets (ITV, 1.30pm), Great Expectations (BBC2, 1.50pm) Lemony Snicket's A Series of Unfortunate Events (C4, 1.55pm), The Cowboys (ITV4, 1.55pm), Arachnophobia (Sony Movies, 2.45pm), Shrek (ITV, 3.10pm), Groundhog Day (Dave, 3.55pm), To Hell and Back (Paramount, 4pm), Bill & Ted's Excellent Adventure (Sony Movies, 4.55pm), Kong: Skull Island (ITV2, 5.45pm), mother! (C4, 12.05am)
There are a couple of slices of 1940s' British cinema, beginning with post-war noir They Made Me a Fugitive, which sees Brief Encounter's Trevor Howard as a former RAF man who finds himself framed and imprisoned after falling in with a gang of criminals. Nicolas Cage's Wall Street hot-shot is in for a shock when he wakes up one Christmas morning to find himself in an alternate version of his life where he's married to a former love in the modern day Capra story The Family Man, while Christmas is also at the heart of brightly coloured family animation The Grinch, with Benedict Cumberbatch voicing Dr Seuss' infamous rotter who plots to ruin the holiday for the occupants of Whoville. Sandwiched in between the two, Emily Blunt leads a fine ensemble (ranging from Miranda Richardson and Harriet Walter, to Paul Bettany and Mark Strong) in a glimpse at the early year of Queen Victoria's reign and marriage in The Young Victoria, directed by Wild's Jean-Marc Vallée. There's another true-story-of-sorts in the early hours of the morning with My Week with Marilyn, which sees Michelle Williams shine in an delicate, Oscar-nominated performance as a vulnerable and undeniably iconic Marilyn Monroe during the fractious filming of The Prince and the Showgirl opposite Laurence Olivier (Kenneth Branagh), seen through the eyes of the assistant (Eddie Redmayne) who's able to get close to her. Of course, though, the big highlight of the day is the evening screening of Francis Ford Coppola's mafia epic and masterpiece The Godfather, following the Corleone family through a tumultuous period of transition and evolution. Marlon Brando scooped the Oscar for his turn as Don Vito, but Al Pacino's Michael Corleone is the true stand-out – no mean feat considering the cast includes James Caan, Robert Duvall, Talia Shire and Diane Keaton on exceptional form. The oft-quoted dialogue, the set-pieces and shots, the music…it's magnificent.
Monday 14
Bill (2015) – CBBC, 9.30am
Scott of the Antarctic (1948) – BBC2, 2.30pm
The Terminal (2003) – Film4, 9pm
The Ice King – John Curry: Storyville (2018) – BBCFour, 12.40am
Clash (2016) – Film4, 1.40am
Another chance to see: Ride Lonesome (Film4, 12.40pm), Shane (Film4, 2.10pm), Star Trek (Film4, 6.35pm) Panic Room (Sony Movies, 9pm), The Lady in the Van (BBCFour, 9pm)
There's a bit of a theme of space in a number of today's picks, whether it's the claustrophobic, a bit of the liminal or the overwhelmingly expansive. Afternoon viewing Scott of the Antarctic sees John Mills star as British explorer Robert Falcon Scott in this story of his 1912 expedition to be first to reach the South Pole, while Tom Hanks' Eastern-European traveller becomes stranded at New York's JFK airport for a very, very, very long time because of a military coup in his country, in Steven Spielberg's feelgood comedy-drama The Terminal. Surroundings become even smaller in tense Egyptian thriller Clash, set entirely in an 8m police truck as a number of protestors from different political and social backgrounds are thrown together, all while riots rage outside of the van. It's an enthralling, unrelenting, intelligent film that never feels like a gimmick. Elsewhere, there's an early morning screen of Bill, which sees Horrible Histories stars Matthew Laynton and Simon Farnaby combine for delightful and raucous family viewing about the lost years of William Shakespeare, and a late, late showing of documentary The Ice King – John Curry, an intimate and searing documentary of an Olympic great who revolutionised his field, rebelled against convention and faced tumultuous tests in his personal life.
Tuesday 15
King of Kings (1961) – BBC2, 1.45pm
A Royal Night Out (2015) – C5, 11.10pm
Their Finest (2016) – BBC2, 12.30am
Another chance to see: Run for Cover (Film4, 2.40pm), The Smallest Show on Earth (Talking Pictures TV, 6.35pm), About Time (5Star, 9pm), Die Hard 4.0 (Film4, 9pm), The Shape of Water (4/7, 11.05pm), Shoplifters (C4, 1.05am)
As a director, Nicholas Ray (In a Lonely Place, Rebel Without a Cause, They Live By Night) doesn't seem like the obvious choice for a Biblical epic, but maybe him being behind the camera for King of Kings is what makes this story of Jesus Christ so different and popular. The evening, meanwhile, sees a couple of films made in the 21st century, but rooted deep in the history of 1940s Britain – albeit with a light twist. Sarah Gadon and Bel Powley star as a teenage Princess Elizabeth and Princess Margaret who head out of Buckingham Palace incognito to celebrate VE Day in romantic romp A Royal Night Out, with a few mishaps inevitably taking place. Loosely inspired by true events, the film also stars Rupert Everett, Emily Watson, Jack Reynor and Roger Allam. Wartime comedy-drama Their Finest follows an official film team tasked with making a morale-boosting reel about the Dunkirk evacuation to lift spirits during the Blitz. There's tons of chemistry between Sam Claflin and Gemma Arterton's screenwriters, while the fine supporting cast includes Helen McCrory, a scene-stealing Bill Nighy and Richard E. Grant. Dipping into screwball, meta-cinema and the bitterness of war, it's a great, perhaps underseen film from Danish filmmaker Lone Scherfig (whose The Education makes an appearance later in the week).
Wednesday 16
The Comancheros (1961) – Paramount, 11.50am
Holiday Affair (1949) – BBC2, 2.50pm
Another chance to see: Our Man in Havana (Film4, 11am), My Darling Clementine (Paramount, 2pm), Julie & Julia (Sony Movies, 4.35pm), Gifted (Film4, 6.55pm), The King's Speech (BBC2, 9pm), The Brood (The Horror Channel, 10.45pm), Escape from New York (Paramount, 11pm), Prisoners (Film4, 11.05pm), The World's End (ITV4, 11.30pm), The Duchess (BBC1, 12.35am), Bait (Film4, 2.10am)
Enemies become partners in western The Commancheros, as John Wayne's Texas Ranger teams up with the gambler he's arrested in a bid to defeat a wild gang of thieves and arms dealers. While Wayne has a riot in his genre of choice, Robert Mitchum stepped outside his usual comfort zones for Christmas romance Holiday Affair, starring as an impulsive and reckless romantic who's trying to win the heart of young war widow Janet Leigh, despite her attachment to Wendell Corey's safe-and-steady attorney.
Thursday 17
The Bishop's Wife (1947) – BBC2, 2.30pm
Far From the Madding Crowd (2015) – BBCFour, 8pm
An Education (2009) – BBC2, 12.30am
Another chance to see: Pursued (Film4, 11am), The Happiest Days of Your Life (Talking Pictures TV, 2.30pm), The Last of the Mohicans (Paramount, 9pm), Finding Your Feet (Film4, 9pm)
There's charm for days in silver screen Christmas classic The Bishop's Wife, with both Cary Grant and David Niven in the cast. In desperate need to raise money for his ailing cathedral, David Niven's bishop asks for God for help – and is immediately visited by Grant's angel. Loretta Young co-stars as Niven's kindly wife in this really lovely holiday film. The evening brings double the Carey Mulligan, beginning with her role as Bathsheba in Thomas Vinterberg's luscious adaptation of Thomas Hardy's Far From the Madding Crowd. Mulligan excels alongside Matthias Schoenaerts and a really wonderful Michael Sheen, the beautiful cinematography is peak rural haziness and Craig Armstrong's score is absolutely divine (I recommend listening to 'Never Been Kissed' and 'Hollow in the Ferns' back to back). Mulligan's career really took flight with her scintillating, Oscar-nominated performance in Lone Scherfig's adaptation of journalist Lynn Barber's memoir An Education, a bold coming-of-age narrative about a smart, shy girl who finds herself in the middle of new experiences after meeting a charming, flash older man (Peter Sarsgaard). Again, it's wonderfully shot, and the supporting cast boasts appearances from Dominic Cooper, Olivia Williams, Emma Thompson, Alfred Molina, Rosamund Pike and Sally Hawkins.
Friday 18
The Importance of Being Earnest (2002) – BBC2, 2.45pm
The Holiday (2006) – ITV2, 8pm
The Happy Prince (2018) – BBC2, 9pm
Deadpool – Film4, 9pm
Another chance to see: Fantastic Voyage (Film4, 11am), The Gunfighter (Paramount, 2.10pm), It's a Wonderful Life (Film4, 3.15pm), The Boxtrolls (CITV, 4.30pm), Drive (Sony Movies, 9pm), Commando (E4, 9pm), Only God Forgives (Sony Movies, 11.05pm), Poor Cow (Talking Pictures TV, 11.50pm), What We Did on our Holiday (BBC1, 12.15am), Raw (Film4, 1.50am), Come Back to the Five & Dime, Jimmy Dean, Jimmy Dean (Talking Pictures TV,1.50am)
There's an Oscar Wilde/Rupert Everett/Colin Firth double bill of sorts happening on BBC2 on Friday, with an afternoon screening of the playwright's The Importance of Being Earnest and an evening terrestrial premiere of The Happy Prince, which sees Everest play the writer himself. The bright-eyed, breezy former is bustling with little white lies, romance and the aristocracy, with Reese Witherspoon and Frances O'Connor (plus Dame Judi Dench's Lady Bracknell) joining Firth and Everett. The latter, meanwhile, is a poignant passion project for writer/director/star Everett that takes in the final days of the flamboyant and witty writer, weaving memories of the past with touching contemplations of the present. It's an uncompromising duo that make up the rest of the day's picks and ones that I've toyed with including. Sure, The Holiday isn't going to be making the lists of greatest films ever made, but this festive rom-com from Nancy Meyers (Something's Gotta Give, It's Complicated) is a firm favourite for many at this time of year. Ryan Reynolds stars as a fast-talking, wisecracking sort-of-superhero in the absolutely meta Deadpool, which has great fun subverting the comic-book movie, delights in twisted, sweary humour and is definitely not one for the kids (or everybody).