Duke Box #38: Our Guide to the Best Films on TV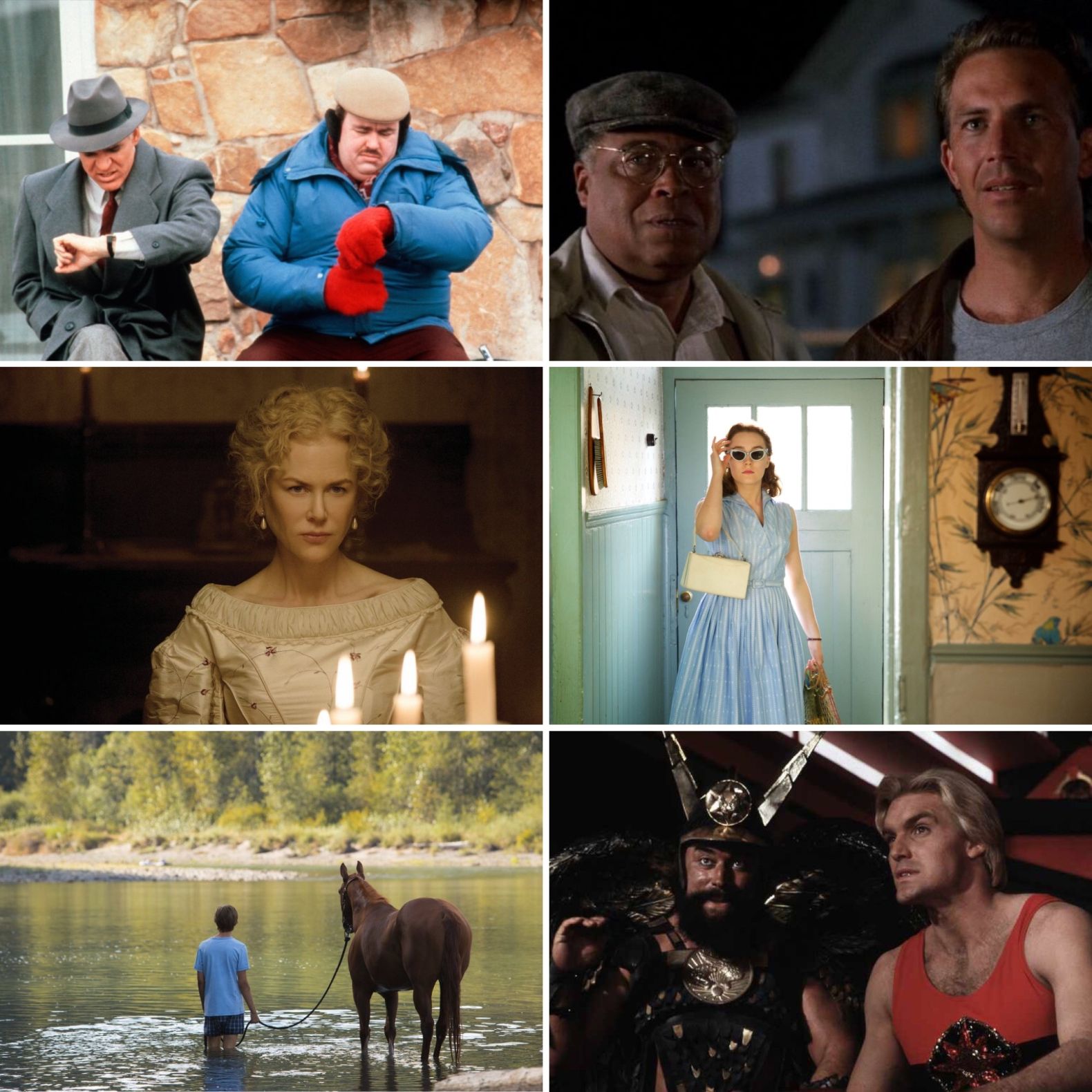 Hi everyone,
There are some big punchy performances, classic quotes and moments and beautiful, bold filmmaking on offer this week, whether that's in recent gems (Lean on Pete! Brooklyn!) or old(er) favourites (can you ever see Field of Dreams and not think of "If you build it, he will come"?). And it's well worth keeping an eye on the repeats too, where you'll find The Railway Children, Shane, The Remains of the Day and more.
(A reminder to have a look at what's cropping up in the 'Another Chance to See' bit as well. If you can't quite remember what I said about the film on previous recommendations, you can find it by searching on our website for the title or by having a quick peek at IMDB.com. Also to note that this list isn't exhaustive – these are just some titles that I've selected as ones to try out or revisit, hopefully at the best times. Some films may also change if channels decide to alter their listings.)
Saturday 5
Flash Gordon (1980) – ITV4, 5pm
Porridge (1979) – BBC2, 5.30pm
Houdini (1953) – Talking Pictures TV, 8pm
Enemy of the State (1998) – ITV4, 9pm
Planes, Trains and Automobiles (1987) – Film4, 9pm
Dirty God (2019) – BBC2, 10pm
Louis Theroux: My Scientology Movie (2015) – BBC2, 11.40pm
Kill List (2011) – Film4, 1.20am
Another chance to see: Back to the Future Part II (ITV, 1.50pm), High Noon (Paramount, 2.30pm), Kubo & the Two Strings (Film4, 2.35pm), The Railway Children (BBC2, 2.45pm), The Secret Life of Pets (ITV2, 6pm), The Hunger Games: Mockingjay Part One (Film4, 6.40pm), Back to the Future Part III (ITV2, 6.40pm), Good Will Hunting (5Star, 9pm), The Go-Between (Talking Pictures TV, 10.05pm), Mission Impossible: Rogue Nation (Film4, 10.45pm), Desperado (Sony Movies, 11.45pm)
GORDON'S ALIVE! Cult sci-fi fantasy classic Flash Gordon brings some fun family viewing to Saturday teatime, as a small-town athlete is thrust into intergalactic battles against the tyrannical Ming the Merciless to save Earth. Now 40 years old, the film stars Sam T. Jones in the lead and boasts Max von Sydow, Timothy Dalton and Brian Blessed in support. There's a big screen outing for Ronnie Barker in Porridge, which sees Fletcher and Godber accidentally get out of prison and have to find a way to sneak back in, while Houdini stars real-life couple Tony Curtis and Janet Leigh in a highly-fictionalised but still romantic and entertaining account of the infamous illusionist. Will Smith and Gene Hackman lead Tony Scott's dramatic action thriller Enemy of the State, which sees a lawyer become a corrupt politician's target after acquiring some key evidence to a crime. With most Scott pictures, there are some great action set-pieces, while its car chase and paranoia harken back to leading Hackman's own '70s career in The French Connection and The Conversation. It has an absolutely massive cast too, with Regina King and Gabriel Byrne just two of the names cropping up in support. '80s comedy Planes, Trains and Automobiles sees dream team pairing Steve Martin and John Candy at the top of the game as a control freak and loveable oaf respectably who are forced into travelling together to make it home for Thanksgiving. Sure, the premise is a little predictable but that adds to the charm, while Martin and Candy make everything zing fresh. And as a John Hughes film expect some lovely emotional beats in with the belly laughs. On BBC2 there are back-to-back picks, beginning with indie Dirty God, starring Vicky Knight as a young mum trying to rebuild her life in the aftermath of a brutal acid attack. It's gritty and unflinching realist cinema, with first time (and health care worker) Knight giving a nuanced, complex performance. It's followed by My Scientology, an alternative documentary from Louis Theroux who, after being denied admittance into the Church of Scientology's headquarters, responded by recreating testimonies from ex-members. Then in the middle of the night (quite fitting in some ways) there's Ben Wheatley's relentlessly tense crime-horror-mystery film Kill List. There's such an overwhelming sense of dread in the film as an ex-soldier, now a contract killer, works through a new assignment which promises a big pay-off – only for things to soon unravel. It's hard to say what makes the film so compelling; it just is.
Sunday 6
5 Card Stud (1968) – Paramount, 4.15pm
Arthur Christmas (2011) – ITV2, 4.40pm
Field of Dreams (1989) – Sony Movies, 6.50pm
The Workshop (2017) – BBCFour, 10.10pm
Another chance to see: Flash Gordon (ITV4, 10.45am), Mary & the Witch's Flower (Film4,1.05pm), The Remains of the Day (Sony Movies, 1.35pm), Brighton Rock (Talking Pictures TV, 1.50pm), Apollo 13 (ITV, 2.55pm), The Hunger Games: Mockingjay Part Two (Film4, 6.20pm), The Magnificent Seven (ITV2, 6.25pm), Red (Film4, 9pm), Gone Girl (Film4, 11.15pm), Shaun of the Dead (ITV2, 11.40pm), Dracula – Prince of Darkness (Talking Pictures TV, 2am)
Smooth talkers Dean Martin and Robert Mitchum star in 5 Card Stud in the afternoon, a mystery-western penned by True Grit writer Marguerite Roberts about an ongoing poker game that sees its players bumped off, one by one. For something a bit more kiddy-friendly, there's the charming Arthur Christmas from Aardman Animations, which puts a twist on the age-old question: 'just how does Santa deliver everyone's presents in one night?' After a present goes awol, it's up to Father Christmas' clumsy son Arthur to deliver it to the little girl it's intended for, encountering a series of mishaps along the way (but of course!). It's a serious impressive voice cast, from James McAvoy, Hugh Laurie, Jim Broadbent, Imelda Staunton and Bill Nighy, through to Laura Linney, Michael Palin, Andy Serkis, Joan Cusack and more, and there's a bit of an emotional punch packed in there too. Speaking of tears, it's the much-loved heartstring puller Field of Dreams over on Sony Movies in the early evening. Kevin Costner stars as an Iowa corn farmer who hears a voice saying "If you build it, he will come"; he builds a baseball diamond on his land and then the miraculous happens – out walks 8 players from the infamous 1919 Chicago White Sox team. Yes, it's sentimental, but wonderfully so, committing to the premise and creating a lovely mix of love and longing for nostalgia, sports and family that is such a warming tonic for anything gloomy. And the supporting cast is great, with James Earl Jones and Ray Liotta particular stand outs. Finally, French drama-thriller The Workshop takes the rather pleasant notion of a writing retreat in the South of France and distils it with dread and social commentary, as one of the young people under the guidance of renowned novelist Olivia Dejazet reveals a provocative proclivity, which both repulses and attracts his teacher.
Monday 7
Appointment with Danger (1950) – Film4, 1.15pm
Lean on Pete (2017) – Film4, 11.15pm
45 Years (2015) – Film4, 1.40am
Another chance to see: Footsteps in the Fog (Sony Action, 11.15am), High Noon (Paramount, 2.10pm), Cloak and Dagger (Talking Pictures TV, 6.50pm), Blue Thunder (Sony Action, 11.05pm)
Alan Ladd and Phyllis Calvert star in brooding film noir Appointment with Danger (well, with a name like that…), which sees the former's detective hired to investigate a murder where the key witness is a beautiful nun. The evening meanwhile sees a poetic and poignant double bill from British filmmaker Andrew Haigh. I placed Lean on Pete in my top films of 2018 because I was bowled over the beautiful cinematography, gorgeous performances and touching-but-not-oversentimental story of a teen who wants to save the racehorse he cares for from slaughter, leading him on a journey across the country for a new home. 45 Years stayed in Britain, following a married couple whose preparations for their wedding anniversary is toppled by a shattering revelation from the past. An Oscar-nominated Charlotte Rampling and Tom Courtenay are sublime at the top of the cast and it has one of my favourite final shots.
Tuesday 8
Another chance: The File on Thelma Jordan (Film4, 11am), The Turning Point (Film4, 1.05pm), Ride Lonesome (Film4, 2.45pm), Shane (Film4, 4.15pm) Little Women (Sony Movies, 4.20pm), Star Trek (Film4, 6.35pm), Julie & Julia (Sony Movies, 6.40pm), A Most Violent Year (Sony Movies, 9pm), The Green Mile (C5, 10.30pm)
Not a lot in the way of new suggestions but I do want to flag up that you could quite happily sit in front of Film4 for a good number of hours with films we've previously suggested, from Barbara Stanwyck noir The File on Thelma Jordan and ballet drama The Turning Point, through to space adventures with Star Trek, via westerns Ride Lonesome and Shane. The latter is an excellent one to delve into if you've never seen it before: Alan Ladd is a wonderfully enigmatic anti-hero, Jack Palance is a slippery, snake-like gunslinger and Jean Arthur, so often associated with brilliant comedic performances, is understated and heartbreaking as a homesteader's tired wife.
Wednesday 9
Another chance to see: Houseboat (Film4, 2.50pm), Last Train from Gun Hill (Film4, 5pm), Hot Fuzz (ITV4, 10pm), Remember My Name (Talking Pictures TV, 12.10am), American Hustle (C4, 12.25am)
Thursday 10
Brooklyn (2015) – BBCFour, 8pm
22 Jump Street (2014) – C5, 10.25pm
The Beguiled (2017) – BBC2, 11.30pm
Another chance to see: 49th Parallel (Film4, 3.40pm), Bridge of Skies (Film4, 6.15pm), Gifted (Film4, 9pm), The Nanny (Talking Pictures TV, 10pm), Planes, Trains and Automobiles (Film4, 11pm), Sightseers (Film4, 12.45am)
Brooklyn is nothing short of beautiful, telling the simple story of a young Irish immigrant (Saoirse Ronan) who lives and works through homesickness, dreams and romance in 1950s New York. Ronan is unsurprisingly excellent, garnering one of her four Oscar nominations here and creating screen magic with Domhnall Gleeson, Emory Cohen and Julie Walters. It's a delightful film. There's also captivating filmmaking on display in Sofia Coppola's take on The Beguiled, a woozy fever-dream of a film which follows an injured and deserter Union soldier (Colin Farrell) as he's taken in by an all-female boarding school – an act of kindness that leads to building sexual tensions and manipulation. A 1970s version starring Clint Eastwood was a bit of a sexploitation film told through the soldier's eyes; here the focus is on the women, gamely led by modern gothic queen Nicole Kidman (who delivers one of the lines of the last five years), Coppola favourite Kirsten Dunst and Elle Fanning. It's not flawless but that's what makes it so intriguing. Sandwiched in between the two is 22 Jump Street, a very funny sequel to the movie reboot of 21 Jump Street, starring Channing Tatum and Jonah Hill as officers who, having already gone undercover in high school, are now set to go undercover in college. It's just goofy, good fun with wicked chemistry between the two leads who you can tell had a blast making it (their interview on the Graham Norton Show alongside Dame Julie Andrews is a great watch). However, it might not land so much if you haven't seen 21 Jump Street, which is bizarrely showing as listed on Friday night. Still, the option's there.
Friday 11
The Mercy (2017) – BBC2, 9pm
21 Jump Street (2012) – ITV2, 9pm
Starred Up (2013) – Film4, 11.05pm
Bros: After the Screaming Stops (2018) – BBC4, 12.30am
Another chance to see: The Sound of Fury (Film4, 11am), The Scarlet and the Black (Sony Action, 2.55pm), The Violent Men (Film4, 2.55pm), Fantastic Voyage (Film4, 4.45pm), Bridge to Terebithia (Sony Movies, 7pm), Hell or High Water (Film4, 9pm), The Man Who Fell to Earth (Talking Pictures TV, 10pm), The Hurt Locker (BBC2, 12am)
And here is 21 Jump Street! I half-explained the plot before: two cops go undercover into a high school to bust up a dangerous drug ring. Directed by The Lego Movie's Phil Lord and Chris Miller, it lovingly pays homage and satirises the 80s pop culture and high school tropes so prevalent in the TV show it's inspired by, while adding a bit of millennial punch to it – plus Brie Larson! Elsewhere there's a terrestrial debut for The Mercy, the true and fascinating story of Donald Crowhurst, an amateur sailor who attempted to single-handedly circumnavigate the globe without stopping and, when things started to go wrong, began to create an outrageous version of events. Colin Firth steps into Crowhurst's boat shoes, while Rachel Weisz plays the wife left trying to manage everything at home. From the wide open sea to a 6" by 8" cell, hard-hitting Starred Up is an explosive and tense drama starring Jack O'Connell as a teenager who runs into his violent father (Ben Mendelsohn, excellent) in prison after being to switched from a juvenile facility. It's not an easy watch but it's riveting nonetheless, smartly and deftly exploring aggressive masculinity, damaged family dynamics and the pressure-cooker environment of prison. For something completely different though, there's Bros: After the Screaming Stops, a close look at the lives of Bros members and brothers Matt and Luke Goss that's equally compelling, if for wholly different reasons. The film follows the brothers in preparation for a long-awaited reunion tour, exploring with the duo (who are full of candour) about the toll of quickly achieved and quickly lost fame and sibling tensions. Sure, there are moments of unintentional Spinal Tap like hilarity, but there's a real charm to it too.