Duke Box #29: Our Guide to the Best Films on TV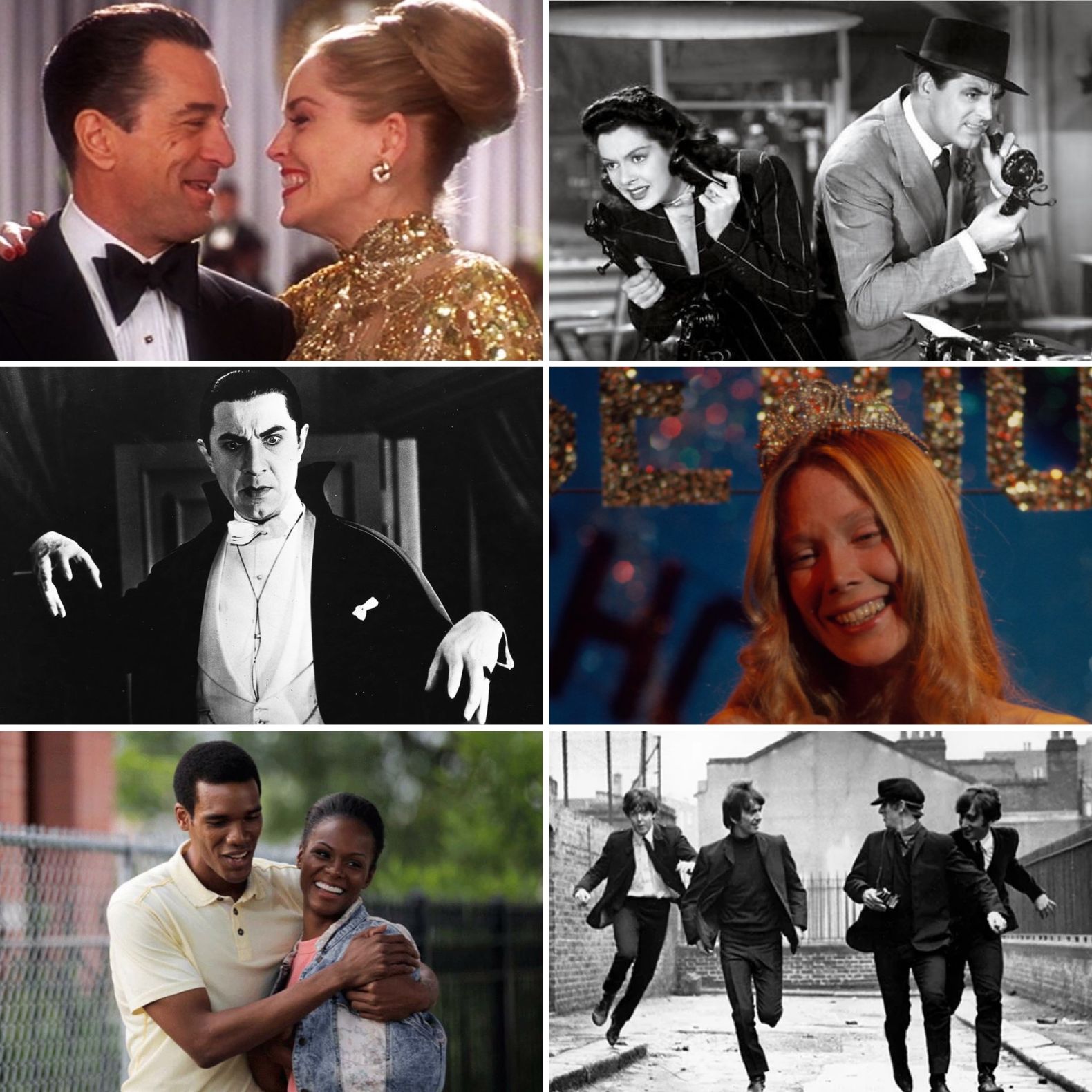 Hi everyone,
Brilliant ensembles, fantastic double-acts and a fair few iconic solo turns - that's what's at the centre of the new selections for this week.
As we step closer to Halloween (probably our favourite time in the Cinema team), Pick of the Week's going to a mood-setter: Carrie, starring a sublime Sissy Spacek as teenage girl dealing with an abusive mother, high school bullies, the pains of adolescence and the small matter of telekinesis. It's not often on TV so it's a great chance to catch it.
(A reminder that this list isn't exhaustive and that some films will be repeated at different times – these are just some titles that I've selected as ones to try out or revisit, hopefully at the best times. Some films may also change if channels decide to alter their listings.)
Saturday 3:
First Blood (1982) – ITV4, 9pm
Casino (1995) – Dave, 9pm
Yardie (2019) – BBC2, 9.45pm
10 Cloverfield Lane (2016) – Film4, 11.10pm
A Hard Day's Night (1964) – BBC2, 12.20am
Another chance to see: Rango (Film4, 11am), Back to the Future Part III (Film4, 1.10pm), High Noon (Paramount, 2.40pm), She Wore a Yellow Ribbon (Sony Action, 3.25pm), The First Wives Club (C5, 3.55pm), Edward Scissorhands (E4, 6.55pm), 12 Years a Slave (C4, 9pm), Terminator 2: Judgement Day (ITV, 10.45pm), Panic Room (Sony Movies, 12.05am)
A first outing for Sylvester Stallone's Rambo that's much darker and more thoughtful than the rest of the franchise, First Blood follows a troubled veteran forced into combat and survival mode by the abusive treatment of a small-town Sheriff and his officers. Meanwhile, Las Vegas gets the Martin Scorsese treatment in Casino, a big, epic tale of greed, gambling and, what else, power. Robert De Niro's the casino executive, Joe Pesci is the mafia made man and Sharon Stone's the streetwise hustler who rises to the top. There's more tough crime and moral ambiguities in Idris Elba's directorial debut Yardie, the story of one man caught between his own life of crime and enacting retribution on the man who killed his brother. Elsewhere there's paranoia aplenty in 10 Cloverfield Lane, an eerie sci-fi thriller (and the second film in the Cloverfield universe) about a woman who wakes up after a car crash in an underground bunker with two male strangers who tell her that the outside world has become a nuclear wasteland. Mary Elizabeth Winstead is fantastic in the lead, while John Goodman is brilliantly opaque as the bunker's owner. Finally, the Fab Four hit the big screen in A Hard Day's Night, Richard Lester's comedy about a madcap day and a half in the life of The Beatles at the height of Beatlemania.
Sunday 4:
Dirty Rotten Scoundrels (1988) – 5Select, 12pm
The Searchers (1956) – BBC2, 4.05pm
Dracula (1931) – The Horror Channel, 5.30pm
Teacher's Pet (1958) – Talking Pictures TV, 6.10pm
Murder on the Orient Express (2017) – C4, 8pm
Another chance to see: Kind Hearts and Coronets (5Select, 10.55am), Over the Hedge (Film4, 11am), Master & Commander: the Far Side of the World (Sony Movies, 1.30pm), The Flight of the Phoenix (Paramount, 1.50pm), Carry on Screaming (ITV3, 3pm), King Kong (ITV2, 5.25pm), The Mummy (The Horror Channel, 7pm), In the Line of Fire (ITV4, 9pm), War for the Planet of the Apes (Film4, 9pm), Kill Bill Vol. 2 (5Star, 11.05pm), Blue Thunder (Sony Action, 11.10pm), I Am Not a Witch (C4, 12.15am)
Steve Martin and Michael Caine star as con men competing to swindle the same heiress (played by Glenne Headley) out of her money in Frank Oz's comedy Dirty Rotten Scoundrels. It's pure charming, simple escapism – perfect for a Sunday lunchtime. Then in the afternoon there's The Searchers, a landmark Western and significant piece of cinema from John Ford and John Wayne. Following a Civil War vet on an obsessive journey to rescue his abducted niece, the film tackles heroism, racism, violence while finding time for the small moments too (watch Wayne's Ethan with his brother's family). Plus, there's that final shot. Bela Lugosi's undead in Tod Browning's classic Dracula, creating one of the most influential depictions of Bram Stoker's notorious vampire. One of the big Universal Horror movies of the 1930s, it's a great way to get into the spooky season mood. For something a little more lighthearted though, there's Teacher's Pet, a battle of the sexes comedy which sees Clark Gable's newspaper editor pose as a night school student to woo Doris Day's journalism teacher. With fine support from Gig Young, it's another cheerful rom-com from Day – including an incredibly catchy title track. Finally, Kenneth Branagh dons a quite extraordinary moustache and directs a fantastic ensemble (Colman! Dench! Dafoe! Pfeiffer!) in a glossy adaptation of Murder on the Orient Express, one of Agatha Christie's most notorious cases for Belgian sleuth Hercule Poirot to crack.
Monday 5:
Another chance to see: Houseboat (Film4, 4.35pm), Dead Reckoning (Sony Action, 5.05pm), Wyatt Earp (Paramount, 9pm), Hanna (Sony Movies, 9pm), Stir of Echoes (The Horror Channel, 9pm), First Blood (ITV4, 9pm), My Life as a Courgette (Film4, 2.40am)
Tuesday 6:
Article 15 – C4, 1.30am
Another chance to see: Air Force One (5Star, 9pm), Star Trek (Film4, 9pm)
A thought-provoking, unflinching crime-thriller set in the rural heartlands of India, Article 15 follows senior police officer's investigation into the disappearance of three teenage girls from a small village. Aside from knowing that the film is inspired by a few real-life incidents, I'm not too familiar with the film – but the reviews are extraordinary.
Wednesday 7:
The File on Thelma Jordan (1949) – Film4, 3.05pm
Last Train from Gun Hill (1959) – Film4, 5.10pm
In Bruges (2014) – Film4, 11pm
Another chance to see: The Victors (Sony Action, 11.05am), The Happy Breed (Film4, 12.50pm), The Two Faces of January (Film4, 7.05pm), American Hustle (More4, 9pm), F/X: Murder by Illusion (Paramount, 9pm), Murder on the Orient Express (Four7, 9.30pm), The Assassination Bureau (Talking Pictures TV, 12am), Blue Thunder (Sony Action, 12.35am), Loveless (Film4, 1.10am)
A film-noir starring Barbara Stanwyck? Excellent. The File on Thelma Jordan sees the actress star as a mysterious woman who enlists an Assistant DA to help her solve some burglaries at her aunt's house…but is there more to it than that? (Of course there is, it's film noir.) Kirk Douglas and Anthony Quinn star in John Sturges' Western Last Train from Gun Hill, a fiery, action-packed film about a US Marshal whose wife is brutally murdered by the son of a former friend. Finally, Colin Farrell and Brendan Gleeson make for a wonderful on-screen pair as a couple of hitmen sent to hide out In Bruges after a job goes horribly wrong and await orders from their ruthless crime boss (a scene-stealing Ralph Fiennes). It's a brutal, brilliant black comedy-crime drama from Martin McDonagh (Three Billboards), with all the actors on top, top form.
Thursday 8:
The Way Ahead (1944) – Talking Pictures TV, 11.45am
Seven Psychopaths (2012) – Film4, 11.15pm
Another chance to see: Walking Out (Film4, 6.55pm),The Searchers (BBC4, 8pm),Three Billboards Outside of Ebbing, Missouri (Film4, 9pm), The Day of the Locust (Talking Pictures TV, 10pm), Face/Off (ITV4, 10.10pm), John Wick Chapter 2 (C5, 11pm), 21 Grams (Sony Movies, 12.40am)
David Niven, William Hartnell and Stanley Holloway stars in Carol Reed's The Way Ahead, a WWII drama about a group of British civvies conscripted into the British army and sent off to North Africa to fight the Nazis. Niven exec-produced the film following his own Sandhurst experiences, with the script co-written by co-star Peter Ustinov. A sharp turn of pace in the evening though with Seven Psychopaths, which sees Colin Farrell, Sam Rockwell, Christopher Walken, Tom Waits, Harry Dean Stanton and more all assemble for another dark comedy-crime film from writer/director Martin McDonagh (Three Billboards, In Bruges). Struggling screenwriters, the LA criminal underworld, Shih Tzus…they're all in there.
Friday 9:
The Turning Point (1977) – Film4, 11am
His Girl Friday (1940) – Talking Pictures TV, 12.10pm
Carrie (1976) – Film4, 11.10pm
Imagine (1972) – Sky Arts, 12.30am
Southside With You (2016) – BBC2,12.50am
Another chance to see: The Flight of the Phoenix (Paramount, 1.55pm), Only the Brave (Film4, 6.20pm), A Hard Day's Night (BBC4, 8pm), Casino (Dave, 9pm), Stoker (Film4, 1.20am)
What a wonderful selection of films for Friday with some fabulous actors and performances. Anne Bancroft, Shirley MacLaine, Tom Skerritt and Mikhail Baryshnikov all star in The Turning Point– the story of a former dancer whose daughter joins a ballet company, forcing her to deal with the decision she made to leave the profession to start a family. Meanwhile, Rosalind Russell and Cary Grant are positive crackling in the classic screwball comedy His Girl Friday, which sees a newspaper editor drag his reporter ex-wife into a murder case, just so that he doesn't lose her and her journalist skills to her new fiancée. Sissy Spacek is mesmerising as the misfit teenage girl who discovers she has telekinetic powers in Carrie, Brian de Palma's fantastic, disturbing and actually quite moving adaptation of Stephen King's novel. Piper Laurie is also incredible and disturbing as Carrie's overbearing, dangerous mother, while Amy Irving, '70s horror icon P.J. Soles and a young John Travolta all pop up in support. I have only just realised that Sky Arts is on Freeview (channel 11) so it's quite nice that they're showing Imagine, a unique home-movie from John Lennon, showing a glimpse into his home life and creativity with Yoko Ono and footage of the Imagine recordings and tour. Finally, Southside With You is a tender romance set on a summer afternoon in 1989 Chicago, chronicling the fateful, unassuming first date of one of the most powerful and influential couples in the world – the future U.S. President Barack Obama and lawyer Michelle Robinson.