Duke Box #25: Our Guide to the Best Films on TV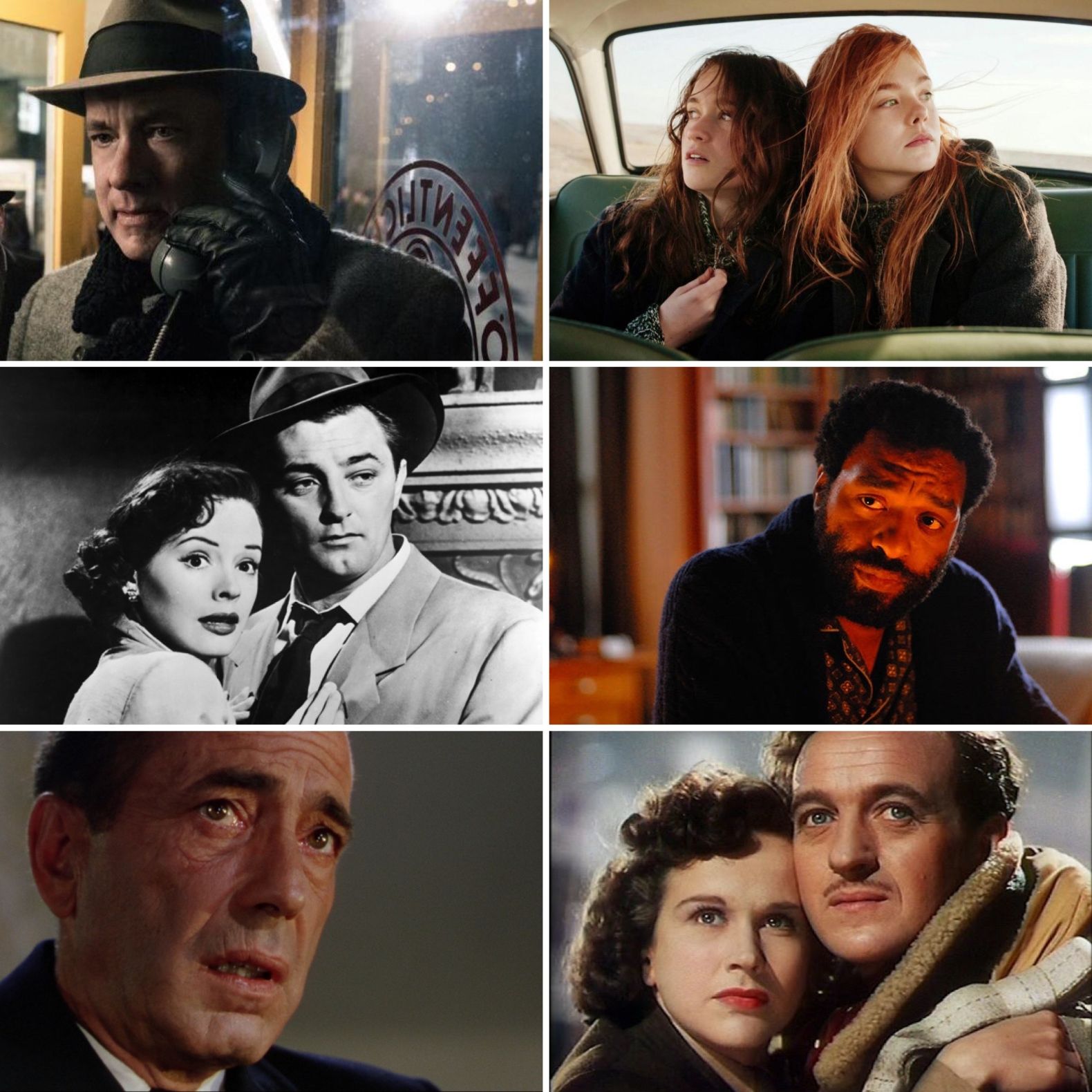 Hi everyone,
Bogart, Stanwyck, Mitchum...Hanks, Bening, Freeman...there are big names cropping up in this week's listings. It's a big title that makes it as Pick of the Week as well, with BBC2 screening the wonderful, bold and profound A Matter of Life & Death. Powell & Pressburger's classic crosses all sorts of genres - romance, fantasy, war, drama - with some delightful storytelling and charming performances from David Niven and Kim Hunter. It truly is one of the greats.
(A reminder that this list isn't exhaustive and that some films will be repeated at different times – these are just some titles that I've selected as ones to try out or revisit, hopefully at the best times. Some films may also change if channels decide to alter their listings.)

Duke Box 24
Saturday 5
Went the Day Well? (1942) – Talking Pictures TV, 6pm
The Karate Kid (1984) – 5Star, 6.25pm
Invictus (2009) – BBC1, 8.05pm
Changeling (2008) – Sony Movies, 9pm
The Silent Partner (1978) – Talking Pictures TV, 9pm
Shaun of the Dead (2004) – ITV2, 9pm
Z for Zachariah (2015) – BBC1, 11pm
Ginger & Rosa (2012) – BBC2, 12.45am
Another chance to see: The Spiderwick Chronicles (Film4, 12.55pm), Chocolat (Sony Movies, 3.05pm), The Tall T (Sony Action, 4.30pm), Hail Caesar! (Film4, 4.35pm), The Martian (Film4, 9pm), Rain Man (5Star, 9pm), Girl, Interrupted (Sony Movies, 11.25pm) Thelma and Louise (5Star, 11.50pm), Bound (The Horror Channel, 2.30am)
It's another day where there's a whole mix of genres cropping up to suit your mood. A British village take on undercover German paratroopers in WWII film Went the Day Well?, adapted from a Graham Greene short story, while Ralph Macchio's bullied high-schooler learns self-defence from Pat Morita's Mr Miyagi in '80s favourite The Karate Kid, a film we recently showed on our big screen. There are two films directed by Clint Eastwood on in the evening, both inspired by different-but-equally-remarkable true stories. Invictus sees Morgan Freeman star as Nelson Mandela and Matt Damon as rugby captain Francois Pienaar who combine to try to unite a South Africa divided in the wake of Apartheid through sporting triumph, while Changeling sees an Oscar-nominated Angelina Jolie as a mother who is reunited with her missing son…only to believe that he is not actually the child that she lost. Elsewhere at 9pm, you can join Elliott Gould as a bank teller who finds himself in a cat-and-mouse game with Christopher Plummer's sadistic crook in thriller The Silent Partner, or head to the Winchester Arms and wait for the zombie apocalypse to all blow over in Sean Pegg, Nick Frost and Edgar Wright's wickedly funny horror homage Shaun of the Dead. There's more of the apocalypse happening in Z for Zachariah, starring Chris Pine, Chiwetel Ejiofor and Margot Robbie as three survivors of a nuclear wasteland, caught in a desperate and tense love triangle. Finally, after midnight, there's Sally Potter's Ginger & Rosa, a powerful and tender coming-of-age story about a couple of teenage girls in 1960s' London whose friendship is disrupted by the threat of nuclear war and the arrival of the sexual revolution. Elle Fanning and Alice Englert star as the leads, with Timothy Spall, Annette Bening and Oliver Platt just some of the names in support.
Sunday 6
Odette (1950) – BBC2, 11.30am
Cosmos (2015) – Film4, 1.10am
Another chance to see: The Admirable Crichton (Sony Classic, 11.40am), The Boxtrolls (Film4, 12.40pm), Bend it like Beckham (C4, 2pm), The Flight of the Phoenix (Sony Classic, 3.45pm), The Colditz Story (Sony Action, 4.15pm), The Truman Show (Sony Movies, 4.50pm), The Man Who Knew Too Much (Sony Classic, 6.35pm), Tomorrow Never Dies (ITV4, 8pm), The Bridge on the River Kwai (Paramount, 9pm), The Beach (Sony Movies, 9pm), East is East (C4, 11.15pm), Custody (C4, 12am)
WWII silver screen darling Anna Neagle stars alongside Trevor Howard and Peter Ustinov in Odette, the remarkable story of French Resistance heroine Odette Sansom – the first woman to ever receive the George Cross. Andrzej Żulawski's final film, 'metaphysical noir thriller' Cosmos creeps into the late night, following two friends who discover mysterious signs and unnerving occupants in the guest house they're staying in.
Monday 7
A Matter of Life and Death (1946) – BBC2, 2.30pm
The Big Steal (1949) – Sony Classic, 3.25pm
Die Hard 4.0 (2007) – Film4, 9pm
Another chance to see: The Devil and Miss Jones (Talking Pictures TV, 4.05pm), The Admirable Crichton (Sony Classic, 4.55pm), Face/Off (Sony Movies, 9pm), Platoon (ITV4, 10.05pm), Tom Jones (Sony Classic, 11.20pm), The Big Heat (Sony Classic, 1.55am)
Well, it's a proper classic that starts off our Monday listings. Beautiful, thoughtful, incredibly powerful, David Lean's daring A Matter of Life and Death stars David Niven as a WWII airman who finds love just as he cheats death, causing him to argue for his life before a celestial court. There's afternoon film noir in the shape of The Big Steal, which sees Robert Mitchum and Jane Greer star as a cheated Army Lieutenant and conned ex-girlfriend who team up to follow the thief who wronged them and outrun the authorities who think they're to blame. Die Hard 4.0 isn't really a patch on previous entries in the action franchise but it's still pretty fun, with Bruce Willis reprising his iconic role of forever-in-the-wrong-place John McClane alongside Timothy Olyphant's cyber terrorist, Justin Long's hacker and Mary Elizabeth Winstead as Lucy Gennaro McClane.
Tuesday 8
A Fistful of Dynamite (1971) – ITV4, 11.45pm
American Hustle (2013) – Film4, 12.40am
Another chance to see: The Life & Death of Colonel Blimp (BBC2, 2.30pm), Terminator 2: Judgement Day, (ITV4, 9pm), Poor Cow (Talking Pictures TV, 10pm)
A couple of late-night hits either side of midnight here, beginning with Sergio Leone's final spaghetti western A Fistful of Dynamite. Seen as the middle chapter in the thematically connected Once Upon a Time in the West and Once Upon a Time in America, it stars Rod Steiger and James Coburn as a low-life bandit and an IRA explosives expert who rebel against the government during the Mexican Revolution. Elsewhere, Christian Bale, Bradley Cooper, Amy Adams and an Oscar-winning Jennifer Lawrence star in American Hustle, David O. Russell's story of con artists, rogue FBI agents, Jersey powerbrokers and the Mafia in 1970s America. Remarkably, that's the just the tip of the film's fine ensemble cast. If memory serves me correctly, there's also a great soundtrack.
Wednesday 9
The Cruel Sea (1953) – BBC2, 2.30pm
Bridge of Spies (2015) – More4, 9pm
Another chance to see: 3:10 to Yuma (Film4, 11am), Tunes of Glory (Paramount, 12pm), Gentlemen Prefer Blondes (Film4, 12.55pm), Went the Day Well? (Talking Pictures TV, 2.30pm), Little Women (Sony Movies, 6.35pm), Changeling (Sony Movies, 9pm), Awakenings (Sony Classic, 9pm), The Sessions (C4, 2.50am)
Set sail on The Cruel Sea on Wednesday afternoon, a WWII film focusing on the Battle of the Atlantic and the tough experiences of the British naval officers and seamen serving in convoy escorts. Starring Jack Hawkins, Donald Sinden and Denholm Elliott, it's regarded as one of the best British films of all time. The Cold War backdrops the evening film, with Tom Hanks' American lawyer recruited to defend Mark Rylance's Soviet spy in Steven Spielberg's thrilling drama Bridge of Spies. The two actors have wonderful, compelling chemistry in their scenes, and Ryalnce's quiet, measured performance saw him win that year's Oscar for Best Supporting Actor.
Thursday 10
The Caine Mutiny (1954) – BBC2, 2.30pm
Suffragette (2015) – Film4, 6.50pm
The Smallest Show on Earth (1957) – Talking Pictures TV, 7.15pm
Goldstone (2016) – BBC4, 10pm
Ginger Snaps (2000) – The Horror Channel, 12.35am
Another chance to see: Footsteps in the Fog (Sony Classic, 10.25am), 49th Parallel (Film4, 1.25pm), The Tall T (Paramount, 2.15pm), A Night to Remember (Film4, 4pm), American Gangster (Sony Movies, 9pm), The Misfits (Sony Classic, 9pm), A Fistful of Dynamite (ITV4, 11.45pm), Drive (Sony Classic, 12.10am), The Counsellor (Film4, 1.35am)
Humphrey Bogart is quite brilliant in multi-Oscar-nominated drama The Caine Mutiny, the story of a U.S. Naval captain whose mental instability threatens to jeopardise the ship and the first officer who relieves him of command, only to face court martial for mutiny. There's a very fine supporting cast including Jose Ferrer and Fred MacMurray in support, but Bogart's performance is the one that'll stick with you. Speaking of fine ensembles, Carey Mulligan, Helena Bonham Carter, Anne-Marie Duff, Meryl Streep, Ben Wishaw and Brendan Gleeson assemble for the stirring Suffragette, the story of the fight for women to vote. Virginia McKenna and Bill Travers play a young couple who inherit an old theatre – and the three eccentric senior citizens who work there – in The Smallest Show on Earth, featuring Margaret Rutherford, Peter Sellers and Bernard Miles as the dedicated employees in question. Australian crime thriller Goldstone sees Aaron Pedersen reprise his Detective Jay Swan character from Mystery Road to take on a new missing person's enquiry, a case that inevitably leads to more corruption than first appears. The great Jacki Weaver and David Wenham co-star. Finally, there's funnies, feminism and, um, fur in the brilliant horror-comedy Ginger Snaps, which reinvents the female coming-of-age and outsider story into a tale of suburban werewolves and sexuality.
Friday 11
In Which We Serve (1942) – BBC2, 2.30pm
The Violent Men (1955) – Film4, 2.40pm
Another chance to see: The Misfits (Sony Classic, 12.30pm), Sink the Bismarck! (Film4, 12.40pm), Dances With Wolves (Sony Action, 3.05pm), The Happiest Days of Your Life (Talking Pictures TV, 4.20pm), The Detective (Sony Classic, 5.05pm), A View to a Kill (ITV4, 8pm), Rain Man (5Star, 9pm), Die Hard 2: Die Harder (Sony Movies, 9pm), Zodiac (BBC1, 10.45pm)
Before This Happy Breed, Blithe Spirit and Brief Encounter, Noël Coward and David Lean collaborated on war-drama In Which We Serve, the story of a British ship told in flashback. It's a soft propaganda piece designed to lift British spirits during the war but is a nevertheless compelling and powerful look at society at the time. Coward also stars as in the film, as do The Happy Breed's John Mills, Celia Johnson and Kay Walsh. Western The Violent Men brings together one fantastic ensemble of Glenn Ford, Barbara Stanwyck, Edward G. Robinson and Brian Keith in a bitter story of land disputes that packs the action with a few psychological wallops too.