Keilah's Chronicles: Film Engagement Blog #3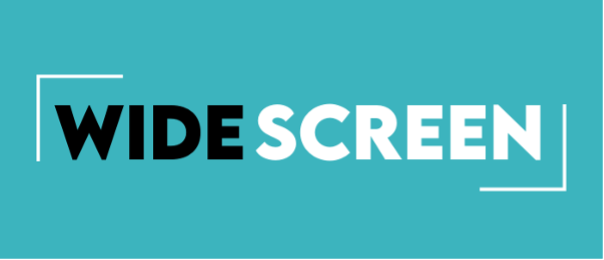 [photo description: logo for the widescreen project, a cyan rectangle with the word 'Widescreen' in the middle in black and white]
For those of you that don't know me, my name is Keilah and I am the Film Engagement Lead at the Dukes. My role currently is to lead our 'Widescreen' project, which aims to increase diversity and inclusivity in our cinema programming and audience. We want to create an environment where cinema is accessible to everyone, and we believe that starts with showing films that our audience can relate to and see themselves in.
Film and media are so important, especially in light of these days where being indoors has been the norm, and so not being able to see yourself in the media you consume can be disappointing. Our goal is to increase our programming to involve stories from all walks of life, and we've had some great diverse films on our roster since reopening our doors. Whether about racial diversity (e.g. Judas and the Black Messiah, Minari), sexuality (e.g. Ammonite, Ellie and Abbie), or representation of disability (e.g. The Sound of Metal) we've been trying hard to show more inclusive films.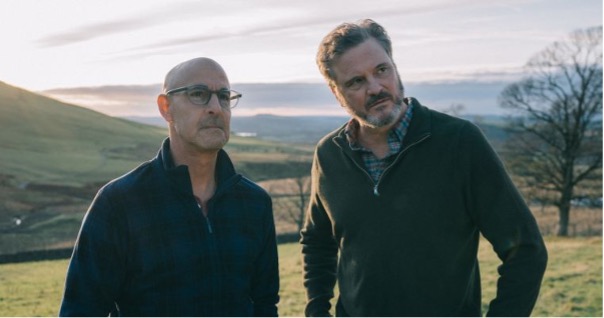 [photo description: screenshot from the film 'Supernova', featuring actors Stanley Tucci and Colin Firth in casual clothing, stood on the grassy hills of the Lake District]
Hopefully you've had a chance to catch some of these already, but if not don't worry, because we have plenty more films on the way! Our top picks in the next few weeks are:
- After Love [12A]
- The Reason I Jump [12A]
- In The Heights [PG]
To book for these films, check out the Dukes website, and look out for the Widescreen logo to see which ones get our seal of approval for supporting diversity in film!
One of my other focuses recently has been putting into place our Widescreen sessions! These are online live Zoom events that feature special guests to talk about the kinds of films mentioned above, to help us as a community learn more about why it's important to promote positive representation and inclusivity. We've had two sessions under our belt so far, with another two planned and more to go! There's sure to be one that could interest you, so keep an eye on our social media channels to find more as they are announced.
Our first session was in reference to 'Judas and the Black Messiah', and I was joined by Chair of Lancaster Black History Group, Geraldine Onek, and co-creator of The Bay and honorary patron of the Dukes, Daragh Carville. We spoke about the themes of colour-blind casting, racial stereotypes, and the history of black characters in film.
In our second session we spoke about, 'Sound of Metal', and I was joined by Chair of the Institute for Youth Work Jaffer Ali Hussain, and filmmaker and scholar Maryam Ghorbankarimi. We spoke about seeing South Asian faces on screen and the way they are portrayed, the prevalence of disabilities in mainstream media, and the need to see positive representation to give confidence to young people who may want to follow in those role models' footsteps.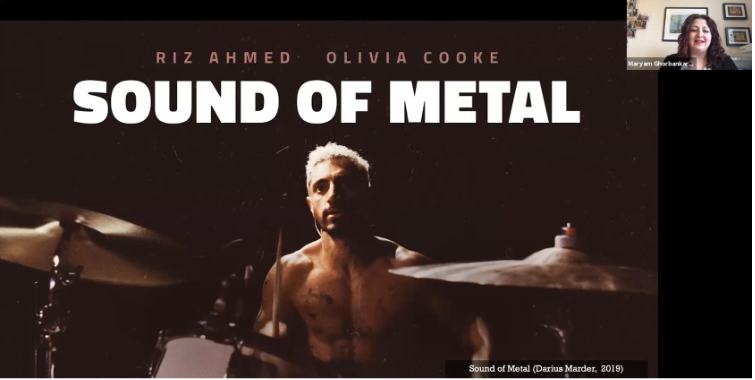 [photo description: a screenshot from our Widescreen Zoom sessions, featuring Maryam Ghorbankarimi in the top right hand corner, on top of a larger landscape promotional image from 'Sound of Metal' – this image features British-Pakistani actor Riz Ahmed playing the drums, with the film name featured prominently above him]
Our next session is with Mina Anwar on Thursday 1st of July at 7pm – the actress, director, and singer joins us to talk about her career and her recent film 'The Importance of Being Earnest', which was co-produced in partnership with the Dukes!
In other news, the rest of the Creative Learning department have also been busy with their own community projects. This includes:
- Wrapping up our weekly Youth Theatre sessions for the term and promoting our upcoming summer drama school
- Putting together our Young Practitioners training scheme to support local talented young people develop their skills in becoming the next generation of arts freelancers
- And 'Our Voice' – a project working with our local young GRT community (Gypsy, Roma, Traveller), has become a finalist in the BBC Radio Lancashire 'Make a Difference Awards'
It's been a great few months for the department, and we love being able to use our work to give back. We know how important grassroots projects are to the development of a strong community spirit, so please get in touch with creative-learning@dukeslancaster.org if you have any ideas or suggestions for future projects for the fall term!
I can't wait to give you further updates in the next few weeks, so thank you for checking in, and I hope to see you soon!