Duke Box #65: Our Guide to the Best Films on TV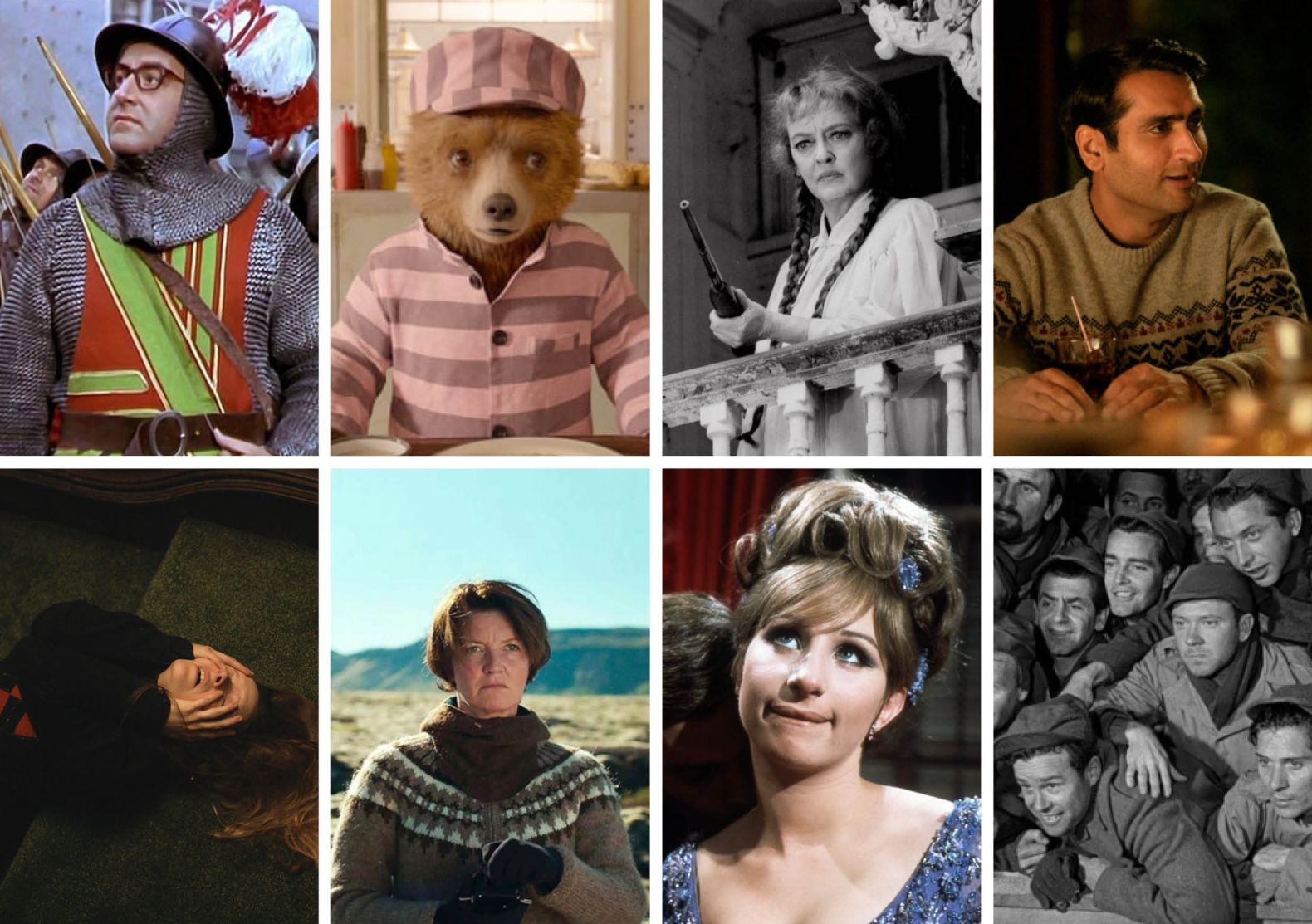 Britsh comedy classics, broadway musicals, dancing Hugh Grant and a scenery-chewing Bette Davis, here are our picks for this week.
Please note that this list isn't exhaustive – just some titles selected as ones to try out or revisit, hopefully at the best times. Some films may also change if channels decide to alter their listings.
Paddington 2 (2017) Sunday, BBC One, 5pm

The fabulous furry adventure that recently (and briefly) snatched Citizen Kane's crown as the highest-rated film on Rotten Tomatoes. Paul King's sequel is a delight in every way as Paddington is framed for a burglary leading him and the Brown Family on an adventure to prove his innocence. The impressive cast of returning actors (including Sally Hawkins and Julie Walters) are joined by Hugh Grant clearly having a hoot as the villainous Phoenix Buchanan.
Hush... Hush Sweet Charlotte (1964) Sunday, Talking Pictures TV, 10pm
Following the huge success of Whatever Happened to Baby Jane? director Robert Aldrich and star Bette Davis reunited for this atmospheric slice of Southern Gothic (Joan Crawford was set to join the reunion but was pushed out in favour of Olivia de Havilland). Davis stars as the reclusive Charlotte, who has been living an isolated life in her mansion since being blamed for the gruesome death of her lover decades earlier. When she is faced with losing her home she must reach out to her family for help, but at the same time, her mind begins to unravel as she becomes haunted by the events of 40 years before.
The Big Sick (2017) Sunday, BBC Two, 11pm

A tender and funny romantic-comedy based not the true story of how star Kumail Nanjani met his wife (and fellow screenwriter for the film). Aspiring comedian Kumail connects with Emily after one of his stand-up sets. What seems like a one-night stand, however, becomes more complicated when Emily falls mysteriously sick, leaving Kumail to deal with his traditional parents and her concerned ones.
Stalag 17 (1953) Monday, FilmFour, 11am
Billy Wilder's gripping and darkly comic Second World War prisoner of war drama. After an escape plan is thwarted, a group of American POWs become convinced that there is a traitor in their midst. Following on from his cutting satire Ace in the Hole, Stalag 17 yet again demonstrated the supreme mastery and versatility of Wilder's talent.
Woman at War (2018) Monday, FilmFour, 11.40pm
Choir conductor Halla seems to lead a quiet, routine existence, but her seemingly regular, happy life hides a secretive double life. Halla is also a committed environmental activist waging a one-woman guerilla campaign against local power companies. This Icelandic black comedy is delightfully absurd, and with Halla presents one an all-time great film heroine.
Funny Girl (1968) Monday, Great! Movies Classic, 2.05pm
Barbara Streisand shines in this bittersweet broadway adaptation. Streisand stars as Fanny Bryce, a bit player on the vaudeville stage who works her way to stardom. While her career flourishes, her personal life begins to drag her down.
The Mouse that Roared (1959) Wednesday, Great! Movies Classic, 10.40am
A loveable Ealing-esque comedy boasting Peter Sellers at the peak of his powers in multiple comic roles. The Duchy of Grand Fenwick is the smallest country and facing an economic crisis. To solve it they decide to declare war on America and lose on the same day, with the aim of receiving foreign aid in the wake. However, things go awry when they accidentally get hold of an atomic weapon.
Spotlight (2016) Friday 18, BBC Two, 11.20pm
Tom McCarthy's surprise 2016 Best Picture Oscar winner is a sobering drama depicting the true story of how the Boston Globe uncovered a massive child abuse scandal
and on streaming...
Saint Maud (2020) Amazon Prime
Rose Glass's gripping and disturbing film features a stunning performance from rising star Morfydd Clark and is now included with Amazon Prime membership. Live-in nurse Maud arrives at the home of Amanda a famous dancer now frail from illness and trapped in her grand, isolated house. At first, Amanda is intrigued by this religious young woman, who provides a distraction from her failing health. Maud, in turn, is bewitched by her new patient. But Maud is not all that she seems. She is tormented by a violent secret from her past and by ecstatic messages she believes are directly from God. As her grip on reality slides out of control, Maud's care turns into a deadly mission to save Amanda's soul, by any means necessary.