Duke Box #60: Our Guide to the Best Films on TV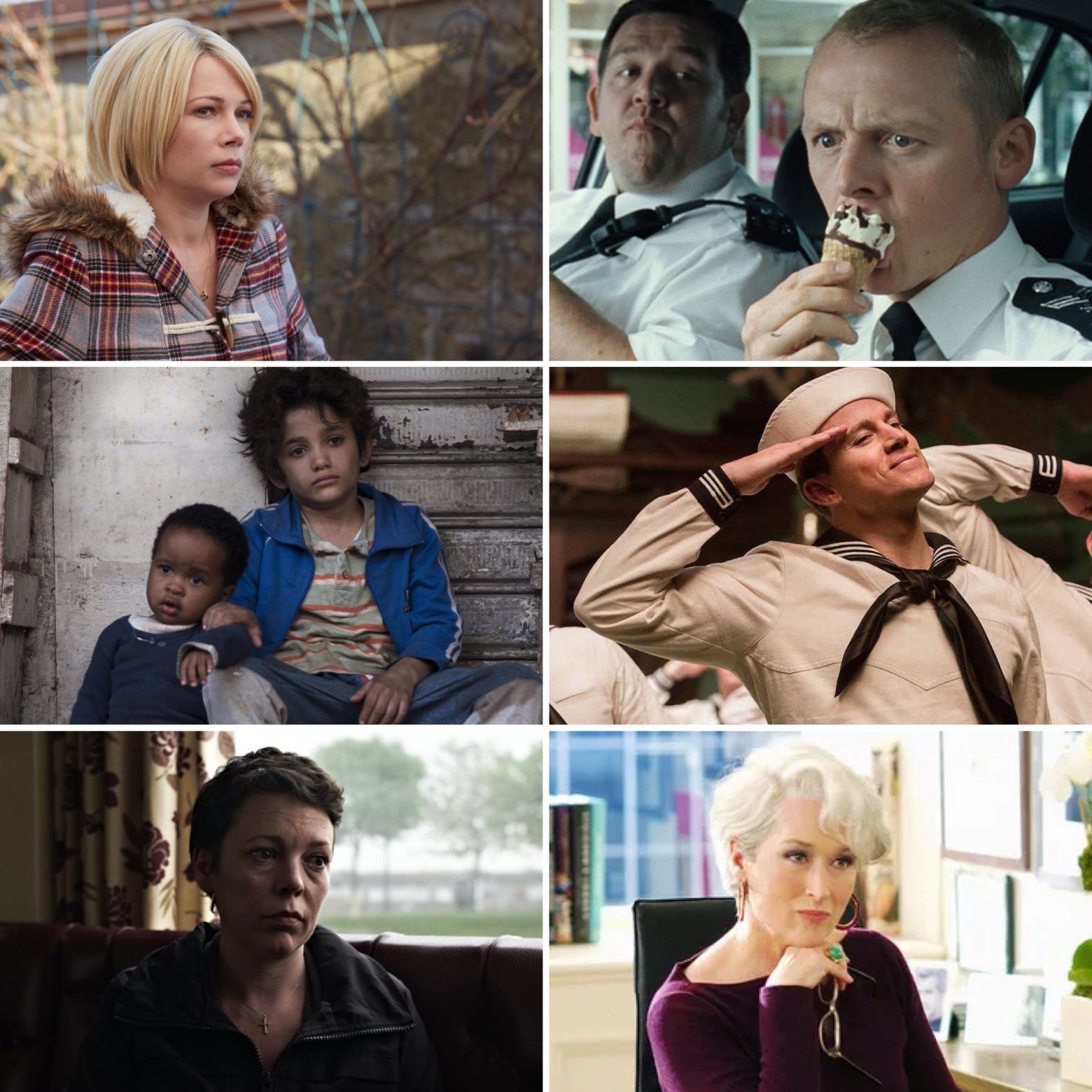 It's a fairly streamlined week of new recommendations but it's certainly not light on hard-hitting dramas, with the brilliant Manchester By the Sea, Tyrannosaur, On the Waterfront and Capernaum all making an appearance. There are breaks in the tension though, with comedy gems, beautiful animation, a couple of docs and even some dazzling stage on screen also on offer. Sometimes good things come in small packages!
Please note that this list isn't exhaustive – these are just some titles that I've selected as ones to try out or revisit, hopefully at the best times. Some films may also change if channels decide to alter their listings. You can find comments on films mentioned in the 'Another chance to see' section in our previous Duke Box blogs or just head to IMDB for a quick summary!)
Saturday 8
When We Were Kings (1996) – BBC2, 10pm
Cold in July (2014) – BBC2 11.20pm
City of Tiny Lights (2016) – BBC1, 12.05am
Best of the Repeats: Enough Said (Film4, 7pm), The Poseidon Adventure (ITV4 7.10pm), The Fits (BBC2, 1.05am), Warrior (Film4, 1.10am)
For something with some punch to it, quite literally, there's Oscar-winning documentary When We Were Kings, a scintillating, in-depth look at the infamous 'Rumble in the Jungle' fight between champion George Foreman and challenge Muhammad Ali in 1974, and the culture and politics surrounding the fight. Elsewhere in the evening, there are a couple of indie crime thrillers: Cold in July, crackling with suspense, twists, revenge and fun cast, including Dexter's Michael C. Hall and Sam Shepherd, and British noir City of Tiny Lights, a great showcase for Riz Ahmed as a heavy-drinking private eye in London.
Sunday 9
Stage on Screen: Matthew Bourne's Swan Lake (2018) – Sky Arts, 1pm
The Devil Wears Prada (2006) – C4, 1.50pm
Inside Out (2015) – BBC1, 3.05pm
Catch Me If You Can (2002) – BBC2, 4.45pm
Hail, Caesar! (2016) – Film4, 5pm
Pale Rider (1985) – ITV4, 9pm
Prick Up Your Ears (1987) – Talking Pictures TV, 10pm
Killing Escobar (2021) – BBC Scotland, 10.30pm
Best of the Repeats: 3:10 to Yuma (Sony Action, 1.55pm), An American Werewolf in London (Sony Classic, 11.10pm), Buck & the Preacher (Sony Action, 12.25am)
Spend your Sunday afternoon at the ballet with director and choreographer Matthew Bourne's audacious and extravagant staging of Swan Lake, a favourite when screened here at The Dukes. Bourne's ballet might have been ground-breaking but try saying that about florals in spring to Meryl Streep's fierce fashion magazine editor Miranda Priestley, Anne Hathaway's demanding boss in fun comedy The Devil Wears Prada. It should be said that it's one of Streep's finest roles, whether it's delivering barbs or benign phrases with aplomb ("That's all") or subtly revealing some vulnerability to the character's tough and immaculately styled exterior. There are all shades of emotions on show in Pixar's vibrant, fun, thoughtful and (naturally) moving exploration of feelings in Inside Out, while there's charm, capers and gloss in Spielberg's fun con-man biopic Catch Me If You Can, starring Leonardo DiCaprio and Tom Hanks, and Coen Brothers' comedy in Hollywood pastiche Hail, Caesar!, with cast of big-hitters. Clint Eastwood's Pale Rider pays homage to Western classic Shane (also on later in the week) in its story of a mysterious preacher who helps a village fend off a mining company, while documentary Killing Escobar tells of the attempted assassination of the Columbian drug lord at the height of his powers (it's also on iPlayer and likely to appear again on BBC4 soon if you don't have access to BBC Scotland). In between those two though, there's Stephen Frears' striking biopic Prick Up Your Ears, featuring a contender for performance of the day from Gary Oldman as murdered playwright Joe Orton. It's a thoughtfully and captivatingly shot portrait of Orton's tragic and devastating romance with fellow writer Kenneth Halliwell, played excellently by Alfred Molina. Vanessa Redgrave, Wallace Shawn and Julie Walters also appear.
Monday 10
Hollywood in Vienna: The Sound of Space and Alexandre Desplat – Sky Arts, 10pm
Capernaum (2018) – Film4, 11.40pm
In Fear (2013) – Film4, 2.15pm
Best of the Repeats: The End of the Affair (Sony Classic, 12.20pm), Tunes of Glory (Sony Action, 2.55pm), The Ghost & Mrs Muir (Talking Pictures TV, 9pm), A Few Good Men (Sony Movies, 9pm)
It's a freeview premiere for the exquisite Capernaum this week, a thought-provoking, harrowing but ultimately compassionate exploration of a neglected, hardened child who sues his parents for the life they gave him. Directed by Nadine Labaki (Caramel) and featuring a magnetic performance from Syrian refugee Zain Al Rafeea in the lead, this Lebanese film scooped up the Jury Prize at Cannes and was unlucky to miss out on the Oscar/Globe/BAFTA it was nominated for (particularly competitive and quite brilliant year for Foreign Language Film: Roma, Cold War, Never Look Away & Shoplifters). It's followed on Film4 by compact, claustrophobic horror In Fear, which takes a simple premise – a couple lost on a country road – and makes it a disturbing and unsettling journey. Elsewhere, there's a musical celebration of scores of films set in space (think Interstellar, Gravity, Contact) and the works of composer Alexandre Desplat (The Grand Budapest Hotel, The King's Speech).
Tuesday 11
The Importance of Being Earnest (1952) – Talking Pictures TV, 12.35pm
Situation Hopeless – But Not Serious (1965) – Talking Pictures TV, 9pm
Wild (2014) – Film4, 1.40am
Best of the Repeats: Destry Rides Again (Film4, 11am), Will Penny (Paramount, 1.40pm), Funny Girl (Sony Classic, 4.10pm), Mission: Impossible – Fallout (Film4, 9pm), Total Recall (ITV4, 11.45pm)
Michael Redgrave, Michael Denison and Margaret Rutherford star in Oscar Wilde adaptation and forged identity comedy The Importance of Being Earnest (which we know a fair bit about at the moment), before a curious occurrence later on on the same channel: a Robert Redford film that I haven't seen! It seems that Situation Hopeless – But Not Serious is a bit of a mixed bag, but it is an oddball comedy starring Alec Guinness as a lonely German villager who doesn't tell his US pilot prisoners (a young Redford and Michael Connor) that the war is over, in an adaptation of novel by Robert Shaw…so there be something in that surreal concoction. Finally, there's Wild: an adaptation of Cheryl Strayed's memoir of her journey on a hundred-mile hike to overcome a personal tragedy. It could be mawkish or laid on too thickly, but there's something so quietly moving and cathartic about it. Reese Witherspoon takes the lead, Laura Dern is wonderful as ever in support and the soundtrack is bliss, whether it's Springsteen and Cohen or an astonishing version of 'Red River Valley'.
Wednesday 12
Jamaica Inn (1939) – Sony Classic, 2.55pm
On the Waterfront (1954) – Sony Classic, 5pm
Pale Rider (1985) – ITV4, 9pm
Prick Up Your Ears (1987) – Talking Pictures TV, 9.05pm
Tyrannosaur (2011) – Film4, 1.25am
Best of the Repeats: The Pumpkin Eater (Sony Classic, 10.45am), Attack! (Paramount, 12pm), Séance on a Wet Afternoon (Talking Pictures TV, 2.45pm), The Hound of the Baskervilles (Sony Classic, 9pm), An American Werewolf in London (Sony Classic, 10.50pm)
There's an early career-role for Maureen O'Hara in Alfred Hitchcock's Jamaica Inn, the first of his three Daphne du Maurier adaptations. It doesn't quite match up to Rebecca or The Birds, but it's worth seeing the Master of Suspense tackle Cornish Gothic and Charles Laughton. It's followed on Sony Classic by influential longshore corruption drama On the Waterfront, featuring a searing, unforgettable performance from Marlon Brando: "I coulda had class. I coulda been a contender. I could've been somebody." And talking about unbelievable acting – Olivia Colman in Tyrannosaur is something else. Written and directed by Paddy Considine (who cast Colman after starring with her in Hot Fuzz, on later this week), the film follows a violent alcoholic (Peter Mullan) who finds solace with a charity shop worker whose husband abuses her. It's a brutal watch but undeniably affecting.
Thursday 13
Harry and Tonto (1974) – Talking Pictures TV, 9pm
Berlin Syndrome (2017) – Film4, 1.35am
Best of the Repeats: The End of the Affair (Sony Classic, 2.20pm), The Tin Star (Film4, 3.20pm), A Man For All Seasons (Sony Classic, 4.30pm), When Harry Met Sally (BBC4, 9pm)
Art Carney picked up a Best Actor Oscar for his performance as a recently evicted lifelong New Yorker who goes on a cross-country odyssey with his beloved cat in Harry and Tonto, a gentle, charming comedy co-starring Ellen Burstyn. There's a much darker offering in the early hours of the morning with Cate Shortland's thriller Berlin Syndrome, which sees an Australian tourist's holiday romance turn sinister when she realises she is unable to leave her lover's apartment.
Friday 14
Shane (1953) – Film4, 4.50pm
Hot Fuzz (2007) – ITV2, 9pm
Long Shot (2019) – BBC1, 10.45pm
Manchester By the Sea (2016) – BBC2, 11.20pm
Best of the Repeats: The Colditz Story (Film4, 1.05pm), The Graduate (Sony Classic, 9pm), Fright Night (The Horror Channel, 12.40am)
Alan Ladd stars as a mysterious gunslinger who rides into town and helps homesteaders take on a ruthless cattle baron in Western classic Shane. Highly influential and iconic, the film is a masterful exploration of what it means to be good and bad, with Van Heflin, Jack Palace and a really wonderful Jean Arthur. While Shane might be a gem of its genre, Edgar Wright's Hot Fuzz takes great delight in paying comedic homage to action films, buddy movies, British horror and murder mysteries, with Sean Pegg and Nick Frost as mismatched police officers in an idyllic village hiding a secret. It's my personal favourite of the Cornetto Trilogy, quite possibly because of the stacked cast, including Jim Broadbent, Billie Whitelaw, Paul Freeman, Edward Woodward, Anne Reid, Alice Lowe and a scene-stealing Timothy Dalton who's having the time of his life. There's more comedy in Long Shot, featuring Seth Rogen as a journalist impulsively hired as speechwriter by Charlize Theron's polished politician. It's a little old-fashioned in places but the chemistry between the leads is charming. Finally, there's nothing but hard-hitting and affecting drama in Kenneth Lonergan's Manchester By The Sea, which sees Casey Affleck on Oscar-winning form as a depressed man who's forced to return to his hometown and reconcile with his past after being assigned guardianship of his nephew. It's a compelling and potent exploration of grief, filled with fantastic performances – including a scene-stealing Michelle Williams, showing again why she's one of the finest actresses of her generation.