Duke Box #58: Our Guide to the Best Films on TV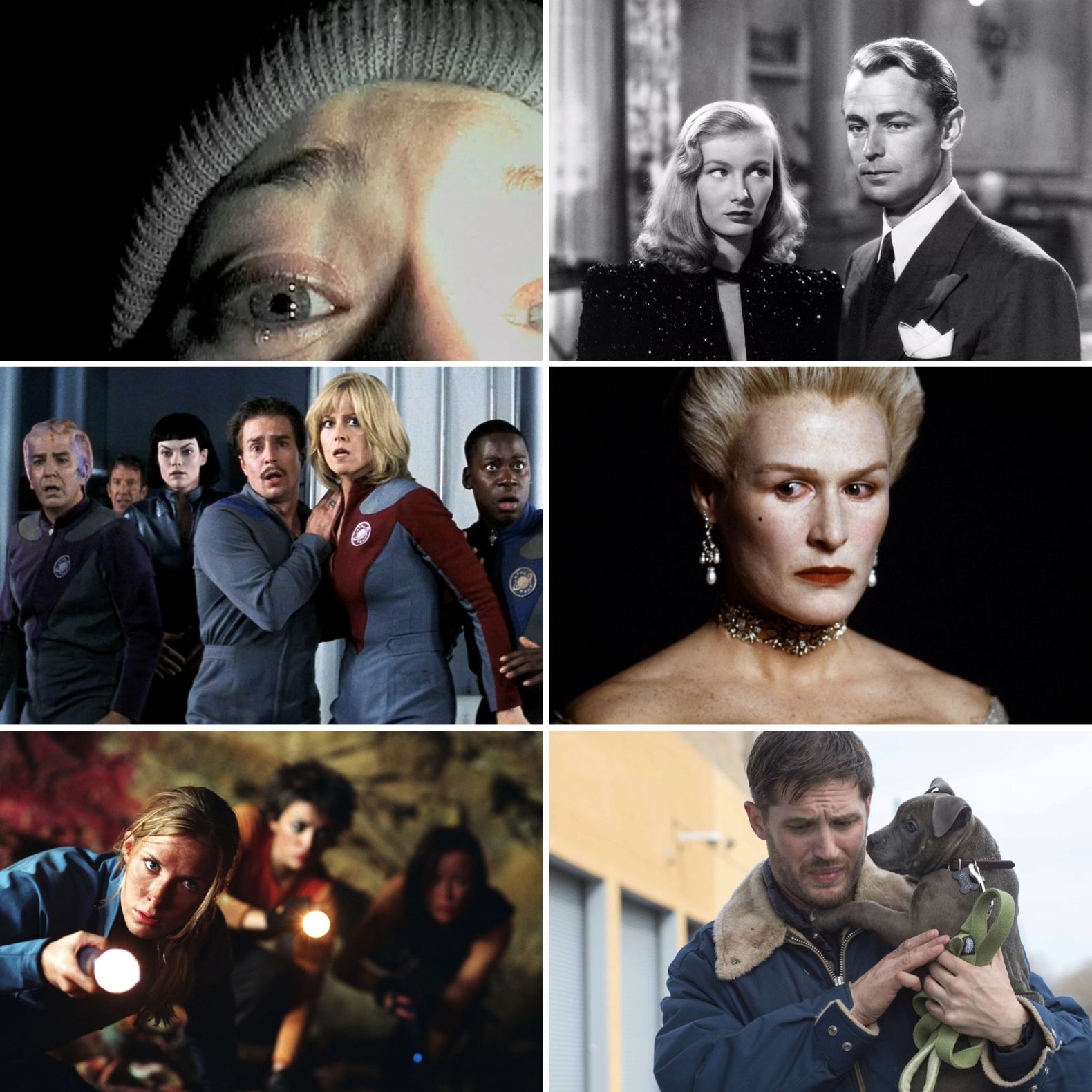 Suspect behaviour in shadowy film noirs, horror having a field day out in nature, Alan Rickman getting frustrated in space, Glenn Close's withering stares and sharp tongue, Tom Hardy with a puppy...there's a lot to take in in this week's Duke Box, too much even to narrow down to one pick. Enjoy!
Please note that this list isn't exhaustive – these are just some titles that I've selected as ones to try out or revisit, hopefully at the best times. Some films may also change if channels decide to alter their listings. You can find comments on films mentioned in the 'Another chance to see' section in our previous Duke Box blogs or just head to IMDB for a quick summary!)
Saturday 24
Addams Family Values (1993) – 5Star, 4.25pm
Two Mules for Sister Sara (1970) – Paramount, 6.40pm
Harry Birrell: Films of Love & War (2019) – BBC Scotland, 9pm
War for the Planet of the Apes (2017) – C4, 9pm - repeated later in the week
Good Will Hunting (1997) – 5Star, 10pm - repeated later in the week
The Descent (2005) – Film4, 12.45am
Best of the Repeats: The Tree of Life (Sony Movies, 6.15pm), The Innocents (Talking Pictures TV, 11.15pm)
There are two great sequels for viewing pleasure today, from the camp and comic Addams Family Values, adding in a scene-stealing Joan Cusack as a femme fatale with her eyes set on Uncle Fester, to the simply stunning War for the Planet of Apes, which sees Andy Serkis doing more remarkable mo-capture performance work as the revolutionary ape Caesar. It's beautifully directed and scored, features a brilliant cast and draws influence from war and western films, like Apocalypse Now and Clint Eastwood Western anti-heroes. Eastwood makes his own appearance in adventure film Two Mules for Sister Sara, starring as a gunslinger who saves and ultimately teams up with Shirley MacLaine's nun on the run, who brings more than he bargained for. Showing on BBC Scotland and potentially making its way onto iPlayer, Harry Birrell: Films of Love & War is a remarkable collection of archive footage shot on 16mm film from Birrell's time in the Far East during WWII, as well as his own personal pre- and post-war footage. Good Will Hunting, meanwhile, sees a young janitor with a prodigal gift for mathematics but a directionless life helped by a kindly professor who recognises his talent. The film did the business at the Academy Awards, seeing rising star and lead Matt Damon pick up and Oscar nod for his performance and collect the award for Best Screenplay alongside co-writer and friend Ben Affleck, although it's Robin Williams' win for Best Supporting Actor for his gentle performance that is the sweetest. Finally, there's gore, there's tension and there are very tight spaces in Neil Marshall's potholing horror The Descent, which follows a group of friends as they go exploring in caves only to discover that they're not alone down there…(surprise, surprise). It's one of the best horrors of the 21st century, gut-wrenching in every sense – does for tunnels what Jaws did for the oceans.
Sunday 25
Went the Day Well? (1942) – 5Select, 12pm
Babe (1995) – ITV, 1.45pm
Jumanji: Welcome to the Jungle (2017) – ITV, 6.45pm
Galaxy Quest (1999) – ITV4, 6.50pm
Dangerous Liaisons (1988) – BBC2, 10pm
Best of the Repeats: The Abyss (Film4, 6.15pm), True Romance (Sony Movies, 9pm), Heat (Film4, 11.25pm)
A British village take on undercover German paratroopers in Went the Day Well?, a Graham Greene adaptation starring Leslie Banks and Mervyn Johns. It might have started out as a bit of wartime propaganda, but the film is also thrillingly subversive and quite daring in its bluntness. If you're after something that's a bit more family friendly though, you could do worse then Dick King Smith adaptation Babe, a film that was up for all sorts of Oscars back in the '90s, including Best Supporting Actor for James Cromwell and Best Picture. Co-written and produced by George Miller of Mad Max fame (which itself is a thing of wonder), this story of a pig who wants to be a sheepdog makes for charming and eccentric family viewing. There's also fun action in smash-hit reboot Jumanji: Welcome to the Jungle, which takes the 90s film's fun premise of a board game bringing jungle jeopardy to suburbia and transforms it into young players getting sucked into a videogame and assuming the bodies of their avatars. It's a fresh update led by a very game cast, including Dwayne Johnson. On at a similar time is the out-of-this-world comedy Galaxy Quest, a loving pastiche of Star Trek that sees a group of actors from a '70s sci-fi show beamed up into space by aliens who believe them to be the real heroes that they used to play. There are tons of fun and affectionate gags, delivered with joyful enthusiasm by a brilliant ensemble that includes Sigourney Weaver nodding to her role as Ripley, a scene-stealing Sam Rockwell and a delightfully dry Alan Rickman. Speaking of a fine group of actors having a ball, the evening sees Glenn Close, John Malkovich and Michelle Pfeiffer light up the screen in Stephen Frears and Christopher Hampton's wickedly wonderful adaptation of Dangerous Liaisons. Close picked up one of her many Oscar nominations for her tour-de-force performance as the scheming Marquis de Merteuil who makes a bet with her ex-lover about whether he can seduce a chaste, married woman of the court…not counting on real romantic feelings coming into play. It's a savage, stylish and deliciously devious exploration of sexual politics and the petty lives of the French royal court.
Monday 26
The Enforcer (1951) – Talking Pictures TV, 10.30am
Appointment with Danger (1950) – Film4, 2.50pm
Bullitt (1968) – ITV4, 9pm - repeated later in the week
The Ballad of Lefty Brown (2017) – Paramount, 11.10pm
Ray & Liz (2018) – Film4, 11.20pm
Best of the Repeats: It Should Happen to You (Sony Classic, 5.20pm), Scanners (The Horror Channel, 10.50pm)
There's tension aplenty during the day thank to a couple of brooding film noirs. Humphrey Bogart stars opposite Zero Mostel as a crusading district attorney who finally has the opportunity to bring down the boss of Murder Inc. in The Enforcer, while Alan Ladd stars as a detective hired to investigate a murder where the key witness is a nun (Phyllis Calvert) in Appointment with Danger. The mood continues in the evening too, with Steve McQueen on icon duty as a San Fran cop after an underworld kingpin in action-thriller Bullitt, featuring arguably the greatest car chase scene in cinema. Fans of Westerns will want to check out The Ballad of Lefty Brown, a brooding indie homage to the genre's stories of vengeance on the frontier and a wonderful showcase for Bill Pullman who leads the film. Finally, there's a pivot to the council flats of the West Midlands for drama Ray & Liz, a film from photographer Richard Billingham about his parents and life growing up on the poverty line. It's a film of opposites, being both personal and unsentimental, harrowing and humorous, bleak and beautiful.
Tuesday 27
I Remember Mama (1948) – Talking Pictures TV, 10.30am
Tunes of Glory (1960) – Sony Action, 5pm
Hellboy (2004) – ITV4, 9pm
Best of the Repeats: The Remains of the Day (Sony Movies, 4.30pm), True Grit (Film4, 11.05pm), Straight Outta Compton (ITV4, 11.25pm)
One of the finest actresses in Hollywood's Golden Age, Irene Dunne picked up her fifth Oscar nomination for her wonderful turn in I Remember Mama, a tender drama offering a glimpse at the everyday life, joys and struggles of a Norwegian immigrant family living in early 20th century San Francisco. There's also top talent in the afternoon with psychological drama Tunes of Glory, as Alec Guinness and John Mills star as conflicting Commanding Officers at a Scottish barracks during WWII. Then there's a change of pace in the evening, with Guillermo Del Toro's inventive and fun Hellboy, a striking blend of Gothic visuals, comic-book action and poignant romance. Ron Perlman chomps cigars as the titular figure, a half-man/half-demon born for evil but raised to be good – and to crack out some great one-liners and emotional depth.
Wednesday 28
War for the Planet of the Apes (2017) – 4/7, 9pm
The Drop (2014) – Film4, 9pm
Good Will Hunting (1997) – 5Star, 12am
Enough Said (2013) – C4, 12.55am
Best of the Repeats: The Fugitive (ITV4, 9pm)
If you ever you needed a non-Sopranos reminder that James Gandolfini was a truly wonderful and compelling actor, tonight's picks will sort you out. He shines alongside fellow TV treasure Julia Louis-Dreyfus in comedy-drama Enough Said, a beautifully witty and bittersweet film about middle-aged romance and divorce from Nicole Holofcener, as well as offering exceptional support in an impressive ensemble cast in the Dennis Lehane-penned crime drama The Drop. The film follows Tom Hardy's bartender, trying to keep his head down but inevitably finding his life turned upside down by dodgy dealings, a break in and a poor puppy he finds in an alley. Noomi Rapace, Matthias Schoenaerts and Ann Dowd all feature in this beautifully shot film.
Thursday 29
The Blue Dahlia (1946) – Film4, 1.15pm
The Assassination Bureau (1969) – Talking Pictures TV, 9pm
Being AP (2015) – BBC4, 10pm
Discovering Dance on Film – Sky Arts, 10pm
Bullitt (1968) – ITV4, 11.40pm
127 Hours (2010) – Film4, 1.30am
Best of the Repeats: Lady from Shanghai (Sony Classic, 11.15am), Dances With Wolves (Sony Movies, 4.40pm)
There's a film noir classic this afternoon, featuring some of the genre's biggest players, as Alan Ladd and Veronica Lake star in The Blue Dahlia, a Raymond Chandler-penned story about an ex-bomber pilot accused of murdering his wife. The late, great Dame Diana Rigg plays a journalist hunting down a shady organisation of assassins, hiring them to kill their own chairman (Oliver Reed), in Basil Deardon's action-comedy The Assassination Bureau, while fans of horse-racing might want to check out documentary Being AP, a profile about celebrated jockey Tony McCoy. Cheekily thrown into the recommendations as well, Discovering Dance on Film takes a look at some of the most spectacular choreography to hit the big screen. Finally, Danny Boyle directs James Franco in the hard-hitting 127 Hours, the remarkable true story of mountaineer Aron Ralston who became trapped in a canyon after a boulder fell on his arm, facing the choice of dying in the wilderness or amputating his own arm, all the while reflecting on his choices in life.
Friday 30
Ronnie's: Ronnie Scott and his Famous Jazz Club (2020) – BBC4, 10pm
The Blair Witch Project (1999) – BBC1, 11.35pm
Best of the Repeats: The Swimmer (Sony Classic, 10.25am), Move Over, Darling (Sony Classic, 6.50pm)
Documentary Ronnie's celebrates one of the most legendary jazz spots, a historic Soho venue that welcomed big-time names like Miles Davis and Nina Simone and helped shape its part of our capital. It's a must for music fans, bursting with untold stories and great footage. And speaking of footage…found-footage horror The Blair Witch Project is a classic of the genre (yes, 22 years old now – sorry to point that out) and it's great to see it appear in a late night slot. It's the age-old story – three college students go out to the woods to film a documentary on a local supernatural fable…only to disappear, with just their footage to remerge one year later. It's hard to understate how much attention the film got on release and it's worth revisiting now…if only to see just how frightening the power of imagination can be.