Duke Box #47: Our Guide to the Best Films on TV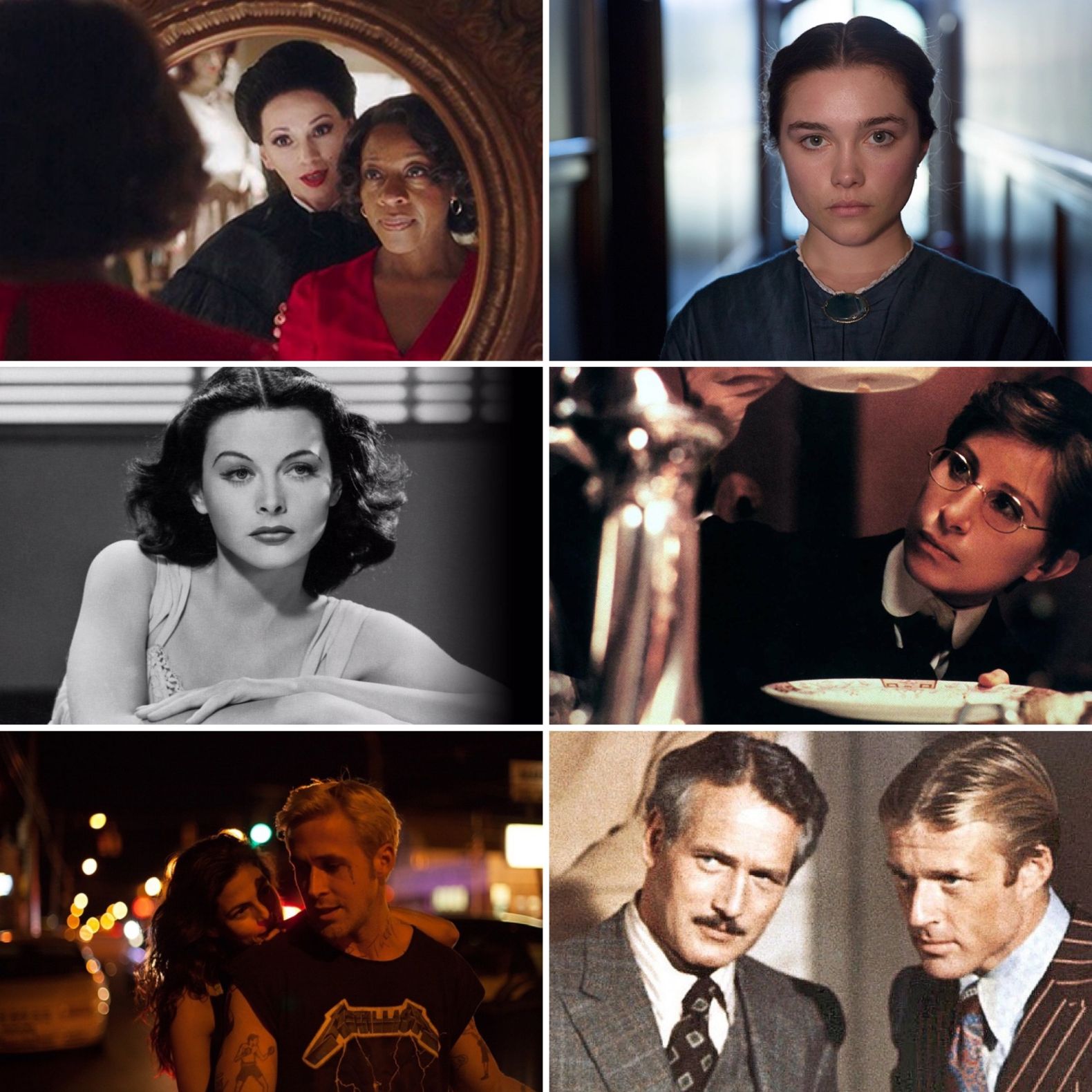 Hi everyone,
With big names, excellent performances and some striking filmmaking on display, there are lots of stories and adventures to enjoy. However, this week's shout out is reserved specifically for documentary Bombshell: The Hedy Lamarr Story - an engrossing, inspiring and bittersweet tribute to the matinee icon. Not just for fans of Old Hollywood, although a must for any, it explores the tumultuous life and career of an extraordinary woman who captivated audiences on screen and was a talented, pioneering inventor off of it. A really fascinating story that I hope is available on catch-up if you miss it first time round.
(Please note that this list isn't exhaustive – these are just some titles that I've selected as ones to try out or revisit, hopefully at the best times. Some films may also change if channels decide to alter their listings.)
Find last week's here: Duke Box 46
Saturday 6
Sabotage (1937) – Talking Pictures TV, 2.10pm
Ivanhoe (1952) – BBC2, 2.30pm
Tall in the Saddle (1944) – Sony Action, 2.35pm
Ice Age (2000) – Film4, 3pm
The Sting (1973) – ITV4, 4pm
Reap the Wild Wind (1942) – Sony Action, 4.25pm
The Martian (2015) – Film4, 9pm
In Fabric (2018) – BBC2, 11.20pm
The Place Beyond the Pines (2012) – BBC1, 12.10am
Another chance to see: Stand By Me (5Star, 11.50am), Cocoon (Film4, 2.45pm), The Hundred-Foot Journey (5Star, 1.30pm), Hour of the Gun (Paramount, 2pm), Despicable Me 2 (ITV2, 4.15pm), The Pink Panther (Film4, 4.35pm), Cash on Demand (Sony Classic, 5.05pm), Double Indemnity (Sony Classic, 6.45pm), Skyfall (ITV2, 8pm), The Untouchables (ITV4, 9.20pm), The Deadly Affair (Sony Classic, 11.15pm), Blue Thunder (Sony Action, 11.20pm)
The thrilling Sabotage is one of Alfred Hitchcock's finest thrillers, telling the quite simple story of a man whose business and marriage are a cover for his work as a terrorist and turning it into a masterpiece of suspense – including one of the filmmaker's most iconic sequences. There's an afternoon full of old-fashioned adventures, with Robert Taylor, Elizabeth Taylor and Joan Fontaine starring in Ivanhoe, an adaptation of Walter Scott's story of a knight on a quest to free King Richard, and a John Wayne double-bill: mystery-western Tall in the Saddle and Cecil B. DeMille's sea-faring Reap the Wild Wind, co-starring Ray Milland and Paulette Goddard. Elsewhere, there's fun family viewing in animation Ice Age, while Robert Redford and Paul Newman bring their sparkling chemistry and charming double-act to the Oscar-winning crime caper The Sting. Then there's an evening of wonderful ensembles in action, beginning with Matt Damon as an astronaut stranded on, well, Mars and Jessica Chastain, Jeff Daniels, Chiwetel Ejiofor, Sean Bean, Kristen Wiig and more try to rescue him in Ridley Scott's The Martian. Ryan Gosling stars as a motorcycle stunt rider drawn into a life of crime and on collision course with Bradley Cooper's ambitious cop in the epic crime drama The Place Beyond the Pines, stunningly directed by Derek Cianfrance and co-starring Eva Mendes, Ben Mendelsohn, Mahershala Ali and Ray Liotta. Finally, Berberian Sound Studio and The Duke of Burgundy filmmaker Peter Strickland unites the talents of Marianne Jean-Baptiste, Gwendoline Christie and Hayley Squires and adds a touch of giallo-inspired horror to some British black comedy and a touch of fantasy in In Fabric, a haunting ghost story about a cursed dress passed from person to person.
Sunday 7
Kramer vs Kramer (1979) – 5Select, 11.55am
Yentl (1983) – BBC2, 2pm
Lemony Snicket's A Series of Unfortunate Events (2004) – Film4, 2.25pm
Field of Dreams (1989) – Sony Movies, 2.45pm
Over the Hedge (2006) – C4, 2.50pm
Apollo 13 (1995) – ITV4, 4pm
City Slickers (1991) – Film4, 4.30pm
Bill & Ted's Excellent Adventure (1989) – Sony Movies, 4.55pm
The Gift (2015) – Film4, 11.15pm

Another chance to see: The Sting (ITV4, 10.20am), Born Free (Sony Classic, 2pm), RoboCop (ITV4, 9pm), Red (Film4, 9pm), Premium Rush (Sony Movies, 10.50pm), Janis: Little Girl Blue (Sky Arts, 1.05am)
There are exceptional performances all round in divorce drama Kramer vs Kramer, with Dustin Hoffman and Justin Henry making a believable father-and-son duo and Meryl Streep turning what could have been a thankless role into a knockout, thoughtful portrayal of a woman who needs a break, winning her first Oscar in the process. Streep also appears in the delightfully weird, black-comedy family film Lemony Snicket's A Series of Unfortunate Events, cameoing as one of the guardians of the orphaned Baudelaire children whose lives are under threat from the dastardly Count Olaf (a brilliant Jim Carrey). It sadly never materialised into a franchise, but its stunning gothic designs and a game cast (also including Billy Connelly, Timothy Spall and Catherine O'Hara) are well worth falling into. For something a little lighter for kiddies, there's bright animation Over the Hedge, a fun family film full of cute animals and hijinks that also jabs a finger at consumer culture and delivers a message about the importance of the environment. (O'Hara also pops up on voice work duty alongside Schitt's Creek husband and frequent collaborator Eugene Levy as married porcupines, which is an instant win in my book). Elsewhere, Barbra Streisand directs, writes and shines on screen in musical Yentl, playing a Jewish girl who disguises herself as a boy to enter religious training, Kevin Costner's Iowan farmer finds himself visited by the impossible after building a baseball diamond on his land in the warming tear-jerker Field of Dreams, and Tom Hanks, Kevin Bacon and Bill Paxton have a bit of a problem up on Apollo 13, in Ron Howard's retelling of the ill-fated 1970 lunar mission. A group of middle-aged city men led by Billy Crystal try to recapture their verve on a Southwest cattle drive supervised by a gruff cowboy (an Oscar-winning Jack Palance) in comedy City Slickers, while young guns Keanu Reeves and Alex Winter take a totally bodacious trip through history to pass their class and save their band in cult time-travelling comedy Bill & Ted's Excellent Adventure. Round off your evening with the smart, unnerving thriller The Gift, directed by and starring Joel Edgerton, which sees a young married couple's domestic bliss thrown for a loop after a chance meeting with the husband's old acquaintance and the emergence of some sinister secrets.
Monday 8
Wagonmaster (1950) – Sony Action, 11.30am
Creature from the Black Lagoon (1954) – The Horror Channel, 1pm
The Tall T (1957) – Sony Action, 1.15pm
The Remains of the Day (1993) – Sony Movies, 6.20pm
Cat Ballou (1965) – Sony Classic, 7pm
Pretty Woman (1990) – Sony Movies, 9pm
Three Billboards Outside Ebbing, Missouri (2017) – Film4, 9pm
Hollywood's Brightest Bombshell: The Hedy Lamarr Story (2017) – BBCFour, 11pm
Another chance to see: The Pumpkin Eater (Sony Classic, 11.25am), The Far Country (Film4, 12.45pm), The Happy Breed (Film4, 4.30pm), The Imitation Game (Film4, 6.45pm), The Deadly Affair (Talking Pictures TV, 8pm), Hacksaw Ridge (Paramount, 9pm), Jaws (ITV4, 9pm), Blue Thunder (Sony Action, 11.35pm), David Lynch: The Art Life (Sky Arts, 12am)
If it's a Western you're in the mood for, you're in luck. John Ford's poetic Wagon Master, following the journey of Mormon settlers across the West, has received a reappraisal as one of the director's finest works since its release, Randolph Scott is kidnapped along with a heiress in Elmore Leonard adaptation The Tall T, and Jane Fonda plays a teacher-turned-vengeful-outlaw alongside an Oscar-winning Lee Marvin in comedy Cat Ballou. Peppered in between the three, there's another genre gem in Universal Monster classic Creature from the Black Lagoon and Merchant Ivory's stunning adaptation of Kazuo Ishiguro's The Remains of the Day, featuring two beautiful, tender performances from Anthony Hopkins and Emma Thompson as the heads of staff in a grand, 1930s estate. A tale of repression and devotion, it's quite the film. Richard Gere falls head over heels for Julia Roberts' charming prostitute in Garry Marshall's rom-com Pretty Woman at 9pm, the same time that you can see Frances McDormand's second Oscar-winning performance as a grieving mother relentlessly pushing the local authorities for justice in the provocative and divisive Three Billboards Outside of Ebbing, Missouri. There's some fascinating biography to round out the day in Hollywood's Brightest Bombshell, The Hedy Lamarr Story, a documentary which tells the quite remarkable story of one of the silver screen's most beautiful actresses and her innovative, world-changing actions off-screen.
Tuesday 9
Funny Face (1957) – Talking Pictures TV, 1.40pm
The Man in Grey (1943) – Talking Pictures TV, 3.45pm
Winchester '73 (1950) – Film4, 4.40pm
The Post (2017) – Film4, 9pm
The Thomas Crown Affair (1999) – C5, 11pm
Black Mother (2018) – Film4, 1.55am
Another chance to see: My Man Godfrey (Film4, 11am), The Swimmer (Sony Classic, 11.30am), Heaven Knows, Mr Allison (Film4, 12.55pm), Cash on Demand (Sony Classic, 3.15pm)
The ugly duckling storyline at the centre of Stanley Donen's musical Funny Face was never really believable in the first place with Audrey Hepburn in the role, and it's quite dated now, but the film is so beautifully shot and designed that it's worth the indulgence – especially with Fred Astaire's version of S'Wonderful on the soundtrack. The Man in Grey sees James Mason, Stewart Granger and a deliciously villainy Margaret Lockwood in the melodramatic story of a violent Marquis who begins an affair with the ambitious friend of his young bride. Hybridise two of those names and you get James Stewart (what a segue), and he stars as a man after a rifle that keeps passing hands in the Western Winchester '73. Tom Hanks (a bit of a modern day Jimmy Stewart) teams up with fellow acting powerhouse Meryl Streep for the first time in Steven Spielberg's political true story The Post, which recalls the US government's efforts to silence The Washington Post's attempts to publish covered-up documents about the US government's involvement in international wars. The impressive ensemble also features Sarah Paulson, Bob Odenkirk, Matthew Rhys and many more, while Hanks' performance as editor Ben Bradlee makes this a nice first feature in a double bill with All the President's Men (available on iPlayer). Pierce Brosnan channels his charm into the role of a playboy art thief who falls for Rene Russo's insurance investigator in the sizzling, stylish remake of The Thomas Crown Affair. Finally, for something completely different, there's Kalik Allah's unique photographic documentary Black Mother, which shares the stories of Jamaican citizens with just a few filmed seconds of their faces.
Wednesday 10
The Court Jester (1955) – Talking Pictures TV, 11.55am
Journeyman (2017) – Film4, 11.10pm
Love on the Dole (1941) – Talking Pictures TV, 11.20pm
American Fable (2016) - Film4, 1am
Another chance to see: The League of Gentlemen (Film4, 12.45pm), Stranger Than Fiction (Sony Movies, 4.55pm),The Swimmer (Sony Classic, 11.45pm)
Danny Kaye, Glynis Johns, Angela Lansbury and a villainous Basil Rathbone are a winning combination in The Court Jester, a tale of assassination attempts, mistaken identity and a bit of slapstick that delightfully spoofs adventure films. There's much more serious fare in the evening, as moving drama Journeyman sees writer and director Paddy Considine star alongside a fabulous Jodie Whittaker as a boxer whose life is upended by injury, while Deborah Kerr stars as a Lancashire woman who must consider becoming a rich man's mistress to support her family in Love on the Dole. Atmospheric indie thriller American Fable rears up in the early hours, blending 1980s America, fairytale qualities and pastoral realism in its story of a young girl whose discovery of a strange man hiding on her family farm forces her into tough decisions. Beautifully filmed.
Thursday 11
Hondo (1953) – Film4, 3pm
The Lost City of Z (2016) – BBCFour, 9pm
True Romance (1993) - Sony Movies, 9pm
Dogs Don't Wear Pants (2019) - Film4, 11.20pm
Another chance to see: Stalag 17 (Film4, 12.40pm)
There's quite the journey from the start of the day to end of play today. First up is Technicolor western Hondo, often regarded as John Wayne's finest work outside of his collaborations with John Ford and Howard Hawks. The film co-stars Geraldine Page who picked up her first Oscar nomination here; she'd go on to be nominated 7 more times, winning at the last attempt. Ad Astra director James Gray tells the tale of explorer Percy Fawcett's desire to prove the existence of a previously unknown Amazonian civilisation in The Lost City of Z, a throwback to exploration epics expertly led by Charlie Hunnam and co-starring Tom Holland, Sienna Miller and Robert Pattinson. The edgy, Badlands-inspired True Romance is also on at 9pm, starring Christian Slater and Patricia Arquette as lovers-on-the-run from an array of bad guys. Written by Tarantino and directed by Tony Scott, it's a funny, violent film with a stylish aesthetic and one hell of an ensemble (Hopper, Pitt, Walken, Gandolfini, etc.). Then finally, unsurprisingly occupying a late night slot is Finnish BDSM drama Dogs Don't Wear Pants, a provocative, funny, tender and sometimes unsettling study of one man's grief and his attempts to heal it.
Friday 12
Seven Men from Now (1956) – Paramount, 2.15pm
The Five Pennies (1959) – Talking Pictures TV, 6pm
Closer (2004) – Sony Movies, 9pm
A Single Man (2009) – Sony Movies, 11.05pm
Lady Macbeth (2016) – BBC2, 11.20pm
Ex Machina (2014) – Film4, 11.45pm
Another chance to see: 49th Parallel (Film4, 11am), The Tall T (Paramount, 11.20am), The Wild One (Sony Classic, 12.05pm),The Pink Panther (Film4, 4.15pm), A League of Their Own (Sony Movies, 4.35pm), Footsteps in the Fog (Sony Classic, 5.20pm), City Slickers (Film4, 6.35pm), Bill & Ted's Excellent Adventure (Sony Movies, 7.10pm), The Martian (Film4, 9pm), In the Heat of the Night (Sony Classic, 9pm)
Before Randolph Scott and director Budd Boetticher worked together on The Tall T (repeated today, by the way), the pair worked on Seven Men From Now, a really terrific western about one man's mission to track down and kill the men responsible for his wife's death. Another '50s film pops up later in the day, with Danny Kaye playing cornet player Red Nichols in the Oscar-nominated, semi-autobiographical The Five Pennies, a nostalgic musical that does gloss over jazz history but features a delightful Kaye and Louis Armstrong as himself. It's fair to say that the relationships at the centre of Mike Nichol's stylish, serious drama Closer are a bit complicated, with Julia Roberts, Jude Law, Natalie Portman and Clive Owen stepping into a world of love and betrayal in this adaptation of Patrick Marber's play. Colin Firth delivers arguably a career-high performance as an English professor struggling to cope with the loss of his lover in 1960s L.A. in Tom Ford's mesmerising directorial debut A Single Man, with Julianne Moore and Matthew Goode also excellent in support. Florence Pugh career has hit extraordinary heights in the last few years and there's a chance to see an early, mesmerising performance of hers in the beautifully shot, daring period drama Lady Macbeth, the story of a young woman sold into a loveless marriage who finds a finds a new side of her unleashed after she begins a reckless affair. From the rural and repressed to the uncanny world of artificial intelligence then, as a computer programmer journeys to the remote home of his CEO to test out just how human the boss' newest android Ava is in Alex Garland's Ex Machina. Domhnall Gleeson, Oscar Isaac and Alicia Vikander are all great, while the film's beautiful to look at.