Duke Box #46: Our Guide to the Best Films on TV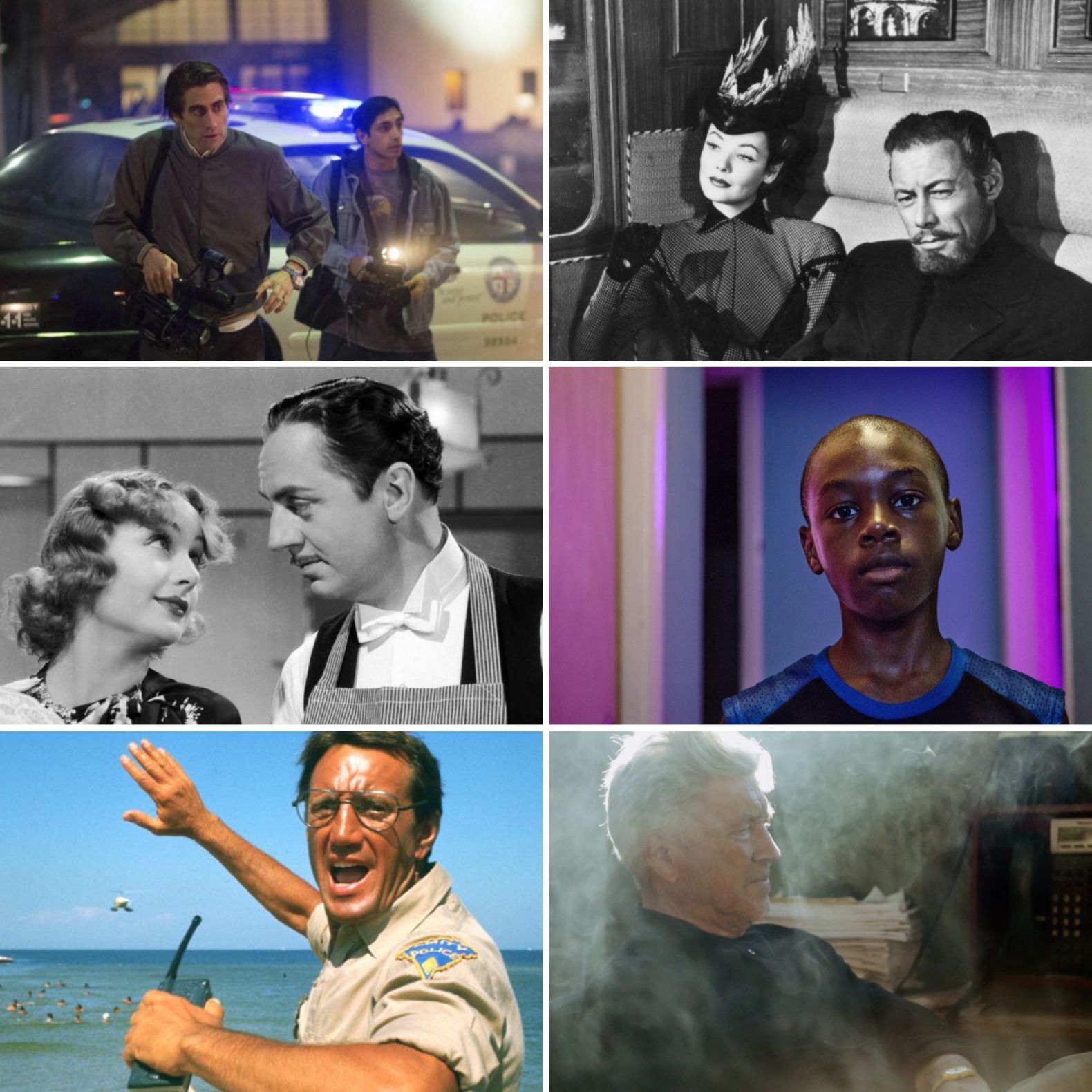 Hi everyone,
A touch of screwball comedy, modern masterpieces, sleek neo-noir, curious romances, artist profiles, beautiful stories, tension you cut with a knife, a big ol' shark...it's all happening on freeview this week. And what a week to enjoy performers at the top of their game too, from the marvellous Carole Lombard, arguably the queen of screwball comedy, in madcap satire My Man Godfrey (1936), to Jake Gyllenhaal as an ambitious, unnerving cameraman in the excellent Nightcrawler (2014), one of my favourite films of the last decade. With shout-outs to a couple of other favourites - Barry Jenkins' beautiful Moonlight and Steven Spielberg's thrilling Jaws - I hope there are a few treats here for you to enjoy.

(Please note that this list isn't exhaustive – these are just some titles that I've selected as ones to try out or revisit, hopefully at the best times. Some films may also change if channels decide to alter their listings.)
Find last week's here: Duke Box 45
Saturday 30
Joan of Arc (1948) – BBC2, 1.45pm
The Ghost and Mrs Muir (1947) – Talking Pictures TV, 2.10pm
Stand By Me (1986) – 5Star, 4.55pm
Independence Day (1996) – C4, 6.20pm
The Hundred-Foot Journey (2014) – 5Star, 6.35pm
Beautiful Boy (2018) – BBC2, 10pm
The Hobbit: The Battle of the Five Armies (2014) – ITV, 10.55pm
From Dusk Till Dawn (1996) – Paramount, 11.35pm
Insidious (2010) – 5Star, 11.45pm
The Conversation (1974) – BBC2, 11.55pm
The Goob (2014) – BBC1, 12.30am
Look Back in Anger (1959) – BBC2, 1.45am
Another chance to see: Ice Cold in Alex (Sony Action, 11.45am), Pride & Prejudice (5Select, 12.30pm), Seabiscuit (Sony Movies, 1.45pm), Steel Magnolias (5Star, 2.30pm), Stardust (Film4, 3.50pm), Despicable Me (ITV2, 4.20pm), The Hound of the Baskervilles (Sony Classic, 5.05pm), Silverado (Paramount, 6.20pm), 84 Charing Cross Road (Sony Classic, 6.55pm)
There's quite the eclectic selection for you here, ranging from some big, bravura effects to effective, simply told stories. Ingrid Berman take centre stage as French heroine and saint Joan of Arc in a flawed but interesting pet project for the actress, while Gene Tierney and Rex Harrison are simply charming in Joseph L. Mankiwiecz's romantic drama The Ghost & Mrs Muir, a curious and enchanting story of a young widow who develops an affection for the ghost of a seaman who haunts her cottage. A wily George Sanders and young Natalie Wood are also among the cast. Another stand-out for the day is Stand By Me, Rob Reiner's quite wonderful coming-of-age drama about four young boys on a wild summer adventure. Adapted from a non-horror Stephen King short story, it's a tender, fun, quietly moving look at young friendships, buoyed by a brilliant young cast that includes scene-stealer River Phoenix. Helen Mirren picked up a Golden Globe nomination for her turn as Om Puri's rival restaurateur in France in the gentle The Hundred-Foot Journey, a France-set culture-clash comedy, but if you're looking for something a little less sedate and a little more LOUD than enjoy Will Smith, Jeff Goldblum and Bill Pullman band together to save the day – and the world – from an alien invasion in the bombastic blockbuster Independence Day (it's corny as anything but I'll freely admit to laughing, crying and have a genuinely good time among the heightened disaster drama of it all). There's a terrestrial premiere for drama Beautiful Boy, a story of a father and son's journey through the latter's relationship with drug addiction, survival, relapse and recovery that's based on the dual memoirs of David and Nic Sheff, played here by Steve Carrell and Timothee Chalamet. Elsewhere, hobbits, wizards, elves and dwarves reunite one more time for The Hobbit: The Battle of the Five Armies, the final film of Peter Jackson's prequel trilogy, a couple of violent, kidnapping fugitives get the surprise of their lives when they hole up overnight in a seedy, dark biker bar in the genre-fusing From Dusk Till Dawn, a B-movie homage penned by Tarantino (starring alongside George Clooney, Harvey Keitel and more) and directed by Robert Rodriguez (Desperado). Gene Hackman plays a surveillance expert whose latest assignment pushes him to the point of obsession and paranoia in Francis Ford Coppola's wickedly tense thriller The Conversation (one of the filmmaker's finest), whose supporting cast boasts the late, great John Cazale and a very young Harrison Ford. Finally, a couple of British snapshots: Guy Myhill's low-budget debut The Goob is a poetic, claustrophobic coming-of-age drama about a young teen struggling to find stable footing in rural Norfolk, while kitchen-sink classic Look Back in Anger, directed by Tony Richardson and adapted from John Osborne's play, follows a frustrated working class man (Richard Burton) who struggles to reconcile his place in the world with that of his upper-middle-class wife (Mary Ure).
Sunday 31
Le Mans (1971) – BBC2, 1pm
The Train (1964) – BBC2, 2.45pm
Cocoon (1985) – Film4, 2.45pm
Hour of the Gun (1967) – Paramount, 4.10pm
The Frighteners (1996) – The Horror Channel, 9pm
The Deadly Affair (1967) – Sony Classic, 9pm
The Bling Ring (2013) – BBC1, 12.10am
The Homesman (2014) – BBC2, 12.45am
Sicilian Ghost Story (2017) – Film4, 1.20am
Another chance to see: Bridge to Terabithia (Sony Movies, 2.15pm), The NeverEnding Story (BBC1, 3.05pm), Despicable Me 2 (ITV2, 6.05pm), Skyfall (ITV2, 8pm)
Steve McQueen gears up for the race of his life with personal troubles on his mind and an arch-rival in the rear-view in motor racing drama Le Mans, filmed during the actual 1970 race and featuring tons of real-race footage to give it a docu-style feel. War-time thriller The Train sees Burt Lancaster star alongside Jeanne Moreau and Paul Scofield as a conductor enlisted by the French Resistance to reroute stolen art bound for Nazi Germany, while at the same time the more overtly sentimental (but funny and contemplative) Cocoon sees a group of senior citizens find a new lease of life after encountering some extra-terrestrial life. If a Western is your thing, there's Maverick star James Garner giving a deep and layered performance as the infamous Wyatt Earp in John Sturges' Hour of the Gun, a film that strives for historical accuracy, while the evening sees Tommy Lee Jones direct himself alongside Hilary Swank in The Homestead, a revisionist Western which takes some traditional tropes and imagery to tell them from a female perspective. They're joined by a fine ensemble including Miranda Otto, Meryl Streep, James Spader and John Lithgow in the story of a woman and a drifter trying to transport three pioneer women driven mad on the frontier. James Mason stars as a English secret agent out to investigate the mysterious circumstances of a colleague's death in John le Carré adaptation The Deadly Affair, directed by Sidney Lumet, as Michael J. Fox finds he has the ability to talk to ghosts in Lord of the Rings director Peter Jackson's very fun horror-comedy The Frighteners (which gets bonus points for casting cult horror legend Dee Wallace). Inspired by true events, Sofia Coppola's The Bling Ring follows a group of fame-obsessed teenagers (including Taissa Farmiga and Emma Watson) who use the internet to follow celebrities' whereabouts and rob their houses. It doesn't exactly delve deep, but I like to think that the slightly shallow depiction combined with Coppola's beautiful shots is artistic irony. There's an altogether darker real-life tale in the excellent Sicilian Ghost Story, which follows a young boy's disappearance through the eyes of his infatuated classmate – including her rebellious journey into fantastical, enchanted forests nearby. If you're a fan of Pan's Labyrinth, it's one to check out.
Monday 1
The Wolf Man (1941) – The Horror Channel, 1pm
Hell Drivers (1957) – Talking Pictures TV, 2pm
Defence of the Realm (1985) – Talking Pictures TV, 6.35pm
RoboCop (1987) – ITV4, 9pm
The Nice Guys (2016) – Film4, 9pm
Suddenly, Last Summer (1959) – Sony Classic, 11.05pm
Another chance to see: Julie & Julia (Sony Movies, 4.50pm), Double Indemnity (Sony Classic, 6.45pm), Crimson Tide (ITV4, 11.05pm)
Lon Chaney Jr. finds himself nursing a bite and harbouring a curse in Universal Monster classic The Wolf Man, whose cast also includes the wonderful Claude Rains, Ralph Bellamy and Bela Lugosi. Stanley Baker stars as a ex-con truck driver caught in the middle of his boss' racketeering in gritty British crime drama Hell Drivers, while there's more tension in Defence of the Realm, a political thriller about a journalist who exposes an MP as a spy, starring Gabriel Byrne, Greta Scacchi, Denholm Elliott and more. A terminally wounded cop is turned into a cyborg member of the force in a dystopic Detroit in Paul Verhoeven's RoboCop, a blistering sci-fi action film that doesn't pull its punches when it comes to satire, as Russell Crowe and Ryan Gosling make a cool double-act as private eyes forced to team up in Shane Black's fun, 1970s' set neo-noir black comedy The Nice Guys. Finally, for something utterly bonkers, a heady mixture of brilliant and flawed, and oh so melodramatic, there's the Tennessee Williams-penned, Joseph Mankiewicz directed Suddenly, Last Summer, starring Elizabeth Taylor as a young woman traumatised after her witnessing her cousin's death, Katharine Hepburn as the aunt who wants her institutionalised and lobotomised and Montgomery Clift as the doctor looking to find out the truth.
Tuesday 2
This Happy Breed (1944) – Film4, 12.50pm
My Man Godfrey (1936) – Film4, 3pm
The Far Country (1954) – Film4, 4.50pm
The Imitation Game (2014) – Film4, 6.45pm
David Lynch: The Art Life (2016) – Sky Arts, 9pm
Red (2010) - Film4, 9pm
The Great Mountain Sheep Gatherer (2020) – BBCFour, 10pm
Moonlight (2016) – Film4, 11.15pm
Another chance to see: The Pumpkin Eater (Sony Classic, 11.50am), The Ghost & Mrs Muir (Talking Pictures TV, 2.15pm), Funny Girl (Sony Classic, 4.15pm), Blue Thunder (Sony Action, 9pm), Mad Max 2 (ITV4, 11.40pm)
It's a Film4 sort of day, from an early David Lean classic at lunchtime to a modern great in the evening. Based on a Noel Coward play and starring the excellent Celia Johnson, The Happy Breed is the fascinating story of a lower-middle-class family in Clapham in the years between WWI and WWII, while 1930s' screwball comedy classic My Man Godfrey combines the talents of the inimitable Carole Lombard and William Powell in a social satire about a frivolous socialite who hires a vagrant as a butler. James Stewart takes on crooked lawmen in western The Far Country, Benedict Cumberbatch stars as genius mathematician and wartime codebreaker hero Alan Turing in The Imitation Game (although the film doesn't quite do justice to his struggles as a gay man), and Bruce Willis, Morgan Freeman, John Malkovich and Helen Mirren are retired CIA agents forced back into the field in action-comedy RED (a fun brief turn from Brian Cox here too). That's followed by one of the finest Best Picture winners in recent years and greatest films of the 21st century – Barry Jenkins' Moonlight. It's the simple, moving story of three stages of one boy's life, including his place as a gay black man, that's beautifully shot and tenderly acted by three leads Trevante Rhodes, Alex Hibbert and Ashton Sanders, with Naomie Harris, Janelle Monáe and an Oscar-winning Mahershala Ali in support. Elsewhere during the evening, there's an up-close and in-depth look at the life and career of one of cinema's most individual and influential filmmakers and artists in documentary David Lynch: The Art Life and the lovely sounding The Great Mountain Sheep Gatherer, a doc following – and celebrating – a Lake District shepherd and his flock of sheep, filmed in part with drone footage to capture the beauty of the landscape and interspersed with poetry.
Wednesday 3
Heaven Knows, Mr Allison (1957) – Film4, 12.40pm
The League of Gentlemen (1960) – Film4, 4.30pm
Breathe (2017) – BBC2, 9pm
Hacksaw Ridge (2016) – Paramount, 9pm
The Untouchables (1987) – ITV4, 10pm
Southpaw (2015) – C4, 12.05am
The Garden (1990) – Film4, 1.45am
Another chance to see: Shadow of a Doubt (Sony Action, 10.55am), All the King's Men (Sony Classic, 11.15am), The Deadly Affair (Sony Action, 4.50pm), Cash on Demand (Sony Classic, 5.30pm), The Guest (Sony Movies, 9pm), Searching (Film4, 9pm), Kidulthood (5Star, 11.15pm), From Dusk till Dawn (Paramount, 11.50pm)
Deborah Kerr and Robert Mitchum star as a Roman Catholic nun and gristled US Marine stranded together on a Japanese-occupied South Pacific Island during WWII in Heaven Knows, Mr Allison, going for the same odd-couple vibes as director John Huston's earlier The African Queen. Later in the day, Jack Hawkins plays an aggrieved Colonel who enlists former army men (including Richard Attenborough) to help him rob a bank with military precision in The League of Gentlemen. There's a double dose of Andrew Garfield at 9pm, with the actor starring in two true life stories: Andy Serkis' directorial debut Breathe and moving, visceral WWII actioner Hacksaw Ridge. The former sees him star alongside Claire Foy as Robin Cavendish, a man who remarkably beat bleak odds to become one of the longest-living polio survivors and disabled advocate, while the latter tells the story of Desmond Doss, a pacifist medic and conscientious objector who finds himself in the middle of one of the most brutal battles, trying to save as many lives as he can without picking up a weapon. There's more real-life inspiration with Brian DePalma's crime drama The Untouchables, which sees Kevin Costner star as Eliot Ness, the Prohibition Agent set on halting Chicago gang-wars and nailing the infamous Al Capone. David Mamet's on script duties, Ennio Morricone provides the score, while Robert De Niro, Andy Garcia and an Oscar-winning Sean Connery appear alongside the leading man's breakthrough performance. There's two picks for after midnight, beginning with boxing drama Southpaw, directed by Antoine Fuqua (Training Day) and written by Kurt Sutter (Sons of Anarchy). It's full of the blood, sweat, tears and tropes you'd expect from the story of a fighter looking to get back on track after a family tragedy, but it's grounded by a stellar central performance from an almost unrecognisable Jake Gyllenhaal. A little less conventional is Derek Jarman's experimental, non-narrative The Garden, which sees Tilda Swinton and Michael Gough, amongst others, star in vignettes of love, religion, oppression, homosexuality and more in the filmmaker's own rural garden.
Thursday 4
3:10 to Yuma (1957) – Film4, 12.55pm
Quartet (2012) – BBCFour, 9pm
Jaws (1975) – ITV4, 9pm
American Hustle (2013) – Film4, 1.15am
Another chance: Funny Girl (Sony Classic, 11.30am), Walk, Don't Run (Sony Classic, 2.25pm), The Swimmer (Sony Classic, 7pm), Joe (Sony Movies, 10.50pm), The Big Heat (Sony Classic, 11.30pm)
Rancher Van Heflin is hired to secretly put outlaw Glenn Ford on a train to court but faces attention from vigilantes and the wanted man's gang in brisk Western great 3:10 to Yuma. A local sheriff (Roy Scheider), marine biologist (Richard Dreyfuss) and eccentric shark hunter (Robert Shaw) take on an almighty predator hellbent on terrorising their coastal home in Jaws. From John Williams' iconic score and the dolly shot, to Quint's excellent monologue, Steven Spielberg's blockbuster was a gamechanger then and holds up now. Elsewhere in the evening it's ensemble central, as Dustin Hoffman unites Maggie Smith, Tom Courtenay, Billy Connolly and Pauline Collins in Quartet, a genteel comedy about residents in a retired home for musicians, and Christian Bale, Bradley Cooper, Amy Adams and an Oscar-winning Jennifer Lawrence lead a rich cast in American Hustle, a story of con artists, rogue FBI agents, corrupt politicians, Jersey powerbrokers and the Mafia in 1970s America.
Friday 5
Stalag 17 (1953) – Film4, 1.40pm
49th Parallel (1941) – Film4, 4.05pm
Janis: Little Girl Blue (2015) – Sky Arts, 10pm
Nightcrawler (2014) – BBC2, 11.20pm
Shakespeare in Love (1998) – BBC1, 11.35pm
Another chance to see: A Night to Remember (Film4, 11am)
Ranked up there with The Great Escape and The Bridge on the River Kwai as one of the great WWII films, Billy Wilder's Stalag 17 merges tension, drama and pitch black humour in its story of American airmen in a German POW camp who suspect one of their own to be an informer. There's more WWII drama straight after on Film 4 with Powell & Pressburger's 49th Parallel, which follows a band of Nazi soldiers trying to evade capture by crossing the Canadian border into a then-neutral United States. Its impressive cast includes Laurence Olivier, Leslie Howard and Glynis Johns. Janis: Little Girl Blue offers a respectful glimpse into the life, genius and tragedy of one of the most impactful singer-songwriters – the fantastic Janis Joplin. Gwyneth Paltrow, Joseph Fiennes, Colin Firth and a wee, Oscar-winning cameo from Judi Dench combine in the witty and playful Shakespeare in Love, a sort of Elizabethan-set rom-com that imagines the young, penniless playwright falling head-over-heels for his muse, despite the many obstacles in their way. There's brevity, drama, a bit of raunch and enough Shakespeare in-jokes and nods to shake a skull at, which the Academy infamously loved. One film that should have won as much Oscar love but didn't (a decision that has officially made my list of award disappointments) is Dan Gilroy's exquisite neo-noir thriller Nightcrawler. A dark and kinetic L.A. story, it stars a quite phenomenal and unnerving Jake Gyllenhaal as a thief-turned-cameraman who'll do anything he can to get the perfect shot. The film is excellent from top to bottom, whether that's the supporting cast of Riz Ahmed, Rene Russo and Bill Paxton, James Newton Howard's evocative score or the sleek cinematography. Well, well worth a watch (if you couldn't tell).