Duke Box #45: Our Guide to the Best Films on TV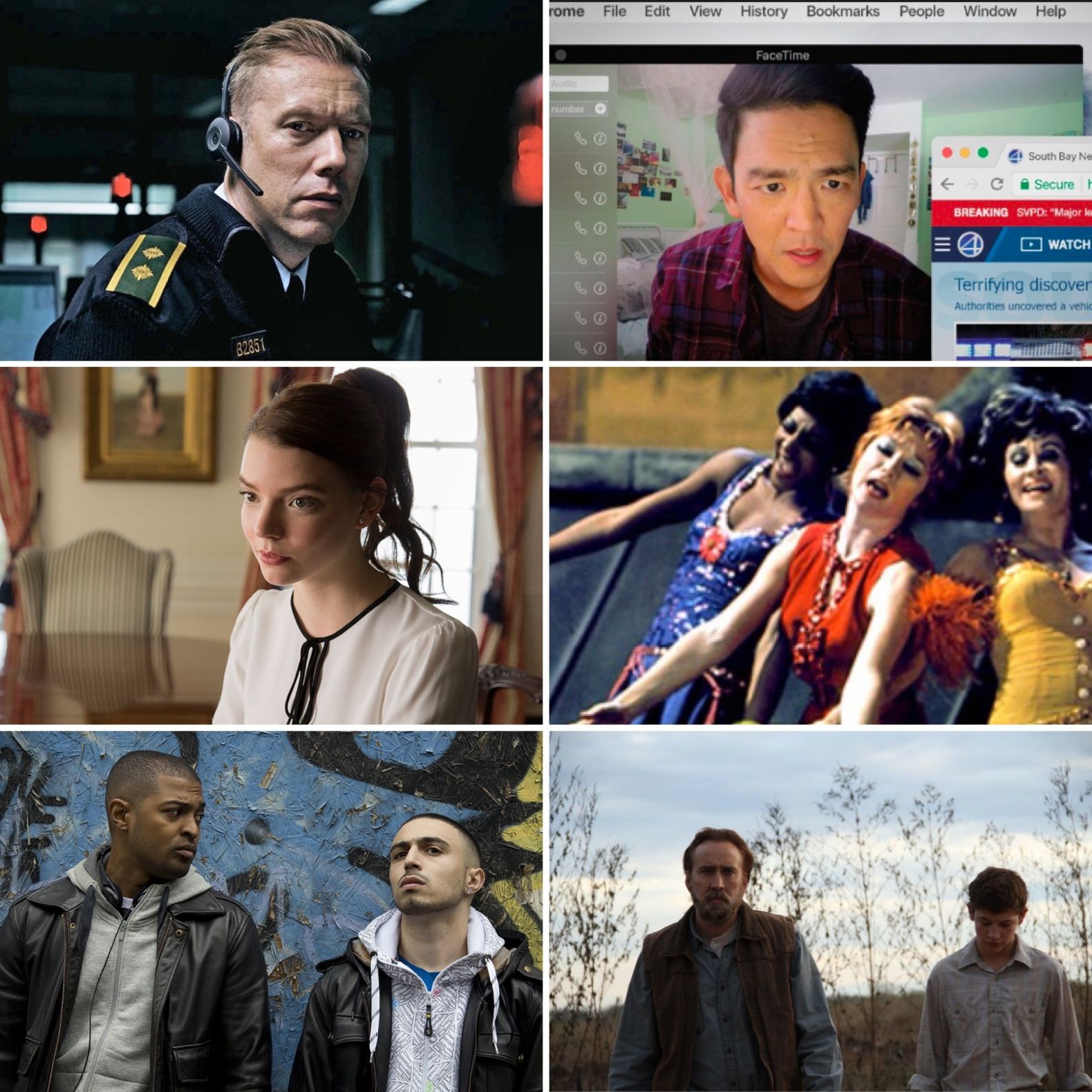 Hi everyone,
There are some really intriguing thrillers out there this week, with a good number of films making the most of their unique or bold set-ups to keep you on the edge of your seat - like claustrophobic Danish kidnapping drama The Guilty and the digitally innovative, missing person mystery Searching. It's a great opportunity to try out some gems that you might have missed out on, while big-hitters like Raging Bull (pun intended) are also back on the box for you to enjoy.
(Please note that this list isn't exhaustive – these are just some titles that I've selected as ones to try out or revisit, hopefully at the best times. Some films may also change if channels decide to alter their listings.)
Find last week's here: Duke Box 44
Saturday 23
Fast Girls (2012) – BBC2, 11.30am
Little Women (1994) – Sony Movies, 2.10pm
Steel Magnolias (1989) – 5Star, 6.35pm
Indiana Jones and the Kingdom of the Crystal Skull (2008) – C4, 7.10pm
Sweet Charity (1969) – Sony Classic, 8pm
Mission: Impossible (2015) – Rogue Nation – E4, 9pm
The Bank Job (2008) – Film4, 9pm
Teenage Superstars (2017) – Sky Arts, 9pm
Night Will Fall (2014) – More4, 9pm
The White Crow (2018) – BBC2, 9.30pm
Raging Bull (1980) – ITV, 10.55pm
The Endless (2017) – Film4, 11.10pm
Buried (2010) – C4, 12.20am
The Spy Gone North (2018) – BBC2, 2.15am
Another chance to see: Paddington (Film4, 4.50pm), Shrek 2 (ITV2, 5.05pm), Die Hard with a Vengeance (ITV4, 10pm), Bridget Jones's Baby (C5, 10.55pm)
Elite sport, comradery, true stories, thrilling tension and just a bit of the bizarre – today's picks cover the lot. Lenora Critchlow and Lily James star as two rising British track stars from different upbringings who have to try and put aside their rivalry for their national team in the charming Fast Girls. Female narratives are also at the heart of the popular 1993 adaptation of Louisa M. Alcott's Little Women and the beloved Southern melodrama Steel Magnolias. They also boast some pretty impressive casts too, with Winona Ryder's forthright Jo March accompanied by Claire Danes, Kirsten Dunst, Susan Sarandon and Christian Bale, while an excellent Sally Field, Oscar-nommed Julia Roberts, the sublime Dolly Parton and a biting Shirley MacLaine bring you laughs and tears in the latter. There's more MacLaine too in the musical Sweet Charity, starring as a dancer who wants to be whisked away from her sleazy life; Bobby Fosse directs, Sammy Davis Jr. co-stars and there are sensational music numbers like 'Hey, Big Spender!' and 'Rhythm of Life'. In between the two, there's Indiana Jones and the Kingdom of Crystal Skull, which, well, you either like or you don't (it's flawed fun for me, sparkling whenever Raiders star Karen Allen is verbally sparring with Harrison Ford), while the evening serves more high-octane stunts and thrilling spy games in Mission: Impossible – Rogue Nation and a notorious 1970s' British heist in The Bank Job, starring Jason Statham and Saffron Burrows. Two documentaries also crop up at the same time as those last two films, including Teenager Superstars, which zeroes in on the bands and musicians from Glasgow's alternative music scene in the late 80s/early 90s (narrated by The Breeders and The Pixies legend Kim Deal). Night Will Fall, meanwhile, fuses lost and restored WWII footage about concentration camps (shot by Hitchcock) with newsreels and interviews with survivors and liberators to expose the atrocities and focus on the healing process. Its honesty means that some content is distressing but it's a powerful, visceral and eye-opening watch. A pivot from documentaries to the biopic afterwards, with Ralph Fiennes' The White Crow charting the life of ballet dancer Rudolf Nureyev and his eventual defection to the West, and Martin Scorsese's bruising and beautiful Raging Bull, a quite spectacular exploration of rage, violence and the self-destructive boxer Jake LaMotta. An Oscar-winning Robert De Niro is arguably at his greatest here, while you can't help but marvel at the award-winning editing by regular Scorsese collaborator Thelma Schoonmaker, particularly in the boxing scenes. Inventive, odd, creepy – The Endless is a great late-night film to try out, with its unsettling story of two brothers who, prompted by an old videotape, revisit the cult they escaped from as children. There are more straightforward and oh-so stripped back thrills in Buried, a claustrophobic nightmare that sees a kidnapped man (Ryan Reynolds) wake in a coffin and facing a race against time to escape, while '90s set political drama The Spy Gone North is a compelling, slow-burning and intricate story of a South Korean army major who poses as a businessman to infiltrate a North Korean nuclear facility.
Sunday 24
Seabiscuit (2003) – Sony Movies, 11.45am
Miss Potter (2006) – 5Select, 12pm
84 Charing Cross Road (1987) – Sony Classic, 2.40pm
Toni Morrison: The Pieces I Am (2019) – Sky Arts, 4pm
Zoo (2017) – C4, 4.35pm
Silverado (1985) – Paramount, 6.15pm
Serenity (2004) – The Horror Channel, 9pm
The Hound of the Baskervilles (1959) – Sony Classic, 9pm
The Light Between Oceans (2016) – BBC2, 11.35pm
Election (1999) – BBC1, 12am
Nerve (2016) – C4, 12.55am
A Taxi Driver (2017) – Film4, 1.10am
Another chance to see: The Two Faces of January (Film4, 11am), The Ladykillers (Film4, 12.55pm), Ice Cold in Alex (Sony Action, 1.50pm), Despicable Me (ITV2, 4.30pm), Our Man in Havana (Sony Classic, 6.40pm), Fargo (ITV4, 11.05pm), Houdini (Talking Pictures TV, 1.50pm)
A couple of gentle, period features mark Sunday lunchtime, beginning with prestige drama Seabiscuit, which sees Tobey Maguire, Chris Cooper and Jeff Bridges in a retelling of the real-life, undersized racehorse who defied the odds to become a national symbol of hope. Renee Zellweger is a little closer to home for us here, taking in the Lake District scenery alongside Ewan McGregor as beloved Beatrix in sweet biopic Miss Potter. There's another 'based on a true story' in the afternoon as Anne Bancroft's New York based bibliophile and Anthony Hopkins' London book store manager develop a transatlantic friendship over two decades in 84 Charing Cross Road, while literature, love and the power of words is right at the heart of documentary Toni Morrison: The Pieces I Am, a rich look at the profound influence of one of the greatest storytellers. Elsewhere in the afternoon, British family film Zoo tells another true (and remarkable) tale, this time about a teenager and widow harbouring a baby elephant in the Belfast backstreets during the blitz, and a dream team of Kevin Kline, Kevin Costner, Scott Glenn and Danny Glover team up as a bunch of misfit cowboys who band together to try and help a small town in Lawrence Kasdan's great '80s Western Silverado – and don't be surprised to find a few other big names make an appearance! From a neo-Western to a space-Western, then, with Serenity, a big-screen adventure for the crew of cult, one-series wonder Firefly. It's a great follow-up and a fun standalone, with a villainous Chiwetel Ejiofor joining the cast. Peter Cushing dons his deerstalker to play Sherlock Holmes in Hammer Horror's The Hound of the Baskervilles, with good friend and collaborator Christopher Lee playing the lord tormented by a ferocious beast. Later in the evening, Michael Fassbender and Alicia Vikander star as a lighthouse keeper and his wife who raise a baby they rescue in romantic drama The Light Between Oceans (from Blue Valentine director Derek Cianfrance); Matthew Broderick's cynical high school teacher clashes with the ambitious student politican Tracy Flick (Reese Witherspoon) in Alexander Payne's dark comedy Election; an online truth or dare game becomes more dangerous as it progresses in scathing techno-thriller Nerve; and Parasite's wonderful Kang-ho Song delivers another fantastic performance in A Taxi Driver as a widowed father who drives a German reporter from Seoul to Gwangiu during the Korean '80s uprising
Monday 25
The Furies (1950) – Film4, 11am
Night of the Demon (1957) – The Horror Channel, 11am
The Mummy (1932) The Horror Channel, 1pm
Anne of the Thousand Days (1969) – Film4, 3.30pm
All the Money in the World (2017) – Film4, 9pm
Score: Cinema's Greatest Soundtracks (2019) – BBCFour, 10pm
The Pumpkin Eater (1964) – Sony Classic, 11.15pm
P'Tang, Yang, Kipperbang (1982) – Film4, 2am
Fill the Void (2012) – C4, 2.45am
Another chance to see: Get Low (Sony Movies, 4.50pm, Stardust (Film4, 6.25pm), Sunday Bloody Sunday (Sony Classic, 9pm)
In the morning, there's a choice between watching Barbara Stanwyck's formidable and fearless heiress clash with her ruthless cattle baron father in fiery Western The Furies or dipping into a classic slice of British gothic with chiller Night of the Demon, the film that provided Kate Bush' 'Hound of Love' with the killer opening, "It's in the trees! It's coming!" If you try out the latter and stick with the channel, you'll be rewarded with some old-school Universal Horror, as Boris Karloff-starsin The Mummy. If you're interested in tales of men with too much power, there's always lavish Tudor drama Anne of the Thousand Days, which sees Richard Burton's married Henry VIII pursue Anne Boleyn, or All the Money in the World, a ransom thriller about the John Paul Getty III kidnapping scandal. For some off-camera action, documentary Score: Cinema's Greatest Soundtracks dives into the creativity of film compositions and unsurprisingly showcasing some of the medium's greatest composers, musicians and iconic pieces. Cannes Best Actress winner Anne Bancroft stars alongside Peter Finch and Maggie Smith as a mother who falls into spiralling depression in Harold Pinter's The Pumpkin Eater, before two middle-of-the-night options: P'Tang, Yang, kipperbang, the late Michael Apted's coming-of-age story set in a late 1940s' grammar school (and starring Alison Steadman), and the graceful Israeli drama Fill the Void, a poignant and compelling story about an 18 year old Hasidic girl who must decide whether to make a life-changing decision based on tradition, peer pressure or her own volition. These last two are on super late but I wouldn't be surprised to see them crop up on All4.
Tuesday 26
Torture Garden (1967) – The Horror Channel, 1pm
A Man For All Seasons (1966) – Sony Classic, 2.50pm
State Secret (1950) – Talking Pictures TV, 8.35pm
American Animals (2018) – Film4, 9pm
Bugsy (1991) – Sony Classic, 9pm
The Blues Brothers (1980) – ITV4, 9pm
Mountain (2017) – BBCFour, 10.30pm (repeated at 1.40am)
I Walk Alone (1947) – Talking Pictures TV, 10.40pm
Layer Cake (2004) – Film4, 11.20pm
Enduring Love (2004) – Film4, 1.30am
Another chance to see: His Girl Friday (Film4, 12.50pm), The Hound of the Baskervilles (Sony Classic, 7.10pm)
It's a good day for a cinematic ensemble today! Jack Palance, Burgess Meredith and Peter Cushing star in horror portmanteau film Torture Garden (creepy fairground, Edgar Allen Poe, Hollywood androids are all there); A Man For All Seasons unites Paul Scofield, Robert Shaw, Orson Welles and more phenomenal talent in the story of Sir Thomas More's conflict with Henry VIII; and Douglas Fairbanks Jr. stars alongside Glynis Johns and Ernest Lom as an American doctor on the run from a fictional country's police state in post-WW2 Europe in State Secret. A trio of treats at 9pm includes true-crime thriller American Animals, the story of four young men who attempted an audacious heist on a college library. There's a twist in the way it approaches the story that's add extra layers, while Irish actor Barry Keoghan (The Killing of a Sacred Deer, Calm With Horses) continues his rise. Warren Beatty, real-life partner Annette Bening, Harvey Keitel and many more star in neo-noir biopic Bugsy, based on real-life mobster Bugsy Siegel and his lover Virginia Hill, while some of the biggest and most influential names in soul – Aretha Franklin! Ray Charles! Cab Calloway! – make an appearance in cult comedy The Blues Brothers, starring Dan Ackroyd and John Belushi. One of nature's most affecting and sublime markers takes centre stage in the breathtakingly beautiful documentary Mountain, narrated by Willem Dafoe, while the darker, uglier nature of man is on display in Prohibition set crime drama I Walk Alone, in which Burt Lancaster stars as a man released from prison and Kirk Douglas as the partner unwilling to share profits with him, Finally, and in some sort of uncanny timing considering the most recent Bond delay, there's a Daniel Craig double bill on Film 4. The future 007 caught Bond producers' eyes in the stylised British crime film Layer Cake, playing a cocaine dealer who wants out but ends up embroiled further in the mire, while Ian McEwan adaptation Enduring Love sees him and Rhys Ifans star as two strangers who meet during a tragic accident, with the latter developing a strange and intense obsession with the former.
Wednesday 27
Teacher's Pet (1954) – Talking Pictures TV, 2.30pm
The Sand Pebbles (1966) – Sony Action, 3.40pm
The Guilty (2018) – Film4, 9pm
Mad Max 2 (1981) – ITV4, 10pm
Heat (1996) – Film4, 10.50pm
Crimson Peak (2015) – C4, 1.45am
Another chance to see: Cottage to Let (Film4, 1.05pm), The End of the Affair (Sony Classic, 4.40pm), Our Man in Havana (Sony Classic, 6.50pm), The Dead Zone (The Horror Channel, 12.35am), The Guest (Sony Movies, 1am)
A newspaper editor poses as a night school student to woo a journalism teacher in battle of the sexes rom-com Teacher's Pet, starring Clark Gable, Doris Day, Gig Young and a jaunty theme, while Steve McQueen, Richard Attenborough and Candice Bergen assemble in The Sand Pebbles, which follows a U.S. Naval engineer as he's assigned to a gunboat on a rescue mission in war-torn 1920s' China. There's tension aplenty in the knockout Danish thriller The Guilty as an officer reassigned to dispatch answers a call to a kidnapped, starting a race against time to rescue her. There's more thrills and action elsewhere too, from the George Miller's bold and breathtaking apocalyptic sequel Mad Max 2: Road Warrior, to Michael Mann's sleek heist thriller Heat, starring Robert De Niro and Al Pacino on opposite sides of the criminal line as a thief and cop. Finally, Guillermo Del Toro embraces the tropes and trappings of Gothic literature with his beautifully atmospheric homage Crimson Peak, which sees Mia Wasikowska's young, aspiring writer wooed by the mysterious Tom Hiddleston and facing the daunting prospect of his brooding sister (Jessica Chastain) and their haunted manor. As you'd expect from Del Toro, especially when dabbling with the ghouls and gothic, the design, aesthetic and atmosphere are spectacular.
Thursday 28
The Way Ahead (1944) – Talking Pictures TV, 10.30am
The Victors (1963) – Sony Classic, 1.25pm
The Boy in the Striped Pyjamas (2008) – BBCFour, 8pm
Searching (2018) – Film4, 9pm
The Road (2009) – Sony Movies, 9pm
Crimson Tide (1995) – ITV4, 9pm
Gone Girl (2014) – Film4, 11.05pm
Kidulthood (2006) – 5Star, 12.05am
Another chance to see: A Man for All Seasons (Sony Classic, 4.30pm), It Always Rains on Sunday (Talking Pictures TV, 6.35pm), 84 Charing Cross Road (Sony Classic, 6.55pm),The Graduate (Sony Classic, 9pm), The Blues Brothers (ITV4, 11.20pm)
Variations of war draw the camera's focus in the first three films of today. Carol Reed's The Way Ahead, used exec-producer and star David Niven's Sandhurst experiences in this drama about a group of British civvies called up by the Army and sent to fight the Nazis in North Africa; co-star Peter Ustinov also co-wrote the script. Meanwhile, Carl Foreman's The Victors enlists an impressive cast, including Albert Finney, Jeanne Moreau and Eli Wallach, to explore the futility of war, and the poignant, powerful The Boy in the Striped Pyjamas shows the horrors of war through the eyes of children, telling the story of a German commandant's son who becomes friends with a young Jewish boy in a concentration camp. 9pm brings with it a rich choice of films, including the sharply made thriller Searching, which sees a father try to find his missing teenage daughter through her digital footprint. Set entirely on screens (feels pretty prescient now), it resists being a gimmick and is instead a clever, compelling and suspenseful mystery. Elsewhere, Viggo Mortensen leads his son on a gruelling journey across a dangerous, post-apocalyptic America in Cormac McCarthy adaptation The Road and Denzel Washington's young officer stages a mutiny against a trigger-happy Captain (Gene Hackman) on board a US nuclear missile sub in Tony Scott's claustrophobic, sweaty action-thriller Crimson Tide. There's more tension and mystery in David Fincher's adaptation of Gillian Flynn's thrilling Gone Girl, which sees a professor (Ben Affleck) come under scrutiny following the disappearance of his wife (Rosamund Pike), before Kidulthood invites you to spend a day in the live of several troubled teenagers in West London, presented potently and unflinchingly by star Noel Clarke's script.
Friday 29
A Night to Remember (1958) – Film4, 2pm
Walk, Don't Run (1966) – Sony Classic, 2.25pm
It Could Happen to You (1994) – Sony Movies, 6.55pm
Joe (2013) – Sony Movies, 9pm
Young Guns (1988) – BBC1, 11.35pm
Thoroughbreds (2017) – C4, 12.10am
I Remember You (2017) – BBC2, 12.45am
Another chance to see: Anne of the Thousand Days (Film4, 11am), Funny Girl (Sony Classic, 11.45am), Sweet Charity (Sony Classic, 7.05pm), Bugsy (Sony Classic, 12.10am)
A Night to Remember offers a tense and moving glimpse at the final night onboard the Titanic, with the filmmakers using the historical evidence at the time (so a little bit different to now) to avoid sensationalism and produce a quite thoughtful account. There's a final film performance from Cary Grant in the 1960s Tokyo Olympics set matchmaking comedy Walk, Don't Run on Sony Classic, while Sony Movies offers us a double bill of another of our favourite actors – Nic Cage. He gives a sweet performance in the warm-hearted, Capra-homage rom-com It Could Happen To You, starring as a man who splits a winning lottery ticket with a waitress, before appearing in more grizzled form in indie Joe as a lumber worker with a past whose looks to protect a young worker from their abusive father. Atmospheric, raw and centred on Cage's powerful performance, it's a bit of a hidden gem. Following a cheeky showing of 1980s' Western Young Guns (naff, cheesy, but ultimately a bit of 80s fun that no doubt fuelled many a teen crush), there are two unconventional thrillers from 2017 to round out the week. Anya Taylor-Joy is riding quite the wave at the moment, thanks to everyone binging on The Queen's Gambit on Netflix, and you can see her deliver another striking performance in the bold, darkly comic thriller Thoroughbreds, starring alongside Oliva Cooke as two upper-class teenagers who rekindle their surprising friendship with intense results. Finally, Icelandic mystery I Remember You fuses bits of Nordic noir with horror flourishes as a couple learn about the dark history of the derelict town they have moved to.