Duke Box #4: Our Guide to the Best Films on TV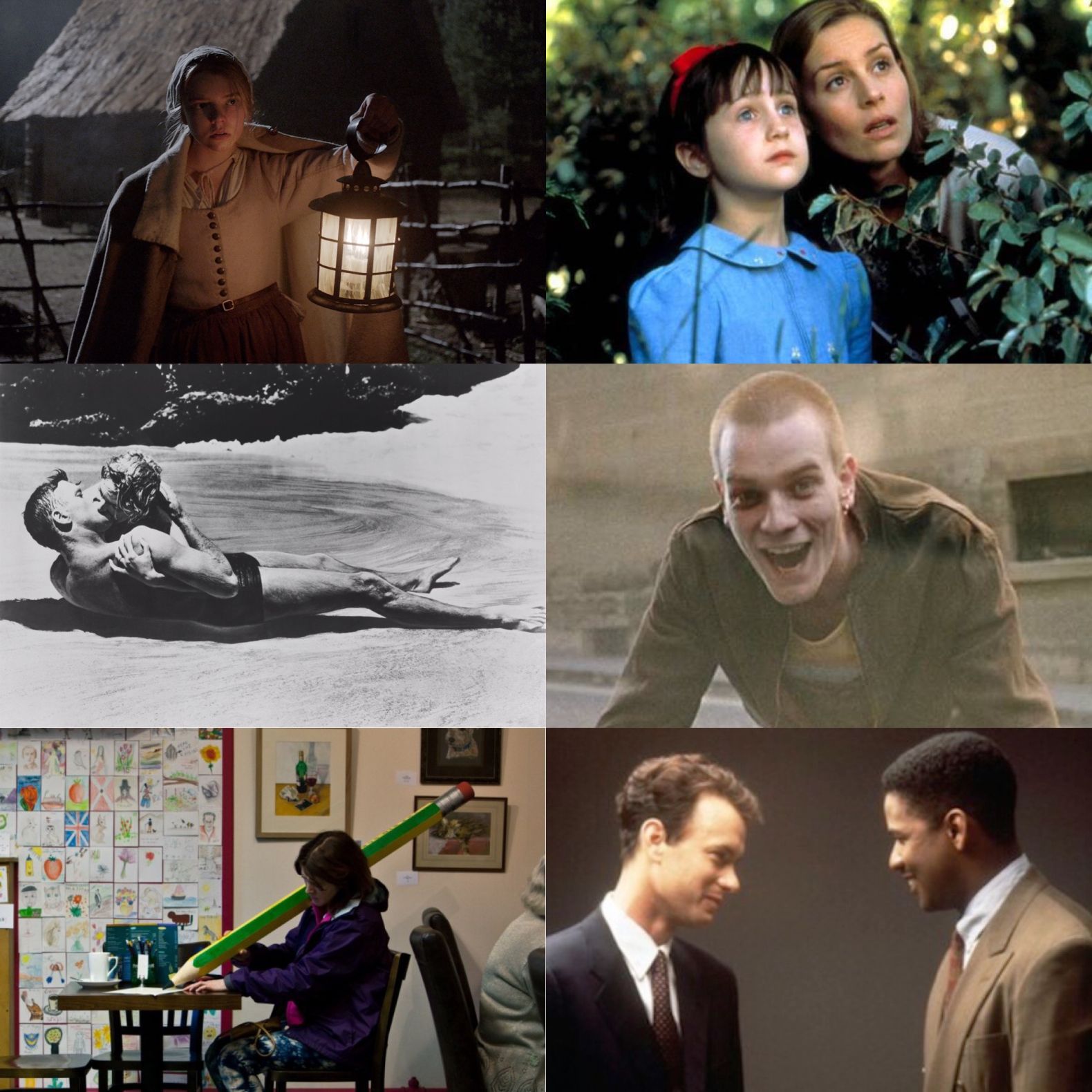 Hi everyone,
Well, the Bank Holiday isn't messing around when it comes to film choice. The long weekend is jam-packed with crowd-pleasers, family-friendly favourites, and a few Freeview premieres too. The rest of the week isn't to be sniffed at either, particularly if you're looking for something a little nostalgic. Just a reminder that this list isn't exhaustive (you should have seen the amount this was cut down from!) and that some films will be repeated at different times – these are just some key titles to look out for at what are likely the best times.

Stay safe, stay inside and put on a good film.
*A reminder of today's choices* Friday 10:
The Lavender Hill Mob (1951) – BBC2, 4pm
Raiders of the Lost Ark (1981) – BBC1, 6.40pm
Zodiac (2007) – Sony Movies, 9pm
The African Queen (1951) – Sony Movies Classic, 9pm
What a line-up for Good Friday. Lauded by the BFI as one of the finest British films, classic Ealing comedy The Lavender Hill Mob sees Alec Guinness and Stanley Holloway in a spot of bother after they try to rob a bank. Then archaeologist Indiana Jones takes on the Nazis in the search for the legendary Ark of the Covenant in Raiders of the Lost Ark, a film I don't think I could ever get bored of, even if I tried really hard. And in the evening there's a choice between David Fincher's brilliant mystery thriller Zodiac, tells the story of the investigation into one of America's most notorious serial killers, and the classic Bogart-and-Hepburn team-up The African Queen.
Saturday 11:
Matilda (1996) – C5, 2.35pm
Local Hero (1983) – Film 4, 2.45pm
Chitty Chitty Bang Bang (1968) – C5, 4.40pm
Indiana Jones & the Temple of Doom (1984) – BBC1, 6.25pm
Eddie the Eagle (2015) – Film4, 6.50pm
My Cousin Rachel (2017) – Film 4, 9pm
Victoria & Abdul (2017) – BBC2, 9.15pm
The River Wild (1994) – ITV, 10.35pm
Clouds of Sils Maria (2014) – BBC2, 11pm
Sexy Beast (2000) – Film 4, 11.10pm
There are some great choices here for films to watch with the family. I'm particularly fond of Danny DeVito's adaptation of Roald Dahl's classic, Matilda – the story of a girl whose love of reading feeds into magical powers. With Pam Ferris as first-class villain Miss Trunchbull and enough jokes to keep the parents happy, it's the pick of the bunch. Elsewhere though there's musical Chitty Chitty Bang Bang, Indiana Jones & the Temple of Doom (it's an Indiana Jones Bank Holiday weekender on BBC1), and the charming biopic Eddie the Eagle, starring Taron Egerton. In the middle of that is Local Hero, Bill Forsyth's delightful comedy-drama about an American oil company rep (Peter Riegert) who's sent to Scotland to purchase a small town - and the first of THREE Burt Lancaster picks this week! There's a choice between two rather excellent performances at 9pm, with the entrancing Rachel Weisz in moody Daphne du Maurier adaptation, My Cousin Rachel, and a twinkly eyed Judi Dench in fittingly majestic form in Victoria & Abdul. '90s thrill-fest The River Wild, about a family who run into a couple of criminals looking to make an escape down a river full of rapids, is a go-to watch for me, in part because of a top cast which includes Meryl Streep, David Strathairn, Kevin Bacon and John C. Reilly. Finally, for some late-night fare, there's Clouds of Sils Maria, a rich, intricate psychological drama starring Juliette Binoche and Kristen Stewart, and Sexy Beast, a knock-out British black-comedy gangster film that features an unforgettable, surprising performance from Ben Kingsley.
Sunday 12:
Lawrence of Arabia (1962) – Sony Classic, 1.05pm
Spellbound (1945) – Talking Pictures TV, 1.45pm
Willy Wonka & the Chocolate Factory (1971) – ITV, 2.35pm
The Sting (1973) – ITV4, 3.30pm
Indiana Jones and the Last Crusade (1989) – BBC1, 1.40pm
Blade Runner 2049 (2017) – Sony Movies, 9pm
A Fish Called Wanda (1988) – BBC1, 10.30pm
Loveless (2017) – C4, 12.55am
One of the most influential films ever made, you can spend your Easter Sunday afternoon in the company of Peter O'Toole and David Lean's historical epic Lawrence of Arabia. And epic is the right word for it - prepare to be dazzled and to dedicate a few hours to it. Alternatively, there's Hitchcock's psychological thriller Spellbound, starring Ingrid Bergman as a psychoanalyst in an asylum who suspects her new boss, played by Gregory Peck, isn't all he says he is. Keep an eye out for a Salvador Dali sequence that Hitchcock originally wanted to be a lot longer! Robert Redford and Paul Newman work their double-act magic in the Oscar-winning crime caper The Sting, whilst there's adventure and (Charlie) buckets of fun to be hand in Indiana Jones and the Last Crusade (the second best Indy) and Roald Dahl adaptation, Willy Wonka & the Chocolate Factory, featuring a perfectly, perfectly cast Gene Wilder. There's more Harrison Ford, this time alongside Ryan Gosling, in Blade Runner 2049, a stunningly shot follow-up to the 80s Philip K. Dick adaptation, whilst John Cleese, Michael Palin, Jamie Lee Curtis and a scene-stealing Kevin Kline have an absolute ball in British heist film A Fish Called Wanda. Hard-hitting Russian drama Loveless is in a strange time slot but worth pointing out to you as it's likely to land on catch-up.
Monday 13:
From Here to Eternity (1953) – Sony Classic, 1.25pm
Carry On Cleo (1964)/Carry on Screaming (1966) – ITV3, 2pm/3.45pm
The Bridge on the River Kwai (1957) – C5, 2.15pm
Red River (1948) – ITV4, 3.10pm
Indiana Jones & the Kingdom of Crystal Skull (2008) – BBC1, 6.40pm
Signs (2002) – Sony Movies, 6.50pm
Happy-Go-Lucky (2008) – Film 4, 10.45pm
It's an afternoon of bonafide classics on Bank Holiday Monday, including wartime drama-romance From Here to Eternity (featuring that scene), David Lean's POW drama The Bridge on the River Kwai, and Howard Hawks/John Wayne/Montgomery Cliff western Red River. Sandwiched in the mix of all of that is a double bill of arguably the two best Carry On films. Now, let's get the elephant in the room out of the way, shall we? Yes, that is Indiana Jones & the Kingdom of Crystal Skull, because a) I'm a completist and b) it might be no Raiders or Crusade, but it's still a fun enough watch. Alternatively, there's M. Night Shyamalan's genuinely eerie sci-fi thriller Signs on at a similar time. Finally, the evening sees Sally Hawkins' career-launching, Golden Globe-winning performance as a cheerful, optimistic primary school teacher in Mike Leigh's comedy-drama Happy-Go-Lucky.
Tuesday 14:
The Loneliness of the Long Distance Runner (1962) – Sony Classic, 2.45pm
Trainspotting (1996) – Film 4, 10.55pm
There are gritty looks at British society in Tuesday's picks. Tom Courtenay stars as an angry young prisoner whose talent for long-distance running makes him a favourite of the Governor's, even if he can't quite shake off his past, in The Loneliness of the Long Distance Runner. Meanwhile, with its iconic soundtrack, set-pieces and array of memorable characters, Danny Boyle's adaptation of Irvine Welsh's drugs-centred black-comedy Trainspotting is an influential modern classic
Wednesday 15:
Wuthering Heights (1939) – Sony Classic, 11.10am
The Swimmer (1968) – Sony Classic, 3pm
The Vikings (1958) – BBC2, 3.20pm
Edward Scissorhands (1990) – Film 4, 4.40pm
Brassed Off (1996) – Film4, 9pm
The Cabin in the Woods (2011) – Film4, 11.15pm
Prevenge (2016) - Film 4, 1.05am (rolling into Thursday)
There's a host of classic films on TV on Wednesday, in all shapes and sizes – from the classic brooding romance and turmoil of Wuthering Heights, starring Laurence Olivier and Merle Oberon, to The Swimmer's brutal and sometimes surreal swipe at American society, to the swashbuckling melodramatic action of The Vikings. Elsewhere, there's Tim Burton's gothic fairytale Edward Scissorhands, British gem Brassed Off (featuring an excellent cast, particularly Pete Postlethwaite), and a double bill of horror-comedy on Film 4: Joss Whedon's whipsmart & meta The Cabin in the Woods and Alice Lowe's directorial debut Prevenge.
Thursday 16:
Mary & the Witch's Flower (2017) – Film 4, 12.50pm
The VVitch (2015) – Film 4, 11.20pm
A Field in England (2013) - Film 4, 1.10am (rolling through into Friday)
Two of today's film picks might have a word in common but they couldn't be more different in approach to their craft. Based on British author Mary Stewart's beloved children's book The Magic Broomstick, Japanese animation Mary & the Witch's Flower (dubbed in this screening) is a bright, family-friendly adventure from the director of When Marnie was Here and Arietty. The VVitch, on the other hand, is a chilling supernatural horror set in 17th century America. Featuring Emma star Anya Taylor-Joy, Kate Dickie and Ralph Ineson, it's classic gothic storytelling that'll seep under your skin. There's also A Field in England, Ben Wheatley's psychedelic late-night trip into magic and chaos during the English Civil War.
Friday 17:
Bridge to Terabithia (2007) – Sony Movies, 2.35pm
Swallows and Amazons (1974) – BBC2, 3.45pm
Philadelphia (1993) – Sony Movies, 6.35pm
True Grit (2010) – Film 4, 9pm
Border (2018) – Film 4, 11.20pm
Cold in July (2014) – BBC2, 11.20pm
Sightseers (2012) – Film 4, 1.30am
Both Bridge to Terabithia and Swallows and Amazons are charming stories of children looking for and creating their own adventure, whether that's the fantasy land that the young heroes create in the former, to the gorgeous waters of our nearby Lake District. Tom Hanks won his first Oscar for his role in Philadelphia, a powerful drama about a man living with AIDS who is fired by his company. Directed by Jonathan Demme (The Silence of the Lambs) and co-starring Denzel Washington, it's still a powerful feature on prejudice and ignorance.In the evening, there's the excellent True Grit – the Coen brothers' take on the classic western, featuring a wonderful Jeff Bridges (stepping into John Wayne's shoes), Matt Damon and a breakthrough performance from Hailee Steinfeld. The unusual Swedish Border combines everything from fantasy and Scandi-noir, to social realism and touching romance – it's likely like nothing else you'll have seen so far this year. Indie crime thriller Cold in July crackles with suspense, twists, revenge and a sublime cast, with Don Johnson as pick of the bunch. Late night slot: likely to be on catch-up, but Ben Wheatley's black-comedy Sightseers, starring Steve Oram and Alice Lowe as homicidal holidaymakers in the British countryside, is a real Dukes favourite.