Duke Box #33: Our Guide to the Best Films on TV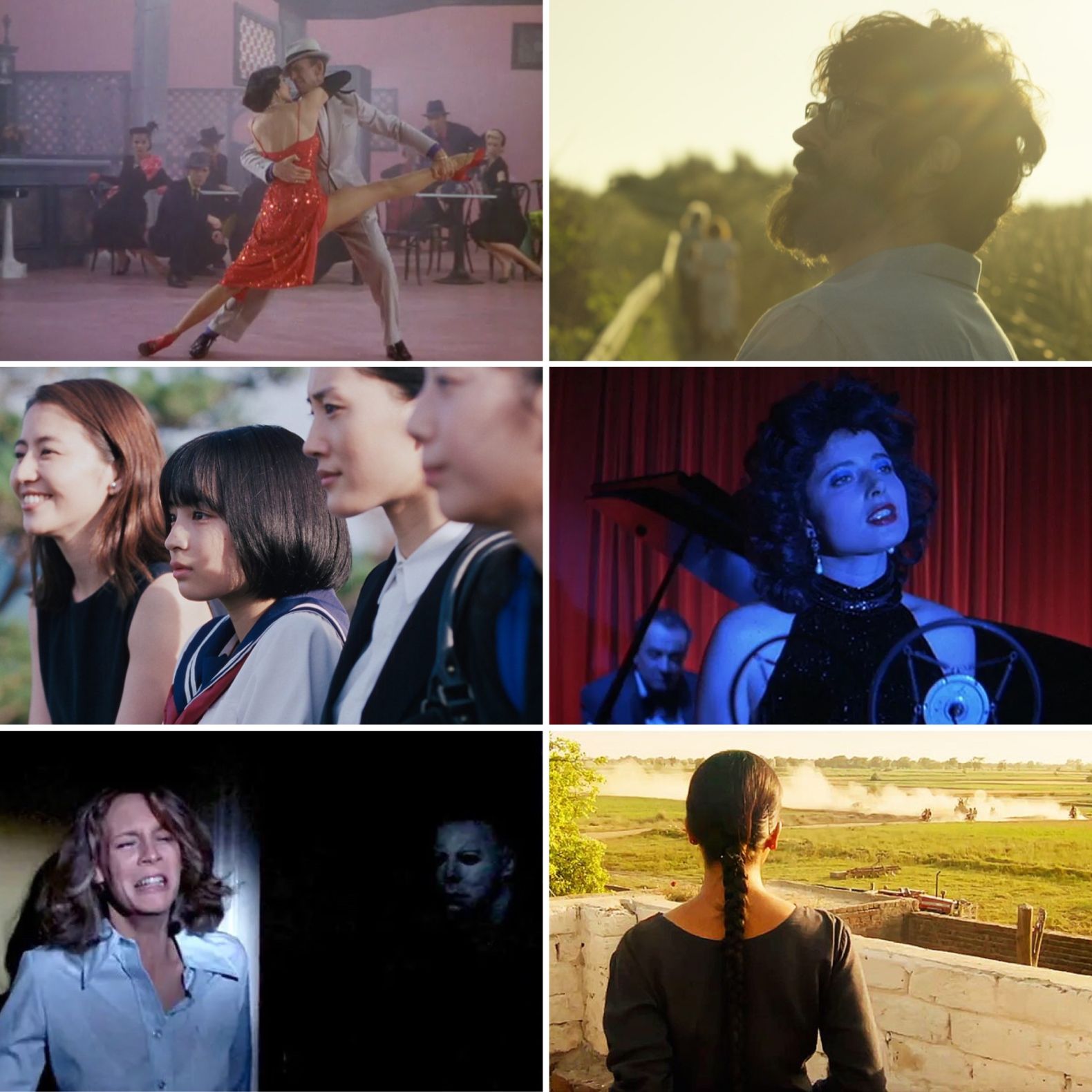 Hi everyone,
Big name directors take centre stage this week, with films from Vincente Minnelli, David Lynch, Stanley Kubrick, Hirokazu Koreeda and William Friedkin (to name just a few) making an appearance. There are a few dark little gems perfect for Halloween and gloomy evenings - including, well, Halloween and the disturbing Blue Velvet. For something a bit more warming though, I can't recommend Our Little Sister enough.
(A reminder that this list isn't exhaustive and that some films will be repeated at different times – these are just some titles that I've selected as ones to try out or revisit, hopefully at the best times. Some films may also change if channels decide to alter their listings.)
Saturday 31
The Band Wagon (1953) – BBC2, 2.30pm
Dr Terror's House of Horrors (1965) – The Horror Channel, 7pm
Ghost (1990) – 5Star, 9pm Make Up (2019) – BBC2, 9.45pm
Halloween (1978) – Film4, 10.45pm/Halloween II (The Horror Channel, 12.45am), Halloween III: Season of the Witch (The Horror Channel, 2.35am)
Whitney (2018) – C4, 10.55pm
Our Little Sister (2015) – BBC2, 1am
Pi (1998) – Film4, 2.20am
Another chance to see: Paddington (Film4, 12.50pm), Corpse Bride (ITV2, 1.15pm), How to Train Your Dragon (Film4, 2.40pm), The Mummy (The Horror Channel, 3pm), Bend of the River (ITV4, 4pm), Romancing the Stone (Film4, 4.35pm), Practical Magic (5Star, 4.40pm), Super 8 (Film4, 6.45pm), Arachnophobia (The Horror Channel, 6.50pm), Bram Stoker's Dracula (Sony Movies, 9pm), Poltergeist (BBC2, 11.10pm), They Live (Film4, 12.30am), Halloween II (The Horror Channel, 12.45am)
So, what's in store for Halloween? Well, a lot of suitably spooky offerings, of course. As well as a number of films that I've flagged up in previous weeks, there's also old-school anthology horror with Dr Terror's House of Horrors, starring Peter Cushing as mysterious traveller on a train with a penchant for dramatic, chilling storytelling. Christopher Lee and Donald Sutherland also make appearances. And, of course, there's John Carpenter's genre fave Halloween, starring Jamie Lee Curtis having as a babysitter having a Very Bad Night up against masked killer Michael Myers. The sequel (set on the same night) is also showing on The Horror Channel before Halloween III…which has nothing to do with Michael Myers at all. There's also a late night showing of Pi, a gripping and trippy psychological thriller directed by Darren Aronofsky (Requiem for a Dream, Black Swan) about a mathematician obsessed with finding a number that reveals the order of humanity and the real world. Obsession is also at the heart of recent British thriller Make Up, a story of a young woman in a remote Cornish holiday park whose relationship with her boyfriend fills her with jealousy and paranoia. If it's a look outside the horror and thriller section that you're after though, there are some real treats. Vincente Minnelli's classic musical The Band Wagon sees Fred Astaire's aging musical star try to make a Broadway comeback alongside Cyd Charisse's prima ballerina, while tearjerker Ghost smashes through genres in its story of a murdered man who uses a psychic to help him protect his unaware fiancée. Everyone remembers the Patrick Swayze and Demi Moore pottery scene, but it's Whoopi Goldberg who won an Oscar for her role as Oda Mae Brown (in one of my favourite ever Oscar categories – maybe I'll write a blog about it sometime). The brilliant, tragic talent of soul singer Whitney Houston gets the documentary treatment in Whitney, directed by Touching the Void's Kevin Macdonald, before Hirokazu Koreeda's beautiful Our Little Sister, a delightful story of three sisters who invite their half-sibling to live with them after the death of their father. It's a typically glorious bit of filmmaking from the Shoplifters director.
Sunday 1
The Pirates! In an Adventure with Scientists! (2012) – ITV2, 3.10pm
No Name on the Bullet (1959) – Paramount, 3.25pm
To Hell and Back (1955) – Paramount, 6.55pm
Fear Strikes Out (1957) – Talking Pictures TV, 10pm
Happy End (2017) – BBC4, 10.20pm
Blue Velvet (1986) – Film4, 10.45pm
Dracula by Northern Ballet – BBC4, 12.05am
Another chance to see: Rise of the Guardians (Film4, 11am), The Best Years of our Lives (5Select, 11.15am), FernGully: The Last Rainforest (Film4, 1pm), Wuthering Heights (5Select, 1.45pm), Nanny McPhee (ITV, 2pm), Bend of the River (ITV4, 2pm), Reach for the Sky (BBC2, 2.25pm), Groundhog Day (Dave, 2.55pm), Bill & Ted's Excellent Adventure (Sony Movies, 4.30pm), The Incredible Shrinking Man (The Horror Channel, 6.55pm), The Simpsons Movie (E4, 7.15pm), Climbing Blind (BBC4, 8pm), A Quiet Place (Film4, 9pm), Spy (E4, 9pm), The Rainmaker (5Select, 11pm), Bram Stoker's Dracula (Sony Movies, 11.05pm), I Am Bruce Lee (Sky Arts, 1.05am), The Love Witch (Film4, 1.10am)
It's quite hard to look past David Lynch's exceptional, dark and twisted thriller Blue Velvet as the pick of Sunday's films. Kyle MacLachlan's curious college student finds himself sucked into the criminal world of Dennis Hopper's psychotic Frank Booth and a romance with Isabella Rossellini's damaged nightclub singer in this hugely influential film, which also stars frequent Lynch collaborator Laura Dern. For something a bit more child-friendly, however, there's a lovely afternoon screening of Aardman's The Pirates! In an Adventure with Scientists!, a charming, animated romp which sees Hugh Grant's Pirate Captain embark on a foolhardy quest with Charles Darwin (David Tennant) at the request of Queen Victorian (Imelda Staunton). Over on Paramount there are a few Audie Murphy films, with the picks of the bunch being Western No Name on the Bullet about a town's paranoia over the arrival of a renowned killer and To Hell and Back, a film inspired by Murphy's own account of his life and time during WWII, where he became the most distinguished soldier in US history. Sports biopic Fear Strikes Out sees Anthony Perkins star as real-life Major League baseball player Jim Piersall, who contended with a domineering father and a nervous breakdown, Michael Haneke's drama Happy End stars Isabelle Huppert and Toby Jones in the story of a well-to-do family living in Calais who face a series of crises and, finally, there's some late night stage on screen with Northern Ballet's spin on Dracula.
Monday 2
The Children Act (2017) – BBC2, 9pm
Another chance to see: The Revenge of Frankenstein (The Horror Channel, 11am), The Rainmaker (Talking Pictures TV, 11.30am), Dr. Terror's House of Horrors (The Horror Channel, 1pm), The Man Who Knew Too Much (Film4, 2.30pm), Blockers (4/7, 9pm), Fear Strikes Out (Talking Pictures TV, 11pm), Life (C5, 11pm)
Ian McEwan's The Children Act gets the big screen treatment, with Emma Thompson starring as a judge caught between her failing marriage (to Stanley Tucci!) and a high-profile court case involving a teenager who wants to refuse a lifesaving transfusion. The film did pretty well when we screened it here at The Dukes a couple of years ago, nearly breaking into our top 10 grossing of the year!
Tuesday 3
The Sound of Fury (1950) – Film4, 12.55pm
My Pure Land (2017) – C4, 2.10am
Another chance to see: Winchester '73 (Film4, 11am), The Amirable Crichton (Sony Action, 11.20am), Odd Man Out (Talking Pictures TV, 12.10pm), The Victors (Sony Action, 4.05pm), My Six Loves (Talking Picture TV, 6.30pm), Girl with Green Eyes (Talking Pictures TV, 10pm)
Pitch black film noir The Sound of Fury sees a down-and-out family man swept up by a small-time crook whose ambitious plans have devastating repercussions. Meanwhile, Urdu-language drama My Pure Land follows a mother and her two daughters as they try to protect their home from a group of armed men. Directed by British-Pakistani director Sarmad Masud, it was the first Urdu-language film submitted by Britain as a potential Best Foreign Language Film at the 2018 Academy Awards, just missing the cut.
Wednesday 4
The French Connection (1971) – Sony Action, 10.50pm
Storyville: Notes on Blindness (2016) – BBC4, 11.30pm
Another chance to see: The Sound Barrier (Talking Pictures TV, 10am), Anastasia (Film4, 1.05pm), Funeral in Berlin (Film4, 4.45pm)
William Friedkin's blistering cop drama The French Connection stars Gene Hackman in a career-making role as single-minded Popeye Doyle, hellbent on bringing down a heroin smuggling job with little to no regard for any innocent bystander who gets in his way. It's not an easy watch – Doyle is deliberately not someone you'd want to have a drink with – but it's scintillating filmmaking, including one of the most iconic chase sequences. There's something much more tender and contemplative over on BBC4 – documentary Notes on Blindness. It's the story of John Hull, a writer who started to keep audio cassettes as he began to lose his sight; the audio and his attempts to understand all the changes in his life are recreated in poetic and visually stunning scenes that is both uplifting and emotional.
Thursday 5
The Devil Rides Out (1968) – The Horror Channel, 2.35am
Another chance to see: What's Eating Gilbert Grape (Sony Movies, 4.30pm), The Band Wagon (BBC4, 8pm), Commando (Film4, 9pm), Bone Tomahawk (Film4, 10.50pm), Bram Stoker's Dracula (Sony Movies, 1.15am)
Some middle of the night Hammer Horror – why not? Christopher Lee (a goodie here, not a baddie) stars as a man who stumbles across a devil-worshipping cult led by Charles Gray in The Devil Rides Out. The film's scripted by the brilliant Richard Matheson (I Am Legend), adapted from Dennis Wheatley's novel and directed by Hammer stalwart Terence Fisher (Dracula, The Curse of Frankenstein).
Friday 6
The Homesman (2014) – BBC1, 11.30pm
T2 Trainspotting (2017) – C4, 12.30am
Paths of Glory (1957) – BBC2, 1am
Another chance to see: Blithe Spirit (Talking Pictures TV, 10.50am), Cash on Demand (Sony Action, 11.30am), No Name on the Bullet (Paramount, 2.15pm), Is Paris Burning? (Talking Pictures TV, 2.40pm), Sink the Bismarck! (Film4, 4.45pm), Spy (E4, 9pm), Ghost (5Star, 9pm), Edge of Tomorrow (Sony Movies, 9pm), Attack the Block (Film4, 11.10pm), District 9 (Sony Movies, 11.15pm),
Tommy Lee Jones directs himself alongside Hilary Swank in dramatic neo-western The Homesman, the story of a frontier woman who enlists the help of a drifter to transport three pioneer women driven mad to a safe haven. A touch of the old-fashioned but with a rarely seen female focused narrative, the fine ensemble also includes Miranda Otto, Meryl Streep, James Spader and John Lithgow. Danny Boyle returns to Edinburgh with Ewan McGregor, Jonny Lee Miller, Ewan Bremner and Robert Carlyle for sequel T2 Trainspotting, which manage to still be both punchily subversive and an ode to time passing by. Finally, at a really quite odd time of day, there's Stanley Kubrick's anti-war film Paths of Glory, which rolls from searing battle sequences, moral and ethical questions and the nature of humanity in its partially true story of three soldiers who are court-martialled for cowardice after refusing to continue a suicidal attack. It's an early triumph for a phenomenal filmmaker.