Duke Box #32: Our Guide to the Best Films on TV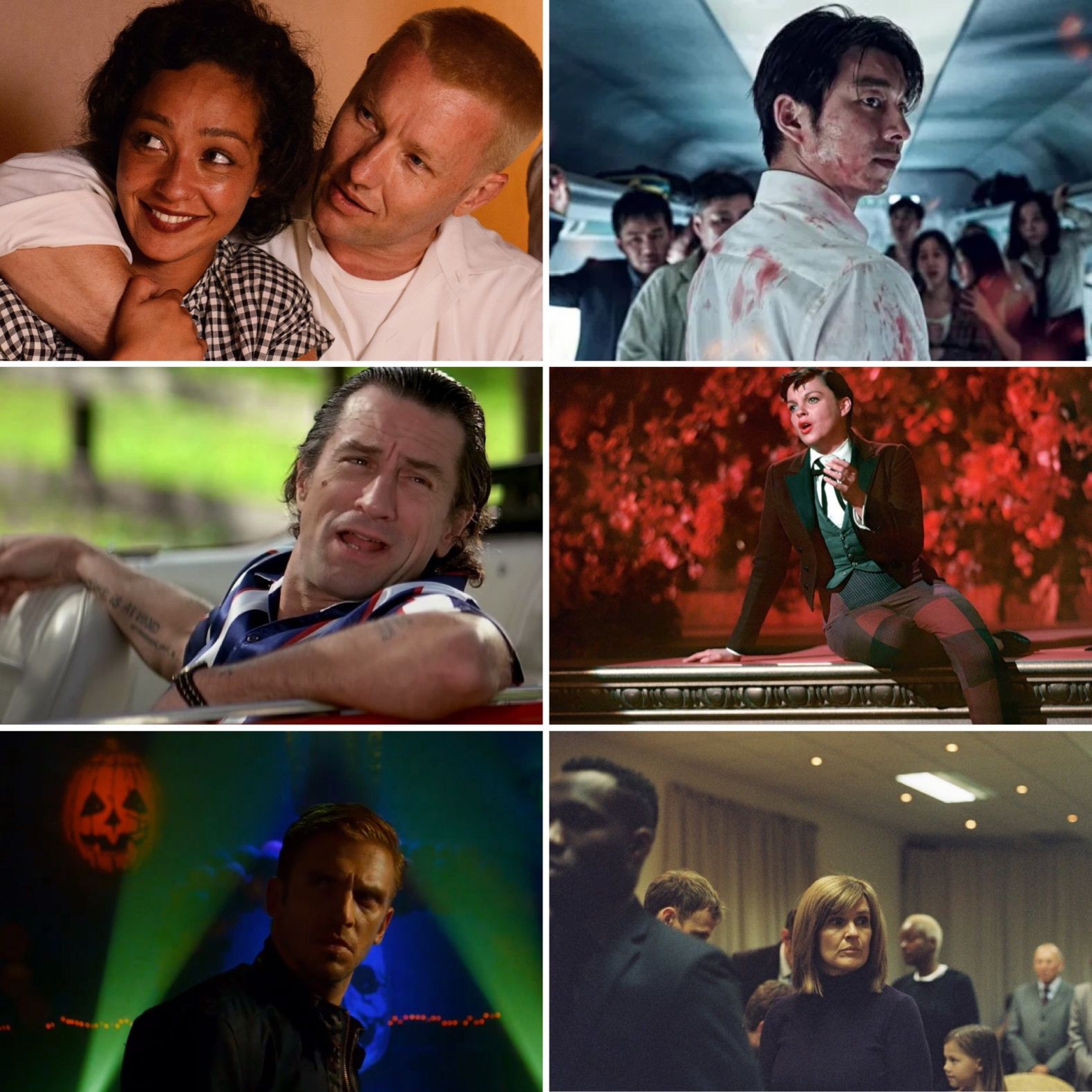 Hi everyone,

From British debuts to silver screen idols, and adaptations to true stories, there's a whole mix of storytelling happening this week - complete with a fair few thrills and chills as we get closer to Halloween.

You're getting a Pick of the Week this time round because as soon as I saw the simply brilliant Train to Busan in the listings I knew I had to shout about it here. A group of passengers trying to survive a zombie outbreak on a train might seem a bit gimmicky but this Korean gem is a glorious mixture of tension, humour, social commentary, characters you love (and hate), excellent set-pieces and action, creepiness, gore and so much emotion. It's really quite wonderful.
(A reminder that this list isn't exhaustive and that some films will be repeated at different times – these are just some titles that I've selected as ones to try out or revisit, hopefully at the best times. Some films may also change if channels decide to alter their listings.)

Duke Box 31
Saturday 24
Babe (1995) – ITV, 12.55pm
A Star is Born (1954 – BBC2, 1.10pm
Cape Fear (1991) – 5Star, 9pm
The Great Gatsby (1974) – Talking Pictures TV, 9.40pm
Apostasy (2017) – BBC2, 10pm
The Brood (1979) – The Horror Channel, 10.35pm
Pick of the Catch-Up: Moonlight (C4, 11.20pm), What We Do in the Shadows (BBC2, 12.30am)
Another chance to see: Aces High (ITV4, 11.15am), Ice Cold in Alex (Sony Action, 12.30pm), The Ladykillers (Film4, 12.35pm), The Colditz Story (Sony Action, 3.15pm), Snoopy and Charlie Brown: the Peanuts Movie (E4, 3pm), Seabiscuit (Sony Movies, 3.50pm), Shenandoah (Paramount, 4.40pm), The Theory of Everything (Sony Movies, 6.35pm), Kong: Skull Island (ITV2, 6.45pm), Two Mules for Sister Sara (Paramount, 6.50pm), Eddie the Eagle (Film4, 6.50pm), The Game (Sony Movies, 9pm), The World's End (ITV4, 11.30pm), 21 Grams (Sony Movies, 11.40pm), A Fantastic Woman (C4, 1.20am)
There really is a little something for everyone on Saturday. Dick King Smith adaptation Babe, the story of a pig who wants to be a sheepdog, was a staple of my childhood and is all round fantastic, eccentric family viewing. The film was nominated for all sorts of Oscars, including Best Picture, and is co-written and produced by George Miller of Mad Max fame (he also directed the bonkers sequel which is on TV on Sunday). Judy Garland takes centre stage in George Cukor's take on the much-filmed A Star is Born story, proving utterly heartbreaking alongside James Mason. Robert De Niro is on snarling form as the disturbing Max Cady, a convict out for revenge on Nick Nolte's lawyer in Martin Scorsese's intense remake of Cape Fear, while Robert Redford is joined by Mia Farrow, Bruce Dern and Karen Black in an adaptation of F. Scott Fitzgerald's The Great Gatsby. BAFTA-nominated Apostasy is one of the finest British debuts in recent years, with filmmaker Daniel Kokotajlo drawing on is own personal history to tell the story of a young Jehovah's Witness forced to shun her own sister. The film also features the excellent Siobhan Finneran. Finally, there's something entirely different with David Cronenberg's grotesque horror The Brood, a cult classic that follows a man, his ex-wife who has institutionalised for controversial therapy techniques and a series of brutal, unsolved murders. Argued as exploitation by some and a scathing parable by others, it's divisive and definitely not for everyone.
Sunday 25
Arachnophobia (1990) – The Horror Channel, 3.20pm
Loving (2016) – BBC2, 10pm
Another chance to see: Went the Day Well? (5Select, 12.05pm), The Remains of the Day (Sony Movies, 12.35pm), The Corpse Bride (ITV2, 1.20pm), How to Train Your Dragon (Film4, 2.50pm), Paddington (Film4, 4.45pm), Night of the Demon (The Horror Channel, 5pm), Groundhog Day (Dave, 5.55pm), Funny Face (Talking Pictures TV, 6.55pm), GoldenEye (ITV4, 9pm), Get Carter (ITV4, 11.40pm)
There are some fantastic films to catch up on in the 'repeated' highlights but the new recs aren't to be sniffed at either. You'll be unsurprised to know that there are a lot of deadly spiders on the loose in creature feature Arachnophobia. Starring Jeff Daniels and John Goodman, it's a bit of a comic-thriller – I think any genuine scares will come from whether you suffer from a dislike of spiders yourself… Drama Loving, however, is a much more grounded affair, a beautifully understated portrayal of a powerful true story. Directed by Jeff Nichols (Mud, Take Shelter), it stars Ruth Negga and Joel Edgerton (both excellent) as Mildred & Richard Loving, a couple whose interracial marriage in 1960s Virginia led to their arrest, public legal battles and risk to their lives.
Monday 26
The Guest (2014) – Sony Movies, 9pm
A Quiet Place (2018) – Film4, 9pm
Another chance to see: Wagon Master (Sony Action, 1.20pm), Birdman of Alcatraz (Sony Action, 4.05pm), Super 8 (Film4, 6.50pm), Carlito's Way (ITV4, 11.20pm), The Devil's Doorway (Film4, 12.30am), Seraphim Falls (Sony Movies, 1am)
The battle of the 9pms. Adam Wingard's dark thriller The Guest follows Dan Stevens' mysterious soldier who arrives at a family home claiming to be a friend of their lost son – but a series of a strange deaths follow him. Elsewhere, tense horror A Quiet Place sees Emily Blunt and John Krakowski try and protect their kids in a world of silence where any noise attracts ravenous monsters. Do they make it? My lips are sealed.
Tuesday 27
You're Next (2011) – The Horror Channel, 9pm
Hamid (2018) – C4, 2.05am
Another chance to see: The File on Thelma Jordan (Film4, 2.30pm), Winchester '73 (Film4, 4.30pm), It Could Happen to You (Sony Movies, 4.40pm), A Beautiful Mind (Film4, 6.20pm), Defence of the Realm (Talking Pictures TV, 6.30pm), Goldeneye (ITV4, 8pm), Hidden Figures (Film4, 9pm), The American (Sony Movies, 9pm), The Great Gatsby (Talking Pictures TV, 10pm), The World's End (ITV4, 10.40pm)
The Guest director Adam Wingard made his name with You're Next, a thrilling horror about a woman who joins her boyfriend at his family's celebration in the country, only for them to come under attack from a mysterious gang – leaving her to put her survival skills to the test. It's bloody but also rife with black humour. Urdu-language drama Hamid is slightly more heart-warming, following a young boy who believes he has a phone number to call God and ask to speak to his missing father. After trying and trying, someone finally picks up, changing the lives of all involved.
Wednesday 28
The Court-Martial of Billy Mitchell (1955) - Film4, 12.35pm
mother! (2017) – Film4, 1.15am
Best of the repeats: The Evil Dead (The Horror Channel, 10.50pm)
Another chance to see: Birdman of Alcatraz (Sony Action, 11.15am), The Tin Star (Film4, 2.40pm), The Flight of the Phoenix (Sony Action, 4.25pm), The Man Who Knew Too Much (Film4, 4.30pm), Romancing the Stone (Film4, 6.50pm), Escape from New York (Paramount, 11pm), Big Eyes (C4, 2.15am)
The afternoon sees Otto Preminger direct Gary Cooper in The Court-Martial of Billy Mitchell, the true story of an U.S. Colonel and WWI vet who accused his superiors of ineptitude after cuts to air force funding resulted in the deaths of pilots. Requiem for a Dream and Black Swan director Darren Aronofsky, meanwhile, goes down the parable route in the anxiety-ridden mother!, which sees Jennifer Lawrence star as a woman tested when more and more uninvited guests enter her and her husband's home. It's a another divisive one and I think my mind has changed several times since watching it – but I have rarely felt so stressed watching a film. In that respect, it's a great piece of surprising horror.
Thursday 29
I Am Bruce Lee (2012) – Sky Arts, 10pm
The Red House (1947) – Talking Pictures TV, 12am
The Descent (2005) – Film4, 1.35am
Another chance to see: Pursued (Film4, 2.55pm), Stranger Than Fiction (Sony Movies, 5.45pm), A Star is Born (BBC4, 8pm), Sicario (Film4, 9pm), Hellraiser (The Horror Channel, 10.45pm), The Brood (The Horror Channel, 12.40am), Rafiki (C4, 2.50am)
Documentary I Am Bruce Lee looks at the life and legacy of one of cinema's most pioneering stars, Bruce Lee. Exploring how he championed martial arts into a key artistic concept on screen and the effects of fame and notoriety, the film features archive footage and intimate interviews with Lee's family. Edward G. Robinson and Judith Anderson make for a great pairing as a brother and sister hiding a dark secret from their adopted daughter in creepy, psychological thriller The Red House. Finally, there's gore, there's tension and there are very tight spaces in Neil Marshall's potholing horror The Descent, which follows a group of friends as they go exploring in caves only to discover that they're not alone down there… Arguably one of the best horrors of the 21st century, with some iconic shots, it'll make you never want to step underground again.
Friday 30
Penny Serenade (1941) – Talking Pictures TV, 11.40am
The Revenge of Frankenstein (1958) – The Horror Channel, 4pm
Hell Drivers (1957) – Talking Pictures TV, 5.50pm
It (2017) – ITV2, 9pm
Re-Animator (1985) – The Horror Channel, 10.55pm
Train to Busan (2016) – Film4, 11.20pm
Another chance to see: Seven Ways from Sundown (Paramount, 2.05pm), Little Womeni(Sony Movies, 4.30pm), Eddie the Eagle (Film4, 6.50pm), Cape Fear (5Star, 9pm), The American (Sony Movies, 11.25pm), Juan of the Dead (Film4, 1.40am)
Unsurprisingly as the run in to Halloween weekend, there's a number of horror films for you to take your pick from on Friday night. Peter Cushing stars in old Hammer Horror sequel The Revenge of Frankenstein in the afternoon, reprising his role as the mad scientist obsessed with galvanising cadavers. Re-Animator also plays on unhinged science and the Frankenstein story as it follows a young med student and his bizarre experiments to reanimate dead tissue. Part of Stephen King's terrifying classic It gets the big screen treatment, as evil entity Pennywise the Clown torments a group of misfit children, while a group of passengers find themselves struggling to survive on a Train to Busan as a zombie virus breaks out in South Korea…and onboard. There are films for non-horror fans out there as well: Penny Serenade follows Irene Dunne and Cary Grant as they go through heartwarming love and emotional turmoil after they lose their child and look to adopt, whereas Hell Drivers is grittier bit of British crime drama, as Stanley Baker stars as a released convict hired as a truck driver and caught in the middle of his boss' racketeering.