Duke Box #21: Our Guide to the Best Films on TV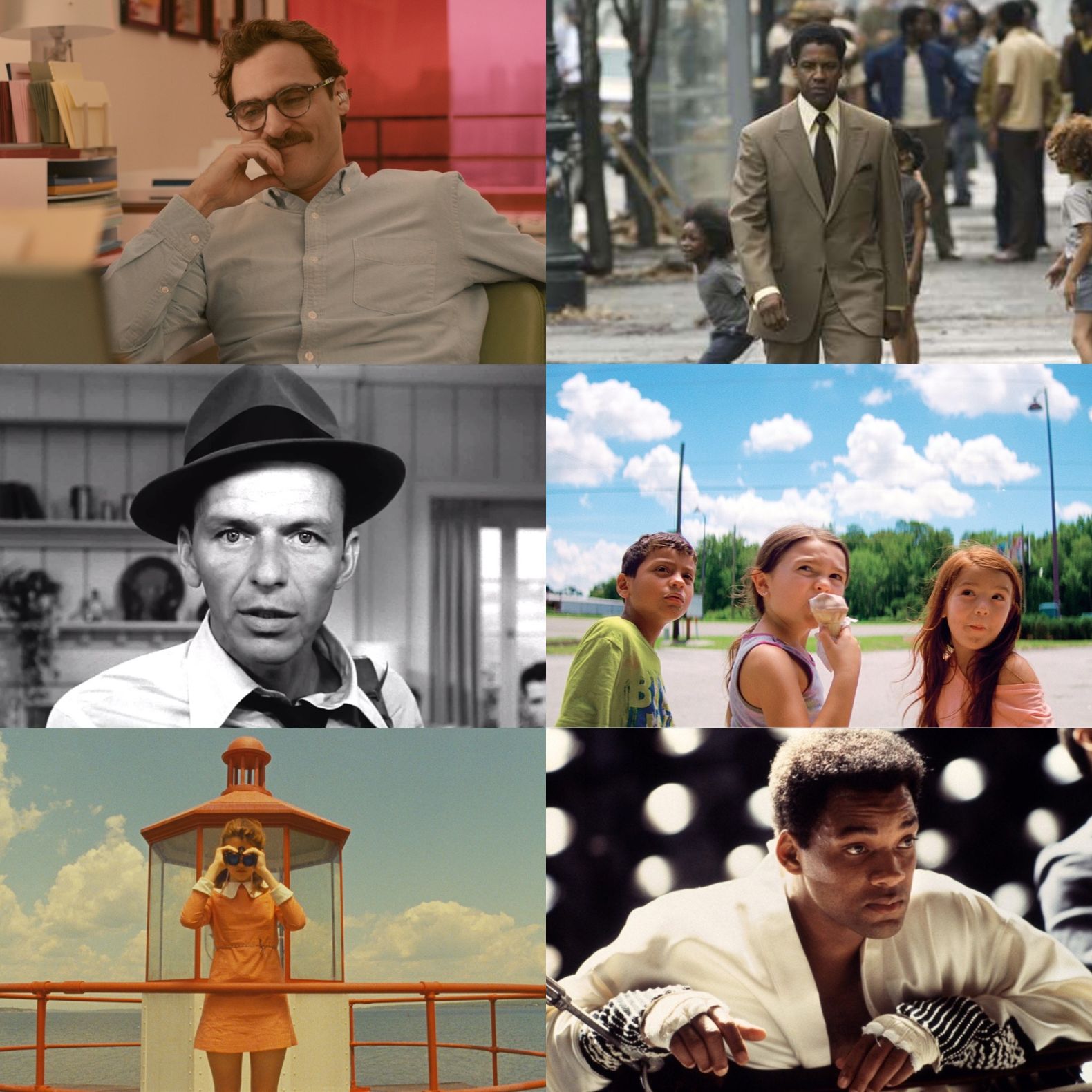 Hi everyone,
With quiet heartbreak and powerful poignancy cropping up here, there and everywhere, it seems only right to head that way for Pick of the Week. Sean Baker's The Florida Project may be bathed in sunshine and bright colours as it follows the childhood adventures of young Moonee, but it's the stories just in the background or under the surface that are at the heart of it. It's a beautiful American indie from recent years.
However, if we're also talking about things to make you cry, it's worth giving a special mention to Emma Thompson's magnificent performance in Saving Mr Banks which I'm yet to watch without breaking down into tears.
(A reminder that this list isn't exhaustive and that some films will be repeated at different times – these are just some titles that I've selected as ones to try out or revisit, hopefully at the best times. Some films may also change if channels decide to alter their listings.)
Saturday 8
Dr. Seuss' Horton Hears a Who (2008) – Film4, 12.50pm
The Dark Mirror (1946) – BBC2, 2.05pm
The BFG (2016) – BBC1, 4.30pm
Come Back, Little Sheba (1952) – Talking Pictures TV, 8pm
The Revenant (2015) – BBC2, 9pm
Battle of the Sexes (2017) – C4, 9pm
Cry, the Beloved Country (1951) – Talking Pictures TV, 10pm
Thor: The Dark World – BBC1, 10.20pm
Morvern Callar (2002) – BBC Scotland, 10.30pm
Red (2010) – C4, 11.20pm
Behind the Candelabra (2013) – BBC1, 12.05am
Another chance to see: Kubo & the Two Strings (E4, 11am), The End of the Affair (Sony Classic, 11.05am), The Loneliness of the Long Distance Runner (Sony Classic, 1.15pm), A Knight's Tale (5Star, 3.30pm), Spartacus (ITV4, 4pm), The Man Who Knew Too Much (Sony Classic, 5.35pm), The Imitation Game (Film4, 6.45pm), An Affair to Remember (Sony Classic, 8pm), Sherlock Holmes (ITV2, 8pm), Spy (Film4, 9pm), True Lies (E4, 9pm), The Spy Who Loved Me (ITV, 9.05pm), American Graffiti (Sony Classic, 10.20pm), Everything: The Real Thing Story (BBC4, 12.15am)
There's a good choice of films for the kids to enjoy on Saturday, from the bright whimsy, heartfelt meaning and charming outsiders at the heart of both Dr Seuss adaptation Horton Hears a Who! and The BFG, Steven Spielberg's take on a Roald Dahl classic (you can even have some fun and make frobscottle at home), to Marvel actioner Thor: The Dark World. It's not the best in the comic canon, but's still a fun watch. BBC2 pay homage to the late Olivia de Havilland, one of the last standing icons of the Hollywood Golden Age who passed away on July 26 aged 104. Psychological thriller-come-film-noir The Dark Mirror is a fine watch but de Havilland's performance is where it's at and it's a joy to see one of the screen's greats embrace her talent. Speaking of great performances, Come Back, Little Sheba is a great showcase for both Burt Lancaster and Shirley Boothe, who won Best Actress, as an emotionally battered recovering alcoholic and his downtrodden wife whose marriage faces added turmoil when they take in a young lodger. There's more Oscar glory in The Revenant, the film that finally saw Leonardo DiCaprio scoop an award for his role as a frontiersman on a brutal survival mission. Directed by Alejandro González Iñárritu (Birdman, Babel), the film co-stars Tom Hardy, Domhnall Gleeson and Will Poulter. Another 'based on a true story' takes centre court on C4, as Emma Stone and Steve Carell play tennis superstars Billie Jean King and Bobby Riggs in the story of the showcase grudge match between the two prompted by Riggs' sexist comments. Sidney Poitier stars as a South African preac star Cry, the Beloved Country, a moving, thoughtful, apartheid-era story of a South African preacher whose son is accused of killing a white man. Lynne Ramsay's striking Morvern Callar is on BBC Scotland, starring a stellar Samantha Morton as a grieving woman who throws caution to the wind and goes travelling to escape her feelings. Elsewhere, Bruce Willis, Morgan Freeman, John Malkovich and Helen Mirren make for an intriguing mix of retired CIA agents forced back into the field in action-comedy RED, whilst Michael Douglas is fantastic as showman pianist Liberace in Behind the Candelabra, a TV movie directed by Steven Soderbergh and inspired by the musician's relationship with Scott Thorsen (played here by Matt Damon). The film also features the last acting performance of the legendary Debbie Reynolds.
Sunday 9
Moonrise Kingdom (2012) – Sony Movies, 3pm
Tommy's Honour (2016) – BBC1, 3.45pm
Patriots Day (2016) – C4, 9pm
The Stanford Prison Experiment (2015) – ITV4, 9.55pm
Saving Mr Banks (2013) – BBC1, 10.30pm
The Florida Project (2017) – C4, 12.35am
Another chance to see: The Pumpkin Eater (Sony Classic, 10.45am), The Prime of Miss Jean Brodie (Sony Classic, 1pm), Romancing the Stone (Film4, 4.40pm), The Misfits (Sony Classic, 4.40pm), The Lego Batman Movie (ITV2, 6.50pm), How to Marry a Millionaire (Sony Classic, 7.05pm), Four Weddings and a Funeral (Film4, 9pm), A Few Good Men (5Select, 9.05pm), Tom Jones (Sony Classic, 12.15am), Grandma (C4, 2.35am)
As with Saturday, there are a fair number of films here inspired by real-life events, including Tommy's Honour – a sporting biopic with a difference that takes a close look at the father-and-son relationship between 19th century Scottish golf champions Tom and Tommy Morris, starring Peter Mullan, Jack Lowden and Sam Neill – and Patriots Day, a sensitively dramatization of the 2013 Boston Marathon bombings and subsequent manhunt that operates as a stirring tribute to the groundwork involved in catching the terrorists. The Stanford Prison Experiment is a chilling look at a 1970s psychological experiment that placed twenty-four male students in the roles of prisoners and guards in a mock prison in Stanford University; it's claustrophobic, well-acted and still relevant today. Emma Thompson gives an almighty performance as Mary Poppins' author P.L. Travers in the fascinating Saving Mr Banks, which juggles a look at the stern author's childhood and her reticence as letting Walt Disney (Tom Hanks) adapt her stories. A must for fans of the Disney classic and the two lead actors, the film packs nostalgic and emotional punches. Bookending either side of these are a couple of beautifully shot features, telling similar and yet very different stories of adolescent adventures. First up, Wes Anderson whimsy in Moonrise Kingdom, the poignant story of two pre-teens who fall in love and run away together into the wilderness. Bruce Willis, Edward Norton, Bill Murray, Frances McDormand and Tilda Swinton are part of another excellent Anderson ensemble. Finally, there's The Florida Project, a powerful and revealing indie drama from Tangerine director Sean Baker that maps the summer of a mischievous six-year-old girl living in a motel with her troubled mother. It's beautiful and sad and a must-see, if only to marvel at just how great the performance of young Brooklynn Prince is, who holds her own in scenes with Willem Dafoe.
Monday 10
Rango (2011) – Film4, 2.45pm
Cloak and Dagger (1946) – Talking Pictures TV, 4.25pm
Land of the Dead (2005) – The Horror Channel, 9pm
Another chance to see: The Reckless Moment (Sony Classic, 9.55am), The End of the Affair (Sony Classic, 11.30am), It Should Happen to You (Sony Classic, 1.40pm), Tunes of Glory (Sony Action, 3.05pm), The Misfits (Sony Classic, 9pm), Roman J. Israel, Esq (Film4, 11.25pm), Tangerine (Film4, 1.45am)
Gore Verbinski's family film Rango, about a chameleon who winds up as a sheriff, is a treat for all, with fun animation and hijinks for the kids and a ton of winks and nods to classic Western movies for the grown-ups. At the other end of the viewing spectrum is George A. Romero's Land of the Dead, a continuation of his iconic and influential zombie film series. As with Night of the Living Dead, Dawn of the Dead and Day of the Dead, it's a film that mixes its gore and horror with a sharp, satirical swipe at American society and politics. Sandwiched in between the two is Fritz Lang's espionage WWII thriller Cloak and Dagger, starring Gary Cooper as a nuclear physicist recruited to go undercover to scope out Germany's plans to build an atomic bomb. Gorgeously shot and full of shadows, the film marks Lilli Palmer's debut performance; she steals the film.
Tuesday 11
Snoopy and Charlie Brown: The Peanuts Movie (2015) – Film4, 12.55pm
Disobedience (2017) – Film4, 9pm
Dead Calm (1989) – 5Star, 9pm
Nebraska (2013) – Film4, 1.35am
Another chance to see: All the King's Men (Sony Classic, 10.50am), The Pumpkin Eater (Sony Classic, 3.10pm), Das Boot (Sony Action, 4.10pm), Dead Calm (5Star, 9pm), Bridget Jones: The Edge of Reason (C5, 10.05pm), The Enforcer (Talking Pictures TV, 11.50pm)
If you want to introduce your little ones to a couple of classic characters, or delve into a little nostalgia yourself, you could do worse than The Peanuts Movie, a big screen update that, yes, looks and differs in part, but is still a sweet treat about the endearingly insecure Charlie Brown and his pal Snoopy. Film 4 also comes good later in the evening too, with a first-time screening of Disobedience, the story of a woman who returns to her strict Orthodox Jewish community for her father's funeral, years after being shunned for her attraction to women. Directed by A Fantastic Woman's Sebastián Lelio, it's a slow-paced, simply told and yet potently emotional film, amplified by a magnetic Rachel Weisz and Rachel McAdams. There's melodrama, suspense and a few genuine chills in the ironically titled Dead Calm, a lurid, Hitchcockian tale of a couple (Nicole Kidman and Sam Neill) who welcome on board a stranger (Billy Zane) they save from drowning. It's a little dated now, but it still packs a punch. Finally, there are more strained relationships at the centre of Alexander Payne's Nebraska, a stylishly shot indie which sees Bruce Dern's cantankerous alcoholic go on a road trip with his estranged son to claim a million dollar prize. It's bursting with heart and deadpan humour, made all the stronger by Dern, Will Forte and an Oscar-nominated June Squibb.
Wednesday 12
Lemony Snicket's A Series of Unfortunate Events (2004) – Film4, 4.50pm
Christine (1983) – The Horror Channel, 9pm
Her (2013) – C4, 1.55am
Another chance to see: Edward Scissorhands (Film4, 11am), Reunion at Fairborough (Sony Classic, 11.20am), Attack! (Paramount, 11.55am), The Book of Life (Film4, 1.05pm), Funny Girl (Sony Classic, 1.35pm), Megamind (Film4, 2.55pm), Battle of the Sexes (Four7, 10pm), The Big Chill (Sony Classic, 11.30pm)
Before the popular Netflix TV series, black-comedy family film Lemony Snicket's A Series of Unfortunate Events was planned as a big-screen franchise. Sadly it never materialised past this first film, which is a shame because there's a lot to love: the simply gorgeous gothic and expressionist set, lighting and costume designs; a supporting cast that includes Meryl Streep, Billy Connolly, Timothy Spall and Catherine O'Hara; and Jim Carrey's performance as the dastardly Count Olaf who wants to bump off the Baudelaire children in order to claim their fortune. Too dark for little ones but definitely fun for older kids. There's cult classic horror in the evening with Halloween director John Carpenter's adaptation of Stephen King's Christine – the slightly silly but pretty creepy story of a car possessed by evil who makes her owner obsessed with her and is partial to taking out anyone who tries to warn him off. Obsession rears its head in Her, but in a beautiful and profound way, as Joaquin Phoenix's lonely greetings card writer falls in love with his phone's artificially intelligent operating system, Samantha (voiced by Scarlett Johansson). Directed by Spike Jonze, and co-starring Rooney Mara and Amy Adams, it's funny, heartbreaking and soulful all at once.
Thursday 13
Ali (2001) – ITV4, 11.35pm
Graduation (2016) – Film4, 12.45am
Another chance to see: Mary and the Witch's Flower (Film4, 12.55pm), Saturday Night and Sunday Morning (Sony Classic, 5.05pm), A Taste of Honey (Sony Classic, 6.55pm), The Damned United (BBC4, 9pm), A Walk in the Woods (Film4, 10.40pm)
Filmmaker Michael Mann (Heat, Collateral) takes audiences on a boxing odyssey with Ali, a look at a tumultuous decade in the life, career and legacy of sporting legend Muhammad Ali. In arguably his finest performance to date, Will Smith is a knockout. The only other new suggestion for today is Graduation, a tragic Romanian film about a father's decision to fix his daughter's exam results after a brutal accident threatens her chance of getting the grades needed for university. It's a thoughtful film that asks parents, what would you do?
Friday 14
Cocoon (1985) – Film4, 4.30pm
Suddenly (1954) – Talking Pictures TV, 5pm
Bridget Jones's Baby (2016) – C5, 9pm
American Gangster (2007) – ITV, 10.45pm
Another chance to see: The Admirable Crichton (Sony Classic, 3.20pm), The Detective (Sony Classic, 5.15pm), The Imitation Game (Film5, 6.45pm), True Lies (E4, 9pm), Four Weddings and a Funeral (Film4, 9pm), Bullitt (ITV4, 9pm), The Woman in Black (The Horror Channel, 9pm), The Railway Man (BBC1, 10.45pm), Professor Marston and the Wonder Women (Film4, 11.20pm), The Edge (BBC2, 12.20pm), You're Next (The Horror Channel, 12.50am)
Ron Howard's Cocoon has a reputation for being a bit overly-sentimental, and it's true that it wears its heart, emotions, soul and everything on its sleeves, but the story of senior citizens who find a new lease of life when they encounter some alien cocoons and made to feel younger again is still an enjoyable, funny comedy with a rich streak of pathos about what it means to get older. Elsewhere, there's grit and grime in taut film noir Suddenly, which sees Frank Sinatra on menacing form as a ruthless mercenary who takes a family hostage so he can use their home as vantage point to assassinate the President. Renee Zellweger is back for more romantic turmoil in Bridget Jones's Baby, which sees the diary-writer's newly single life turned upside down by an unexpected pregnancy…and a little uncertainty about who the father is. Still great fun, the film sees the return of Colin Firth, the addition of Patrick Dempsey and Emma Thompson on hand for screenwriting duties and a brief role in front of the camera. Finally, Denzel Washington and Russell Crowe play adversaries in Ridley Scott's epic American Gangster, a loose biopic of Harlem drug lord Frank Lucas and the cop tasked with bringing his empire down. It's stylish, well-acted and boasts a mightily impressive supporting cast, including Chiwetel Ejiofor and Josh Brolin.