Duke Box #11: Our Guide to the Best Films on TV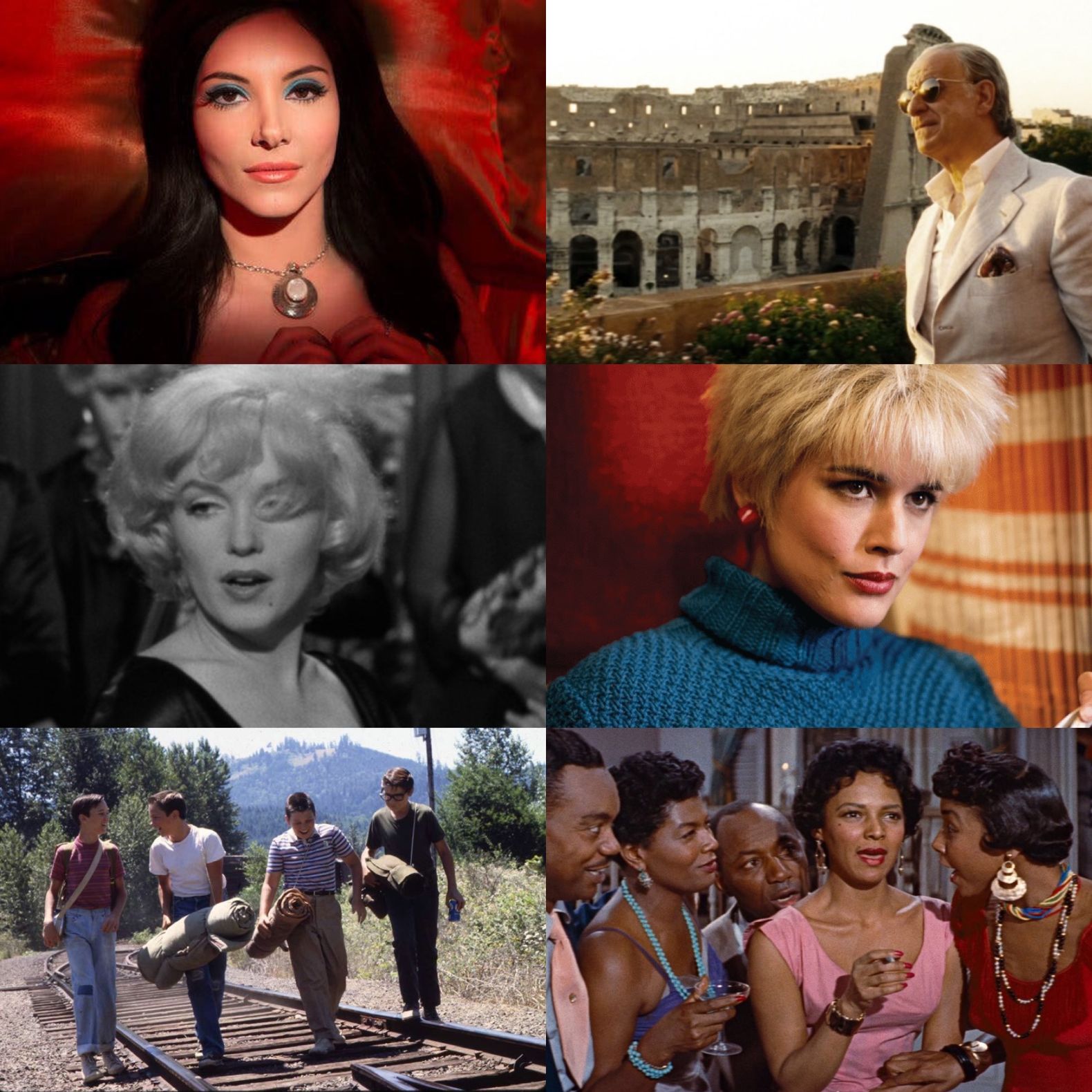 Hi everyone,
It's a bit of a top-heavy content week, this time around - the weekend is absolutely stacked (and this is trimmed down), with lots for all over the weekend before it thins out a little. Mind you, there are still some real gems to look out for later in the week, particularly some golden oldies.
Pick(s) of the Week: When I was a teenager I watched Stand By Me and fell in love with it. If you're unfamiliar, it's the simple story of four boys in 1950s America who head off to find the rumored body of a missing teen, but their mini-odyssey turns into so much more. The performances are excellent, especially River Phoenix, and the script is funny, poignant and nostalgic. Directed by Rob Reiner, adapted from Stephen King, it's a real winner.
Stay safe, stay at home and put on a good film. (A reminder that this list isn't exhaustive and that some films will be repeated at different times – these are just some key titles to look out for at what are likely the best times. Some films may also change if channels decide to alter their listings - a fun thing for me!)

Saturday 30:

The Good Dinosaur – BBC2, 11.50am
IWM: I Was a Fireman (1943) – Talking Pictures TV, 12.10pm
Chicken Run – BBC1, 1.40pm
Some Like It Hot – BBC2, 3.40pm
Jumanji (1995) – C5, 4.45pm
McLintock! – Paramount, 6.15pm
Frozen – BBC1, 6.20pm
Bram Stoker's Dracula (1992) – The Horror Channel, 9pm
The Railway Man (2013) – Film 4, 9pm
Moulin Rouge! – 5Star, 9pm
Two Mules for Sister Sara – Paramount, 9pm
Captain America: Civil War – ITV, 9.30pm
The Raid 2 (2014) – Film 4, 11.15pm
Man of the West – Paramount, 11.20pm
Julieta – BBC2, 12am
Another chance to see: Beaches (5Star, 11am), Fantastic Voyage (Film 4, 1pm), The First Wives Club (5Star, 1.30pm), The Cowboys (ITV4, 1.55pm), Robin Hood: Prince of Thieves (5Star, 3.40pm), Paddington (E4, 4.10pm), Aces High (ITV4, 6.45pm), Kong: Skull Island (ITV2, 6.45pm), Super 8 (Film 4, 6.50pm), The Dirty Dozen (ITV4, 9pm)
Well, there's plenty to keep you and the family entertained over the weekend! Pixar's The Good Dinosaur is not as rich as some of the studio's other output but it is charming fare for little ones, whilst Aardman's glorious Chicken Run is a hoot (can I class that as a pun?) from start to finish. Robin Williams has a blast in Jumanji, the fun story of a board game that spills its jungle setting into the real world with each roll of the dice. You may have had to watch it repeatedly whilst in lockdown (or just generally) but Disney's Frozen is BBC1's teatime viewing. Let It Go or give it a go: you decide. There's also Marvel's Captain America: Civil War in the evening.
Elsewhere, there's IWM: I was a Fireman, a documentary-style film about the lives of British firefighters through the Blitz (starring real firefighters instead of actors). A real highlight of the day is Billy Wilder's iconic comedy Some Like it Hot, starring Tony Curtis and Jack Lemmon as two musicians who dress in drag and join an all-female band (starring Marilyn Monroe's Sugar Kane) to avoid the mafia. John Wayne and Maureen O'Hara team up again in McLintock!, a Western comedy take that takes inspiration from The Taming of the Shrew.
There's sumptuous production design and style in both Francis Ford Coppola's take on Bram Stoker's Dracula (starring Gary Oldman as the notorious Count) and Baz Luhrmann's Moulin Rouge, a dazzling musical full of love, spectacle and Jim Broadbent singing Madonna. Moulin Rouge's Nicole Kidman also pops up in The Railway Man, an adaptation of Eric Lomax's astonishing autobiography about his journey to confront the man who tortured him in a Japanese POW camp. Also at 9pm, there's Two Mules for Sister Sara, which sees Shirley MacLaine's nun on the run team up with Clint Eastwood's cowboy. From 11pm onwards, there's a rich mix: Gangs of London creator Gareth Evans' stunning, brutal crime thriller The Raid 2, Anthony Mann's stunning landmark Western Man of the West (starring Gary Cooper) and Pedro Almodóvar's Julieta, based on three Alice Munro short stories. It's one of the most popular foreign-language films we've screened here at The Dukes.
Sunday 31:
A Canterbury Tale (1944) – Talking Pictures TV, 10.30am
The Out-of-Towners (1970) – 5 Select, 10.55am
The Book of Life (2014) – C4, 1.25pm
Oklahoma! (1955) – BBC2, 2.05pm
Dunkirk (1958) – BBC2, 5pm
Shrek 2 (2004) – ITV2, 5pm
The Man Who Shot Liberty Valance (1962) – Paramount, 6.20pm
The 'Burbs (1989) – The Horror Channel, 6.30pm
The Spy Who Loved Me (1977) – ITV4, 6.35pm
What's Eating Gilbert Grape (1993) – Sony Movies, 6.40pm
Fantastic Beasts and Where to Find Them (2016) – ITV, 7.30pm
Stand By Me (1986) – Sony Movies, 9pm
Billy Elliott (2000) – BBC1, 10.30pm
Side Effects (2013) – Film 4, 11.05pm
Withnail & I (1987) – C4, 12.15am
Another chance to see: The Mouse that Roared (Sony Classic, 1.05pm), Little Women (Sony Movies, 1.45pm), Dead Poet's Society (Sony Movies, 4.10pm), She Wore a Yellow Ribbon (Sony Action, 6.55pm), The Simpsons Movie (Film 4, 7.15pm), Waterloo (Sony Classic, 9pm), Jaws (ITV4, 9pm), The Good, the Bad and the Ugly (Paramount, 9pm)
Sunday begins with a Powell & Pressburger classic, with A Canterbury Tale, the story of a bizarre small-town crime, and the Jack Lemmon comedy The Out of Towners, about a Mid-West couple who move to New York and experience all sorts of disasters. Then there's family viewing of all sorts throughout the afternoon and early evening, from animations like The Book of Life and Shrek 2 (automatically winning a spot here thanks to Jennifer Saunder's Fairy Godmother), Rodgers and Hammerstein musical Oklahoma! and Harry Potter spin-off Fantastic Beasts and Where to Find Them. The afternoon also includes Dunkirk, a thoughtful but unsentimental look at the events that fell on this week 80 years ago, and John Ford's legendary Western-drama The Man Who Shot Liberty Valance, starring James Stewart, John Wayne, Vera Miles and Lee Marvin. There's also black-comedy The 'Burbs, starring Tom Hanks and Carrie Fisher, Roger Moore's best Bond Film, The Spy Who Loved Me, and tender family drama What's Eating Gilbert Grape?, featuring Leonardo DiCaprio's first Oscar-nominated performance. The fantastic coming-of-age drama Stand By Me is at 9pm, before Jamie Bell's breakthrough performance as a working-class Durham lad who wants to dance ballet in Billy Elliott. Steven Soderbergh's psychological thriller Side Effects sees Rooney Mara as woman whose world unravels after her psychiatrist prescribes her experiment drugs; Jude Law, Catherine Zeta Jones and Channing Tatum co-star. Finally, a Dukes favourite (and I think we're not alone in that): cult British comedy Withnail & I about a pair of substance-abusing actors who have a disastrous holiday in the Lake District.
Monday 1:
The Incredible Shrinking Man (1957) – The Horror Channel, 1pm
Pal Joey (1957) – BBC2, 2.45pm
Hondo (1953) – Film 4, 3.30pm
Groundhog Day (1993) – Sony Movies, 6.55pm
The Day of the Jackal (1973) – Sony Classic, 9pm
The Great Beauty (2013) – Film 4, 11.25pm
Little Men (2016) – Film 4, 2.15am
Another chance to see: The 'burbs (The Horror Channel, 11am), Apache (Paramount, 12.20pm), A Night to Remember (Film 4, 12.50pm)
Three very different '50s classics fill the afternoon, including sci-fi, B-movie gem The Incredible Shrinking Man (fantastically fun sets), Technicolor musical Pal Joey (starring Rita Hayworth, Frank Sinatra and Kim Novak), and John Wayne western Hondo, regarded as Wayne's finest outside of his work with John Ford and Howard Hawks. Bill Murray is on top form as a cynical weatherman who wakes to relive the same day over and over again in Harold Ramis' hilarious, heartwarming and moving comedy-drama Groundhog Day. Edward Fox stars as a professional assassin hired to hit French president Charles de Gaulle in political thriller The Day of the Jackal, whilst Paolo Sorrentino's Oscar-winning The Great Beauty is a gorgeously shot story of an ageing, hard-partying journalist forced to contemplate his life. Then there's a great recent American indie in the middle of the night: Little Men, which sees the blossoming friendship between two teens threatened by the conflict between their parents.
Tuesday 2:
Call Me Madam (1953) – BBC2, 2.40pm
Men in War (1957) – Talking Pictures TV, 7pm
Alone in Berlin (2016) – Film 4, 11.15pm
Another chance to see: Stalag 17 (Film 4, 12.50pm), Waterloo (Sony Classic, 6.20pm), Little Women (Sony Movies, 6.40pm)
Ethel Merman won her only Golden Globe for Technicolor musical comedy Call Me Madam, a film adaptation of the stage musical about a wealthy Washington hostess who suddenly becomes a US ambassador to a European country despite having no experience. Irving Berlin is the man behind the songs. Elsewhere, there are two war films, albeit very different in style and content. Anthony Mann's unflinching Men in War, set during the Korean War, follows a small band of weary American soldiers trying to catch up with their division, all the while dealing with conflict in and around them. Meanwhile, Alone in Berlin sees Emma Thompson and Brendan Gleeson star as a German couple who start writing postcards to urge people to protest Hitler and the Nazi regime. It's based on Hans Fallada's 1947 novel (itself inspired by a true story) – one of the first anti-Nazi novels published by a German after WWII.
Wednesday 3:
The End of the Affair (1955) – Sony Classic, 12.45pm
Carmen Jones (1954) – BBC2, 2.50pm
Enough Said (2013) – Film 4, 7.10pm
You're Next (2011) – The Horror Channel, 10.50pm
Fright Night (1985) – The Horror Channel, 12.45am
The Love Witch (2016) – Film 4, 1.20am
House on Haunted Hill (1959) – Talking Pictures TV, 2.15am
Another chance to see: The Man from Laramie (Film 4, 2.55pm), The Way to the Stars (Film 4, 5pm), Two Mules for Sister Sara (Paramount, 9pm), The Imposter (4/7, 10pm)
Adapted from one of Graham Greene's most beloved novels, The End of the Affair tells the complex love affair of a man and a married woman during the war. Otto Preminger's musical Carmen Jones, a take on the classic opera Carmen, also tells its own story of love, jealousy and heartbreak, making stars of its leads Dorothy Dandridge and Harry Belafonte. I've previously highlighted indie comedy-drama Enough Said, starring Julia Louis-Dreyfuss and James Gandolfini, but it has a much kinder time slot here. In the evening there's a collection of horror and gothic delights. The Horror Channel have a fine double bill of dysfunctional-family-drama-meets-slasher-film You're Next (from The Guest director Adam Wingard) and 1980s vampire horror comedy Fright Night, about a boy who teams up with a TV show host (Roddy McDowell) to take down his vampire next-door-neighbour. Anna Biller's woozy comedy/horror The Love Witch uses a 1960s Hollywood aesthetic to tell the story of a modern-day witch who uses magic to make men fall in love with her…often with quite deadly consequences. Finally, Vincent Price stars as an eccentric millionaire who offers five people the chance to win big money if they can last one night in his house of horrors in camp, creepy classic House on Haunted Hill.
Thursday 4:
Blanche Fury (1948) – Film 4, 12.35pm
Anastasia (1956) – Film 4, 2.25pm
Professor Marston and the Wonder Women (2017) – Film 4, 11.10pm
Danger: Diabolik (1968) – Film 4, 1.20am
Another chance to see: The Best Years of our Lives (Sony Classic, 10.20am), Ride Lonesome (Film 4, 11am), My Foolish Heart (Sony Classic, 1pm), The China Syndrome (Sony Action, 4.45pm)
Inspired by a real Victorian era homicide case, Blanche Fury follows two schemers, played by Valerie Hobson and Stewart Granger, who will do anything to take control of the wealthy Fury estate – even murder. Ingrid Bergman won her second Oscar for Anastasia for playing a young, destitute woman who is coached by Yul Brynner's Russian exile to be the Grand Duchess Anastasia…but could she actually be the real deal? It's loosely based on a true story, much like Professor Marston and the Wonder Women¸ which sees Luke Evans stars as psychologist William Moulton Marston, whose polyamorous relationship with his wife, Elizabeth (Rebecca Hall) and mistress (Bella Heathcote) inspired the creation of Wonder Woman. Fun fact: Marston and Elizabeth also invented a prototype of the lie detector. There's another twist on the comic book well past midnight with Mario Brava's cult classic Danger: Diabolik, the story of the exploits of criminal Diabolik and the men in pursuit of him. It was dismissed on release but its reappraisal has seen it launched into high regard.
Friday 5:
The Gay Divorce (1934) – BBC2, 2.45pm
Julie & Julia (2009) – Sony Movies, 4.25pm
The Beach (2000) – Sony Movies, 9pm
Another chance to see: Dead Reckoning (Sony Classic, 6.55pm), Bugsy (Sony Classic, 9pm)
Ginger Rogers and Fred Astaire get things going in The Gay Divorce, a fun romantic-comedy-musical featuring Cole Porter's classic 'Night and Day'. Keep an eye out for an early film performance from Betty Grable too. Meryl Streep and Amy Adams were both Oscar-nominated for Nora Ephron's Julie & Julia, the story of beloved American chef Julia Child during the 1950s and a modern-day blogger's decision to cook all the recipes from Child's first book in a year. It's not as trite as that sound, but rather a tender, loving and whip-smart (it is Ephron, after all) homage to Child. Finally, in the evening, there's Danny Boyle's ambitious adaptation of Alex Garland's novel The Beach: it's notoriously flawed but interesting to revisit now, twenty (twenty!) years later. Plus, it has a wild cast (DiCaprio, Carlyle, Swinton), stunning locations and a great All Saints song to boot.