Bring Me Laughter at Home: Why Bring Me Laughter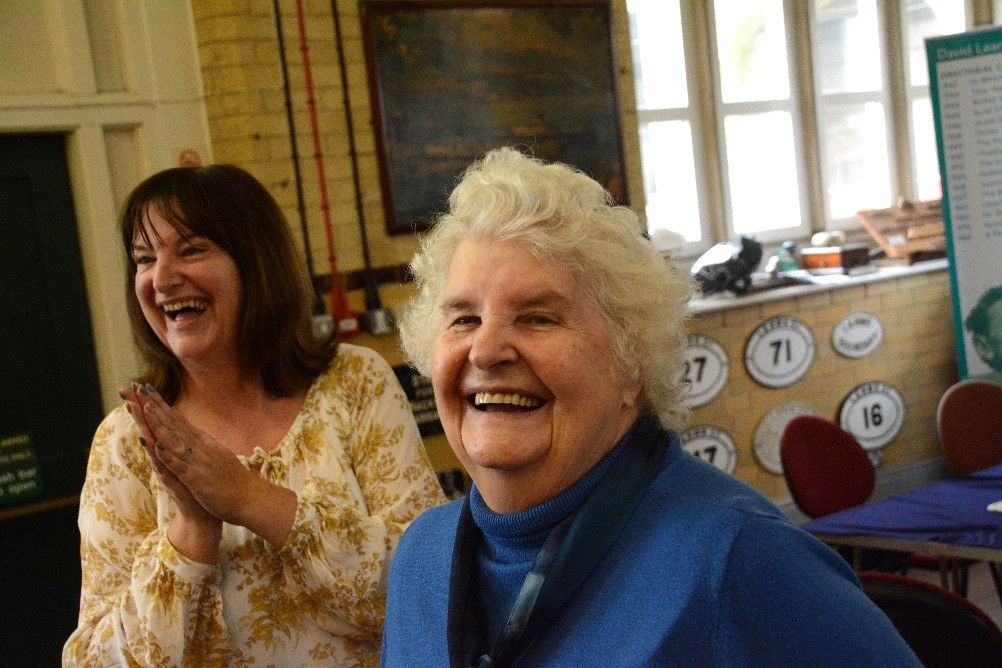 In her final Bring Me Laughter at Home blog, our lovely Inclusive Theatre & Film Officer Gil Graystone talks about what prompted the Bring Me Laughter project in the first place, including other dementia arts work that The Dukes has been involved in. Scroll down for a reminder of our Still Me jamboree and to find out more about what Bring Me Laughter really means.
BML Blog 9: Why Bring Me Laughter?
The Dukes has provided arts activities for people living with dementia and their caregivers, including the dementia friendly film screenings since 2014.
In 2017, with funding from Esmee Fairbairn and The Rayne Foundation, we began a series of multi-arts, person centred workshops called 'Still Me' for people with early stage dementia and their partners/caregivers. These sessions culminated in a sharing of this work at the Creative Adventures in Dementia Festival (May 2018). We invited the festival delegates to take part in 'The Jamboree' which was co-created and presented by our participants with the artists.
It was during these joyful 'Still Me' workshops that we became aware of the amount of laughter shared by all. After the project finished I began to wonder about the role of laughter in our sessions - why do we laugh? What provokes laughter? Were there really as many chuckles, smiles and giggles in our sessions as I thought, or was I just making an assumption?

In January 2019, following a successful funding application to Wellcome, we started to develop the 'Bring Me Laughter' project. This title refers to the signature tune of local comedian Eric Morecambe and his partner Ernie Wise, and pays tribute to our local heritage of light entertainment, which is the central theme of the workshops. We have adopted the song as the regular welcome at the start of each of the 3 sessions in Morecambe, Lancaster and Carnforth.
The funding has enabled us to work with two scientists from University College, London (UCL); Sebastian Crutch, Professor of Neuropsychology at the Dementia Research Centre, UCL Institute of Neurology and clinical lead for Rare Dementia Support, and Sophie Scott, Professor of Cognitive Neuroscience and Wellcome Trust Senior Fellow at University College London. We also worked with John Wright, an international teacher and theatre maker, with a wide range of physical comedy and theatre improvisation experience and techniques that have links to our practice. Together we made the decision to look at 'how laughter and playfulness can be used to develop stronger social connections and better communication with people living with dementia and their care-givers'. We also wanted answers to the questions: What is laughter? What provokes it? What does it mean?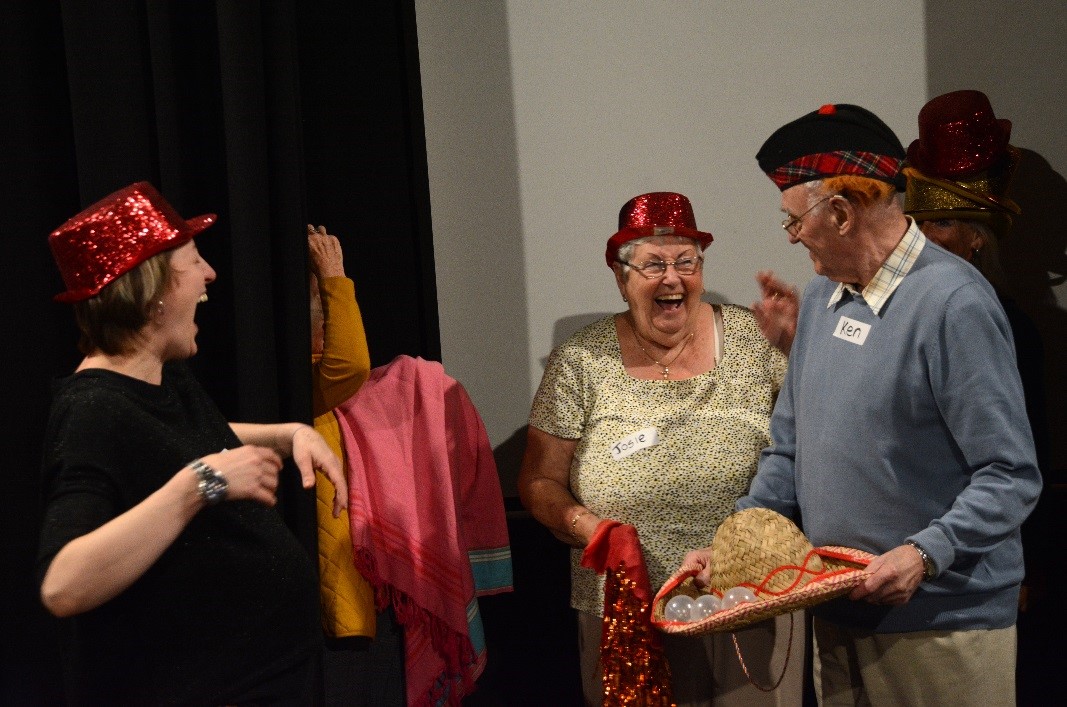 Our approach to facilitating sessions hasn't changed. We continue our person-centred practice, focusing on each participant's individual and personal needs and considering things from their point of view, as well as being compassionate and respectful. We celebrate each person's potential and everyone is equal.
Our sessions are 'playful', enabling participants to be 'in the moment'. When spoken word becomes restrictive, creative play helps with self-expression and the mastery of physical, social and cognitive skills.
The artists/facilitators are not in the business of making people laugh. They are neither comedians nor 'Clown Doctors' (a professional technique used in some hospitals), they are professional artists and the laughter produced in the sessions is in response to the creative tasks that they facilitate.
So far we have become aware that there are different types of laughter and different reasons for laughing. Laughter relaxes us and can change the mood, and it's not about trying to be funny - it comes out of a shared social experience and positive interaction with others.
Seb and his team from UCL were due to visit in April, bringing their specialist equipment to record the amount of laughter in the session and to acknowledge what activities or interactions led to it. We still hope to achieve this, but with social distancing we may have to rethink how to do it.
The arrival of Covid 19 and 'Lockdown' has meant that our sessions are postponed for the time being, but these 'At Home' blogs have allowed us to share suggested activities with our participants. We also hope they've been an insight into what dementia arts engagement looks like and has provided you with inspiration to get creative!
We really miss working together with the participants and volunteers; we miss the shared laughter. We're looking positively to the future when we can pick up the project again as soon as is safely possible. Until then, stay safe and healthy and thank you for reading.
Bring Me Laughter Artists: Alison Clough, Anna Daly, Steve Fairclough, Kriss Foster, Helen Gould, Jon Randall.
Bring Me Laughter Volunteers: Rosie Bell, Andrea Brook, Liz David, Sue Duncan, Sue Exton, Liz Hooley, Sally Payne, Mary Porter, Hilary Wellgate, KarenJo Worthington.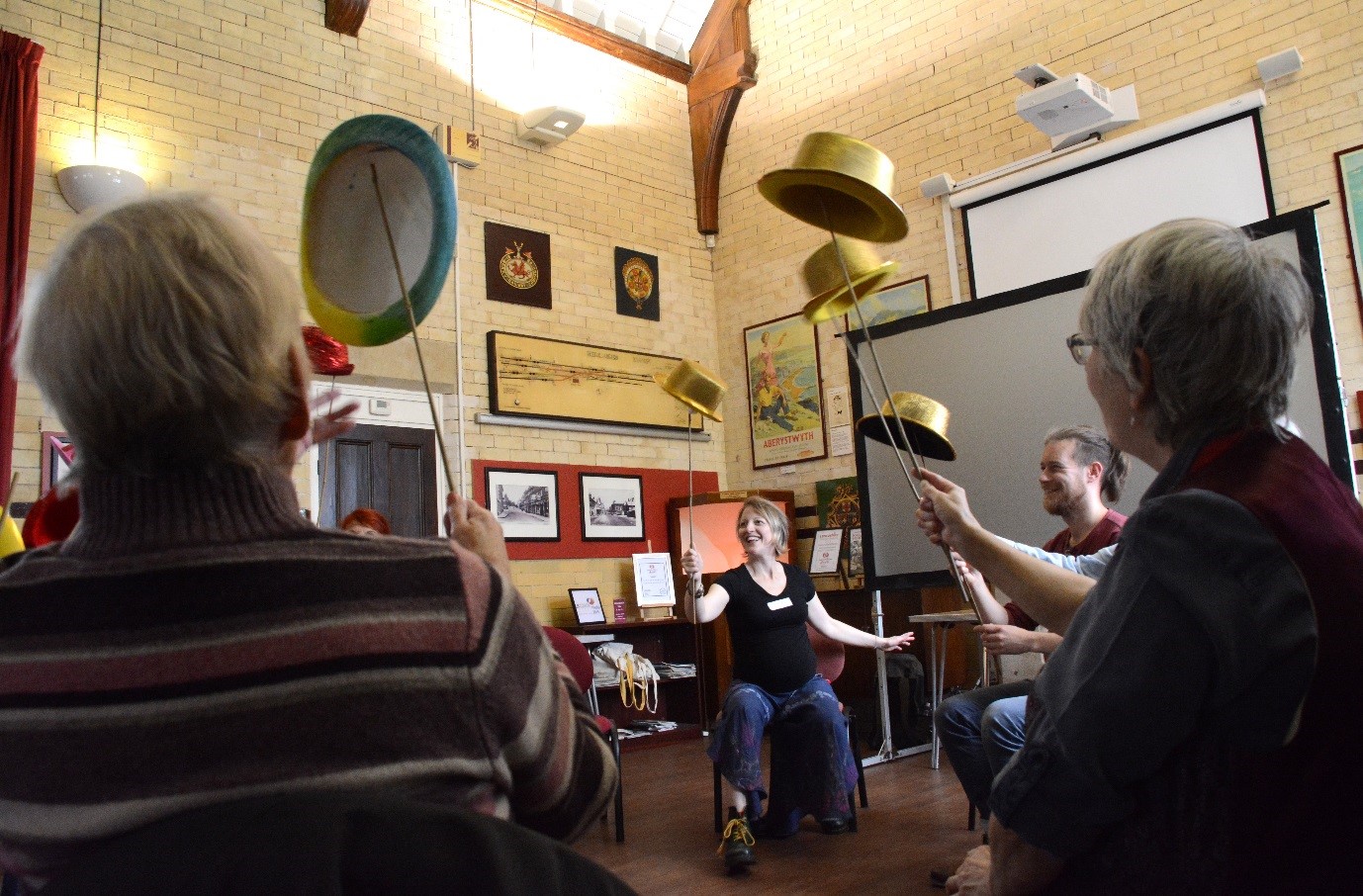 Find out more about our Wellcome Trust-funded dementia arts project at Bring Me Laughter and click Bring Me Laughter at Home for more content for you to check out and take part in from home.