In Conversation With Lucas Button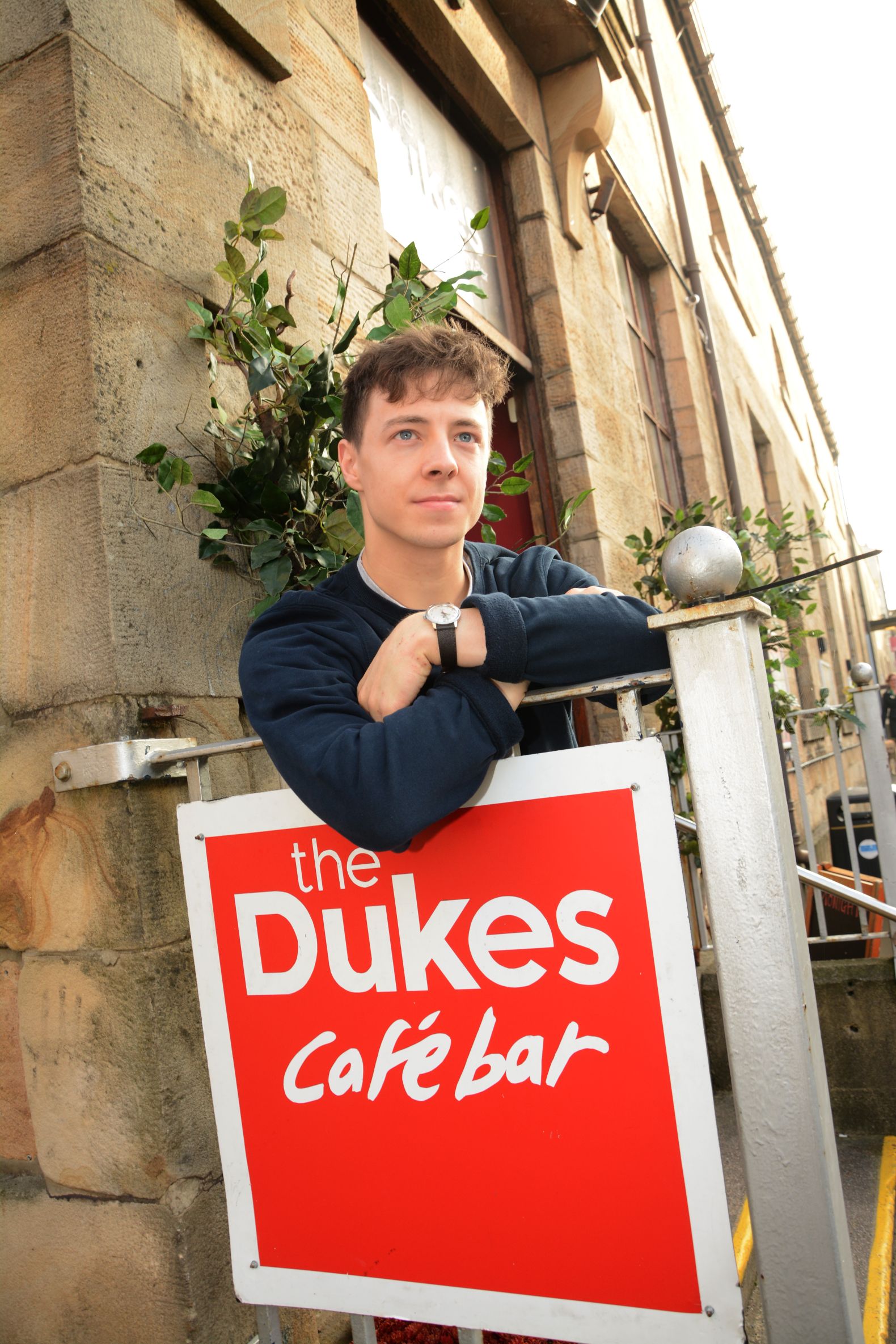 Our Pinocchio - Lucas Button - takes time out from rehearsals to tell us some home truths:
Q How did you get into acting in the first place?
A It was in 2005 when I was ten and my dad (Peter Button, a Dukes box office assistant and duty manager) said there were auditions for a little part in A Christmas Carol so I gave it a go and was one of three boys chosen to play Tiny Tim.
I remember wanting to do every performance so if any of the other boys couldn't do their show for any reason, I would always volunteer, even on Christmas Eve. Afterwards I just knew I wanted to be an actor.
I had done shows at school before but performing at The Dukes alongside actors who I aspired to be was just joyful. It was the first time I found something I really wanted to do, that felt really good.
Q Did you go to the theatre often before you started acting?
A I came to see all the Christmas productions here and the park shows but also plays which weren't necessarily ones for children. I remember coming to see Blue Remembered Hills and Accrington Pals and it was good to be exposed to stories like that at a young age.
Q Tell us about your time at The Dukes Youth Theatre.
A When I joined we'd do plays every month and lots of workshops. My favourite role was playing Hamlet in 2013.  I also had a great time doing The Unsociables. Another highlight was appearing in the five-hander Can't Pay Won't Pay alongside Daisy Whalley who is now a professional actor. I was 12 at the time.
Q What was your next step?
A I didn't really know much about drama school but did know that competition for places was high so I didn't have all my hopes pinned on getting in.
It's a long application process with lots of callbacks but I eventually was offered places at two drama schools and chose Central School of Speech and Drama in London.
It's very expensive to live there but fortunately I did get the full grant.
I love Lancaster but I think it's important to move out of the area where you grew up and will be based in London from now on.
Q What course did you do at Central?
A A BA in acting with a specialism in devised and collaborative theatre. It was a great course. Having worked with Louie and Mark in a collaborative way, I felt at home with it.
The course was more full on than I had expected, your life is put on hold as often you're working 9 hours a day, 7 days a week and during the holidays too. Doing that for three years gets you into a good routine but it's nice to have my life back now!
In the final year we did three big public shows and ones for the industry. Our final production was Coran Boy which was my favourite.
Q Why did you decide to set up your own theatre company?
A I have an agent but there's not enough work for all the students coming out of drama schools so it's becoming more popular to set up your own company so you can make work that you want to make.
Our company of five is called Mad Like Roar and we did our first short performance at the Roundhouse in London as part of the Last Word Festival. This year we won a competition to become one of the emerging companies at the New Diorama Theatre in London. They gave us the opportunity to preview our new show called Alan I Think You Should Get A Dog which we'll hopefully take to the Edinburgh Festival next summer. It's about loneliness in young and older people.
Q How does it feel now to be playing the lead role in this year's Christmas production?
A Amazing, it's like life has come full circle. I started acting in a Christmas show here, have been away to drama school and have come back to work with Louie(the director) and Mark(the composer) again which is really great. I've worked with them on youth productions here.
The other actors in the cast are brilliant to work with too. It's nice to come straight out of training and work with people who've been acting for years and have so much experience.
Q What's Christmas like for you?
A Christmas is a special time to be together with family and friends. Over the past three years I've only had two or three weeks at home over Christmas so this year I'll be able to help with the Christmas tree and buy better presents!
Q What are your plans for the New Year once the Pinocchio run is over?
A I'm very lucky because just two weeks after I finish at The Dukes, I begin rehearsals with the English National Opera for their production of The Winter's Tale at London Coliseum. It will be directed by Rory Kinnear and it will be amazing to perform there.
I was invited to audition by one of my course movement tutors and will be part of the ensemble which will be quite physical work.
The production runs from February 27-March 14 and I've got a few short film projects I'm working on before aiming for Edinburgh in the summer.