An Artist's Paradise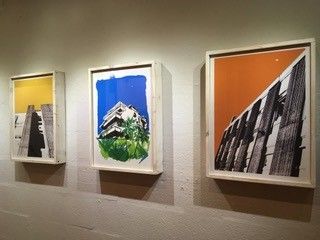 A Morecambe artist with a passion for 20th Century culture has found his paradise here at The Dukes.
Charlie Kondras, who graduated from art school in 2015, is currently staging his Paradise Estate exhibition in our gallery and café bar.
Charlie, a freelance illustrator, graphic designer and musician, uses a combination of analogue and digital print making processes for his latest exhibition.
His illustrations are colourful, rough and playful and his work references brutalist architecture, Kurt Vonnegut, John Ford, the British seaside and classic mid-century graphic design among many other things.
"Paradise Estate is an oasis of palm trees and mid-century architecture in an otherwise brutal world," he says.
Paradise Estate runs until March 30. If you are making a special trip to see it,  call the Box Office on 01524 598500 as sometimes the gallery is used for other activities.