Sir Ian Follows Famous Footsteps To The Dukes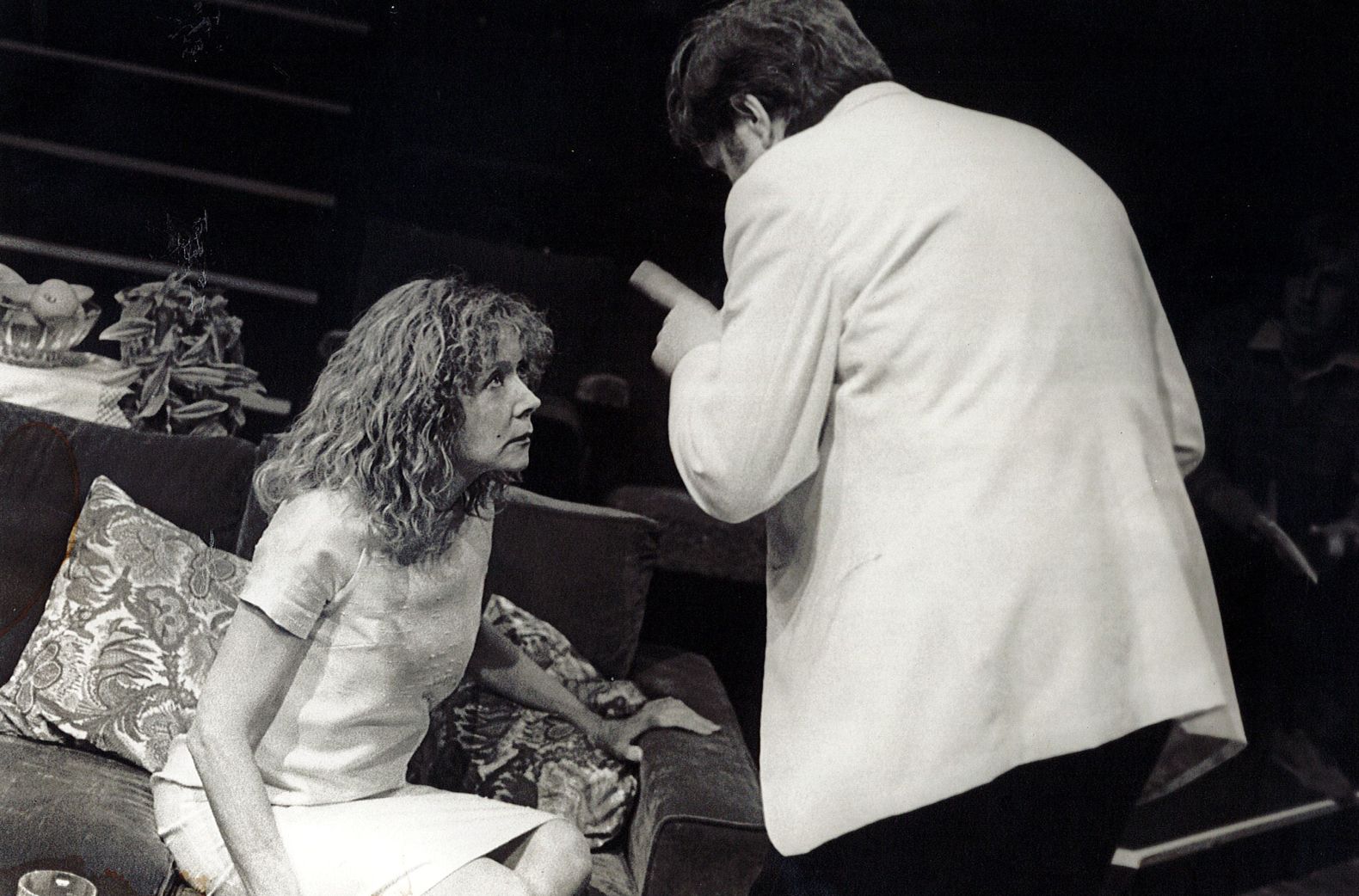 This month we're excited to be welcoming Sir Ian McKellen who's making his Dukes debut at the age of 80!
But Sir Ian isn't the first theatrical great to have graced our stage. The Dukes can also lay claim to helping Harriet Walter on her way to becoming a Dame.
During her early career, Dame Harriet appeared in 13 productions at The Dukes, starting with Beauty and the Beast at Christmas 1973.
The renowned Shakespearian actress went on to perform here until June 1975 in productions as diverse as Anthony and Cleopatra, Hobson's Choice and Lile Jimmy Williamson.
The Dukes can even boast having an Oscar-winning actor in one of our own homegrown productions.
In 1980, Gloria Grahame performed in our version of Who's Afraid of Virginia Woolf. (see pic above)
Gloria won her Oscar as best supporting actress in the 1952 film, The Bad and the Beautiful and became best known for her roles as a sultry blonde.
She turned down a film part in America and television work worth $25,000 dollars to appear at The Dukes.  At the time she said: "I've learned much more here than the money would have been worth."
Gloria was such a hit that director David Thacker invited her back to mark The Dukes 10th anniversary season in 1981. However, while in rehearsal for The Glass Menagerie,  the star collapsed and it was revealed she had stomach cancer. She died shortly afterwards aged 57 and this tragic end to her life was the subject of Film Stars Don't Die In Liverpool released last year.
As well as attracting a movie great, the Eighties saw The Dukes play a special role in the burgeoning careers of many actors who went on to fame and fortune.
Miranda Richardson had her first big screen break as Ruth Ellis in Dance With A Stranger while performing in one of many plays here. Since then, she's had a string of stage and screen successes and is perhaps best known on television for her role as Queenie in Blackadder.
One of the most familiar faces on television, Amanda Burton, trod The Dukes boards during the 1980s too. She was among the original cast of Brookside.
The Eighties were also a special decade in the life of Andy Serkis who appeared in 14 plays here after graduating from Lancaster University.
And he was also among the cast of our very first outdoor walkabout production in Williamson Park – A Midsummer Night's Dream – in 1987.
Andy is a pioneer of performance capture on film and is most famous for appearing as Gollum in the Lord of the Rings movies.
Following in Andy's footsteps to The Dukes in 1989 was Alex Kingston in our production of a Country Wife in 1989. At the time, her boyfriend was Ralph Fiennes who could often be spotted in our bar.
Alex had her big television break when she played the lead role in the 1996 series The Fortunes & Misfortunes of Moll Flanders and a year later she landed a major role in the American hit TV series, ER.
In the Nineties, Morecambe's Cherylee Houston joined The Dukes youth theatre, appearing in several productions including some of our park shows.
Cherylee has played Cherylee Houston in Coronation Street since 2010 and along with Andy Serkis is now one of our Honorary Patrons.