Q & A with Laurie Sansom, Artistic Director of Northern Broadsides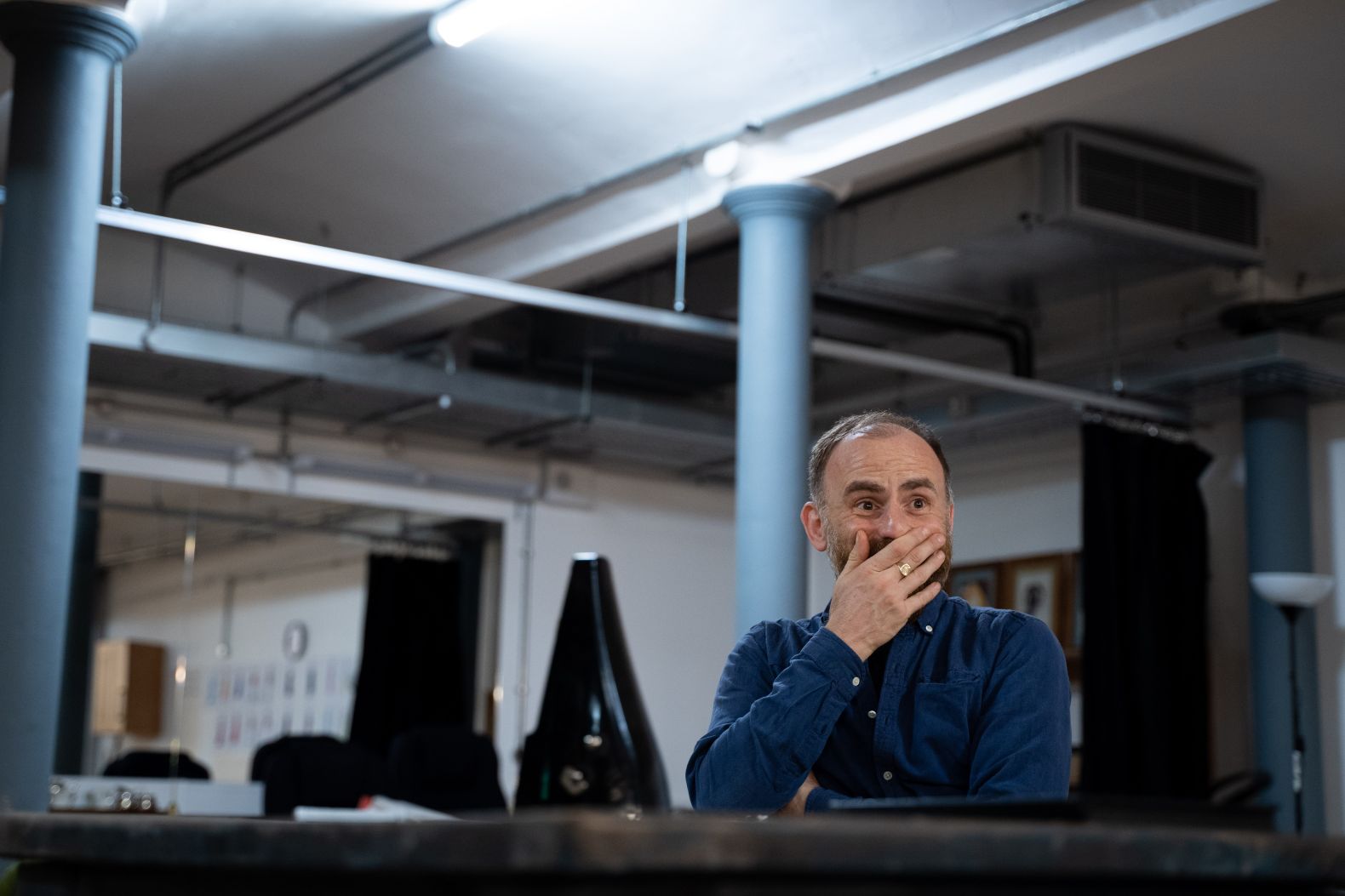 Laurie gives us an insight into his directorial debut for Northern Broadsides.
Quality Street runs at The Dukes from Tue 3 - Sat 7 March 2020.
1. Why have you chosen Quality Street as your first production as Artistic Director of Northern Broadsides? Could you tell us more about the play and the local connection to Halifax?
When looking for a title for my first production for Northern Broadsides I wanted to make sure it delivered a really good night out and brought people together for a good laugh at a time when the country felt at loggerheads with itself. I turned to JM Barrie, as I was aware he'd written many wildly popular plays that had been eclipsed by the global obsession with Peter Pan. The first title to catch my eye was Quality Street. It's impossible to avoid the presence of the Quality Street factory in Broadside's hometown of Halifax - the purple letters even glitter down over the train station's platform – and as I also knew I wanted to celebrate Broadsides as one of Halifax's cultural gems, it was the first of Barrie's plays I picked up.
I wasn't prepared for what I encountered. The first act is almost too familiar. We're in a quaint Regency town in 1805, a group of genteel ladies are reading a gothic romance and gossiping about a possible proposal. But Barrie's purpose comes into focus in Act Two, and we soon recognise its central character Phoebe as a strong and spirited woman pushing against the social codes of her day as she sets out to teach her erstwhile lover Valentine Brown a lesson he'll never forget. It's genuinely funny, full of twists and turns, but the slam dunk was when I discovered the UK's most popular sweets were actually named after Barrie's play, with the tins still featuring the play's leading characters. That sealed the deal.
2. Written by J.M. Barrie, the story itself is over a century old, how do you plan on retelling this story for a contemporary audience?
In the rehearsal room we've found it explores some of Barrie's perennial obsessions, his fascination with mercurial actresses, the terrible tragedy of growing older but not growing up, and how absurd we can all be when tangled up in matters of the human heart, but it also challenges society's obsession with youth and conventional beauty in a way that feels surprisingly contemporary. We're bringing Broadside's trademark wit and bold storytelling to the play, with some playful nods to the famously brightly coloured and shiny sweets, and the Halifax factory that bears its name. A chorus of factory workers frame our production, commenting on the action perhaps like a live version of Gogglebox.
3. What are 'Creation Squads' and how will this concept work for Quality Street and future work for Northern Broadsides?
This production marks the beginning of our new model of making work. Each Broadsides show will be created in collaboration with a Creation Squad of local people, and on this occasion it was clear who we had to work with. Throughout rehearsals we have worked with people who between them have hundreds of years working within the Quality Street factory, sharing stories about thwarted love affairs, messy relationships and growing old disgracefully, and their take on the place the factory has had in the life of the town and how things have changed beyond recognition over the years.
Next year we will be producing a new adaptation of a major classic that will be developed in collaboration with teenagers in schools from Leeds, Halifax and Bradford that explores the power of teenage girls to disrupt authority and elitist institutions. We hope that this new model of co-creating work with local people will transform the stories we tell together, re-invent how we make popular productions of classic plays and discover a new generation of northern artists.
4. The cast includes some incredible northern talent. Could you tell us more about them?
Broadsides has always been proud to showcase northern talent. Our company of 9 exceptional actors and the rest of the creative team come from across the region from Newcastle to Liverpool via Manchester. Jessica Baglow, recently seen in the Sally Wainwright's brilliant Gentleman Jack, is a touching and hilarious Phoebe. This part made huge stars of the actors who played the part for Barrie on Broadway and the West End and I wouldn't be surprised if this didn't do the same for her.
Dario Coates plays Valentine Brown, a gentleman with a naïve swagger but a very soft centre. From Hebden Bridge, Dario was a young actor in Coronation Street, and was in a West End production of Another Country. They are joined by 7 wonderful actors, including two Broadsides regulars Jon Gully and Jim English, and some new faces, including the hilarious Louisa May Parker as Phoebe's sister who we were delighted to meet through open auditions.
5. What are the challenges of directing a play that will tour to so many different venues?
One of the unique features of Broadsides is that it takes the same production to venues of many different shapes and sizes. We try to plan as much as we can how the set will sit in each venue, but it's really down to our technical team on the road to adapt it as it tours, and for the actors to adjust to playing large traditional theatres to intimate theatres in the round. As long as the production is robust, and the acting work is rooted and specific, then the actors soon get used to the different dynamics in each theatre. In fact it's one of the things that keeps the show fresh and alive for the entire five months of the tour.
6. What excites you most about working with Northern Broadsides?
It's a privilege to work with a small committed team on a reboot for the company. It has a fiercely loyal audience who are really invested in both its past and future. Many people have told me how the company made them feel Shakespeare was actually relevant to them and gave them a passion for the theatre. I want to continue to delight and surprise this audience whilst also attracting a new one by developing fresh stories and reimagining familiar ones.
We also want to be a key player in Halifax's cultural renaissance. Television programmes such as Happy Valley and Gentleman Jack by the peerless Sally Wainwright have shone a spotlight on Calderdale, and the recent refurbishment of Halifax's unique 18th century Piece Hall (used as a backdrop to our show image) have given the town a renewed vigour and leant it the title "The Shoreditch of the North". We would like to think Broadsides should also be celebrated as one of Halifax's cultural icons.
7. What makes the company unique?
Its celebration of the Northern voice, its joy in adapting work to any space, both traditional theatres and non-velvet spaces, and its place as one of the UK's longest running, most prolific touring companies based in the north make the company unique, but most of all its bold, accessible, unpretentious productions that have been playing to packed housed across the country for 27 years. Broadsides has consistently punched above its weight considering the small Arts Council grant it receives and its 3 ½ staff members by having a clear identity and being accessible to everyone.
8. Could you tell us more about your future plans?
We are currently developing a new adaptation of a major classic by a young female playwright in coproduction with one of the leading theatres in the region and also creating a programme to support a new generation of diverse playwrights with our partner theatres from across the region. We'll also be touring a brand new production of a Shakespeare play the company has not tackled before and plan to be produce a forgotten play by one of the region's most important female writers starring one of the country's leading actors. We will also continue to make work in collaboration with asylum seekers we met through St Augustine's Centre in Halifax, combining Yorkshire folk songs and stories with musical traditions from around the world, and are about to start a new poetry project that will take place in the homes of South Asian women in Kirklees and Dewsbury.
9. You have recently moved to Yorkshire from Scotland. What are you enjoying most about the area?
I'm delighted to be back in Yorkshire after spending some of my formative years in Scarborough. I do feel in some ways that I've come home. Living in such a beautiful part of the country is a treat, as I love to get up into the moors. It was Yorkshire unrivalled literary tradition that first got me hooked – being a Bonte nut since a teenager lead me to go on a pilgrimage to Haworth. But it's the diversity of the region that really makes it a wonderful place to live. At one moment you can be alone in an awe inspiring landscape, and the next in one of its pulsing multi-cultural towns and cities. It feels like the right moment to come back to a place that meant so much to me in my 20s and culturally is developing so rapidly.
10. Do you have a local connection to any of the venues on tour?
I spent four years as Associate Director to Alan Ayckbourn at the Stephen Joseph Theatre, Scarborough where I directed over 20 new plays including a series of new plays for little ones Alan wrote himself, a season of new musicals and a production of Charlotte Bronte's Villette with Frantic Assembly. Alan taught me so much about the craft of directing, but more than that, he was so generous as an Artistic Director, trusting the passion of individual artists and giving the space to grow, and loving and respecting the work of all his actors. I learnt so much from him about how to lead a building and make it a vibrant hub in its community.
As a freelancer I've worked at many of the other theatres on our tour, having directed three times for the New Vic, Newcastle under Lyme for Gwenda Hughes, and also at Leeds Playhouse and Salisbury. But I'm going to be out and about with the show a lot this time round, sometimes seeing old friends, and hopefully making some new ones!
Quality Street runs at The Dukes from Tue 3 - Sat 7 March. Click here to find out more and book tickets.