National Lottery Cinema Weekend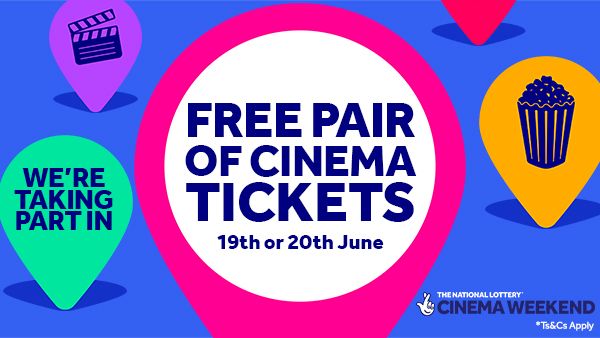 Get a free cinema ticket on National Lottery Cinema Weekend - Sat 19 and Sun 20 June
Did you know every time you play the National Lottery you're supporting UK film production, exhibition and innovation, as well as community projects across the country and right here in Bristol?
To say thank you we're inviting you to join us and see a free film on Saturday 19 June with a National Lottery ticket.
You can reserve your free adult cinema ticket from Tue 15 June here - check out what's screening at The Dukes on Saturday here.
Please note that tickets are limited – this offer is first-come, first-served, please see below for terms and conditions. You can reserve tickets (if available) up until midnight the day before your screening. Just bring your email booking confirmation with you on the day and show it to Box Office.
Choose from Peter Rabbit 2, First Cow or Demon Slayer.
Terms and conditions:
Eligibility
Any National Lottery player with a National Lottery ticket or game bought after 1st January 2019 can claim free entry for two adults to any one film of their choosing on 19th or 20th June 2021 only.
Free cinema tickets are subject to availability at participating venues and are for standard seats to view a standard 2D film - upgrades for other film formats and seat types may be unavailable or will be subject to an additional charge. Free cinema tickets will be offered on a first-come first-served basis.
Claiming your cinema ticket at participating cinemas
To claim a cinema ticket, select the cinema you want to visit from the selection of participating cinema venues listed here. You will then be required to enter your name and email address and to set a password. You will then be required to enter the code from your National Lottery ticket. You must confirm the number of tickets you require.
You will then be presented with a booking confirmation and unique code(s)/URL to the cinema specific page, with instructions on how to redeem the offer. Once you click through to the URL you will be able to select the film you want to watch, and the time. You must then sign up to the participating cinema website or continue as a guest, and enter all relevant codes during checkout.
Once you have done so, you will receive a booking confirmation with details of how to collect your ticket(s).
National Lottery Cinema Weekend tickets are only available at participating cinemas via this site. You will not be able to claim a free ticket at the box office on Saturday 19th or Sunday 20th June 2021.
You must complete your booking on the participating cinema website for your booking to be confirmed.
Cancellations
As free cinema tickets are limited, if you are unable to attend a screening, you must (if you are able to in accordance with participating cinema's applicable terms and conditions) cancel your reservation(s) in order for them to be reallocated. The booking information will provide details of how to cancel.
Other
Entrance to a screening is subject to film age certification regulations, any rules and regulations, and any additional terms and conditions of the participating cinema.
Wheelchair users should contact the cinema directly to enquire about booking.
Free cinema tickets have no cash value and cannot be exchanged (including for gift vouchers, gift cards, food, drink or any other service).
The promoters are Camelot UK Lotteries Limited ("Camelot") and the participating cinema.
Each participating cinema has the right to refuse entry in the event of a cinema reaching capacity, as well as under any other reasonable circumstances.
In the event of queries on the day, the decision of the venue manager is final.