Joe Steps Down - On Twelfth Night!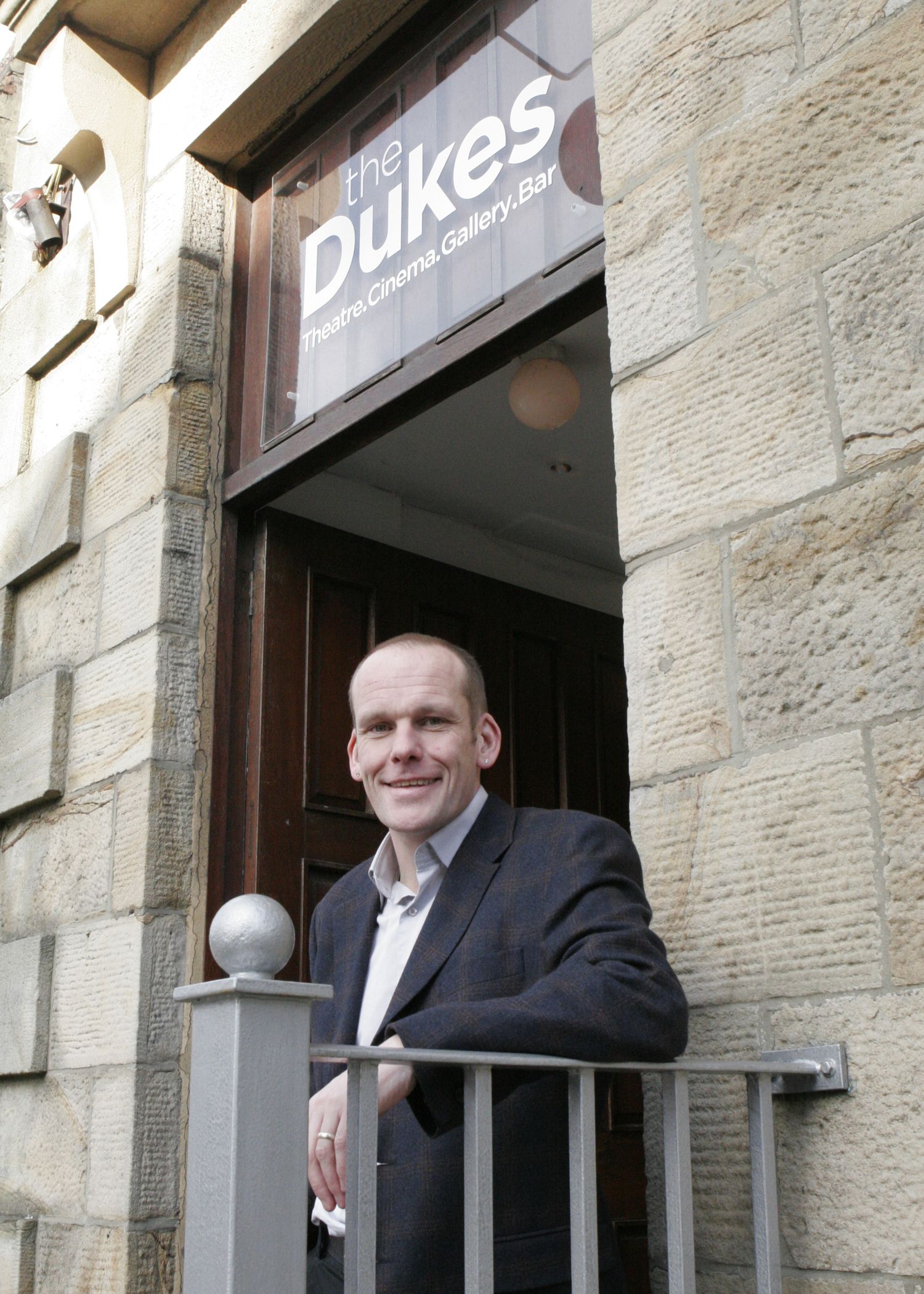 We'll be saying a fond farewell to our Artistic Director, Joe Sumsion this Friday.
Joe was just five when he first stepped into this theatre and has guided The Dukes through some choppy waters since he returned as Artistic Director nine years ago.
But we're now on an even keel which is appropriate given that he'll be joining us again in the summer as the freelance Director of our walkabout production of Treasure Island.
After his first visit to The Dukes in 1973 to see a Christmas production, it was the park shows which lured Joe back in 1988 when he was Assistant Stage Manager on As You Like It and Alice Through The Looking Glass.
And in 1991, he crewed on the outdoor production of Treasure Island. "I'd just finished at Bristol University but didn't get back for the degree ceremony because I was too busy digging a hole in the mud in The Dell," Joe remembered.
But all that experience paid off when Joe became our Director in 2008 and the first play he directed was Beauty & The Beast in Williamson Park.
Since then, he has directed all but one of the walkabout productions for which we have become nationally famous and which won a UK Theatre Award for Best Show for Children and Young People in 2016.
It was the icing on the cake for someone who already knew he wanted to be a Director by the age of 19.
"And I always wanted to be Artistic Director of The Dukes," said Joe who was born and raised in Kendal.
"I had an affinity with it through my involvement with the park shows and it was very exciting to become the Director of Lancashire's leading cultural centre, a building based producing company with three spaces which also included a cinema."
Joe took over at a challenging time as funding cuts had hit hard, leading to low staff morale but with the help of those staff he soon developed an artistic policy and recruited Associate Artists to bring in new ideas.
"A big part of what you can do here is to help people achieve their creative ambitions and I'm really proud of that."
He also encouraged the wider community to make suggestions and get involved.
"What's great about Lancaster is that you can make change quite quickly," said Joe who chaired the newly formed Lancaster Arts Partnership for three years.
And one of the quickest changes to happen when Joe arrived was the opening of a refurbished studio, renamed The Round, which enabled that space and The Rake to be used at the same time.
Most of the inhouse shows Joe has directed have been staged in The Round and it was his decision to move the Christmas productions there which has proved popular.
But it hasn't all been plain sailing as in 2012 Joe had to take the 'hideous' decision to cancel the park show following further funding disappointments, which was the lowest point in his Dukes tenure.
However, five years on and The Dukes continues to thrive with annual attendance up from 82,000 to 140,000 since 2008 and the ratio of grants to earned income completely turned around. It also has more than 1200 Friends supporting the theatre along with a significant number of Patrons and Guardians.
We now run projects of national significance such as A Life More Ordinary, our pioneering scheme for people with dementia, and we've developed a Cultural Partnership with Lancaster University. We also take a lead role in producing Light Up Lancaster every November working closely with Lancaster City Council and Lancaster Arts Partners.
But after nine years at the helm, Joe is moving on to become a Lecturer in Acting at the excellent University of Central Lancashire and a freelance Director and it's our own productions which will remain most memorable for him, especially last summer's The Hobbit and A Christmas Carol in 2013.
Joe's commitment to new writing, including such productions as Quicksand, by Zosia Wand, also led to some standout moments and a Writers Guild of Great Britain Olwen Wymark Theatre Encouragement Award.
But his favourite highlight has to be the time he saw Vicky Flynn wrestling Jonny Phere in The Round during a production by The Dukes Shattering Images company for young people with learning difficulties.
"When Vicky first came to The Dukes she was quiet and reserved yet three years later, there she was taking centrestage in an original play inspired by her own life. It was brilliant."