Duke Box #9: Our Guide to the Best Films on TV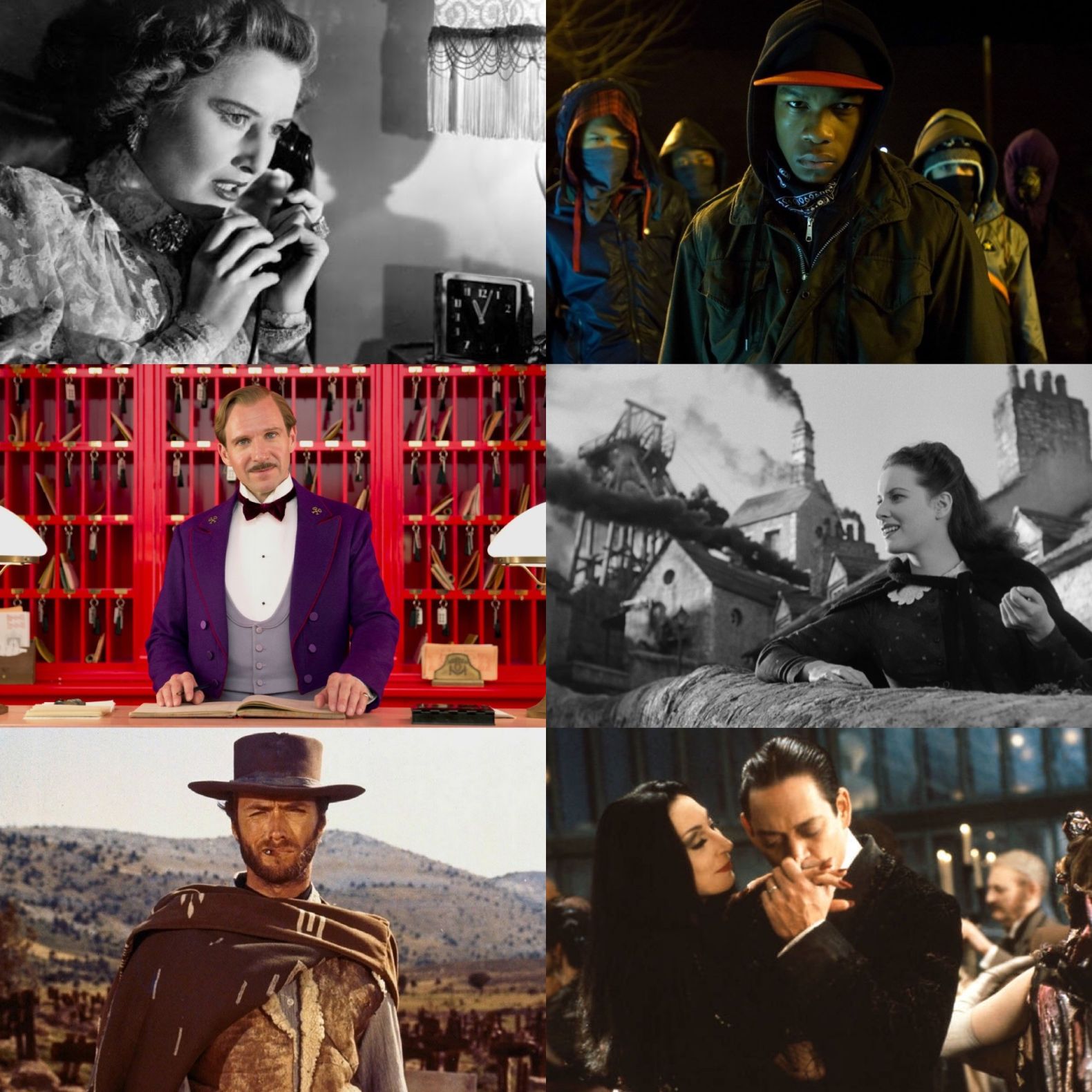 Hi everyone,
There's a good mix of films from the 1930s and '40s this week, plus some more world cinema treats and a few classic Westerns cropping up too.
Pick of the Week: It's a great chance to see How Green Was My Valley, John Ford's film that pipped Citizen Kane and The Maltese Falcon to Best Picture. It's often kept in the shadow of those two masterpieces but it's still a wonderfully crafted film in its own right. Elsewhere, it's hard to look past a Friday night screening of Heat.
Stay safe, stay inside and put on a good film. (A reminder that this list isn't exhaustive and that some films will be repeated at different times – these are just some key titles to look out for at what are likely the best times. Some films may also change if channels decide to alter their listings - a fun thing for me!)
*A reminder of* Friday 15:

Brief Encounter (1945) – BBC2, 3pm
I Know Where I'm Going! (1945) – Talking Pictures TV, 7pm
The Martian (2015) – Film 4, 9pm
A Cry in the Dark (1988) – 5Select, 10pm
Election (1999) – BBC1,11.15pm
Another chance to see: The Wild One (Sony Movies Classic, 11.20am)
Our audiences will know how much we adore David Lean's glorious Brief Encounter. It's a work of art and we love screening it, so it's wonderful to see it pop up on a Friday afternoon on the BBC. Keep an eye out for Carnforth station! If one delight from a British powerhouse wasn't enough, there's also Powell and Pressburger's delightful I Know Where I'm Going! – a cracking romance about a woman who gets second thoughts about her impending marriage after a storm keeps her and her fiancée on separate islands in the Hebrides. In the evening, there's a choice between Ridley Scott's The Martian, starring Matt Damon as an astronaut stranded on Mars and waiting for his team to rescue him, A Cry in the Dark, a real-life story starring Meryl Streep and Sam Neill as an Australian couple who are forced to convince the public of their innocence after their baby disappears in the outback, and Alexander Payne's black-comedy Election, starring Matthew Broderick as a high-school teacher who clashes with Reece Witherspoon's ambitious student during the school's elections.
Saturday 16:
Frankenweenie (2012) – BBC2, 11.30am
Lonely are the Brave (1962) – ITV4, 2.05pm
South Pacific (1958) – BBC2, 3.35pm
The Addams Family (1991) – C5, 4.30pm
The Horse Soldiers (1959) – ITV4, 6.35pm
The Man from U.N.C.L.E. (2015) – 5Star, 6.50pm
Hacksaw Ridge (2016) – Paramount, 9pm
John Wick (2014) – 5Star, 9pm
Made in Dagenham (2010) – BBC4, 10.30pm
Attack the Block (2011) – Film 4, 11.05pm
The Commune (2016) – BBC2, 12am
White God (2014) – Film 4 12.50am
A Most Violent Year (2014) – Film 4, 12.50am
There are a couple of delightfully gothic family favourites on Saturday afternoon, with Tim Burton's animation Frankenweenie in the morning and The Addams Family, starring a perfectly cast Raul Julia and Anjelica Huston, in the afternoon. In between those, there's Western drama Lonely are the Brave, written by Dalton Trumbo and starring Kirk Douglas, Gena Rowlands and Walter Matthau, and Rodgers and Hammerstein musical South Pacific. The early evening sees John Wayne team up with regular collaborator John Ford for The Horse Soldiers and Henry Cavill, Armie Hammer and Alicia Vikander join forces with Guy Ritchie for the enjoyable revamp of spy adventure The Man from U.N.C.L.E. There are more gems from recent years too, including moving, brutal war biopic Hacksaw Ridge, neo-noir/action thriller John Wick (a real modern favourite, starring Keanu Reeves), Made in Dagenham, based on the true story of female workers striking for equal pay in 1960s Britain and featuring a cracking ensemble (Sally Hawkins! Bob Hoskins! Miranda Richardson!), and Attack the Block, a sci-fi/comedy/horror about a teenage street gang fighting off aliens in their South London council estate. Then at midnight and past, there are two recent European films – Thomas Vinterberg's Danish drama The Commune and allegorical Hungarian horror-thriller White God – and J.C. Chandor's stylish crime thriller A Most Violent Year, starring Oscar Isaac and Jessica Chastain.
Another chance to see: Cover Girl (Sony Classic, 8.10am), The Locket (Sony Classic, 10.30am), Peter Pan (ITV2, 3.55pm), Philadelphia (Sony Classic, 4.25pm), Dances With Wolves (Sony Movies, 4.55pm), Sherlock Holmes (ITV2, 8pm), High Plains Drifter (ITV4, 9pm), American Graffiti (Sony Classic, 11.10pm)
Sunday 17:
Paint Your Wagon (1969) – BBC2, 2.50pm
Diamonds are Forever (1971) – ITV4, 4.15pm
Wyatt Earp (1994) – Paramount, 5.10pm
Hobson's Choice (1954) – Talking Pictures TV, 6.50pm
Death Becomes Her (1992) – 5 Star, 7pm
Tombstone (1993) – Sony Action, 9pm
A Fistful of Dollars (1964) – ITV4, 9pm
Educating Rita (1983) – BBC1, 10.30pm
The Woman in Black (2012) – 5 Star, 11.05pm
Rush (2013) – Film 4, 11.05pm
Another chance to see: Lonely are the Brave (ITV4, 11.50am), From Here to Eternity (Sony Classic, 4.45pm), Dirty Dancing (C5, 6pm), The Swimmer (Sony Classic, 7.05pm), Get Carter (ITV4, 12.10am)
Well, there are plenty of Westerns for you to doff your Stetson at this Sunday, including a couple of Eastwoods and a couple of Earps. Clint stars alongside Lee Marvin and Jean Seberg in the unique Western-musical Paint Your Wagon. It won't be everyone's cup of tea but it's worth a watch if you like Lee Marvin's rendition of 'Wanderin' Star'. Eastwood appears again in Sergio Leone's influential classic A Fistful of Dollars in the evening, this time as the iconic Man with No Name. In between them are two versions of the Wyatt Earp story, with Kevin Costner's Wyatt Earp (co-starring Gene Hackman and Michael Madsen to name just two) more of an epic biopic and Tombstone, starring Kurt Russell, Val Kilmer and Sam Elliott at the top of a fine ensemble, focusing more on the events running up to the infamous gunfight at the O.K. Corral. In and around these are Connery Bond film Diamonds are Forever (bet the theme is in your head now), David Lean's charming Salford-set rom-com Hobson's Choice, featuring an excellent Charles Laughton, John Mills and Brenda De Banzie) and Robert Zemeckis' black comedy Death Becomes Her, starring Meryl Streep, Goldie Hawn, Bruce Willis and a few troublesome potions promising eternal youth. There's a great chance to see Julie Walters give a career-making, BAFTA-winning performance as a Liverpudlian, working-class hairdresser tutored by Michael Caine's alcoholic academic in Willy Russell's Educating Rita on BBC1 in the evening. Then there are late night screenings of both Edwardian era supernatural-horror The Woman in Black, which sees Daniel Radcliffe's young, grieving lawyer haunted by a ghost in a remote house, and Ron Howard's Rush, a thrilling, fascinating look at the rivalry between F1 drivers James Hunt and Niki Lauda.
Monday 18:
Vivacious Lady (1938) – BBC2, 3pm
About a Boy (2002) – 5Star, 9pm
The Go Between (1971) – Talking Pictures TV, 10pm
The Warrior (2000) – Film 4, 11.15pm
A Taxi Driver (2017) – Film 4, 1am
Another chance: The Wild One (Sony Movies Classic, 3.05pm), On the Waterfront (Sony Classic, 4.40pm), The African Queen (Sony Action, 5pm), Pulp Fiction (Sony Movies, 9pm), Bunny Lake is Missing (Sony Classic, 1.05am)
Nick Hornby adaptation About a Boy sees Hugh Grant's immature bachelor taught to grow-up by a socially-awkward boy (played by a young Nicholas Hoult), whilst there's another adaptation in the shape of The Go-Between, a story of torrid romance in the English countryside. Based on L.B. Hartley's book and adapted for the screen by Harold Pinter, Julie Christie and Alan Bates star as the forbidden lovers. The Warrior, meanwhile, features Irfan Khan as a warrior in feudal India who attempts to give up the sword, only to become the target himself in a hunt through the Himalayas. Beautifully shot, it's directed by Asif Kapadia, recently known for his documentaries Senna, Amy and Diego Maradona. Finally, at 1am, is The Taxi Driver – no, not Scorsese's 70s thriller but a Korean drama starring Parasite's Kang-ho Song as a widowed father who drives a German reporter (Thomas Kretschmann) from Seoul to Gwangju to cover the 1980s uprising.
Tuesday 19:
Tiger Bay (1959) – Film 4, 2.25pm
The Bedford Incident (1965) – Sony Action, 2.55pm
Breaker Morant (1981) – Sony Action, 5.05pm
The Grand Budapest Hotel (2014) – Film 4, 9pm
Hellraiser (1987) – The Horror Channel, 10.50pm
Mona Lisa (1986) – Film 4, 1.10am
Another chance to see: It Could Happen to You (Sony Movies, 4.50pm), Senna (ITV4, 11.10pm)
John Mills and daughter Hayley (in her first screen role) team up in Tiger Bay, a British crime thriller about a tomboy who witnesses a murder but befriends the man responsible. Sony Action has an intriguing double bill of The Bedford Incident, the Moby Dick-esque story of an American destroyer who pursues a Soviet submarine after finding it violating territorial waters (Sidney Poiter stars as a civilian onboard), and Breaker Morant, a look at the true story of three Australian lieutenants court martialled for war crimes, starring Edward Woodward. Wes Anderson's delightful The Grand Budapest Hotel follows a concierge (Ralph Fiennes, exquisite) and his protégé lobby boy Zero on their quest for fortune. Clive Barker's cult British horror film Hellraiser is also on in the evening, featuring puzzle boxes, alternate dimensions and blood-thirsty Cenobites. Then there's Neil Jordan's gritty thriller Mona Lisa, starring Bob Hoskins as a man who becomes entangled with a high-class call girl when he's tasked with driving her around. Michael Caine co-stars as a London gangland kingpin.
Wednesday 20:
The Professionals (1966) – Film 4, 11am
How Green Was My Valley (1941) – Film 4, 1.25pm
Vivacious Lady (1938) – BBC2, 3pm
Gallipoli (1981) – Film 4, 3.55pm
A Beautiful Mind (2001) – Film 4, 6.10pm
Climbing Blind (2020) – BBC4, 9pm
Donnie Brasco (1997) – Sony Movies, 11.05pm
The Daughter (2015) – Film 4, 11.45pm
The Possibilities are Endless (2014) – Film 4, 1.35am
Another chance to see: The Best Years of Our Lives (Sony Classic, 10.40am), The Swimmer (Sony Classic, 2.50pm), The Martian (Film 4, 9pm), Hacksaw Ridge (Paramount, 9pm), Robocop (ITV4, 11.10pm), Witchfinder General (The Horror Channel, 2.45am)
Film4 has a great run of films on today, starting with Western classic The Professionals, starring Burt Lancaster and Lee Marvin, follows four men hired by an arrogant rancher to rescue his kidnapped wife. After that is John Ford's How Green Was My Valley, the story of a family's fortunes in a Welsh mining village at the start of the 20th century. Starring Walter Pidgeon, Maureen O'Hara and Roddy McDowell, the film that beat Citizen Kane to Best Picture at the Academy Awards. Following that is Peter Weir's Gallipoli, a brutal and striking film about young Australians who enlist to fight during WWI and lose their innocence to the harsh realities of war during the Gallipoli Campaign, and A Beautiful Mind, Ron Howard's loose biopic of influential American mathematician John Nash (Russell Crowe), his ability to crack codes and his diagnosis of paranoid schizophrenia. Elsewhere, Ginger Rogers and James Stewart star in rom-com Vivacious Lady in the afternoon, whilst there's another based-on-a-true-story film in the evening on Sony Movies with Donnie Brasco, a gangster thriller starring Johnny Depp and Al Pacino about an FBI undercover agent who finds himself becoming more seduced by the mafia lifestyle. That comes after documentary Climbing Blind on BBC4, the account of visually-impaired Jesse Dufton and his historic ascent of the Old Man of Hoy. We'd been planning to screen this last month so it's great to see it appear on TV. Film 4's fantastic day concludes with a double bill of The Daughter, an Australian film inspired by Henrik Ibsen's play 'The Wild Duck' about a man who returns home to discover a long-buried secret, and The Possibilities are Endless, a documentary about musician Edwyn Collins and his long recovery back from cerebral haemorrhages and aphasia.
Thursday 21:
The Spy in Black (1939) – Film 4, 12.50pm
Footsteps in the Fog (1955) – Sony Classic Movies, 2.45pm
A Walk in the Woods (2015) – Film 4, 9pm
Another chance to see: The Lady from Shanghai (Sony Classic, 1pm), From Here to Eternity (Sony Classic, 10pm), Pulp Fiction (Sony Movies, 10.50pm), The Best Years of our Lives (Talking Pictures TV, 11.20pm)
The first collaboration for famed cinema partnership Powell and Pressburger, WWI thriller The Spy in Black follows a German U-boat commander who's instructed to attack the British fleet in the Orkney isles, with the help of a woman pretending to be a local schoolteacher. There's another British thriller mid-afternoon too with Footsteps in the Fog, starring Stewart Granger as a murderous aristocrat and Jean Simmons as the maid who blackmails him. There's a change of pace in the evening with A Walk in the Woods, a loose adaptation of Bill Bryson's beloved book about returning to the States and trying to reconnect with his homeland by hiking the Appalachian Trail. Robert Redford stars as Bryson, pairing up with Nick Nolte, who plays his troublesome long-lost friend.
Friday 22:
Sorry, Wrong Number (1948) – Film 4, 11am
Carefree (1938) – BBC2, 3.05pm
The World's End (2013) – ITV2, 9pm
Heat (1995) – Film 4, 9pm
The Man with the Golden Gun (1974) – ITV4, 9.05pm
Gremlins (1984) – ITV, 11.05pm
Spotlight (2015) – BBC2, 11.20pm
There are a couple of silver screen gems during Friday: thrilling film-noir Sorry, Wrong Number, starring an Oscar-nominated Barbara Stanwyck as a woman who thinks she overhears a murder plot, and musical Carefree, starring Fred Astaire and Ginger Rogers. Meanwhile, the evening is full of eclectic double-acts and face offs, with Sean Pegg and Nick Frost teaming up again for buddy Edgar Wright's The World's End, Roger Moore coming up against Christopher Lee in Bond film The Man with the Golden Gun and the infamous first on-screen pairing of Robert De Niro and Al Pacino in Michael Mann's exceptional heist thriller Heat. (Yes, yes, they're in The Godfather II together, but they didn't share screen time in that. This was 20 years in the making.) Then there's cult comedy Gremlins, about those cute little tykes that turn feral if you don't follow the rules: don't get them wet, don't expose them to bright light and don't feed them after midnight. Finally, there's the brilliant, Oscar-winning drama Spotlight, the true story of the Boston Globe's investigation into a major cover-up involving the Catholic Church. It's a devastating story, simply and tenderly told, featuring an ensemble at the top of their game.
Another chance to see: Philadelphia (Sony Classic, 1pm), The Bedford Incident (Sony Action, 5.05pm)