Duke Box #7: Our Guide to the Best Films on TV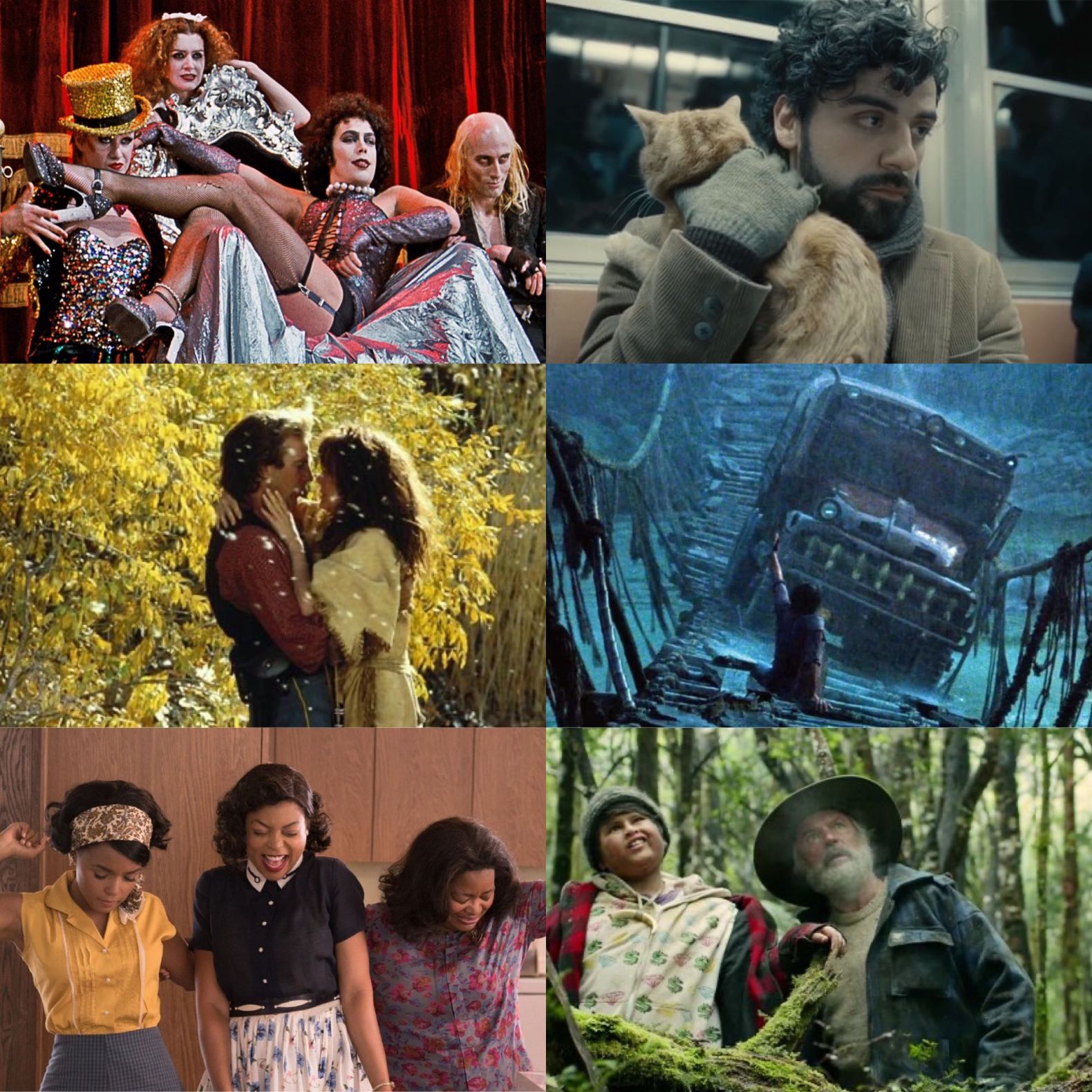 Hi everyone,
There were some real pleasant surprises when putting the blog together for this week's recommendations. The times aren't always the kindest, but it's a nice to see a line-up that includes films as different as Sorcerer, The Rocky Horror Picture Show and Inside Llewyn Davis.
I can't look beyond two of my favourites for Pick(s) of the Week: Hunt for the Wilderpeople will be the bright spot of any week, whilst Dances with Wolves is a wonderful watch on a Bank Holiday afternoon.
Stay safe, stay inside and put on a good film. (A reminder that this list isn't exhaustive and that some films will be repeated at different times – these are just some key titles to look out for at what are likely the best times. Some films may also change if channels decide to alter their listings - a fun thing for me!)


*A reminder of today's choices* Friday 1
On Her Majesty's Secret Service (1969) – ITV4, 8pm
Desperado (1995) – Sony Action, 9pm
The Full Monty (1997) – BBC1, 10.45pm
The Drop (2014) – Film4, 11.15pm
Nosferatu, The Vampyre (1979) – Talking Pictures TV, 12am
Locke (2013) – Film4, 1.25am
A classic bit of Bond is joined by a couple of hit 90s films in the evening, as Antonio Banderas stars as a gun-toting mariachi seeking revenge in Robert Rodriguez' action-packed Desperado, whilst smash-hit British comedy The Full Monty sees Robert Carlyle, Mark Addy, Tom Wilkinson and more unlikely lads star as unemployed workers who start stripping to make a living. Film 4 has a Tom Hardy double bill: underrated crime film The Drop, written by Dennis Lehane and also starring Noomi Rapace, Matthias Schoenaerts and James Gandolfini in his final role, and Locke, featuring arguably Hardy's best performance (and the only character seen on screen). In the middle of the two is Nosferatu the Vampyre, Werner Herzog's stylish, unsettling remake of F.W. Murnau's classic silent film, starring frequent collaborator Klaus Kinski as the Count.
Saturday 2
Funny Girl (1968) – Sony Movies Classic, 10am
It Should Happen To You (1954) – Sony Movies Classic, 12.55pm
The Queen (2006) – ITV3, 12.55pm
Corpse Bride (2005) – ITV2, 3.20pm
Practical Magic (1998) – C5, 4.30pm
The Guernsey Literary & Potato Peel Pie Society (2018) – BBC2, 8.30pm
3:10 to Yuma (2007) – Sony Movies, 9pm
Bone Tomahawk (2015) – Film 4, 11.25pm
Seraphim Falls (2006) – Sony Movies, 11.30pm
The Counsellor (2013) – C4, 11.35pm
The Company You Keep (2012) – BBC1, 11.50pm
The Rocky Horror Picture Show (1975) – Talking Pictures TV, 1am
20,000 Days on Earth (2014) – Film 4, 2am
Another chance to see: You've Got Mail (C5, 2.10pm), You Only Live Twice (ITV4, 6.40pm), Open Range (Paramount, 6.20pm), The Untouchables (ITV4, 9pm), The African Queen (Sony Movies Classic, 9pm)
There's no raining on Barbra Streisand's parade in classic musical Funny Girl on Saturday morning – the actress won her first Oscar for her performance, although she did have to share it with Guess Who's Coming To Dinner star Katherine Hepburn. Director George Cukor – a frequent Hepburn collaborator – handed Jack Lemmon his big screen debut, cosying up alongside Judy Holliday in rom-com It Should Happen To You, on at lunch-time. British flicks The Queen (starring an Oscar-winning Helen Mirren) and hit adaptation The Guernsey Literary and Potato Peel Pie Society sandwich Tim Burton's family-friendly gothic animation Corpse Bride and the witchy delights of Practical Magic (Bullock & Kidman as witch sisters; Stevie Nicks on the soundtrack). Sony Movies has a Western double bill in the evening with Logan director James Mangold's great take on 3:10 to Yuma before bounty-hunt drama Seraphim Falls, starring Pierce Brosnan and Liam Neeson. Now, confession, Ridley Scott's The Counsellor was not for me – but its all-star cast and original script from Cormac McCarthy is definitely for some. It's a very divisive film, as is recent Western Bone Tomahawk (not for the faint-hearted), so it's included as an option! The evening also sees Robert Redford's political thriller The Company You Keep; based on the cast list alone, Redford keeps excellent company. Then, in the late, late slots, a little something for a gothic heart: cult musical The Rocky Horror Picture Show and Nick Cave documentary 20,000 Days on Earth.
Sunday 3:
How the West Was Won (1962) – ITV4, 1.25pm
The Devil Wears Prada (2006) – Sony Movies, 4.45pm
A Room with a View (1985) – Film 4, 4.40pm
In the Line of Fire (1993) – ITV4, 10pm
The King's Speech (2010) – BBC1, 10.30pm
Get On Up (2014) – Film 4, 11.10pm
Another chance to see: Wuthering Heights (Sony Movies Classic, 10.50am), Jamaica Inn (Sony Movies Classic, 1pm), On Her Majesty's Secret Service (ITV4, 7.10pm)
Westerns seem to be the way this weekend as John Ford's sprawling epic How the West Was Won, bursting with silver screen idols and 50 years of American history, takes up most of Sunday afternoon on ITV4. For a change of scenery, there's the high-octane fashion industry of The Devil Wears Prada, starring Anne Hathaway as a young assistant to the Meryl Streep's demanding magazine editor Miranda Priestley ("That's all"). Or there's Merchant Ivory's sumptuous Florence in their adaptation of E.M. Forster's A Room with a View, featuring Helena Bonham Carter, Daniel Day Lewis, Maggie Smith and Judi Dench. There are also three very different films for the evening too, with 90s political action thriller In the Line of Fire, starring Clint Eastwood, John Malkovich and Rene Russo, Colin Firth's Oscar-winning turn in The King's Speech and Chadwick Boseman's electrifying portrayal of James Brown in biopic Get On Up.
Monday 4:
Moonrise (1948) – Film 4, 11am
The Two Faces of January (2014) – Film 4, 4.45pm
Torn Curtain (1966) – Sony Movies Classic, 9pm
Hidden Figures (2016) – Film 4, 9pm
Another chance to see: The Ladykillers (Film 4, 3.05pm), Jamaica Inn (Sony Movies Classic, 11.30pm)
Gritty and visceral noir Moonrise takes you to the USA's south and swamplands in a tale of a man haunted by the crimes of his father, whilst sleek psychological suspense story The Two Faces of January, adapted from Patricia Highsmith's novel, follows two con men who cross paths in Greece. Viggo Mortensen, Kirsten Dunst and Oscar Isaac star. There's another thriller, this time espionage-centred and Cold War set, with Alfred Hitchcock's Torn Curtain, starring Paul Newman and Julie Andrews. The other 9pm film, Hidden Figures is the powerful true story of three African-American women (played here beautifully by Taraji P. Henson, Octavia Spencer and Janelle Monae) whose intelligence and skill proved pivotal in the early years of NASA's space program, despite the prejudice they faced at work and in everyday life. Kevin Costner co-stars in this film that's full of heart.
Tuesday 5:
Reach for the Sky (1956) – BBC2, 1pm
The League of Gentlemen (1960) – Film 4, 2pm
Waterloo (1970) – Sony Movies Classic, 2.55pm
Roxanne (1987) – Sony Movies Classic, 6.50pm
Warrior (2011) – Film 4, 10.55pm
Another chance to see: My Foolish Heart (Sony Movies Classic, 10.55am), Ocean's 11 (5 Star, 11pm)
Each film on Tuesday is more different than the last! Playing on BBC around lunchtime is the BAFTA-winning biopic Reach for the Sky, the story of British aviator Douglas Bader who, having lost both of his legs in the 1930s, re-enlisted in the RAF during WWII and flew fighter planes. Elsewhere in the afternoon, British crime comedy film The League of Gentlemen sees Jack Hawkins star as a disgruntled Colonel who blackmails colleagues into helping him commit a bank robbery with military precision. An account of the famous battle, not ABBA's Eurovision winner, Waterloo sees Rod Steiger play Napoleon Bonaparte, accompanied on screen by Christopher Plummer and Orson Welles. Also sharing a name with a popular song and a penchant for French history, Steve Martin's charming romantic comedy Roxanne takes the classic French story of wannabe-wooer Cyrano de Bergerac and transports it to 1980s America. Its sweetness is countered somewhat by the brilliant, bruising Warrior, starring Tom Hardy and Joel Edgerton as estranged brothers who enter the same mixed martial arts tournament. Nick Nolte is on great gristled form as their alcoholic father. It's surprisingly tender, full-blooded and wonderfully done.
Wednesday 6:
Scarface (1983) – ITV4, 10pm
Nowhere Boy (2009) – Film 4, 11.10pm
Inside Llewyn Davis (2013) – Film 4, 1.05am
Ruby Sparks (2012) – C4, 1.25am
Another chance to see: It Should Happen to You (Sony Classic, 9.30am), Dead Reckoning (Sony Movies Classic, 2.45pm), The African Queen (Sony Movies Classic, 6.50pm), Torn Curtain, It Should Happen to You (Sony Movies Classic, 11.10pm)
Al Pacino delivers an unforgettable performance as Tony Montana in Brian De Palma's 80s gangster thriller Scarface. From its quotes to its fashions to its Moroder soundtrack, it's a pop-culture event, but still the sort of bruising film of contemporary America you'd expect from an Oliver Stone script. There's a music-film double-bill on Film 4 with Nowhere Boy, the story of a teenage John Lennon, and The Coen Brothers' exquisite Inside Llewyn Davis, featuring Oscar Isaac, an all-time great movie cat and a soundtrack you'll be rushing to download. Tucked away in a late-night Channel 4 slot is Ruby Sparks, a whimsical indie written by Zoe Kazan and starring Paul Dano as a novelist who writes a lead character that he falls in love with, only to see her come to live. It's not as Mannequin as it sounds.
Thursday 7:
Robin and Marian (1973) – Film 4, 12.40pm
Hunt for the Wilderpeople (2016) – Film 4, 9pm
The Cotton Club (1983) – Talking Pictures TV, 10pm
Sorcerer (1978) – Film 4, 12.55am
21 Grams (2003) – Sony Movies, 1am
Another chance to see: Desperado (Sony Movies Action, 9pm)
Sean Connery and Audrey Hepburn star as an older Robin Hood and Maid Marian in Richard Lester's Robin & Marian, a bittersweet and tender tale of love and adventure. There's a great ensemble too, including Robert Shaw as the Sherriff of Nottingham, Richard Harris as Richard the Lionhart and Ronnie Barker as Friar Tuck. It's a Dukes favourite at 9pm on Film 4 with the magnificent Hunt for the Wilderpeople, directed by Taika Waititi (Jojo Rabbit). It's funny, charming, moving and Sam Neill and Julian Dennison have a wonderful double act as the reluctant foster uncle and juvenile on the run through the New Zealand outback. There's a great chance to see Francis Ford Coppola's The Cotton Club, his 1930s set crime/Harlem jazz scene film that took 5 years to make, before William Friedkin's quite brilliant thriller Sorcerer about four outcasts tasked with transporting 'sweating' dynamite through the South American jungle. It's one of the tensest films you'll ever have the pleasure of watching. Finally, there's 21 Grams, a stylish and moving crime drama from Alejandro González Iñárritu that follows three characters whose lives intersect after a car accident.
Friday 8:
This Happy Breed (1944) – Film 4, 11am
Georgy Girl (1966) – Sony Movies Classic, 11.25am
Dances With Wolves (1990) – Sony Movies, 4.55pm
Wall Street (1987) – Sony Movies, 9pm
Air Force One (1997) – C5, 10pm
Kinky Boots (2005) – BBC1, 11.10pm
Another chance to see: The Loneliness of the Long Distance Runner (Sony Movies Classic, 9.15am), The Horse Whisperer (Sony Movies, 1.30pm), Saturday Night & Sunday Morning (Sony Movies Classic, 7.10pm)
Based on a Noel Coward play and directed by David Lean, This Happy Breed follows a lower-middle-class family in Clapham in the twenty years between WWI and WWII. Celia Johnson is excellent as the family matriarch, and even if some of the beats don't quite land now as they would then, it's a fascinating narrative and early glimpse at an influential filmmaker. Lynn Redgrave stars as the titular Georgy Girl, a Britflick that sees a young girl caught up in the Swinging 60s life of London. There's a chance to kick back in the afternoon with Kevin Costner's Dances With Wolves, a sweeping epic that helped revitalise the Western genre and scooped up 7 Academy Awards. It's a beautifully shot film with fantastic performances, great set-pieces and a stunning score by John Barry. Finally, in the evening: greed is, for lack of a better word, good in Oliver Stone's stockbroker drama Wall Street, President Harrison Ford takes on a plane full of terrorists led by Gary Oldman in Air Force One and Chiwetel Ejiofor dons some Kinky Boots for a fun, fabulous Friday night film about a small British shoe factory teaming up with a drag queen in order to save their business.