Duke Box #62: Our Guide to the Best Films on TV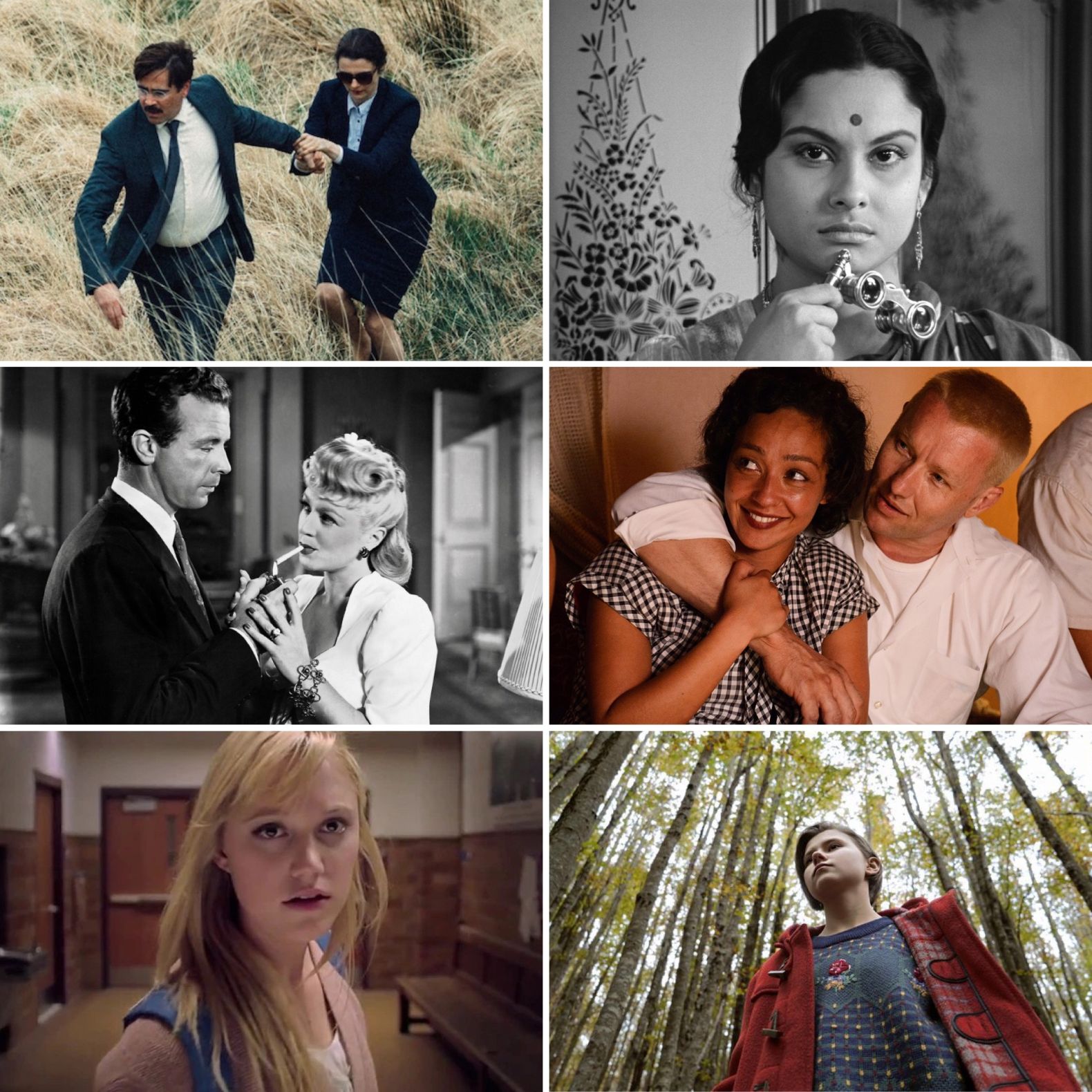 Musicals and music docs, all manner of crime, an abundance of horror and some striking stories of love - that's what lies in this week's Duke Box, with freeview recommendations which range from the outright ridiculous to the glorious and simple sublime.

It Follows (2014)
Saturday: The Horror Channel, 9pm
A thrilling combination of 70s/80s aesthetic and sound and a fresh, original spin on the slasher/boogeyman tropes of horror, It Follows sees a young woman who sleeps with her boyfriend and is subsequently pursued by a strange, supernatural entity that will kill her unless she passes the curse onto somebody else. The genius is that it can come from anywhere, blending in until suddenly fissuring the fine performances and gorgeous visuals that have distracted you. Some quite brilliant scares.
Face/Off (1997)
Saturday: ITV, 10.50pm
John Woo's Face/Off is a high-octane, action-extravaganza that's thoroughly nonsensical from start to finish – and we love it! It stars John Travolta and Nicolas Cage (a double act for the ages) as an FBI agent and criminal mastermind who assume each other's identities by literally, you guessed it, swapping faces. Ignore the many, many questions you'll have about the ludicrous science and just enjoy the ride, with both actors hamming it up to the max among operatic slow-mo sequences.
Loving (2016)
Saturday: BBC2, 11pm
In stark contrast to the film above, drama Loving is a much more grounded affair – a beautifully understated portrayal of a powerful true story. Directed by Jeff Nichols (Mud, Take Shelter), it stars Ruth Negga and Joel Edgerton (both excellent) as Mildred & Richard Loving, a couple whose interracial marriage in 1960s Virginia led to their arrest, public legal battles and risk to their lives. It's a compelling story told to the point, making it even more impactful.
The Lobster (2015)
Saturday rolling into Sunday: Film4, 1.20am
The English-language debut of The Favourite's Yorgos Lanthimos, surreal and often unsettling love story/satire The Lobster lands the viewer in a dystopic version of life where single people are obliged to find a partner…or be transformed into an animal of their choice. And if that doesn't convince you to at least give it a try, maybe the cast will: Colin Farrell (who Lanthimos later worked with on The Killing of a Sacred Deer), future The Favourite stars Rachel Weisz and Olivia Colman, Ben Wishaw and John C. Reilly. Sometimes pitch-black, sometimes achingly tender, always interesting.
The Sting (1973)
Sunday: ITV4, 11.55am
There are few on-screen partnerships as full of charisma as Robert Redford and Paul Newman. Butch and Sundance teamed up again in Best Picture winner and crime caper The Sting, playing a couple of con-artists on a revenge mission against a ruthless crime boss (Robert Shaw) who offed their friend. The chemistry between the leads is off the charts, clearly having as much fun making the film as the viewer has watching it.
Starred Up (2013)
Sunday: Film4, 11.35pm
Hard-hitting Starred Up is an explosive and tense drama starring Jack O'Connell as a teenager who runs into his violent father (Ben Mendelsohn, excellent) in prison after being switched from a juvenile facility. It's not an easy watch but it's riveting nonetheless, smartly and deftly exploring aggressive masculinity, damaged family dynamics and the pressure-cooker environment of prison.
Sicilian Ghost Story (2017)
Sunday rolling into Monday: Film4, 1.20am
Quietly brilliant and haunting, Sicilian Ghost Story's dark real-life story follows a young boy's disappearance through the eyes of his infatuated classmate – and her rebellious journey into the fantastical, enchanted Sicilian forests to search for him. Blending genres deftly – true crime, suspense, ghost story, romance and fantasy – it's a vivid and atmospheric watch that will stay with you.
Mahanagar (1961) – Monday rolling into Tuesday: Film4, 1.15am
Charulata (1964) – Tuesday rolling into Wednesday: Film4, 12.55am
What a treat to discover that there are a couple of Satyajit Ray's films appearing on Film4 this week – although it's a shame they're on so late in the evening (perhaps they'll also end up on All4 catch-up.) Mahanagar, or The Big City, follows a woman who defies tradition to become a door-to-door saleswoman in bustling contemporary Calcutta, while the 19th century-set Charulata (The Lonely Wife), one of Ray's personal favourites, is a masterpiece of repressed desire, as a lonely, artistic woman falls for her husband's cousin, an aspiring poet. Regarded as one of the most influential filmmakers of all time, it's a lovely chance to experience Ray's thoughtful and deep-feeling films.
Farewell, My Lovely (1944)
Tuesday, Sony Classic, 3pm
A few weeks back (months? Who can say at this point?) Duke Box recommended a version of Farewell, My Lovely starring Robert Mitchum as Raymond Chandler's famous gumshoe Philip Marlowe. The original adaptation of the novel – and the first iteration of Marlowe on screen – took a more surprising choice with casting by having crooner Dick Powell take the lead. It's a great touch, with Powell's sometimes playful approach working wonders in a sharp story of femme fatales, jewels and nefarious behaviour, resulting in an early, influential go-to in the film noir genre.
Hounds of Love (2016)
Wednesday rolling into Thursday: Film4, 1.20am
Don't be fooled by the title – this Australian thriller is far from the delicate exultations of Kate Bush. A teenage girl who's kidnapped by a disturbed married couple comes to realise that cunning mind games is her only chance of survival in this debut film from Ben Young. Brutal, tense, compelling – and not for the faint hearted.
Funny Girl (1968) – Thursday, Sony Classic, 10.05am
Funny Face (1957) – Thursday, Talking Pictures TV, 11am
The quirks of scheduling to have two fine musicals with 'funny' in the title popping up at almost the same time on Thursday morning. Funny Girl saw Barbra Streisand tie for Best Actress with Katharine Hepburn (in Guess Who's Coming to Dinner) for her performance as Fanny Brice, in this loose biopic-musical-comedy-drama of the actress and comedienne's life and stormy marriage to suave gambler Nicky Arnstein (Omar Sharif). Funny Face, meanwhile, places an ugly duckling at its centre which, with Audrey Hepburn in the lead, was never really believable in the first place and quite dated now – but the film is so beautifully shot and designed that it's worth the indulgence, especially with Fred Astaire's version of S'Wonderful on the soundtrack.
Don't Look Back (1967) Friday: BBC4, 9pm
Back in 1965 Bob Dylan toured the UK and D. A. Pennebaker was on hand to film the experience, creating one of the most memorable music documentaries in the process. It's an intimate glimpse at one of the most private musicians, taking in everything from his performances on stage and song-writing processes to his relationship with Joan Baez. It's a fascinating watch.
Witchfinder General (1968) Friday: Talking Pictures TV, 9.55pm
We all know Vincent Price as a master of horror and gothic, but he's on his arguably most malevolent and malicious form as the titular character dedicated to rooting out witchcraft in Civil War England. It's a disturbing exploration of power and the illusion of truth, wickedly composed and stunningly shot. As an aside, it's bizarrely titled The Conqueror Worm in the US, the result of an attempt to connect it to a series of Edgar Allan Poe adaptations. The original title is much more unsettling.