Duke Box #56: Our Guide to the Best Films on TV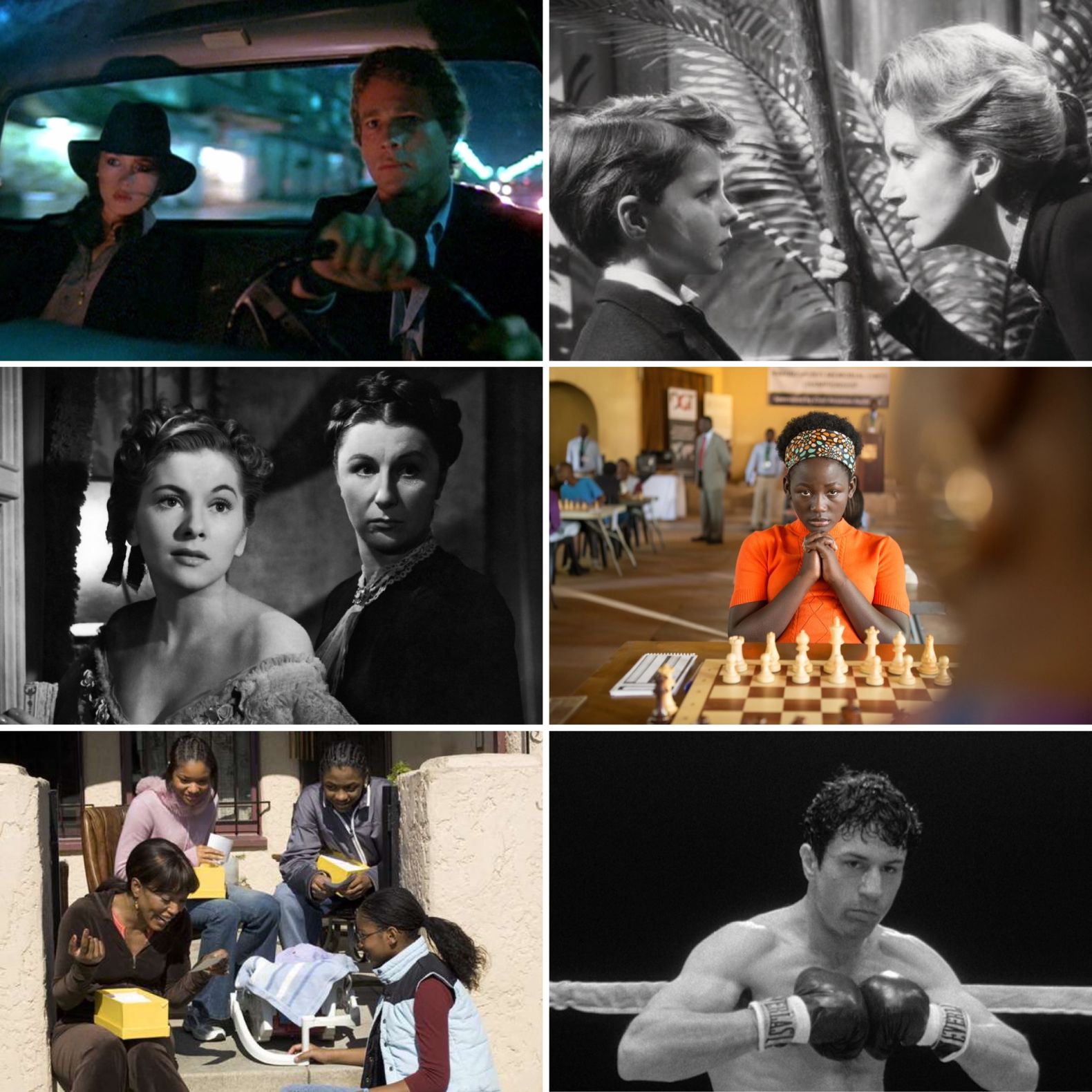 A couple of Hitchcock's best, knockout boxing classics Rocky (1976) and Raging Bull (1980) and uplifting underdog stories Queen of Katwe (2016) and Akeelah & the Bee (2006) all make for a good week. Pick of the Week though goes to a film that doesn't seem to be on freeview too much so feels even more of a treat when it does appear - ghost story extraordinaire The Innocents (1961). It's a gloriously made bone-chiller that'll burrow under your skin and stay there, with a fantastic lead performance from Deborah Kerr at its centre. A cinema great.
Please note that this list isn't exhaustive – these are just some titles that I've selected as ones to try out or revisit, hopefully at the best times. Some films may also change if channels decide to alter their listings. You can find comments on films mentioned in the 'Another chance to see' section in our previous Duke Box blogs or just head to IMDB for a quick summary!)
Saturday 10
Harry Potter & the Half-Blood Prince (2009) – ITV2, 5.55pm
Rocky (1976) – ITV4, 9pm - repeated later in the week
Enemy of the State (1998) – Sony Movies, 9pm
Inception (2010) – ITV, 10.45pm
Rocky II (1979) – ITV4, 11.35pm
Z for Zachariah (2015) – BBC1, 11.50pm
Tale of Tales (2015) – Film4, 12.55am
Another chance to see: The Book of Life (E4, 10.20am), Chitty Chitty Bang Bang (C5, 12.10pm), She Wore a Yellow Ribbon (Sony Classic, 12.15pm), Mrs Doubtfire (Film4, 2.30pm), Dances With Wolves (Paramount, 2.40pm), Stand By Me (5Star, 5.05pm), The Guns of Navarone (ITV4, 5.50pm), Open Range (Paramount, 6.15pm), 3:10 to Yuma (Sony Classic, 9pm), Anniversary 1978 – 2018: The Cure Live in Hyde Park (Sky Arts, 12.35am), Finding Jack Charlton (BBC2, 1.35am)
A star-making vehicle for writer-and-star Sylvester Stallone, Oscar-winner Rocky champions the underdog in its story of a down-on-his-luck boxer. With iconic training montages and bellows of 'ADRIANNNN', it's a gruff and charming knockout, as is hit sequel Rocky II which follows. The double-bill is the start of a run of screenings from the Rocky franchise this week, so keep an eye out repeats of these and the rest (except for the Creed films). Will Smith and Gene Hackman join director Tony Scott for Enemy of the State, a pulsating action-thriller about a lawyer who becomes the target of a corrupt politician. It boasts great action pieces, nods to the car chases and paranoia of Hackman's '70s career and a stellar ensemble, including Regina King and Gabriel Byrne. There's another fantastic line-up in Christopher Nolan's inventive sci-fi/action masterpiece Inception too, a visual spectacle about, well, dream-heists, that hasn't lost any of its style, intrigue, or verve in the last decade. Elsewhere, there's family friendly magic in Harry Potter & the Half-Blood Prince, the sixth instalment of the hit franchise, and definitely not family friendly magic in late night screening Tale of Tales, a stunning and unsettling collection of fairy tales for grown-ups inspired by the stories of Giambattista Basile. Adaptation Z for Zachariah, meanwhile, sees Chris Pine, Chiwetel Ejiofor and Margot Robbie in the centre of an apocalypse, starring as three survivors of a nuclear wasteland, caught in a desperate and tense love triangle.
Sunday 11
Queen of Katwe (2016) – BBC1, 2.35pm
Rebecca (1940) – Talking Pictures TV, 2.55pm - repeated later in the week
Imagine (1972) – Sky Arts, 3.45pm
Harry Potter & the Deathly Hallows: Part 1 (2010) – ITV2, 3.45pm
Harry Potter & the Deathly Hallows: Part 2 (2011) – ITV2, 6.25pm
Rocky II (1979) – ITV2, 9pm/ Rocky III (1982) – ITV4, 11.25pm
My Cousin Rachel (2017) – Film4, 10.55pm
Another chance to see: The Enemy Below (Sony Action, 10.45am), Snoopy & Charlie Brown: The Peanuts Movie (Film4, 11am), Puss in Boots (Film4, 12.45pm), Ben-Hur (ITV4, 2.40pm), Jane Eyre (Sony Classic, 3.55pm), Oliver! (Sony Classic, 6.05pm), Logan (Film4, 9pm), The Day of the Jackal (Sony Action, 9pm), The Way We Were (Sony Classic, 9pm)
Queen of Katwe is such a lovely film to have scheduled in for a Sunday afternoon, a charming true story about a young Ugandan girl who finds her life turned upside down by her remarkable knack for chess. Directed by Mira Nair (Monsoon Wedding) and starring Lupita Nyong'o, David Oyelewo and Madina Nalwanga, this Disney production also makes for wonderful family viewing. Speaking of, the Harry Potter franchise comes to a close with back-to-back screenings of Deathly Hallows Part 1 & 2, featuring some of the films' more daring moments, while a fellow franchise carries on at a canter with Rocky III (the one where Eye of the Tiger by Survivor makes itself known). For something a bit less bombastic on the speakers, there's Imagine, a unique home-movie from John Lennon, showing a glimpse into his home life and creativity with Yoko Ono. Featuring footage of the Imagine recordings and tour, it's a must for Lennon and Beatles fans. Or if it's some coastal Gothic that you're in the mood for, you're in luck, because there's also a fine pair of Daphne du Maurier adaptations during the day – sublime, in the case of Hitchcock's Rebecca. Staggeringly the only Best Picture winner (and nominee) in Hitchcock's back catalogue, the film follows Joan Fontaine's newly-married, young bride who heads to the divine Manderley estate of her husband Maxim (Laurence Olivier), only to find herself haunted by the memory of the previous Mrs DeWnter – especially when her predecessor's devoted housekeeper Mrs Danvers (Judith Anderson: scene/film stealer) is around. That's on in the afternoon, but there's a much more recent adaptation on in the evening, with My Cousin Rachel, featuring Rachel Weisz on entrancing form as a mysterious widow whose charm beguiles those who might suspect her of certain terrible deeds.
Monday 12
Crossfire (1947) – Sony Action, 9.50am
Hobson's Choice (1954) – Talking Pictures TV, 3pm
Master & Commander: the Far Side of the World (2003) – Film4, 9pm
Blade (1998) – Paramount, 9pm
Rocky III (1982) – ITV4, 9pm/ Rocky IV (1985) – ITV4, 11.10pm
The Fisher King – Sony Classic, 12.35am
Submarine – Film4, 1.55am
Another chance to see: All the King's Men (Sony Classic, 4pm), Harry Potter & the Half-Blood Prince (ITV2, 5.55pm), An American Werewolf in London (Sony Classic, 9pm), Glen Campbell: I'll Be Me (Sky Arts, 1am)
If you're in the mood for a classic during the day, there are a couple of great options: film noir Crossfire, a hard-hitting whodunnit starring Robert Young, Robert Mitchum and Gloria Grahame that tackled bigotry and racism and became the 'B Movie' to be nominated for Best Picture at the Oscars, and David Lean's charming, BAFTA-winning, Salford-set rom-com Hobson's Choice, featuring an excellent Charles Laughton, John Mills and Brenda De Banzie. Russell Crowe takes to the high seas in the evening in Master & Commander, a spectacular – and perhaps a little underseen – Napoleonic War-era epic directed by Peter Weir (so you know that it looks the part too). There's a different sort of adaptation also on at 9pm, with comic book picture Blade, starring Wesley Snipes as the half-vampire/half-mortal tasked with protecting humans and mentored by Kris Kristofferson, while the Rocky franchise continues on into the Cold War-heavy fourth instalment, co-starring Dolph Lundgren and Brigitte Nielsen. Subtle, it aint. Much more tender, if initially deceptively so, is Terry Gilliam's The Fisher King, which sees Jeff Bridges' former shock jock look for redemption by helping a homeless man (Robin Williams) find the Holy Grail. The performances are beautiful, as is the scene in Grand Central station. Also up for viewing – Richard Ayoade's funny, stylish and wry comedy-drama Submarine, starring Craig Roberts as awkward teen Oliver, caught between wooing classmate Jordana (Yasmin Paige) and stopping his mum (Sally Hawkins) from running off with her ex (Paddy Considine). Roberts has recently turned into a filmmaker himself, directing his on-screen mum Hawkins in last year's Eternal Beauty – which is still available to find in our Watch Online catalogue.
Tuesday 13
Akeelah & the Bee (2006) – Film4, 4.35pm
Rocky IV (1985) – ITV4, 9pm/Rocky V (1990) – ITV4, 10.10pm
Re-Animator (1985) – The Horror Channel, 11.10pm
His Girl Friday (1940) – Talking Pictures TV, 12.30am
Another chance to see: Horton Hears a Who (Film4, 12.55pm), Hour of the Gun (Paramount, 1.55pm), Little Women (Sony Movies, 4.35pm), Build My Gallows High (Sony Classic, 4.50pm), Harry Potter & the Deathly Hallows Part 1 (ITV2, 6.10pm), Super 8 (Film4, 6.45pm), Commando (Film4, 11.20pm)
Such an exceptionally odd batch of films grouped together that I can't stop looking after it! I can't in good conscience recommend Rocky V, except as a completist, so it's there if you're looking to finish off the franchise. Akeelah and the Bee, on the other hand, channels the underdog spirit wholeheartedly with its story of a young girl who sees her love for spelling take to the National Spelling Bee. It's a really lovely family drama, with Angela Bassett, Laurence Fishburne and a young Keke Palmer in the cast. It's more science that spelling in cult comedy-horror Re-Animator, as a med student goes a bit Frankenstein in his bizarre experiments to reanimate dead tissue. It's unhinged, but His Girl Friday is pure screwball (a tenuous segue, I know), with Cary Grant and Rosalind Russell as ex-spouses who might still hold a torch for each other.
Wednesday 14
Notorious (1946) – Talking Pictures TV, 9.05pm
Raging Bull (1980) – Film4, 11.05pm
Another chance to see: Harry Potter & the Deathly Hallows Part 2 (ITV2, 6.35pm), Rocky V (ITV4, 9pm), Get Carter (ITV4, 11.15pm), The Last Hurrah (Sony Classic, 11.35pm)
They might not be airing on the same channel, but what a sublime double-bill of cinema majesty this could be for you. First up is Hitchcock's sublime spy-thriller Notorious, one of the Master of Suspense's finest films. Cary Grant stars as the government agent tasked with recruiting a convicted Nazi's daughter, played by Ingrid Bergman, to go undercover amongst her father's friends. The chemistry between the leading pair is sensational, particularly in an infamous Hays Code-defying scene, while the film is a stylish, suspenseful wonder, featuring some of the director's most, well, notorious moments with a camera. The same can be said for Raging Bull too, Martin Scorsese's brutal and operatic study of rage, violence and self-destructive boxer Jake LaMotta (who I always think of in Tom Waits' black-and-white music video for 'Downtown Train'). An Oscar-winning Robert De Niro is arguably at his greatest here, while you can't help but marvel at the award-winning editing by regular Scorsese collaborator Thelma Schoonmaker, aiding her director in showing a bloody fight as a balletic work of art. Fitting that it's on in the same week as a Rocky marathon too.
Thursday 15
Topkapi (1964) – BBC4, 9pm
Animals (2019) – Film4, 9pm
The Driver (1978) – Talking Pictures TV, 11.30pm
Rocky (1976) – ITV4, 11.40pm
Another chance to see: King Rat (Sony Action, 10.30am), Flight of the Navigator (Film4, 12.40pm), Live and Let Die (ITV4, 9pm), Awakenings (Sony Classic, 10.50pm), Nerve (Film4, 11.15pm)
A beautiful thief (Melina Mercouri) and a criminal mastermind (Maximillian Schell) plan to use a small-time hustler as their fall guy in a dagger heist in '60s comedy-caper Topkapi, directed by Jules Dassin (Rififi). Peter Sellers was first choice as the conman, but it's Peter Ustinov who was ultimately cast and took home the Oscar for his troubles too. There's more criminal activity in Walter Hill's stripped back and stylish thriller The Driver, starring Ryan O'Neal as a nameless getaway driver who draws the attention of Bruce Dern's relentless detective. Sound familiar? Well, the cult film and its spectacular car chases has gone on to inspire the likes of Quentin Tarantino, Drive and Edgar Wright's Baby Driver. There's a more recent release appearing as well with an adaptation of Emma Jane Unsworth's critically acclaimed Animals, a frank, funny and thoughtful comedy that sees Holliday Grainger and Alia Shawkat play two longtime friends who notorious hard-partying ways look set to throw a few curveballs when one of them gets engaged.
Friday 16
Rebecca (1940) – Talking Pictures TV, 2.25pm
The Innocents (1961) – Talking Pictures TV, 9pm
In the Line of Fire – Sony Movies, 9pm
Another chance to see: Snoopy & Charlie Brown: The Peanuts Movie (Film4, 11am), Our Man in Havana (Sony Classic, 6.45pm), Logan (Film4, 9pm), Sing Street (C4, 1.40am)
Oh, there's a real treat this evening – the wonderfully chilling ghost story classic The Innocents. Based on Henry James's The Turn of the Screw, the film stars Deborah Kerr on top form as a governess looking after two orphans who becomes gradually convinced that they're not alone in the house. It's one of the finest horrors ever: haunting, expertly made and as influential as the novel. If you're in the mood for thrills but the scares aren't your bag, there's Wolfgang Peterson's In the Line of Fire – a taut thriller about a Secret Service agent on a mission to stop a would-be assassin from taking out the President. Clint Eastwood, John Malkovich and Rene Russo lead a very fine ensemble. I could do without the romantic subplot, but the action and suspense are crackling.