Duke Box #42: Our Guide to the Best Films on TV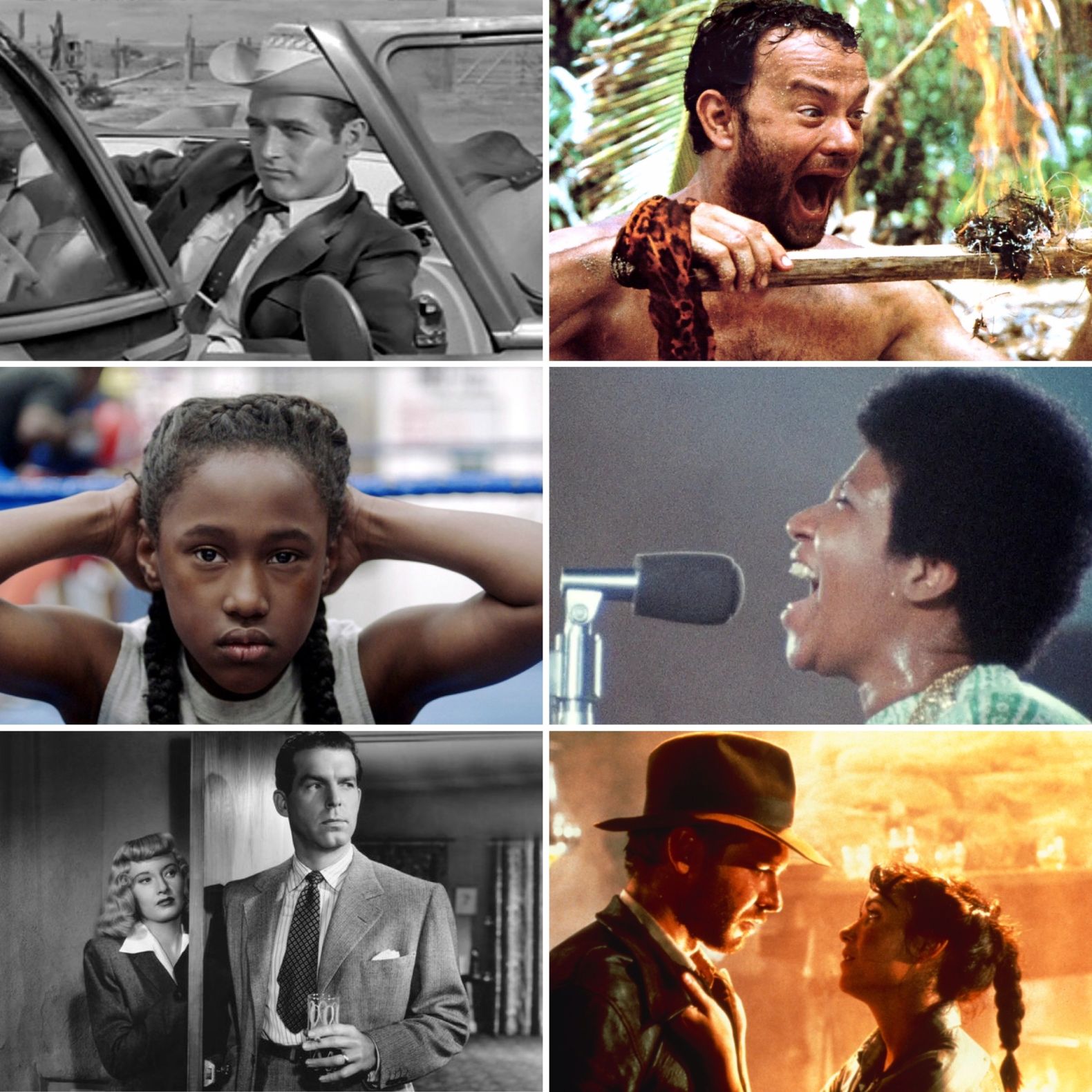 Hi everyone,
Happy New Year to you all. Hope you've managed to have a restful Christmas break and kicked back with some fantastic films, festive or otherwise, during that time.

Without further ado though, here it is, the first Duke Box of 2021! To go alongside the new picks, terrestrial premieres, Stage/Exhibition on Screen and recent documentaries that make an appearance, I've also drifted back and flagged up a few more films that you might have missed the first time they popped up here, so there's a lovely collection of films for you to dive into here.
While Max Richter's Sleep might be the meditative, hidden gem that you're looking for at the start of 2021, my Pick of the Week goes to film noir classic Double Indemnity, which sees Barbara Stanwyck shrug off the stylings of an unfortunate wig to give a dynamite performance as the seductive housewife with murder on her mind. Thrillingly shot by Billy Wilder and full of the genre's tropes, you can't talk film noir without mentioning this piece of excellence.
(A reminder to have a look at what's cropping up in the 'Another Chance to See' bit as well. If you can't quite remember what I said about the film on previous recommendations, you can find it by searching on our website for the title or by having a quick peek at IMDB.com. Also to note that this list isn't exhaustive – these are just some titles that I've selected as ones to try out or revisit, hopefully at the best times. Some films may also change if channels decide to alter their listings.)
Find last week's here: Duke Box 41
Saturday 2
A Bridge Too Far (1977) - C4, 12.55pm
Big Hero 6 (2014) – BBC1, 3pm
The Bridge on the River Kwai (1957) – C5, 4.15pm
The 'Burbs (1989) – The Horror Channel, 6.30pm
The Poseidon Adventure (1972) – ITV4, 7.10pm
Amazing Grace (2018) - BBC2, 8.30pm
Cast Away (2000) – C4, 8.30pm
A Fistful of Dollars (1964) - Paramount, 9pm
Hud (1963) – Talking Pictures TV, 9.30pm
Logan Lucky (2017) - ITV4, 11.55pm
The Fits (2015) – BBC2, 12.05am
Internal Affairs (1990) - BBC1, 12.25am
Stage on Screen: Billy Elliott: The Musical – Sky Arts, 12.15am

Another chance to see: Carry On Screaming (ITV3, 12pm), Carry On Cleo (ITV3, 2pm), Dragonheart (Film4, 2.35pm), The Lost World: Jurassic Park (ITV2, 2.50pm), The Flight of the Phoenix (Paramount, 3.05pm), King Kong (ITV2, 5.25pm), The Terminal (C4, 6pm), Fright Night (The Horror Channel, 9pm), Get Carter (ITV4, 9.35pm), Notting Hill (ITV, 10.20pm), Premium Rush (Sony Movies, 10.55pm), The Witch (Film4, 11.50pm)
It's a day of heroes and anti-heroes, with two bridges at the centre of the daytime picks. Richard Attenborough's war epic (and I mean epic) A Bridge Too Far, featuring a staggering ensemble of talent from Sean Connery and Robert Redford, to Michael Caine and Anthony Hopkins, focuses on the Allies' desperation to take the bridge of Arnheim, while David Lean's classic of the genre The Bridge on the River Kwai follows British POWs forced to build a bridge for their captors. There's more light-hearted family far in the middle with dynamic Disney flick Big Hero 6, which tells its alternative superhero story with panache and feeling (and a very cute robot) – really recommend checking it out with the kids if you haven't already. Gene Hackman and Shelley Winters have to deal with an upturned sinking ship in disaster movie The Poseidon Adventure, while Tom Hanks will do anything for any boat after being Cast Away in Robert Zemeckis' drama. It's a fantastic performance from Hanks who has to carry the whole film – and make you care about a volleyball (WILSOONNNNN!) – and he's also very, very enjoyable alongside Bruce Dern, Corey Feldman and Carrie Fisher in the more madcap satire The 'Burbs. Clint Eastwood as The Man With No Name and Paul Newman are at the top of their game too in Sergio Leone's Spaghetti Western classic A Fistful of Dollars and the bruising, grimy Western Hud respectively, while Aretha Franklin does what she did best in Amazing Grace, a stunning restored tape of her recording the titular gospel album live in a church in 1972. There's a rich mixture in the evening too: Daniel Craig and Adam Driver star in Steven Soderbergh's heist comedy Logan Lucky, Richard Gere works his charm as a corrupt police officer pursued by Andy Garcia's agent in thriller Internal Affairs, and indie The Fits offers a unique and gripping look at a young girl desperately trying to fit in with a dance troupe – even down to the bizarre fainting spells that have overcome the group. There's also some late night stage on screen too with the West End adaptation of Billy Elliott.
Sunday 3
How the West Was Won (1962) – BBC2, 12.35pm
Pete's Dragon (2016) – BBC1, 2.15pm
Dirty Rotten Scoundrels (1988) - ITV4, 2.30pm
Romancing the Stone (1984) - ITV4, 4.40pm
Saving Mr Banks (2013) - BBC1, 5pm
Raiders of the Lost Ark (1981) – C4, 5.30pm
National Theatre: Jane Eyre (2015) – Sky Arts, 9pm
Get Shorty (1995) - Sony Movies, 9pm
Max Richter's Sleep (2019) – BBC4, 10pm
The Good, the Bad & the Ugly (1966) – Paramount, 10.05pm
Escape from Alcatraz (1979) – BBC1, 12.05am
Embrace of the Serpent (2015) – Film4, 1.05am
Another chance to see: Dirty Dancing (Sony Movies, 12pm/4.35pm), The Addams Family (C5, 2pm), The Karate Kid (Sony Movies, 3pm), Rio Lobo (Paramount, 3.30pm), Kill Bill Vol. 1 (5Star, 11.25pm)
As with Saturday, there are a lot – and I mean a lot – of big screen icons cropping up throughout the day, from James Stewart, John Wayne and Debbie Reynolds in the sprawling epic How the West Was Won, to an evening double dose of Clint Eastwood, with Spaghetti Western The Good, The Bad and the Ugly and the grippingly tense and claustrophobia prison break thriller Escape from Alcatraz. Meanwhile, Robert Redford pops up in the lovely live action Disney films Pete's Dragon, directed surprisingly by A Ghost Story's David Lowery, before Emma Thompson delivers an astonishing (and disappointingly ignored) performance as formidable Mary Poppins author P.L. Travers, who isn't too thrilled at Walt Disney (Tom Hanks) and his attempts to adapt her works. It's a wonderfully charming and moving alternative to the shameful lack of Poppins on TV this year. It's also a shame that Romancing the Stone and Raiders of the Lost Ark are on at the same time, because they'd make a really fun adventure double bill – but maybe there's a way to use the +1 channels to move swiftly from Michael Douglas and Kathleen Turner's sizzling rescue attempts in the South American jungle, to Harrison Ford and Karen Allen taking on the Nazis in North Africa. For some shady dealings, look no further than Steve Martin and Michael Caine having a blast as competing con men on the French Riviera in Dirty Rotten Scoundrels or join John Travolta, Gene Hackman, Rene Russo and Danny DeVito in the sharp, entertaining comedy-thriller Get Shorty, an Elmore Leonard adaptation that revels in satirising Hollywood and gangsters. Elsewhere, there's a chance to enjoy an innovative staging of Charlotte Bronte's beloved Jane Eyre, a mellow, meditative and fascinating look at a composer's ambitious live performance in documentary Max Richter's Sleep and a trippy, unique journey through the Amazon in the striking drama Embrace of the Serpent.
Monday 4
The Magic Box (1951) – Talking Pictures TV, 10.30am
The Professionals (1966) – Film4, 11am
Exhibition on Screen: Rembrandt (2019) – Sky Arts, 12pm
Séance on a Wet Afternoon (1964) – Talking Pictures TV, 3.45pm
Dr. No (1962) – ITV4, 5.45pm
Witchfinder General (1968) – Talking Pictures TV, 10pm
Another Year (2010) – Film4, 11.45pm
Little Men (2016) – Film4, 2.20am
Another chance to see: Wonder Woman (ITV2, 6.15pm), Forrest Gump (Film4, 9pm), Ghost (C5, 10pm)
An inspiration to Martin Scorsese, The Magic Box is a nostalgic look at William Friese-Greene (Robert Donat), a man integral to the invention of moving pictures camera (and cinema!). while Exhibition on Screen: Rembrandt demonstrates how such camera can let you view galleries and masterpieces of art from cinema or television screens as it takes you on a tour of the life and works of one of history's greatest artists. There's kidnappings all over the place in western The Professionals and British thriller Séance on a Wet Afternoon, with Burt Lancaster leading the men hired to rescue a wealthy rancher's kidnapped wife in the former, and medium Kim Stanley forcing her husband Richard Attenborough to help showcase her skills by stealing a child. If it's distinctive voices you're in the mood for, Sean Connery has you covered in his first outing as 007 in debut Bond film Dr. No, while Vincent Price is on malevolent, malicious form as the self-appointed Witchfinder General dedicated to rooting out witchcraft in Civil War England. Mike Leigh's Another Year is much more domestic, as married couple Ruth Sheen and Jim Broadbent's lives are disrupted by the arrival of their lonely, single friend (a magnificent Lesley Manville). It's followed on Film4 by the lovely American indie Little Men, about two teens trying to connect as friends despite their clashing parents.
Tuesday 5
How Green Was My Valley (1941) – Film4, 11am
Cash on Demand (1961) – Sony Action, 11.25am
Funny Girl (1968) – Sony Classic, 2.05pm
From Russia with Love (1963) – ITV4, 8pm
Logan (2017) – Film4, 9pm
Seraphim Falls (2006) – Sony Movies, 9pm
St. Vincent (2014) – C4, 12.55am
Another chance to see: The Flight of the Phoenix (Paramount, 1.05pm), The Karate Kid (Sony Movies, 6.25pm), Cast Away (4/6, 9pm), Hud (Talking Pictures TV, 10pm), Get Carter (ITV4, 10.25pm), I Am Johnny Cash (Sky Arts, 12.25am)
A couple of notable Academy Award moments here today, with John Ford's How Green Was My Valley on in the morning and musical Funny Girl on just after lunch. The former, a poetic weaving of a family's life in a Welsh mining town, beat out Citizen Kane for Best Picture, while the latter saw Barbra Streisand and her performance as comedienne and performer Fanny Brice tie for Best Actress with Katharine Hepburn (in Guess Who's Coming to Dinner). There's tension aplenty in between the two in British thriller Cash on Demand, as Peter Cushing holds a bank manager's family hostage for ransom. The evening, meanwhile, sees Sean Connery's debonair double-0 stare down a villainous Robert Shaw in From Russia with Love and Hugh Jackman poignantly revisit his beloved X-Men character Wolverine in James Mangold's gripping and tender Logan, a film that takes its cues from Westerns and noirs – a bit like bounty-hunt neo-Western Seraphim Falls, which sees Pierce Brosnan try to evade Liam Neeson. Finally, there's a pivot to comedy-drama and Bill Murray sardonicism in St. Vincent, as his carefree misanthrope who bonds with the son of his neighbour (Melissa McCarthy).
Wednesday 6
Born Free (1966) – Sony Classic, 11.05am
Michelangelo: Love & Death (2017) – Sky Arts, 12pm
Goldfinger (1964) – ITV4, 6.45pm
Murder on the Orient Express (2017) – Film4, 9pm
The Great Buster (2018) – Sky Arts, 10pm
I Am Greta (2020) – BBC1, 10.45pm
Another chance to see: It Could Happen to You (Sony Movies, 4.40pm), Blue Thunder (Sony Action, 9pm), Die Hard 2: Die Harder (ITV4, 10pm), The Hunger Games (C5, 10.10pm), Kill Bill: Vol 2 (C5, 11.55pm)
Virginia McKenna and Bill Travers care for a baby lion in the heartwarming Born Free in the morning – and good luck getting Matt Monro's theme out of your head after that. Matt Monro famously leant his dulcet tones to Bond film From Russia With Love, but it's Dame Shirley Bassey herself who belts out the simply iconic Goldfinger, one of Bond's more infamous outings. Here, Sean Connery's joined by franchise classics like Pussy Galore, Oddjob, gold dipped killings and a deadly laser: "Do you expect me to talk?" "No, Mr Bond, I expect you to die." Kenneth Branagh's twirling his sizeable moustache, albeit in thought not villainy, as Hercule Poirot in his own directorial adaptation of Murder on the Orient Express, joined by an all-star cast ranging from Michelle Pfeiffer and Olivia Colman to recent Bond 'M' Judi Dench. There's also midday Exhibition on Screen with Michelangelo: Love & Death, which journeys through the drawing rooms, galleries, chapels and museums of Europe in its exploration of the artist, before two intriguing evening documentaries. Directed by Peter Bogdanovich, and featuring a great array of contributors from the world of cinema and comedy, The Great Buster is a must for fans of silent film as it explores the life and works of Buster Keaton, while I am Greta chronicles young climate activist Greta Thunberg's journey from her one-girl protest outside of Swedish Parliament to worldwide recognition.
Thursday 7
The Last Hurrah (1958) – Sony Classic, 11.35am
Canaletto & the Art of Venice (2017) – Sky Arts, 12pm
This Gun for Hire (1942) – Sony Action, 12.20pm
Thunderball (1965) – ITV4, 9pm
The Day of the Jackal (1973) – Sony Action, 9pm
Nothing Like a Dame (2018) – BBCFour, 9.50pm
Cover Girl (1944) – Sony Classic, 11.10pm
Another chance to see: Little Women (Sony Movies, 4.30pm), WarGames (Film4, 6.45pm), Tea With Mussolini (BBCFour, 8pm), Logan Lucky (ITV4, 11.40pm), Max Richter's Sleep (BBCFour, 12.35am)
You don't typically associate John Ford with political dramas but that's what The Last Hurrah is, starring Spencer Tracy as an over-the-hill politician looking for one last shot as mayor. Politics are at the centre of sharp thriller The Day of the Jackal too, following an assassin hired to take our Charles de Gaulle. In between the two, there's a look at Venice's more famous artist in Exhibition on Screen: Canaletto & the Art of Venice, a classic film noir pairing of Veronica Lake and Alan Ladd in This Gun for Hire and Connery's 007 taking on the shady S.P.E.C.T.R.E in Thunderball. The wonderfully quick-witted Dames Maggie Smith, Judi Dench, Eileen Atkins and Joan Plowright gather round for one of their typical catch-ups in Nothing Like a Dame, raising wry eyebrows and sharing stories (it's an especially lovely follow on from Tea with Mussolini, which Smith, Dench and Plowright all star in and is on just beforehand.) Finally, there's late-night Technicolor and old Hollywood magic with Rita Hayworth and Gene Kelly in Cover Girl, one of the most popular musicals to come out of the war era.
Friday 8
Double Indemnity (1944) – Sony Action, 10.50am
Footsteps in the Fog (1955) – Sony Classic, 11.10am
Girl with a Pearl Earring & Other Treasures of the Mauritshuis (2015) – Sky Arts, 12pm
Ice Cold in Alex (1958) – Sony Action, 2.55pm
You Only Live Twice (1967) – ITV4, 8pm
The Wife (2017) – BBC2, 9pm
Inglourious Basterds (2009) – Sony Movies, 9pm
Prospect (2018) – Film4, 11.05pm
War of the Worlds (2005) – BBC1, 11.30pm
Attack the Block (2011) – C4, 12.20am
True Grit (2010) – Film4, 1.05am
Another chance to see: The Hunger Games: Catching Fire (5Star, 9pm), Pulp Fiction (Dave, 9.40pm), Get Shorty (Dave, 12.10am)
Friday morning begins with a bonafide classic – Billy Wilder's film noir gem Double Indemnity, which sees Barbara Stanwyck on fire as the housewife who convinces Fred MacMurray's insurance salesman to help bump off her husband. There's more murder and shenanigans in British thriller Footsteps in the Fog, starring Stewart Granger and Jean Simmons, a change of pace and a look behind an enigmatic masterpiece in Exhibition on Screen: Girl with a Pearl Earring & Other Treasures of the Mauritshuis and a gripping story of band of Army and medical personnel trying to make their way across the North African desert in Ice Cold in Alex. Nancy Sinatra sings You Only Live Twice in the Roald Dahl-penned outing for Connery's 007, Glenn Close delivers a quietly masterful as an undervalued spouse preparing to celebrate her husband's Nobel Prize for literature in The Wife, and Brad Pitt leads a gang of Nazi hunters in Inglourious Basterds, Quentin Tarantino's alternative take on WWII, featuring an excellent, Oscar-winning Christoph Waltz as SS Colonel Landa. There's a sci-fi tinged trio of treats in the late evening, beginning with Prospect, a character-driven look at a father/daughter relationship put to the test by the dangers encountered when mining for gems on an alien planet (there's also a supporting turn from The Mandalorian star Pedro Pascal). Meanwhile, Tom Cruise tires to protect his kids from an alien invasion in Steven Spielberg's post-9/11 update to H.G. Wells' The War of the Worlds and John Boyega leads a gang of teenagers in a South London council estate against their own alien invasion, in Joe Cornish's sci-fi-action-comedy Attack the Block, co-starring a pre-Doctor Who Jodie Whittaker. Then, in a pivot from the outer-space to the wild frontier, Jeff Bridges is brilliant as Rooster Cogburn, opposite Matt Damon and a breakout Hailee Steinfeld, in The Coen Brothers' own take on Western True Grit.