Duke Box #34: Our Guide to the Best Films on TV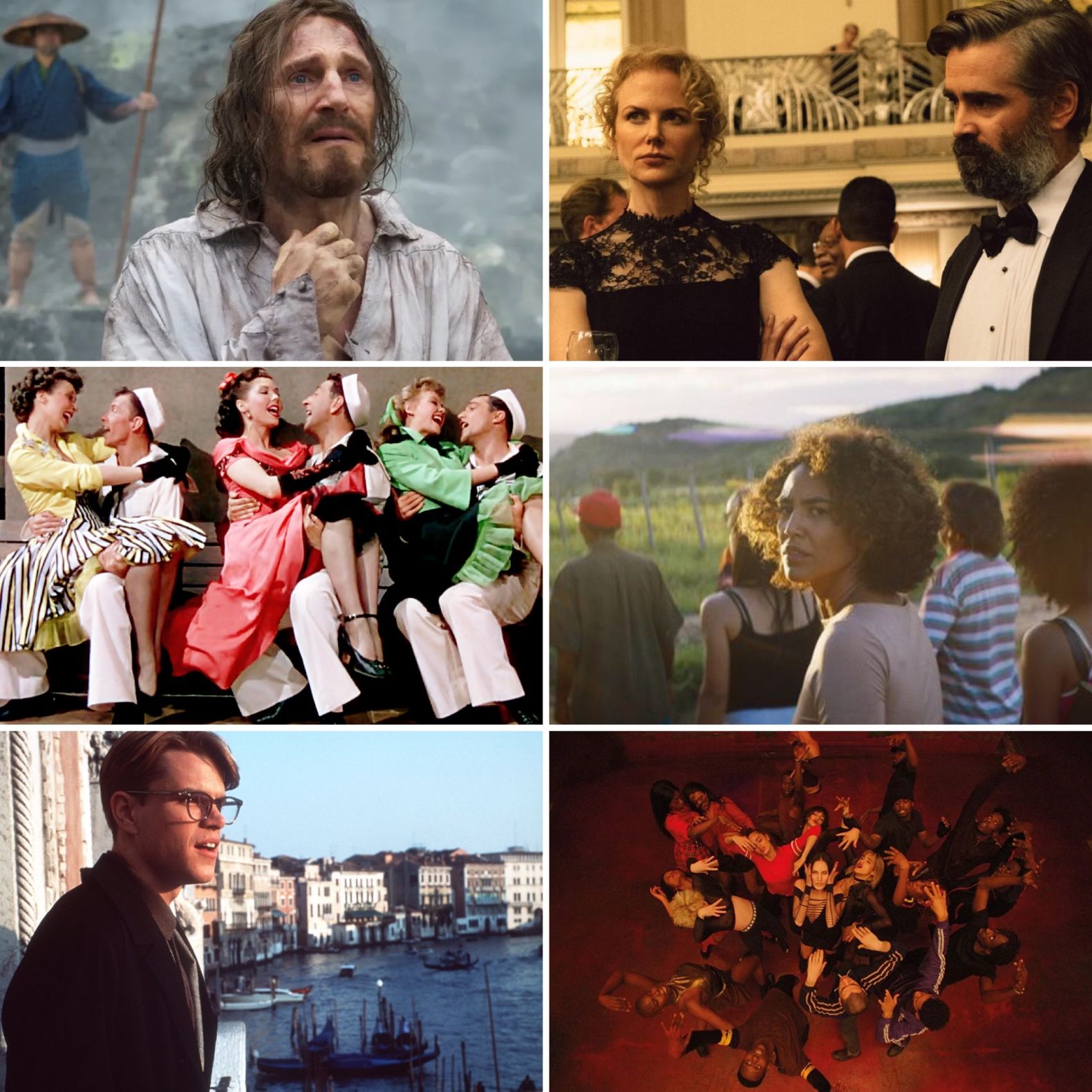 Hi everyone,
With the latest restrictions in place, we hope that our freeview blogs continue to provide you with some film-viewing inspiration, whether it's discovering new film experiences or revisiting a couple of faves. There are a lot of recent releases that jump out this week, including the bold Bacurau, while Bernstein musical On the Town is a throwback to big, classic musicals. There are also some really fantastic variances on mysteries and thrillers, from the sleek The Talented Mr Ripley to the disruptive The Killing of a Sacred Deer, alongside a good number of documentaries popping up over the weekend too - including a BBC re-airing of WWI doc They Shall Not Grow Old.

(A reminder that this list isn't exhaustive and that some films will be repeated at different times – these are just some titles that I've selected as ones to try out or revisit, hopefully at the best times. Some films may also change if channels decide to alter their listings.)
Saturday 7
On the Town (1949) – BBC2, 2.40pm
The Booksellers (2019) – Sky Arts, 4pm
Show Me the Picture: The Story of Jim Marshall (2019) – Sky Arts, 10.30pm
Silence (2016) – BBC2, 11.20pm
Climax (2018) – Film4, 11.35pm
Bo66y (2016) – BBC1, 1.20am
Another chance to see: Practical Magic (5Star, 11.55am), Rise of the Guardians (Film4, 12.45pm), The October Man (Talking Pictures TV, 1.40pm), Lonely are the Brave (ITV4, 4pm), Bill & Ted's Excellent Adventure (Sony Movies, 4.25pm), The Simpsons Movie (E4, 7.15pm), To Hell and Back (Paramount, 8pm), The Spy Who Came in from the Cold (Talking Pictures TV, 8.05pm), Atomic Blonde (C4, 9.10pm), The French Connection (Sony Action, 10.10pm), Peeping Tom (Talking Pictures TV, 10.20pm), The Neon Demon (Film4, 1.30am)
A musical, documentaries, epic drama and a slice of disturbing cinema – there's a lot to take in this Saturday. Gene Kelly, Frank Sinatra and Jules Munshin star as three sailors searching for love on shore leave in New York City in hit musical On the Town, a glorious weekend treat. Also set in New York, The Booksellers is the first documentary pick of the day and a fascinating watch for literature lovers as it dips into city's rare book world. Funny, insightful, delightfully eccentric, it's a comforting film to lose yourself in. There are other intriguing docs to take in as well, with Show Me the Picture: The Story of Jim Marshall and Bo66y providing intimate portraits of titans of their field. The former looks at photographer Jim Marshall who captured the heights of the Rock and Roll music era and the significance of the civil rights movement, while the latter marks the 50th anniversary of the 1966 World Cup victory by highlighting the impact of Bobby Moore, from his staggering talent on the pitch to his turmoil off it. It took Martin Scorsese decades to bring Silence to the big screen, a labour of love that leans in poetically to the film's themes of spirituality and faith. Adam Driver and Andrew Garfield star as two 17th century Jesuit Priests who travel through Japan in search of their lost mentor (Liam Neeson) in this meditative and emotional look at humanity. Climax, as the name suggests, is a bit more frenetic and kinetic. Directed by provocative French director Gaspar Noé, this genre-blurring horror-dance-thriller follows a group of French dancers whose night of rehearsals in an empty school building morph into a wild hallucinatory nightmare after their drinks are spiked with LSD. With inhibitions gone and paranoia in full flow, it becomes harder and harder to resist the hypnotic rhythm of hysteria and music. It's a pretty disturbing viewing experience – especially if you team it with The Neon Demon, which is screened just after it.
Sunday 8
Nanny McPhee & the Big Bang (2010) – ITV, 2.10pm
The Best Exotic Marigold Hotel (2011) – 5Star, 9pm
They Shall Not Grow Old (2018) – BBC2, 10.45pm
Something's Gotta Give (2003) – 5Star, 11.40pm
Another chance to see: The Secret Life of Walter Mitty (5Select, 10.55am), FernGully: the Last Rainforest (Film4, 11am), The Pirates! In an Adventure with Scientists! (ITV2, 1.30pm), Chocolat (Sony Movies, 2.10pm), The Devil Wears Prada (C5, 5.50pm), The Lego Batman Movie (ITV2, 6.55pm), True Lies (Film4, 9pm), The Guest (Sony Movies, 9pm), The Friends of Eddie Coyle (Talking Pictures TV, 10pm), Hail, Caesar! (C4, 12am)
Screening as part of Remembrance Sunday, BBC2 has a re-airing of Peter Jackson's astonishing They Shall Not Grow Old – a documentary that commemorated the centennial of the end of WWI. The film merges the technical with testimony, using state of the art technology, archive materials from the BBC and the Imperial War Museum and the voices of the men who experienced the war to tell the stories and create a powerful tribute.
I have a real soft spot for the first Nanny McPhee film so it was a delight to get a kick out of the sequel too. Emma Thompson reprises her role (and takes on script-writing duties again) as the magical nanny who arrives at the home of a harried woman to help her with her family while her husband is away at war. Great family fun and not afraid to touch on a couple of darker moments, the film also boasts a fabulous supporting cast, with Maggie Gyllenhaal, Ralph Fiennes and Maggie Smith all cropping up. Maggie Smith also crops up in The Best Exotic Marigold Hotel, starring as one of the British guests who arrive in Jaipur to take residence at the titular hotel. She's joined by a charming Judi Dench and Bill Nighy, a frosty Penelope Wilton, a cheeky Celia Imrie and the delightful Dev Patel as the hotel's young, ambitious and earnest owner. Finally, in a slightly too late screening in my opinion, there's Nancy Meyer's rom-com Something's Gotta Give, which saw Diane Keaton pick up a Golden Globe for her role as Erica, a successful writer who finds herself forced to look after her daughter's ageing boyfriend Harry, a senior playboy who finds himself starting to fall the woman closer to his own age. Throw Keanu Reeves's charming doctor who wants to whisk Erica off her feet into the mix and it's the perfect storm of romantic chaos. There's fantastic chemistry between Keaton and Nicholson (who starred together in Reds in 1981) and the film is pure escapism; MVP is a toss-up between Erica's gorgeous beachside property and her pristine turtlenecks.
Monday 9
Nerve (2016) – Film4, 11.10pm
Southpaw (2015) – Film4, 1am
Another chance to see: El Dorado (Film4, 11am), The Admirable Crichton (Sony Action, 11.05am), Inception (ITV4, 9pm)
A bit of a late-night double bill on Film 4 here. A techno-thriller directed by Henry Joost, Nerve centres on an online truth or dare game that becomes more dangerous as it progresses. Its bright visuals belie a quite canny approach to the online world and a sharp understanding and commentary on social media, which you'd expect from the co-director of documentary Catfish. Drama Southpaw, meanwhile, lives a little more in the blood, sweat and tears world of boxing, as well as dipping into a few cinematic narrative tropes. Directed by Antoine Fuqua (Training Day) and written by Sons of Anarchy creator Kurt Sutter, it sees Jake Gyllenhaal deliver a fantastic performance (and a remarkable physical transformation) as a fighter looking to get his life back on track after a family tragedy. It's not subtle, but the acting is knockout (boom boom).
Tuesday 10
The Courtneys of Curzon Street (1947) – Talking Pictures TV, 3.45pm
The Killing of a Sacred Deer (2017) – Film4, 11.15pm
Sauvage (2018) – C4, 1.10am
Another chance to see: Anastasia (Film4, 11am), Stranger Than Fiction (Sony Movies, 4.25pm), Eye in the Sky (Film4, 7pm)
Class division and romance combine in saga The Courtneys of Curzon Street, a romantic drama that swoops through 45 years of a baronet's son and an Irish servant who fall in love and live together and apart through the Boer War, WWI and WWII. There's also domestic strife in The Killing of a Sacred Deer, albeit of a much, much, MUCH darker nature. Directed by The Favourite's Yorgos Lanthimos, this unnerving thriller follows a troubled surgeon who is forced to face an unthinkable dilemma after the behaviour of a teenage boy he has formed a fatherly bond with turns sinister. Colin Farrell and Nicole Kidman star alongside Barry Keoghan who is exceptional as the mysterious boy – even the act of eating spaghetti becomes nerve-shredding. Finally, there's French drama Sauvage, the story of a young street hustler who lives a life of sex work and drugs while longing for love and release. It's a non-judgemental look at sex work that aims for honesty, fixating on a compelling central performance from star Felix Maritaud (120 BPM).
Wednesday 11
The Man Who Could Work Miracles (1936) – Sony Action, 11.35am
Bacurau (2019) – Film4, 12.55am
Another chance to see: Chocolat (Sony Movies, 6.30pm), Commando (Film4, 9pm), District 9 (Sony Movies, 10pm), Inception (ITV4, 10pm)
A H.G. Wells short story gets the big screen treatment in the fantastical The Man Who Could Work Miracles, which sees a retired man receive amazing powers from a group of supernatural beings (keep an eye out for a very young George Sanders as one of those deities) and struggle to understand both the scope and significance of his newfound gifts. Then, at the other end of the day, there's a television premiere of the uncompromising and thrilling Bacurau which sees a small Brazilian settlement who suffer from the death of its matriarch, see a strange and sinister succession of events before waking one day to find that they have been removed from satellite maps. Dipping into socio-political commentary in a narrative that drifts from dreamlike to nightmarish, it's a stunning piece of filmmaking.
Thursday 12
Woman in a Dressing Gown (1957) – Talking Pictures TV, 12.10pm
The Day of the Triffids (1963) – Talking Pictures TV, 10pm
Another chance to see: This Gun for Hire (Sony Action, 11.30am), Sink the Bismarck! (Film4, 4.55pm), On the Town (BBC4, 8pm), Blade Runner 2049 (ITV4, 9pm), The Post (Film4, 9pm), Dirty Dancing (5Star, 9pm), Tremors (The Horror Channel, 9pm), Edge of Tomorrow (Sony Movies, 9pm), The Nice Guys (ITV4, 12.10am)
If you're a fan of British kitchen-sink dramas, then you might want to take a look at Woman in a Dressing Gown. Winner of a Golden Globe (for 'Best English-Language Foreign Film), the film follows a middle-aged housewife whose seemingly happy life threatens to unravel when her husband has an affair. Seen as an early prototype for grittier British storytelling, it's also a relatively progress and stark portrayal of the loneliness and desperation of a woman who sees her identity disrupted. For something quite different, there's an adaptation of John Wyndham's post-apocalyptic The Day of the Triffids, which sees a large series of carnivorous take over society, most of the population go blind and Howard Keel trying to find a way to survive.
Friday 13
The Talented Mr Ripley (1999) – 5Star, 9pm
The Bodyguard (1992) – C5, 10pm
A Simple Favour (2018) – BBC1, 10.45pm
Anchorman 2: The Legend Continues (2013) – BBC2, 12am
In Fear (2013) – Film4, 2.20am
Another chance to see: Hour of the Gun (Paramount, 11.55am), Blanche Fury (Film4, 12.40pm), El Dorado (Film4, 4.05pm), Little Women (Sony Movies, 4.30pm), Casino Royale (ITV4, 9pm), True Lies (Film4, 11.35pm), Show Me the Picture: the Story of Jim Marshall (Sky Arts, 2.20am)
Patricia Highsmith novels have made for some wonderful adaptations, from Hitchcock's Strangers on a Train to Todd Haynes' Carol, and The Talented Mr Ripley is no exception. Directed by the late, great Anthony Minghella, this beautifully shot, 1950s set thriller stars Matt Damon as an ambitious young man sent to Italy to retrieve a wealthy playboy, only to fall into a pit of obsession and frustration. Jude Law, Gwyneth Paltrow and Cate Blanchett co-star. A Simple Favour is another film whose glossy exterior masks a dark, delicious plot, with this fun slice of suburban noir following Anna Kendrick's single mother who investigates the disappearance of her new, mysterious upper-class friend (Blake Lively, in some astonishingly enviable costumes). Sandwiched in between the two is a bit of a guilty pleasure – but if you ever wanted to see the film that led to Whitney Houston's cover of 'I Will Always Love You' hitting the high notes then melodramatic romance-drama The Bodyguard is the way to go. Houston is very charming on screen as the international pop-star forced to hire Kevin Costner's former secret service agent as her, well, bodyguard, and the soundtrack is great. Elsewhere, Will Ferrell's notorious news-anchor Ron Burgundy returns in Anchorman 2: The Legend Continues, a follow up to the 2003 cult hit that isn't quite as memorable but still worth a watch, and compact, claustrophobic horror In Fear, which takes a simple premise – a couple lost on country roads – and makes it a disturbing and unsettling road trip.