Duke Box #10: Our Guide to the Best Films on TV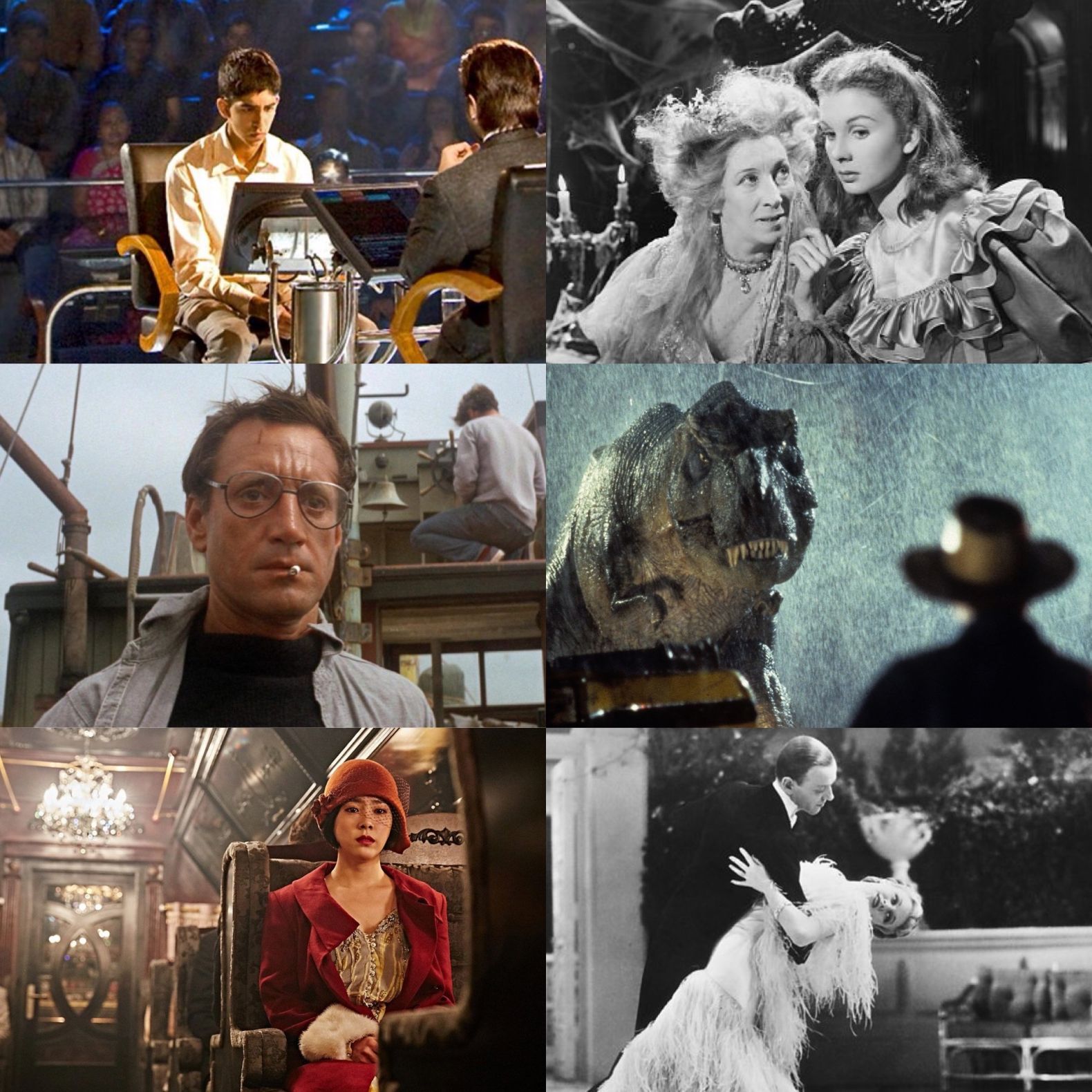 Hi everyone,
This is a beast of a list but a combination of Bank Holiday weekend film treats, BBC's new Silver Screen collection (also available on iPlayer) and a flurry of classics, blockbuster big-hitters, recent releases and little gems throughout the week will do that.
Pick(s) of the Week: Look, there are many, many films that could sit here but I'm going to go for Snowpiercer. From Parasite director Bong Joon-Ho, and featuring an wonderfully eclectic ensemble including Chris Evans, Song Kang-ho, Tilda Swinton, Octavia Spencer, John Hurt and more, this sci-fi action film was released back in 2013 to a ton of acclaim – and yet it never received a UK cinema release. In fact, it's only been available to watch over here since late 2018! Well worth checking out if you haven't already, especially ahead of its imminent TV spin-off.

Stay safe, stay at home and put on a good film. (A reminder that this list isn't exhaustive and that some films will be repeated at different times – these are just some key titles to look out for at what are likely the best times. Some films may also change if channels decide to alter their listings - a fun thing for me!)
*A reminder of* Friday 22:
The World's End (2013) – ITV2, 9pm
Heat (1995) – Film 4, 9pm
The Man with the Golden Gun (1974) – ITV4, 9.05pm
Gremlins (1984) – ITV, 11.05pm
Spotlight (2015) – BBC2, 11.20pm
The evening is full of eclectic double-acts and face offs, with Sean Pegg and Nick Frost teaming up again for buddy Edgar Wright's The World's End, Roger Moore coming up against Christopher Lee in Bond film The Man with the Golden Gun and the infamous first on-screen pairing of Robert De Niro and Al Pacino in Michael Mann's exceptional heist thriller Heat. (Yes, yes, they're in The Godfather II together, but they didn't share screen time in that. This was 20 years in the making.) Then there's cult comedy Gremlins, about those cute little tykes that turn feral if you don't follow the rules: don't get them wet, don't expose them to bright light and don't feed them after midnight. Finally, there's the brilliant, Oscar-winning drama Spotlight, the true story of the Boston Globe's investigation into a major cover-up involving the Catholic Church. It's a devastating story, simply and tenderly told, featuring an ensemble at the top of their game.
Another chance to see: The Bedford Incident (Sony Action, 5.05pm)
Saturday 23:
Citizen Kane (1941) – BBC2, 3.15pm
The Addams Family Values (1993) – C5, 3.55pm
Beaches (1988) – 5Star, 4.25pm
Finding Dory (2016) – BBC1, 6.20pm
The First Wives Club (1996) – 5Star, 6.55pm
The Green Mile (1999) – Film 4, 9pm
Pretty Woman (1990) – 5Star, 9pm
Slumdog Millionaire (2008) – C4, 11.15pm
Slow West (2015) – Film 4, 12.40am
The Age of Shadows (2016) – BBC2, 12.45am
Another chance to see: The Addams Family (C5, 1.50pm), Death Becomes Her (5Star, 2.20pm), Wyatt Earp (Paramount, 5.20pm), Pulp Fiction (Sony Movies, 9pm), A Fistful of Dollars (ITV4, 9.30pm), Tombstone (Sony Action, 9.45pm), Educating Rita (BBC4, 10.35pm), 21 Grams (Sony Movies, 12.05am)
Saturday's first pick is an absolute classic – Orson Welles' Citizen Kane. Considered by many to be the greatest film ever made, and cited by filmmakers as a big influence, it follows a reporter tasked with finding the meaning behind the last uttered word of a major publishing tycoon. The film was nominated for 9 Academy Awards, just one shy of the evening's Slumdog Millionaire. Whilst Welles' film controversially took home only two and missed out on Best Picture, Danny Boyle's film about an impoverished Mumbai teenager accused of cheating his way through Who Wants To Be A Millionaire took home the top gong. In between the two, there's a Bette Midler double-bill in weepie Beaches and cult comedy The First Wives Club and two fun sequels with The Addams Family Values (as good, if not better than the first, and with a fan favourite performance by Joan Cusack) and Pixar's Finding Dory. There's also Frank Darabont's 1930s set prison drama The Green Mile (starring Tom Hanks and the late Michael Clarke Duncan) about Death Row guards whose lives are affected by the arrival of a new inmate, whilst businessman Richard Gere loses his heart to Julia Roberts' prostitute in rom-com Pretty Woman. There are a couple of recent gems late in the evening too: revisionist Western Slow West, starring Michael Fassbender and Ben Mendelsohn, and Korean action-thriller The Age of Shadows, set during the country's independence movement and starring Parasite's Song Kang-ho as a Korean police captain charged by the Japanese government with uncovering resistance fighters.
Sunday 24:
Great Expectations (1946) – BBC2, 10.35am
Aces High (1976) – ITV4, 2.05pm
Attack (1956) – Paramount, 2.05pm
She Wore a Yellow Ribbon (1949) – BBC2, 3.35pm
The Cowboys (1972) – ITV4, 4.20pm
Jurassic Park (1993) – ITV, 5.45pm
The Madness of King George (1994) – Film 4, 6.50pm
Paddington (2014) – E4, 7.10pm
The Dirty Dozen (1967) – ITV4, 9pm
Snowpiercer (2013) – Film 4, 9pm
Scream (1996) – 5Star, 11.05pm
Halloween II (1981) – The Horror Channel, 11.10pm
East is East (1999) – C4, 11.25pm
Makala (2017) – Film 4, 1.25am
Another chance to see: Walk, Don't Run (Sony Classic, 4.20pm), Robin Hood: Prince of Thieves (5 Star, 8pm), The Enforcer (Talking Pictures TV, 10pm), Donnie Brasco (Sony Movies, 1.15am)
Sunday goes to show that Saturday was no fluke – this Bank Holiday Weekend has a little something for everyone. The morning starts with another British classic, this time David Lean's take on Charles Dickens' coming-of-age story, Great Expectations, before a couple of war-centric films just after lunch in RAF drama Aces High, starring Malcolm McDowell and Christopher Plummer, and Robert Aldrich's Attack, featuring Jack Palance and Lee Marvin. Marvin and Aldrich teamed up again for iconic ensemble piece The Dirty Dozen, which sees Ernest Borgnine, Charles Bronson, Donald Sutherland and more star as dangerous US army prisoners trained as commandos to be sent out on a risky mission. Take your pick between two John Wayne westerns mid-afternoon: John Ford's She Wore a Yellow Ribbon and one of his final film roles, The Cowboys. There is prime Bank Holiday afternoon viewing on ITV with Steven Spielberg's glorious Jurassic Park. Between that wonderful cast, John Williams' stunning score, fantastic set-pieces and, well, the dinosaurs, it's perfect. Paddington is also a lovely little treat – a charming, warm and very funny big screen outing for Michael Bond's beloved bear. You can also watch the sequel on Bank Holiday Monday.
Over on Film 4, Nigel Hawthorne gives a fantastic performance alongside a wonderful ensemble cast in The Madness of King George (directed by Nicholas Hytner; written by Alan Bennett), the story of King George III, his declining mental health and its effect on his family and country. Another great cast lines up in Bong Joon-ho's Snowpiercer, the dystopic story of a train carrying the last remnants of humanity after a climate-engineering disaster. There are a couple of slasher-horrors to check out later in the evening: Wes Craven's fun, jumpy, modern classic Scream (not only a great addition to the genre but a loving homage to it too) and John Carpenter's sharp sequel Halloween II, brilliantly set on the same night as the first. Elsewhere in the evening, there's British comedy-drama East is East about a mixed-ethnicity household in 1970s Salford, and documentary Makala, a tender look at the hard life of a young farmer in the Congo.
Monday 25:
The Five Pennies (1959) – Talking Pictures TV, 2pm
Top Hat (1935) – BBC2, 2.50pm
Apollo 13 (1995) – ITV4, 3.45pm
Kong: Skull Island (2017) – ITV2, 6.40pm
Super 8 (2011) – Film 4, 6.45pm
Paddington 2 (2017) – BBC1, 7pm
Allied (2016) – Film 4, 9pm
Serenity (2005) – The Horror Channel, 9pm
Another chance: The Bedford Incident (Sony Action, 12.45pm), The Man with the Golden Gun (ITV4, 6.30pm), Walk, Don't Run (Talking Pictures TV, 9pm)
The Bank Holiday weekend viewing continues to pull out treats for everyone. Danny Kaye stars as cornet player Red Nichols in the Oscar-nominated, semi-autobiographical The Five Pennies, which also features Louis Armstrong as himself. There's more music in the joyful Ginger Rogers/Fred Astaire screwball vehicle Top Hat, which features classic songs from Irving Berlin – including the beautiful 'Cheek to Cheek'. Houston, there's a problem for Tom Hanks, Kevin Bacon and Bill Paxton aboard Apollo 13 in Ron Howard's true-story, whilst there's a big problem of a different kind in Kong: Skull Island, starring Brie Larsen, Tom Hiddleston, Samuel L. Jackson, John Goodman and a very large ape. There's more sci-fi adventure in J.J. Abrams Super 8, a nostalgic, Spielberg-inspired film about a group of teens who find themselves at the centre of a mystery and cover-up after a train crash unleashes a dangerous entity into their town. Speaking of spectacular train-based set-pieces, Paddington 2 is the gift that keeps on giving. Our favourite bear finds himself in a sticky situation thanks to dastardly actor Phoenix Buchanan who seeks a return to glory. Hugh Grant has a ball as the villain of the piece, producing one of my favourite recent performances. At 9pm, Robert Zemeckis' WWII romance-thriller Allied sees Brad Pitt and Marion Cotillard star as an Intelligence Officer and a French Resistance fighter who fall in love whilst on a mission, only for paranoia and mistrust to surface, whilst space-western Serenity is a fun, big-screen sequel to cult TV hit Firefly. Don't worry if you've not seen the show; it's a great standalone watch.
Tuesday 26:
The Magnificent Ambersons (1942) – BBC2, 3.05pm
Fantastic Voyage (1966) – Film 4, 5.10pm
The Simpsons Movie (2007) – Film 4, 7.15pm
Jaws (1975) – ITV4, 9pm
Arrival (2016) – Film 4, 9pm
The Driver (1978) – Talking Pictures TV, 9pm
Prisoners (2013) – Film 4, 11.20pm
Smashed (2012) – Film 4, 2.25am
Another chance: Fort Apache (Sony Action, 9.45am), Tiger Bay (Film 4, 11am), The Best Years of our Lives (Sony Classic, 1pm), The Woman in Black (The Horror Channel, 9pm), Breaker Morant (Sony Classic, 1am)
There's another great run of films on Film 4 through the later afternoon and evening, beginning with the wonderfully bizarre Fantastic Voyage, a sixties sci-fi about a team of scientists who are miniaturised and sent into the body of a scientist to save his life. After that, one of America's most beloved families make the leap to the big screen in The Simpsons Movie. A Denis Villeneuve double-bill follows afterwards, with cerebral, tender sci-fi Arrival, starring Amy Adams as a linguist brought in to attempt communication with alien lifeforms who mysteriously appear on Earth, and mystery thriller Prisoners, starring Hugh Jackman as a father whose daughter goes missing and Jake Gyllenhaal as the detective on the case. The fantastic cast also includes Viola Davis, Melissa Leo and Paul Dano. Appearing very late in the evening is acclaimed indie Smashed, about a husband and wife whose love and lives are built on alcohol and tested when one of them decides to get sober. There are some fantastic films elsewhere as well, like Orson Welles's second directorial film, The Magnificent Ambersons, which follows the decaying fortunes of a wealthy Midwestern family. Then, at 9pm, there's something in the water in Steven Spielberg's game-changing blockbuster Jaws (what a chance for any first-time-viewers to check it out) whilst Walter Hill's neo-noir The Driver about, well, a getaway driver has gone on to inspire Quentin Tarantino, Drive and Edgar Wright's Baby Driver.
Wednesday 27:
Stalag 17 (1953) – Film 4, 11am
Legend (1985) – The Horror Channel, 1pm
My Favourite Wife (1940) – BBC2, 3.05pm
A Night to Remember (1958) – Film 4, 4.05pm
Big Fish (2003) – Sony Movies, 4.30pm
The Good, the Bad and the Ugly (1968) – Paramount, 9pm
The Fisher King (1991) – Sony Classic, 11.45pm
A Pigeon Sat on a Branch Reflecting on Existence (2015) – Film 4, 1.50am
Another chance to see: The Lady from Shanghai (Sony Classic, 11.10am), Apollo 13 (ITV4, 3pm), Pretty Woman (5 Star, 9pm), Scream (5 Star, 11.25pm)
A masterful combination of suspenseful drama and dark humor, Billy Wilder's Stalag 17, about a group of American airmen in a German POW camp during WWII who suspect a member of their group to be an informant, is up there with The Great Escape and The Bridge on the River Kwai. Another black-and-white classic to take your fancy is screwball comedy, My Favourite Wife, the story of a woman who returns home after being shipwrecked for years only to find that her husband has just remarried. Irene Dunne and Cary Grant co-star (having previously appeared in The Awful Truth) and the film was later remade into Move Over, Darling, starring Doris Day and James Garner. For something completely different, there's Ridley Scott's strange fantasy Legend, a chaotic dark fairytale starring a very young Tom Cruise. It's not necessarily a good film, but it is beautifully made and Tim Curry's scenery-chewing performance (and striking visuals) as the villainous Lord of Darkness is so, so enjoyable (even if you don't plan on watching, just have a Google of what he looks like – stunning design!). There are more great visuals in Tim Burton's fantasy-drama Big Fish, starring Albert Finney as a storytelling salesman recounting the travels of his younger self (Ewan McGregor). Elsewhere in the afternoon, there's A Night to Remember, a tense, moving and thoughtful telling of the final night onboard the Titanic. The evening's fine line-up begins with Sergio Leone's epic spaghetti western The Good, the Bad and the Ugly, featuring sweeping cinematography, that iconic score from Ennio Morricone and tons of tension and style, as Clint Eastwood, Lee Van Cleef and Eli Wallach star as three gunslingers hunting for the same fortune. Terry Gilliam's The Fisher King sees Jeff Bridges and Robin Williams (a beautiful performance) star in the story of a former radio shock jock trying to find redemption by helping a homeless man search for the Holy Grail. Finally, after midnight, there's aburdist comedy and contemplation of the human condition in Swedish film A Pigeon Sat on a Branch Reflecting on Existence.
Thursday 28:
Ride Lonesome (1959) – Film4, 1.10pm
The Taming of the Shrew (1967) – Sony Classic, 1.25pm
Mr Blandings Builds His Dream House (1948) – BBC2, 3pm
Stranger Than Fiction (2006) – Sony Movies, 4.45pm
The Man from Laramie (1955) – Film 4, 4.50pm
Beast (2017) – Film 4, 9pm
The Imposter – C4, 10.05pm
A Bigger Splash – Film 4, 11.10pm
A couple of classic Westerns bookend Thursday afternoon, with Ride Lonesome, starring Randolph Scott as a bounty hunter with a hidden agenda escorting a killer to his trial, and James Stewart vehicle The Man from Laramie, a Shakespearean-esque, psychological story of a stranger who finds himself at odds with a town's aging cattle baron and his violent son. There's more conventional Shakespeare in the The Taming of the Shrew, a glossy take on one of the playwright's most debated works, starring Elizabeth Taylor and Richard Burton as the infamous warring couple. I've highlighted Cary Grant comedy Mr Blandings Builds His Dream House in a previous blog but it's given a much kinder time here, so thought it worth pointing out. The afternoon's other pick, Stranger than Fiction, is a charming, whimsical comedy-drama about a dull IRS worker who begins to hear a voice narrating his life as he were a character in a book. It features a lovely performance from Will Ferrell and ensemble that includes Emma Thompson, Maggie Gyllenhaal, Dustin Hoffman and Queen Latifah. The evening takes a darker turn with psychological thriller Beast, the story of a woman (Jessie Buckley) who falls for a suspect (Johnny Flynn) in the series of unsolved violent incidents in their small community. Luca 'Call Me By Your Name' Guadagnino's drama A Bigger Splash also dives into the psychological (pun not intended but embraced) as it follows Marianne, world-famous musician (Tilda Swinton), her filmmaker boyfriend (Matthias Schoenaerts), her former lover and music promoter (Ralph Fiennes – scene stealer) and his previously unknown daughter (Dakota Johnson) as they gather in an isolated Italian villa. In between the two is startling documentary The Imposter, the gripping story of an American teenage boy who vanished, only to reappear three years later in a village in Spain. The less you know going in, the better.
Friday 29:

The Way to the Stars (1945) – Film 4, 12.40pm
King Kong (1933) – BBC2, 2.50pm
Angel Face (1953) - Sony Classic, 7.10pm
The Hobbit: The Battle of the Five Armies (2014) – ITV, 11.10pm
Young Adult (2011) – BBC1, 11.15pm
Trumbo (2015) – BBC2, 11.20pm
Another chance to see: The Locket (Sony Action, 10.10am), The China Syndrome (Sony Action, 4.50pm), The Green Mile (Film 4, 11.10pm)
It's an odd little mix of films here, beginning with British war film The Way to the Stars. Co-written by Terrence Rattigan, based on one of his plays, the film follows a young RAF pilot's life through the Second World War. Then there's a glorious mid-afternoon treat with the original King Kong, still a feat of effects when watched now and a hugely influential piece of cinema, and Otto Preminger's film noir Angel Face, starring Robert Mitchum as an ambulance driver who becomes caught up in the life of Jean Simmons' femme fatale. Scheduling a two-and-a-half-hour blockbuster like Peter Jackson's The Hobbit: The Battle of the Five Armies after 11pm seems…a choice, so maybe it's one for the record button. Still, it's fun to see so many Middle Earth favourites back for the concluding film. Speaking of reunions, Juno writer Diablo Cody and director Jason Reitman teamed back up for Young Adult, a black comedy-drama featuring a lovely, complex performance by Charlize Theron as a woman who returns home to try and win her old boyfriend back – even though she knows he's happily married with a newborn child. Finally, there's a taste of old Hollywood – the public and the private – in biographical drama Trumbo, the story of acclaimed 1940s screenwriter Dalton Trumbo (Bryan Cranston) who was blacklisted, subpoenaed and cast out for being aligned with the Communist Party. It's a slightly simplified take on events but a good starting point for learning more about that particular era of Hollywood.