Join Our Creative Adventures In Dementia!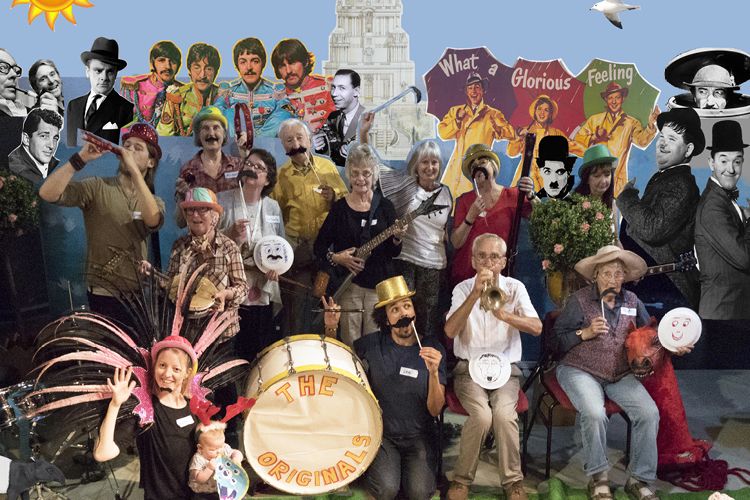 We're delighted to be celebrating three years of our pioneering work for people with dementia by staging a major two-day festival this week.
On Thursday and Friday, The Dukes will be bustling with activity as artists, authors and actors share their experiences of working with people with memory loss.
We are a pioneer in this field thanks to our A Life More Ordinary programme of special film screenings and creative sessions designed not only for people with dementia but also for their family and friends.
As one audience member said: "The first thing people with dementia do is shut off – they can't or won't join in conversations. At The Dukes we are part of a group and can join in. That's important to carers, because we're enjoying it when they're enjoying it… and it's something we can do together."
Such has been A Life More Ordinary's success that the programme has now been rolled out to 15 venues nationwide from Liverpool to Cambridge.
The Creative Adventures In Dementia festival has been organised to celebrate this achievement and is open to people living with dementia, family, friends, health and care professionals, artists, researchers and clinical commissioning teams.
Our Inclusive Film and Theatre Officer and festival organiser, Gil Graystone, said: "Staging a national event like this is an exciting development for The Dukes.  Please join us to explore, share and discover how the arts are revealing new ways of entering the world of people living with dementia and helping them to continue enjoying richer fuller lives."
One of the festival highlights will be An Evening In Conversation with John Middleton, Wendy Mitchell, Nicci Gerrard and Sebastian Crutch on Thursday.
John received much acclaim for his portrayal of Ashley Thomas, a vicar with dementia in ITV's Emmerdale.
He will be joined by Wendy, author of Somebody I Used To Know, the first memoir written by someone with dementia; Nicci, a journalist, author and co-founder of John's Campaign for the right of people with dementia to be supported by their family carers during hospital stays; and Sebastian, a Professorial Research Associate at the Dementia Research Centre, University College London.
Among other festival events will be keynote speakers, performances and workshops by those who are working with people with dementia in unique ways.
The performances include the transformation of our Centre for Creative Learning into a village fete by Still Me, our own multi-arts group for people with early stage dementia.
Jon Randall, one of the artists involved with Still Me, said: "We all know that participating in arts activity isn't and would never claim to be a cure for dementia. However, it offers an opportunity for all involved to laugh, create and enjoy the vitality of all that matters: in the now."
The focus on memory will continue on Saturday with a performance of The Nature of Forgetting, inspired by interviews and organisations including the Alzheimer's Society.
Combining mime, theatre and live music, it focuses on a man preparing for his 55th birthday party whose tangled threads of disappearing memories spark him into life, unravelling as a tale of friendship, love and guilt.
Details about booking for one or both days of the festival are available by contacting The Dukes box office on 01524 598501 or e-mail:  tickets@dukes-lancaster.org
An Evening in Conversation is free for festival attendees. For everyone else, tickets cost £8/£6 concessions. Tickets for The Nature of Forgetting are priced £14.50 and £16.50 with a £2 discount for concessions. To book, contact the box office or visit www.dukes-lancaster.org
For more details about A Life More Ordinary, go to www.dukes-lancaster.org/alifemoreordinary