Funding Boost For Extraordinary Dementia Project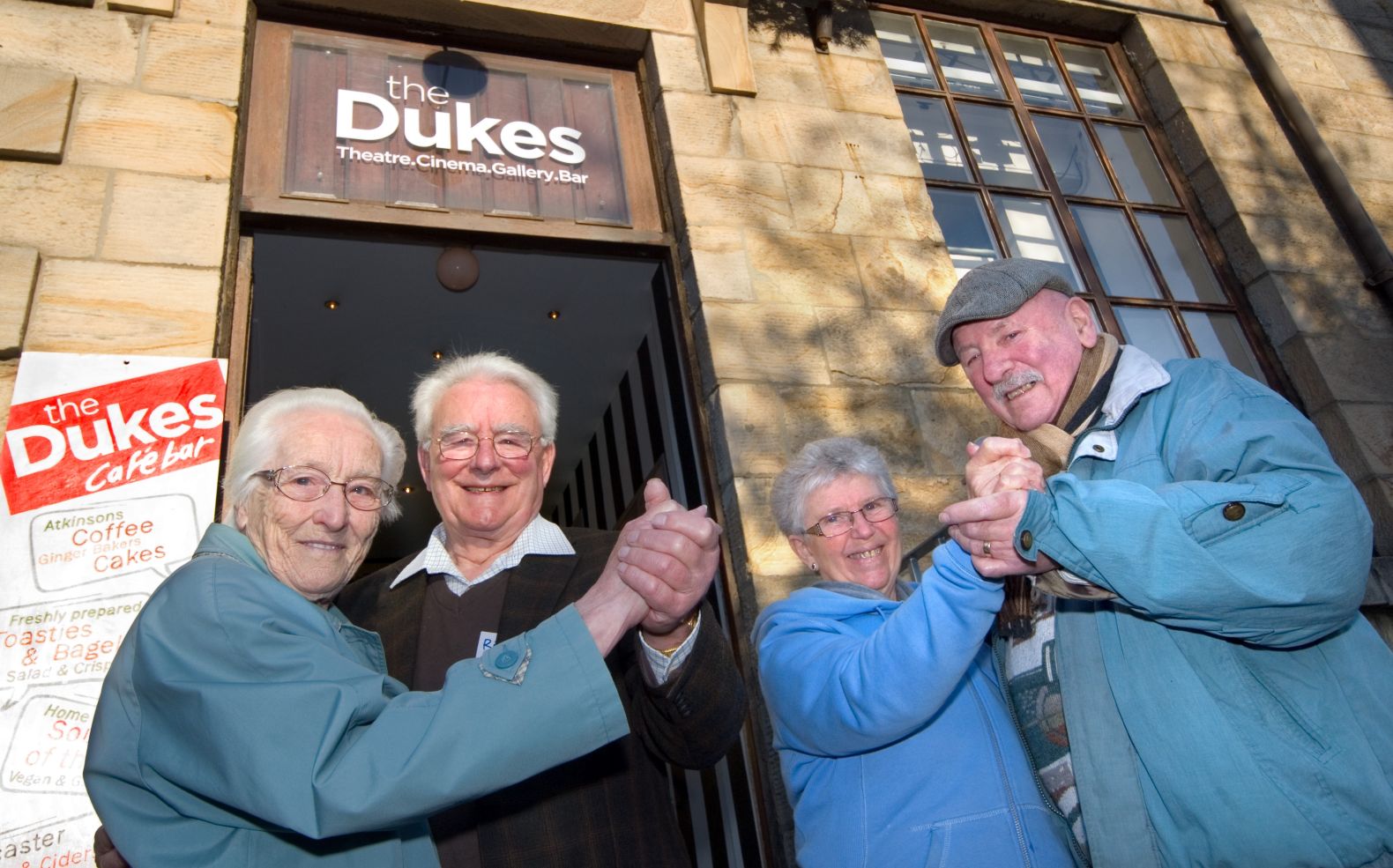 The Dukes is proud to announce that a pioneering project launched here which has given hundreds of people with dementia a better quality of life is to be extended across the county and beyond.
Such has been the success of the 18-month programme developed by The Dukes theatre and Age UK Lancashire that it has received more than £200,000 to continue and extend the work over the next three years.The project, entitled A Life More Ordinary, will be officially launched here on June 29.
Lancashire has around 17,600 people with dementia aged 65 and over. These numbers are expected to rise to more than 25,600 by 2025. In Lancaster alone, there were 1,823 people with dementia in 2010, predicted to rise by 42% by 2025.
A Life More Ordinary will give people living with dementia more choice, more control and greater access to leisure and cultural opportunities at The Dukes and potentially 15 other venues to benefit around 5,000 people.
So far, the project has featured film events and taster arts workshops at The Dukes open to people with dementia, their relatives and, uniquely, the general public too.
As part of the launch, we will host a screening of Funny Face which is open to all but provides a particularly warm welcome to those with dementia.
The Dukes groundbreaking programme will develop to include the setting up of a dementia theatre group and sessions encouraging dance/movement and reminiscence, culminating with a major conference in 2018 where examples of good practice will be passed on to other arts organisations.
Older people will contribute as well as benefit from the programme which will be supported by at least 60 volunteers.
"We believe this is a truly pioneering programme and its impact, sustainability and legacy will be profound," said The Dukes Business Development Manager, George Harris. "We know of no places where an arts activity that has been adapted for people with dementia AND is available to family members and the general public."
Powerful evidence of a demand for such a project was shown by a three-year Age UK Lancashire project – Linking Communities – which revealed that older people with dementia and family members wanted to continue relationships but found it almost impossible to join in the sort of activities enjoyed by the general public. Despite some offers of support, most people felt on their own and helpless.
Another important finding was the significance of creating an 'ordinary' environment and experience for those with dementia and their carers.
One wife of a dementia sufferer who has already benefited from The Dukes events said: "The first thing people with dementia do is shut off – they can't or won't join in conversations. Sometimes when you go to what you would term 'normal' activities, my husband is unable to join in, switches off and we end up coming away. Here he was part of a group and could join in. And that does you good as well which is important to carers because we're enjoying it when they're enjoying it and it's something we can do together."
A Life More Ordinary will be managed by The Dukes, Age UK Lancashire and The Centre for Ageing Research at Lancaster University. It will be funded by the Esmée Fairbairn Foundation, The Rayne Foundation, Film Hub North West Central, The Dowager Countess Eleanor Peel Trust and The Elspeth J Thompson Charitable Trust.
Alison Read, Engagement Director from Age UK Lancashire said: "We are delighted that this innovative work can continue. The benefits of giving people with dementia and their carers the opportunity to enjoy a creative recreational activity together in a safe and relaxed environment is profound."
Christine Milligan from Lancaster University's Centre for Ageing Research said: "All too often support for dementia targets either the person with dementia OR their main family carer. A Life More Ordinary offers one of the very few opportunities for spouses and families to enjoy an everyday activity together with their loved one.  Not only is this important in helping to maintain family relationships at a difficult time, but it also represents a pioneering step forward in the development of dementia friendly communities."