Top 10 Selling Films of 2018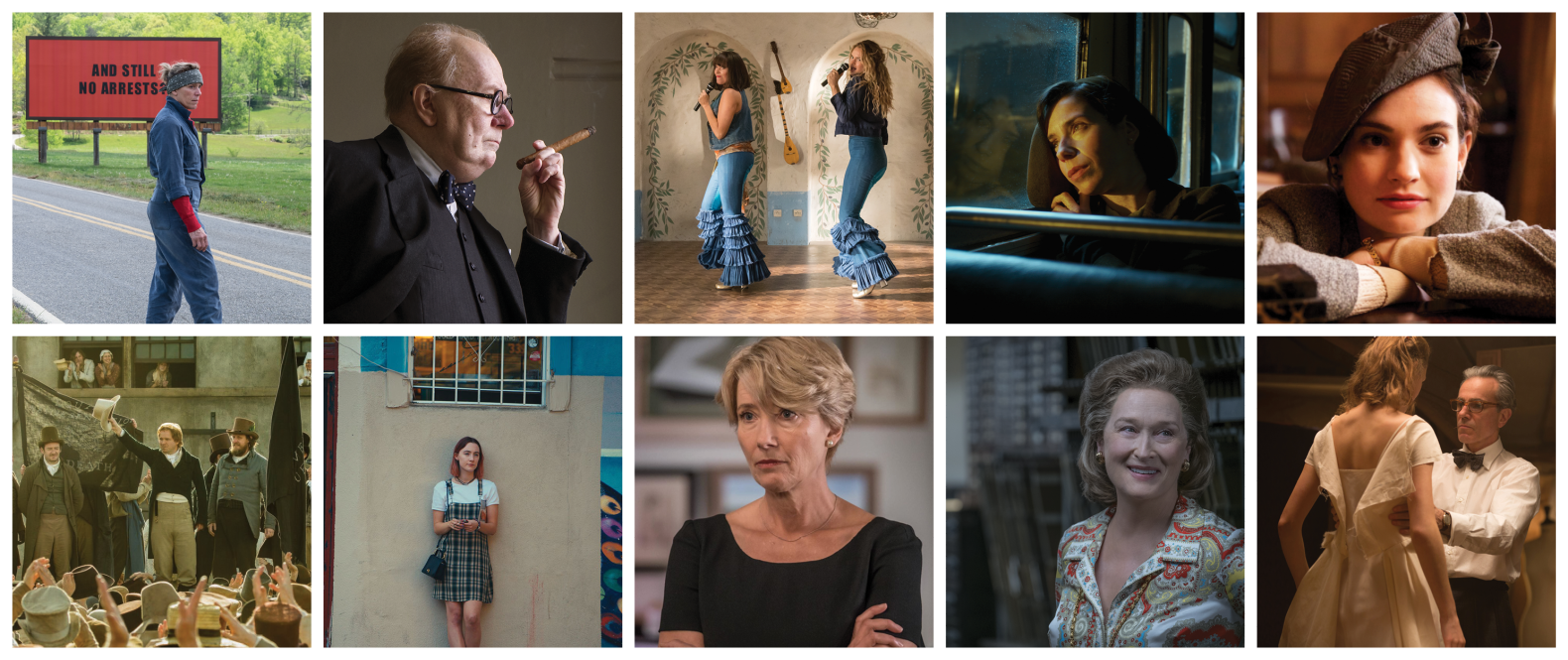 As 2018 draws to a close, our Programming Assistant and Marketing Officer Lauren Randall reflects on a year of films here at The Dukes, particularly which releases proved the most popular with our audiences. Our top 10 highest grossing films of 2018 are:
Three Billboards Outside of Ebbing, Missour
Darkest Hour
Mamma Mia: Here We Go Again
The Shape of Water
The Guernsey Literary & Potato Peel Pie Society
Peterloo
Lady Bird
The Children Act
The Post
Phantom Thread
2018 was a huge year for cinema at The Dukes, not least because the spring marked the end of a record-breaking year. Our financial year 2017-2018 (since we're a charity our years run April-March) saw our highest ever attendance for film screenings. A big thank you to each and every one of our audience members for helping us to create a new record!
These numbers were no doubt aided by not only our top selling film of 2018 but our top selling film ever: Three Billboards Outside of Ebbing, Missouri. Divisive, controversial, impossible not to talk about, the latest from Martin McDonagh returned again and again to packed audiences here, boosted by its constant presence in the awards circuit, with it picking up Best Actress for Frances McDormand and Best Supporting Actor for Sam Rockwell.
Three Billboards may have taken number one here but it ultimately lost the battle for Best Picture to Guillermo Del Toro's mesmerising The Shape of Water, which comes in here at number 5. Del Toro's unusual romance-fantasy would seem to be a difficult sell, but it enchanted audiences everywhere – not least thanks to Dukes favourite Sally Hawkins' charming leading performance.
Another unconventional romance is at the centre of the film bookending our top 10 list, Phantom Thread. Reuniting Daniel Day-Lewis with his There Will Be Blood director, Paul Thomas Anderson, the film is reportedly the actor's final role and he delivers another typically brilliant performance alongside excellent newcomer Vicky Krieps and the inimitable arched eyebrow of Lesley Manville.
Other big hitters brought films back to the cinema screen in 2018, much to our audience's delight, including Manville's and Day-Lewis' respective former collaborators, Mike Leigh and Steven Spielberg. Very different in style and approach,Peterloo and The Post were both nevertheless timely releases, tapping into the cultural political zeitgeist with their depictions of historical events.
The Post, believe it or not, also saw the first collaboration of Steven Spielberg, Tom Hanks and Meryl Streep – and Streep popped up again in another of our top 10, the juggernaut musical Mamma Mia! Here We Go Again. Whether the Cher effect or the sheer power of ABBA, this smash-hit sequel played out 24 times here, including two sing-along screenings.
In fact, it could have been the Midas touch of Lily James that kept Mamma Mia coming back to our screen – the actress starred in THREE of our top ten selling films this year, with Darkest Hour and The Guernsey Literary and Potato Peel Pie Society (please don't make us type out this title again) making up the Lily James Trio. Darkest Hour and Guernsey also stick close to the rule that British prestige ensembles and literary adaptations do well here – see last year's list for more proof, or, indeed, The Children Act. Arguably the quietest title of the top 10 in terms of awards, advertising and fanfare – and originally a late summer release - it shows that you should never underestimate the power of an Ian McEwan adaptation led by the always remarkable Emma Thompson.
The Children Act outperformed the other Ian McEwan adaptation released this year, On Chesil Beach, starring Saiorse Ronan – but Ronan fared extremely well in the fantastic Lady Bird. The directorial debut of indie darling Greta Gerwig and an original script, Lady Bird bucked a few of this year's trends but certainly adhered to the celebration of women, with Ronan's and Gerwig's work deservedly lauded, along with Laurie Metcalf – our performance of the year. That rounds out our top ten but it's fair to say that, had they been released a little earlier, a few other titles would have claimed a spot, from the Radio Ga Ga of Bohemian Rhapsody to the Lady Gaga (sorry) of A Star Is Born, as well as the fascinating Bad Romance (again, sorry) of Glenn Close and Jonathan Pryce in The Wife. All three return in the new year.
Narrowly missing out on the Top 10 were Spike Lee's visceral BlacKkKlansman and Pawel Pawlikowski's acclaimed Cold War, which went on to be our highest selling foreign-language film since Pedro Almodovar's 2016 hit Julieta.
Also just outside of the Top 10 were our three screenings of Peter Jackson's They Shall Not Grow Old, our highest selling documentary of the year – making that a touching tribute on and off screen to mark the centenary of the end of WWI.
We've also enjoyed some other big events here, including our screenings of Young Frankenstein at Lancaster Castle, our Grease anniversary sing-along in April (complete with some fabulous costumes), and the recent Safety Last! accompanied by a live piano score from Rob Lee of Slightly Fat Features. There are exciting things in the works for the new year and we look forward to sharing them with you. As always, thank you for your support