HOW TO GET TO WILLIAMSON PARK
DRIVING: FROM THE NORTH
Use M6 junction 34. Follow the brown heritage signs marked Ashton Memorial or Butterfly House which take you to Williamson Park.
DRIVING: FROM THE SOUTH
Use M6 junction 33. Follow the brown heritage signs marked Ashton Memorial or Butterfly House which take you to Williamson Park.
For Satnav: LA1 3DZ – this will take you to the Wyresdale Road Car Park
PUBLIC TRANSPORT
The park is a 30 minute walk from Lancaster Train and Bus Stations, and is situated on top of a hill. Please check your travel details online or call Lancaster Visitor Information Centre on 01524 582394.
WHERE DO I PARK
There are two car parks in Williamson Park, but we recommend using Wyresdale Road. This is the largest and easiest to return to at the end of the evening. There is free parking for disabled badge holders with no time limit. Parking charges after 5.30pm are £1.20
CAN I TAKE PHOTOS?

Photography is allowed, however, flash photography and prolonged filming of the performance are not permitted.

HOW MUCH WALKING IS INVOLVED?
There will be slow guided walks of approximately 5-10 minutes between each scene. Some of these walks will be up and down steep slopes. These routes are wheelchair accessible.
WHAT IS THE SEATING LIKE?
Some scenes have seats to sit on, and some do not. You can bring along your own folding chairs or mats. There will be a designated area for folding chairs at each scene.
CAN I BRING A PUSHCHAIR FOR MY CHILD / BABY?
As space is limited and access can be difficult pushchairs are not allowed. Babies carried by an adult in a sling/papoose do not need a ticket.
DOES MY CHILD NEED A TICKET?
All children over 2 years require a ticket. Under 2's are free.
WHEELCHAIR / MOBILITY SCOOTER USERS
Because the route takes you up and down steep slopes, you will require somebody physically fit to assist you. If you haven't already, please call the Box Office on 01524 598500 to request a free ticket for this person.
WHAT TO WEAR
Warm outdoor clothing, appropriate footwear for all outdoor terrains, and waterproofs are essential. It is also advisable to bring sun lotions and midge spray.
REFRESHMENTS
The Pavilion Café will be running a BBQ on show nights from 16.00hrs/18.30hrs & will have specials from Around the World destinations. There will Graze boxes to take away and in case the weather is unsuitable they will provide alternatives.
There will be drinks/snacks available during the Interval and, weather permitting, the Ice Cream Van will also be open.

Alternatively, you are welcome to bring your own picnic.
TOILETS
Accessible toilets are available at Wyresdale Road car park and up at the cafe.
WET WEATHER
We do perform in wet weather, so please come prepared. Very few performances are lost to bad weather, and we aim to carry on unless conditions put the safety of audiences or performers at risk. The earliest a decision about whether to cancel a show will be taken is at 7pm on the evening of the show and will depend on conditions in the park at that time.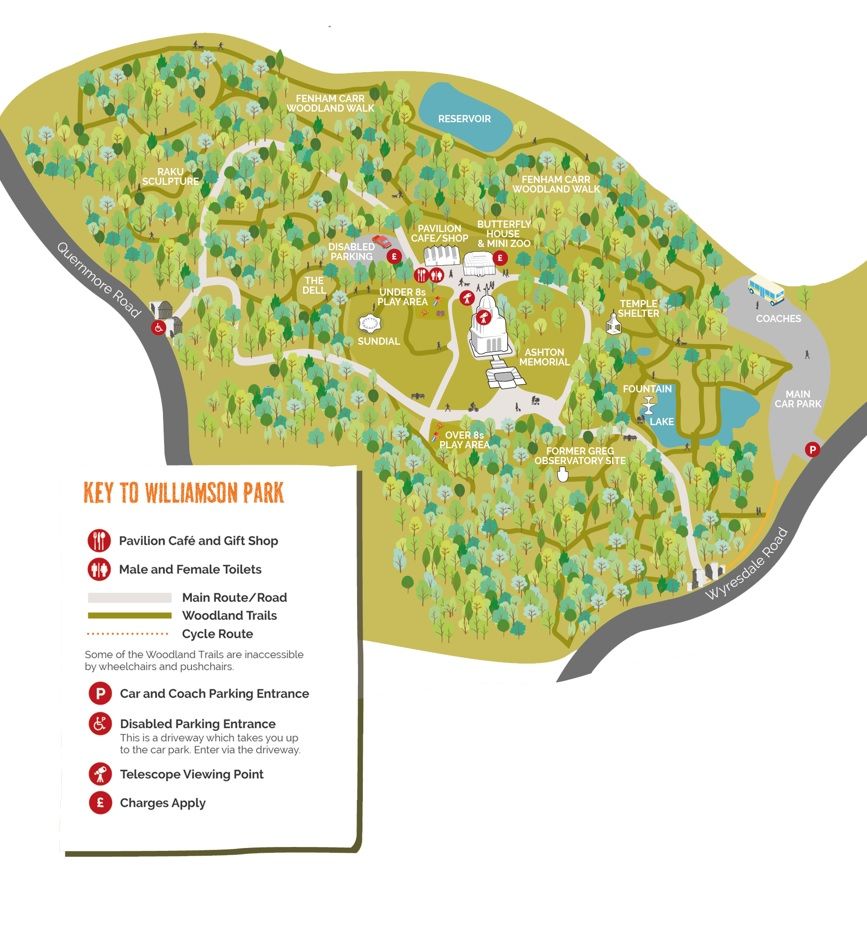 Terms and Conditions
When a performance is cancelled ticket holders will be entitled to equivalent replacement tickets for a future performance of this or any other Dukes production, to the equivalent cash value, subject to availability, to be booked within 1 year. No cash refund will be given (Law Reform (Frustrated Contracts) Act 1947). In the event of a last night performance being cancelled there will be no replacement performance of the show, above conditions apply.

Please also note the following:
The management reserves the right to refuse admission
Photography equipment, including mobile phones, is permitted but flash photography is not allowed.
All tickets are non-refundable
Licensing conditions require that every member of the audience must have a valid ticket. Babies carried strapped to an adult in a sling/papoose or under 2's are exempt.
Dogs are not permitted, except for assistance dogs.